Christmas, Easter, or Thanksgiving: This bacon-wrapped whole turkey with herb butter will be the star of the table!
The photos and recipe for this bacon-wrapped whole turkey with herb butter have been updated as of November 8th, 2016!
The countdown begins for Christmas! And isn't today the first day of winter? You would never guess it here in Canada as right now we have almost 10 degree Celsius weather and it is raining... Talk about a difference from last year!
Yesterday we got to enjoy our Friends' Christmas Dinner where all my husband's high school (and college) friends get together and make delicious food and partake in a Yankee Swap. This was our first year being able to attend since other Christmas parties ALWAYS fall on the same day. I said to my husband that I do not care who does what, or what party is held on that day, we are going to this Christmas dinner. And what a blast it was!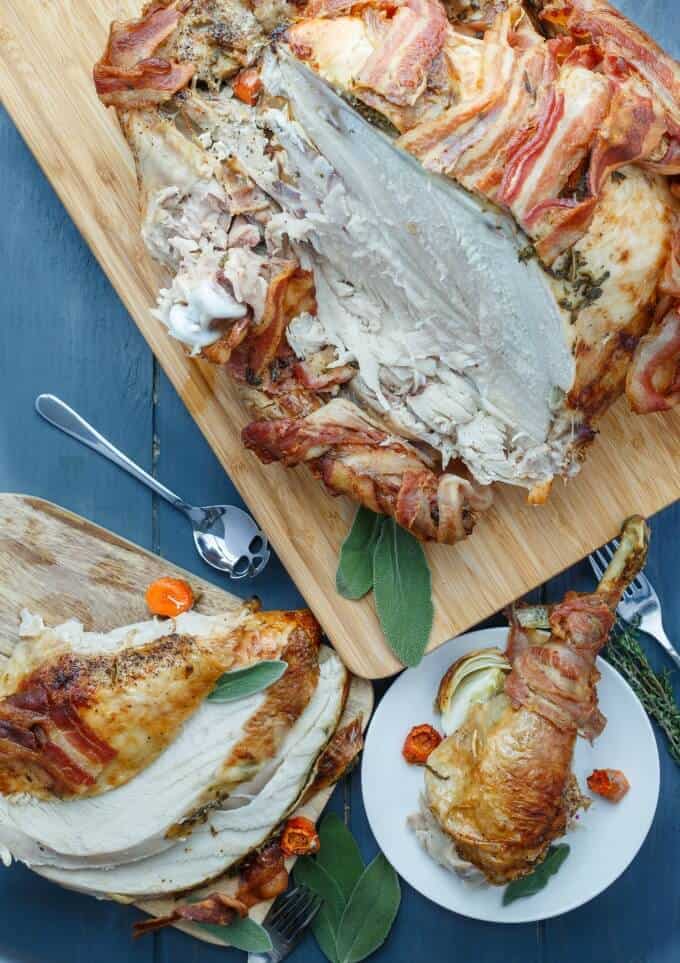 Desserts were the hot item, so a week in advance I changed my cheesecake idea to this bacon-wrapped whole turkey. We needed proteins and this brought genuine happiness to the table (the vegetarians lived off potatoes and dip, haha!) The scary part is it was not our only bacon-featured item: the host prepared a bacon mac and cheese to serve alongside it! It was definitely an evening for meat-eaters 🙂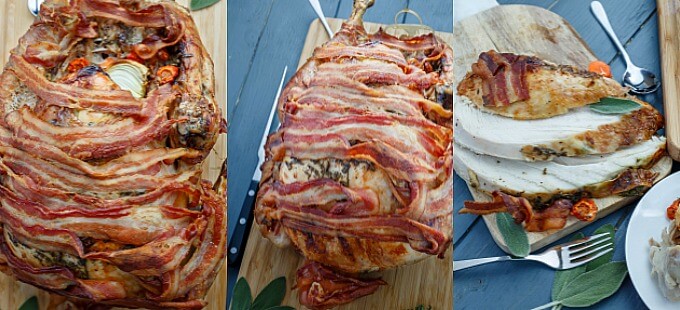 Aside from the delicious food, the Yankee Swap went extremely well (at least I thought it did since this was our first time ever participating.) Needless to say there were some hot items and a lot of backstabbing going on!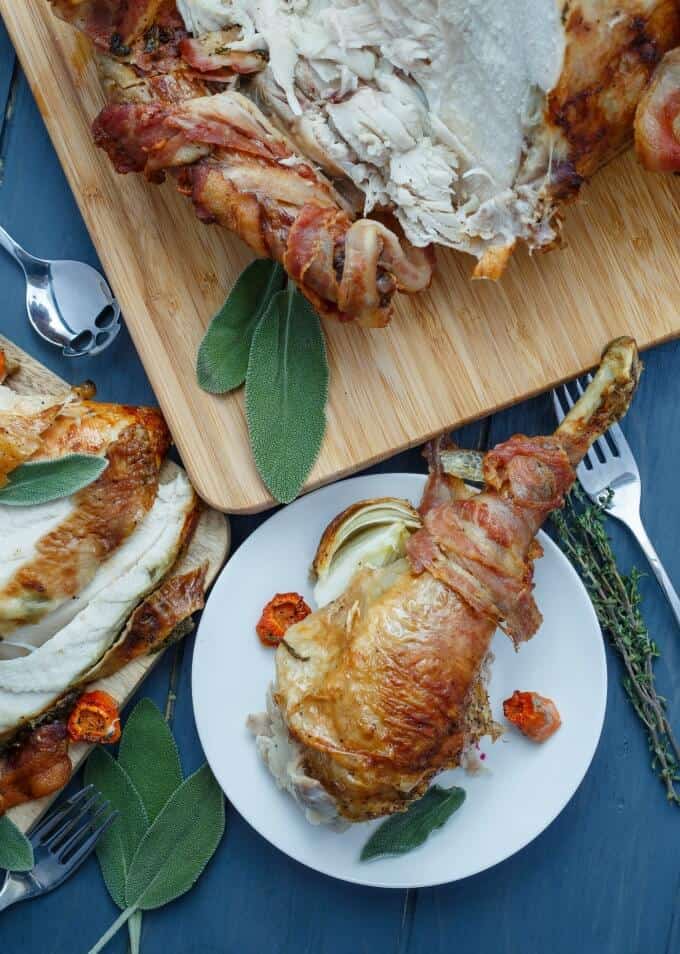 In the end we ended up with one of our own gifts back and since I could easily make another (and the whole idea was to give and share,) we ended up trading our gift with someone who really, really wanted it. I am really pleased with how the Game of Thrones scarf came out (Winter is Coming!) but seeing as I have never read the books or watched the show, there was no need for that item here (sorry, Mr. TCW, one day I will finish that blanket! Plus, I can easily make the scarf again!) Guess I will stick with the homemade gift again next year!
Okay, since everyone is probably thawing their turkeys by now, prepare for this bacon-wrapped whole turkey because it is SUPER easy and covered in bacon 🙂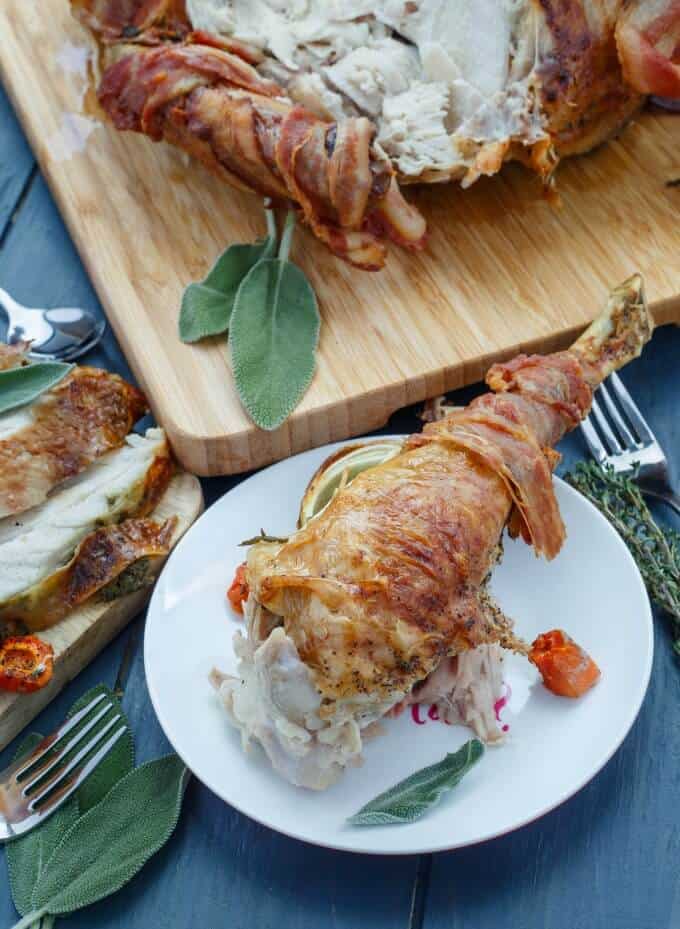 📖 Recipe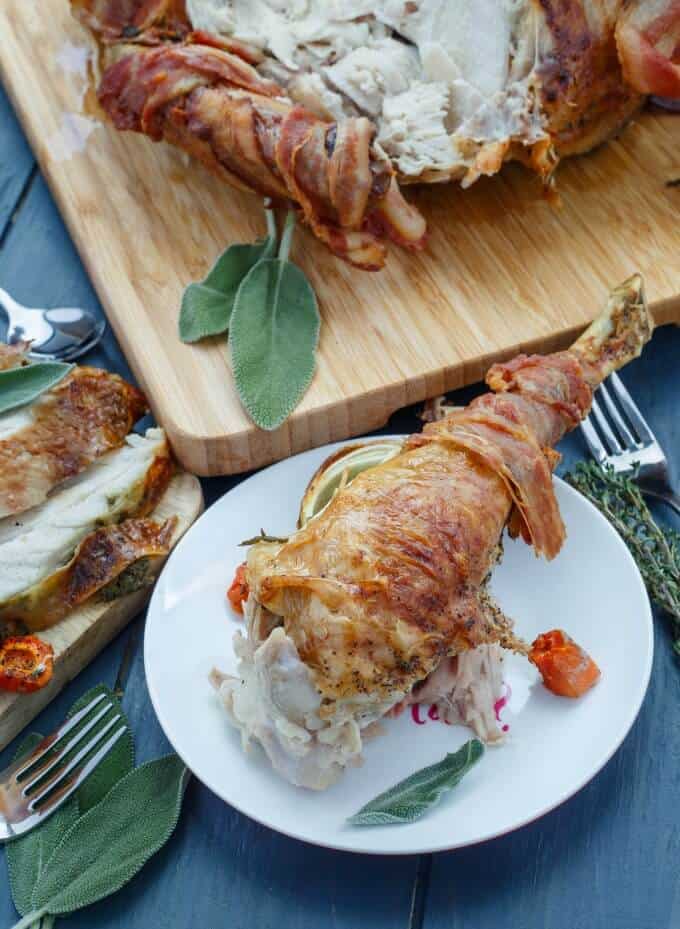 Bacon-Wrapped Whole Turkey with Herb Butter
Cook Time:
3 hours
30 minutes
Total Time:
3 hours
50 minutes
Bacon-wrapped anything is amazing, so enjoy this turkey during the holidays!
Ingredients
1 (5kg) whole turkey, insides removed
10-15 slices of bacon
2 onions, quartered
4 carrots, roughly chopped
3 celery stalks, roughly chopped
1 lb potatoes, cut small
3 garlic cloves
¼ cup chicken broth
Salt and pepper
Herb Butter
2 tbsp. freshly chopped sage
2 tbsp. freshly chopped thyme
½ cup butter, room temperature
1 garlic clove, minced
Salt and pepper
Gravy
Turkey pan drippings
1 tbsp. flour (or more if necessary)
½ cup white wine
Salt and pepper
Instructions
To make the herb butter, combine the butter, sage, thyme, and garlic. Season with salt and pepper.
Turkey
Preheat oven to 425F.
Pat your turkey dry. Season with salt and pepper, along with your veggies and garlic. Stuff the cavity with as much of the veggies as you can. Add the rest of the veggies to the bottom of the pan and add the turkey on top. Pour broth into the bottom of a baking dish. Rub the herb butter all over the turkey until completely coated (making sure to get under the skin!!!).
Bake, uncovered, for 30 minutes.
Reduce oven to 350F. and baste. Cook for 1 hour 30 minutes, basting every 30 minutes if necessary. Remove from oven and drape with bacon slices. Cook for another 1 hour, basting every 20-30 minutes. The turkey is done when it reaches 160F. You may need more or less time depending on the size of your turkey!
Remove turkey from pan and cover with aluminum foil: allowing to rest for 30 minutes or longer to get those juices moving! Slice and serve!
Gravy
To make the gravy, pour pan drippings into a large pan and heat over medium. Pour in white wine and simmer for a couple of minutes. Add the flour and whisk constantly until thickened (I generally cook my sauces for about 5 minutes to really get that flour taste out.)
Notes
Cook time may vary, but if you find you add your bacon too early and it is beginning to burn, just cover it in aluminum foil.
Nutrition Information:
Yield:

8
Serving Size:

12
Amount Per Serving:
Calories:

351
Total Fat:

21g
Saturated Fat:

11g
Trans Fat:

1g
Unsaturated Fat:

10g
Cholesterol:

83mg
Sodium:

656mg
Carbohydrates:

19g
Fiber:

3g
Sugar:

3g
Protein:

18g
No more posts for this week! Time to relax with the family (and we all have the same time off!) The following week shall feature some New Year recipes, but be prepared for some healthifying foods come January (and maybe a feature-week on The Cookie Writer?!)
Love this bacon-wrapped whole turkey with herb butter?! Try some of these recipes: