We have been all over the jalapeno popper trend, but who could resist this jalapeno popper chicken pot pie with bacon?! Seriously, Thanksgiving and Christmas dinner will be off the charts this year when you serve your guests this meal 🙂
Chicken pot pies were never found at our dinner table. It is depressing because they really are amazing, and packed full of comforting flavors. My brother is actually the one who really got me into these as he makes a wicked chicken pot pie (he even made me a vegetarian version!)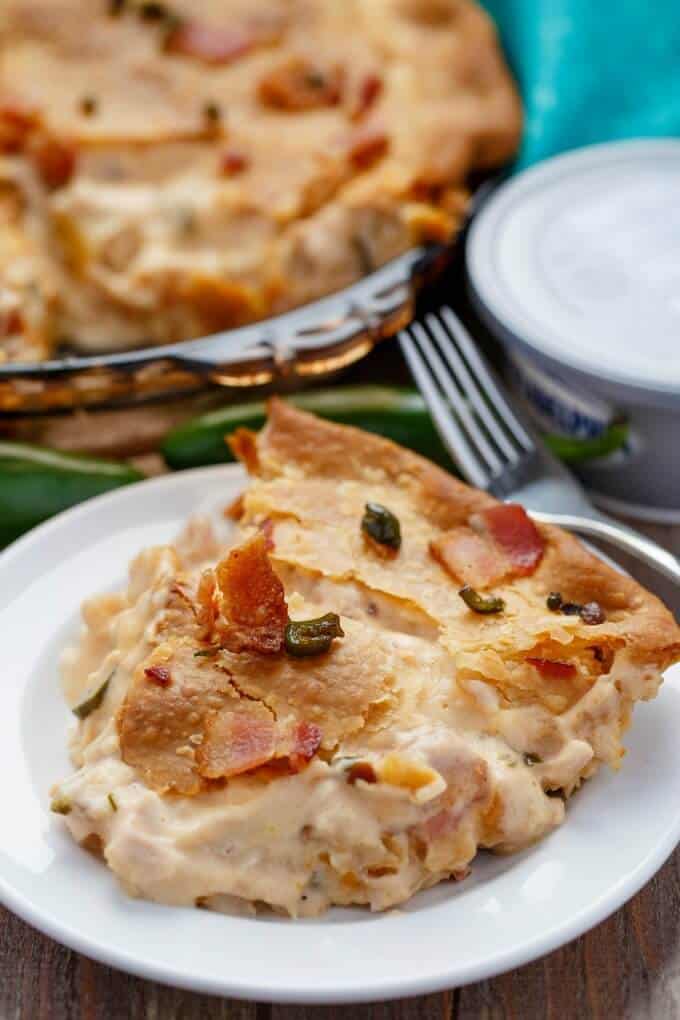 That being said, it was time to make my own version. This jalapeno popper chicken pot pie with bacon was fully concocted from our love for creamy, delicious jalapeno sauce. I swear, any meal would work with the jalapeno popper theme. Soooo good! I regretted not making a veggie version for myself, but that is okay, family comes first 🙂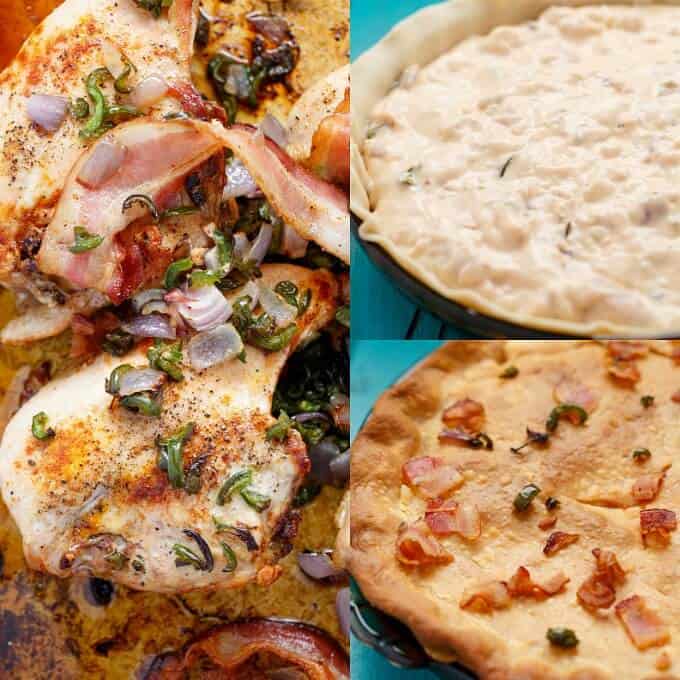 I used bone-in, skinless chicken breasts and baked them in the oven with bacon and veggies. You can use whatever cut of chicken you like, but cook times will vary. Personally, using the bone-in, skinless chicken breasts for this recipe is perfect because you are shredding/slicing the chicken. Removing the two bones is super easy, and you are rewarded with juicy, flavorful chicken.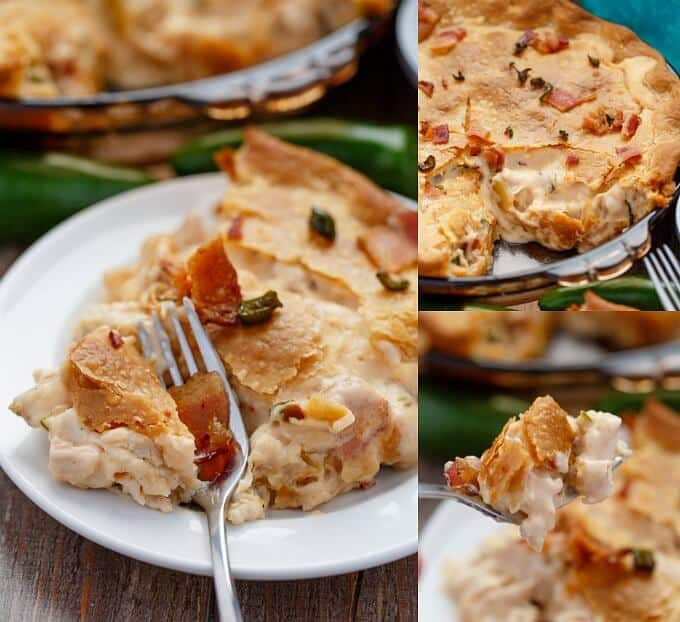 Would I do anything differently to this jalapeno popper chicken pot pie? No way! At first I thought it would be too runny, but it sliced perfectly! Waiting is the hardest part, but we did show some restraint. Now, I did cook the veggies (which were cut small) with the chicken and bacon. Placing them under the bacon helped shield them from overcooking or burning, however, you can always add the veggies after the meat has cooked for 10 minutes. This way you have no concerns about burnt veggies 🙂
Usually I can recommend a store-bought alternative to my recipes, but in this case, I don't think there is any way around it. I did buy store-bought pie dough (I suck so bad at making my own!) but that sauce will have to be made by hand. So worth it!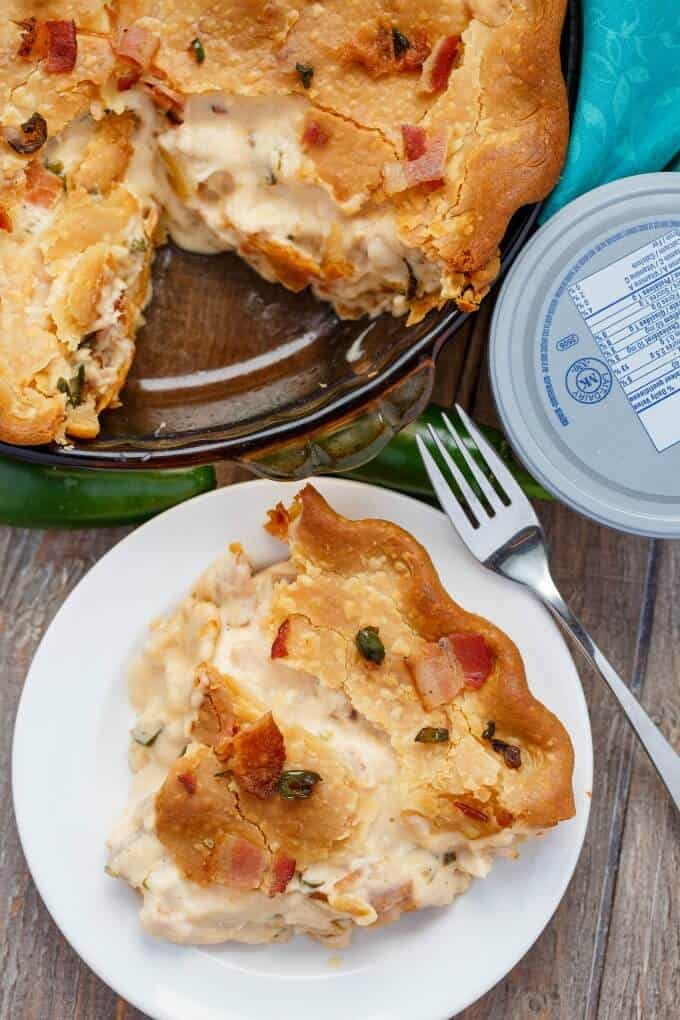 📖 Recipe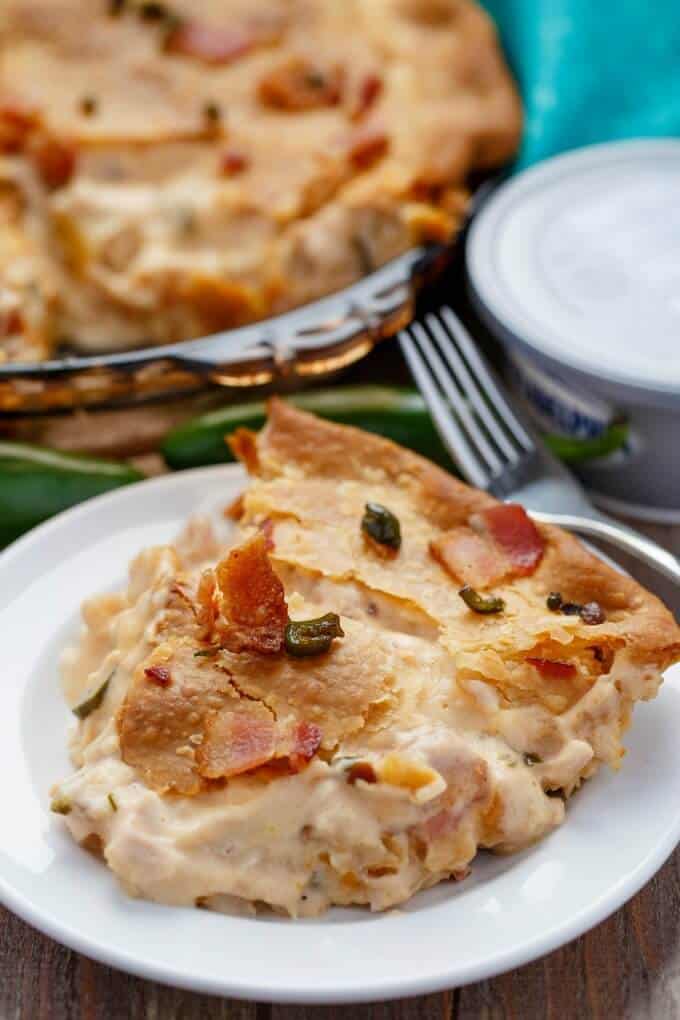 Jalapeno Popper Chicken Pot Pie with Bacon
A comforting fall meal that is also great for back to school. You can easily sub in boneless, skinless chicken breasts!
Ingredients
2 ½ lbs bone-in, skinless chicken breasts
1 package store-bought pie dough (I used Pillsbury, no affiliation) OR homemade pie crust for two layers
1 large onion, roughly chopped
¼ lb jalapenos, halved, seeded, and sliced
6 slices bacon
1 tsp. paprika
¼ tsp. cumin
Salt and pepper
Filling
1 (227 g) container cream cheese, room temperature
3 garlic cloves, minced
⅓ cup butter
⅓ cup all-purpose flour
1 ¼ cups chicken broth
¾ cup milk
1 cup grated cheddar cheese
Instructions
Preheat oven to 425F. Line a baking sheet with aluminum foil or parchment paper for easy clean up.
Place chicken onto pan. Combine onions and jalapenos. Place next to chicken. Season with salt, pepper, paprika, and cumin. Cover chicken and veggies with bacon slices (left whole.) Place in oven and bake for 30 minutes, or until chicken reaches 160F internally. Toss veggies every so often if they look like they are cooking too quick.
While chicken is cooking, make the filling.
Add butter to a medium-sized saucepan over medium heat. When melted and bubbling, stir in garlic and flour. Cook for 5-7 minutes, stirring constantly, until a nice golden roux forms. Add cream cheese, broth, and milk. Bring to just a boil, reduce heat, and add cheddar cheese. Heat until cheese is melted and mixture is thickened.
Place 1 portion of pie dough into bottom of 9-inch pie dish. Debone and shred chicken, chop bacon, and add to cheese mixture with veggies. Pour mixture into pie crust. Top with remaining dough, form, and place into oven. Bake for 30 minutes, or until pie crust is nice and golden (I cover my crust edges for the first 10 minutes so they do not overcook.)
Allow to cool greatly before serving!
Notes
I keep the veggies under the bacon to prevent them from burning. You can always cook the bacon and chicken for 10 minutes first before adding the veggies for the remaining 20 minutes.
Nutrition Information:
Yield:

6
Serving Size:

1
Amount Per Serving:
Calories:

790
Total Fat:

39g
Saturated Fat:

18g
Trans Fat:

1g
Unsaturated Fat:

18g
Cholesterol:

226mg
Sodium:

972mg
Carbohydrates:

34g
Fiber:

2g
Sugar:

8g
Protein:

72g
Arrggg, I thought I would have some Halloween posts up by now but that is proving difficult. I will be at an apple orchard tour this Saturday, followed by my daughter's birthday, and my own! Each year I make her birthday cake, and this year will be no different! It just might be made a day or so in advance so I have time to volunteer in her class on her actual birthday.
Love this jalapeno popper chicken pot pie with bacon?! Try some of these recipes: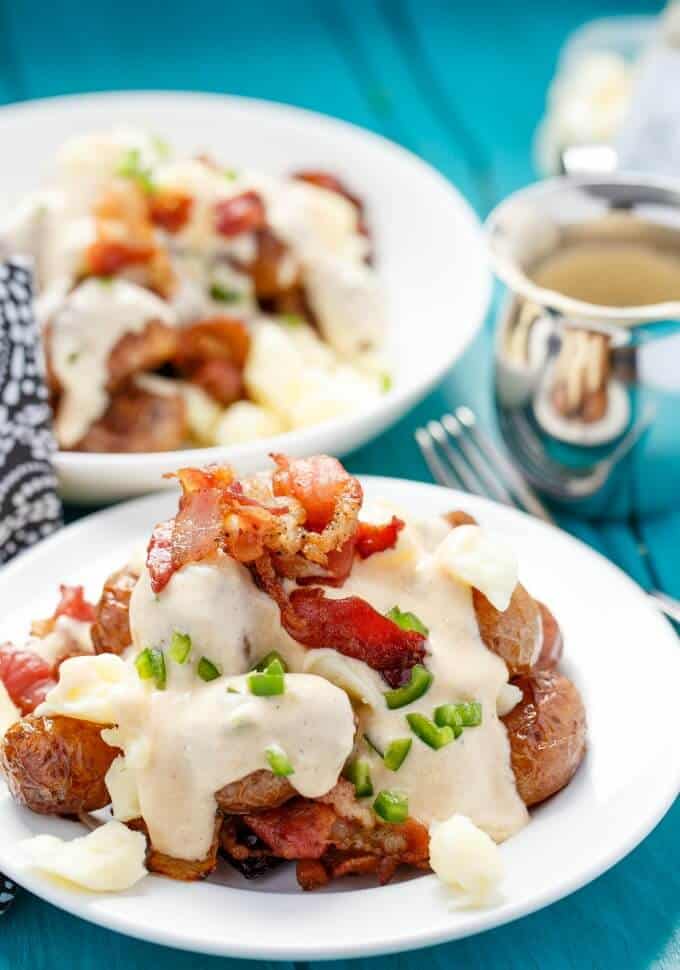 Jalapeno Popper Potato Poutine