An abundance of trick or treating candy can be overwhelming, so use up that leftover Halloween candy to make this overloaded Mars Bar cake! We sure loved it for my mom's birthday!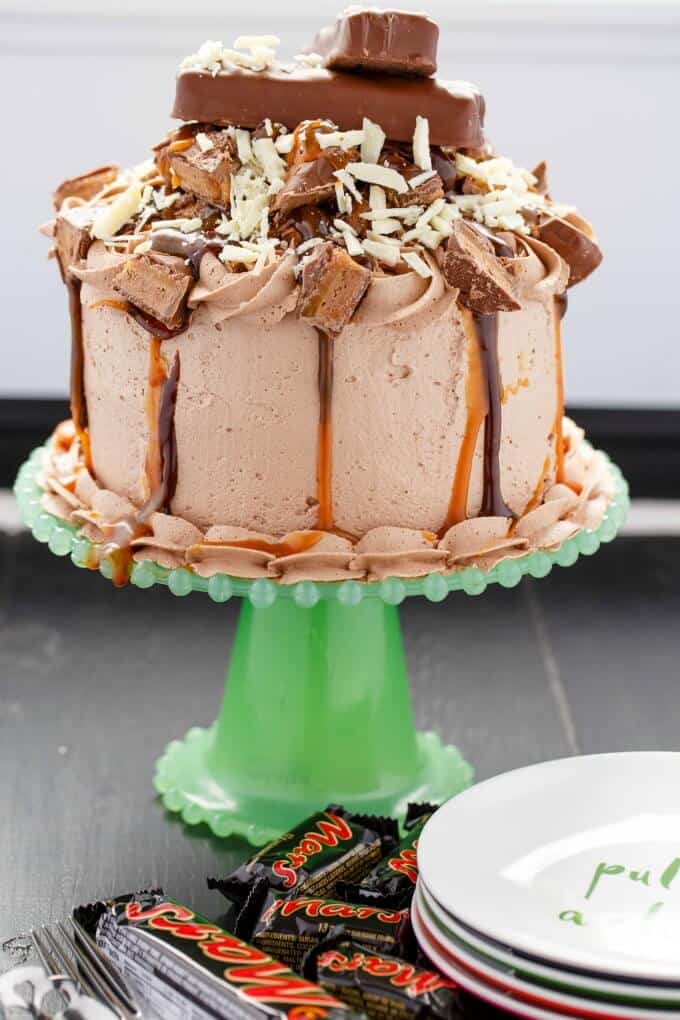 October is here! That means my life is consumed for the next month. Panic is already setting in. All three of our birthdays, Canadian Thanksgiving this weekend, Food Bloggers of Canada conference, and Halloween. I know it doesn't sound like much but trust me, I am feeling consumed! And I was fortunate to visit Nature's Bounty Apple Farm this past weekend in relations to some sponsored work with Ontario Apple Growers.
It was amazing! I'll give you a sneak peak today, but I am saving a lot for the first post I'll be doing for them (hint, hint, it involves apples and bacon!)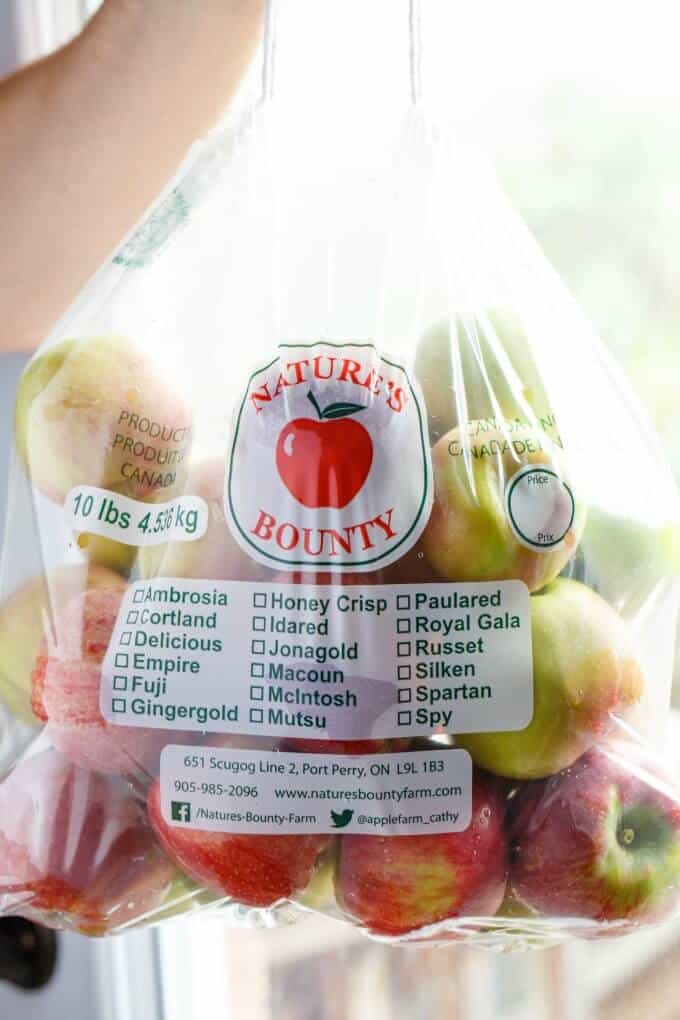 My mom's birthday was last month, but I thought her overloaded Mars Bar cake would be perfect for sharing in October because it is awesome for utilizing all those Mars Bars you get trick or treating! They are her favorite chocolate bar, so this cake was a no brainer. My sister joked that I bought the cake from our local grocery store because it looks like one of those Snicker cakes you would see there. I'll take it as a compliment because those cakes are drool-worthy!!
The Mars Bar cake looks complicated, but it is probably one of the simplest cakes I have made. I baked and decorated the same day and was done within a couple of hours (and that includes cooling time for stacking the cake.) Store-bought caramel sauce can be used here, but I actually had some leftover stuff from my dry method caramel sauce tutorial.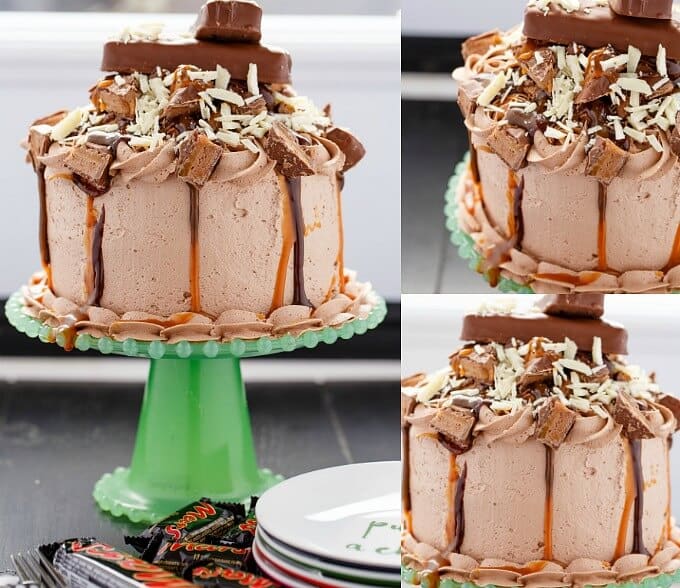 Originally I was just going to leave the cake piped with rosettes on top with some pieces of Mars Bar around the cake, but then I thought "mom loves chocolate." So I just dumped a ton of chocolate onto the cake! I guess those rosettes were not needed in the end. Still pretty though! My daughter and I were doing the whole "one chocolate bar for you, one for me" as we decorated the cake 🙂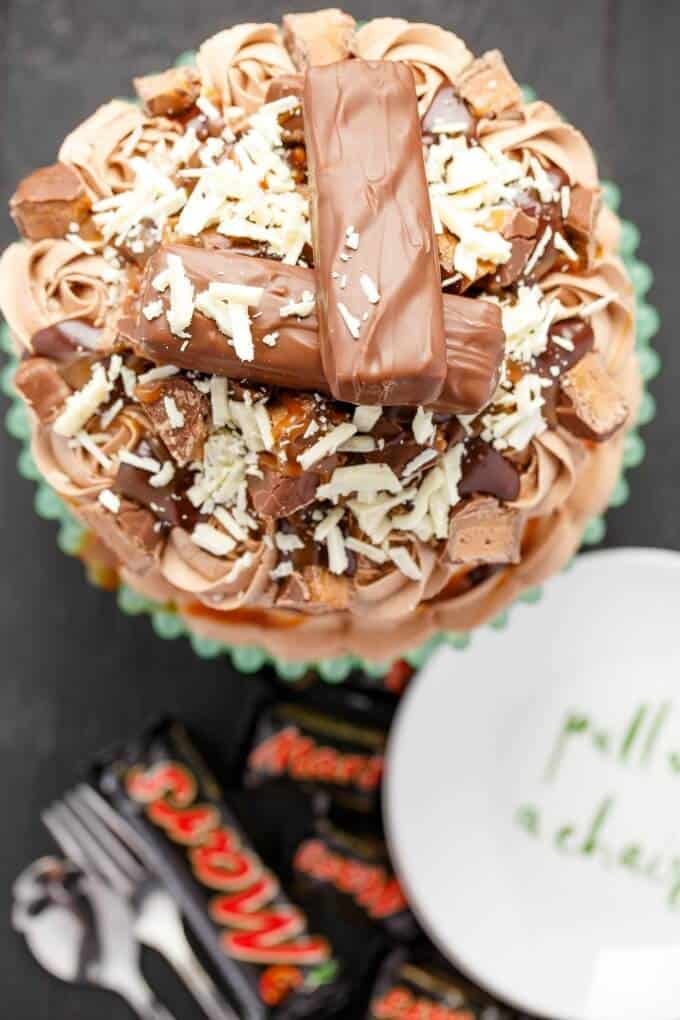 And like always, you can totally change up this cake idea! Have excess of another chocolate or candy? Use that instead! Personally I feel like you are extending the candy you received trick or treating by placing them onto a cake. Now you are eating MORE sugar (for a good cause!)
📖 Recipe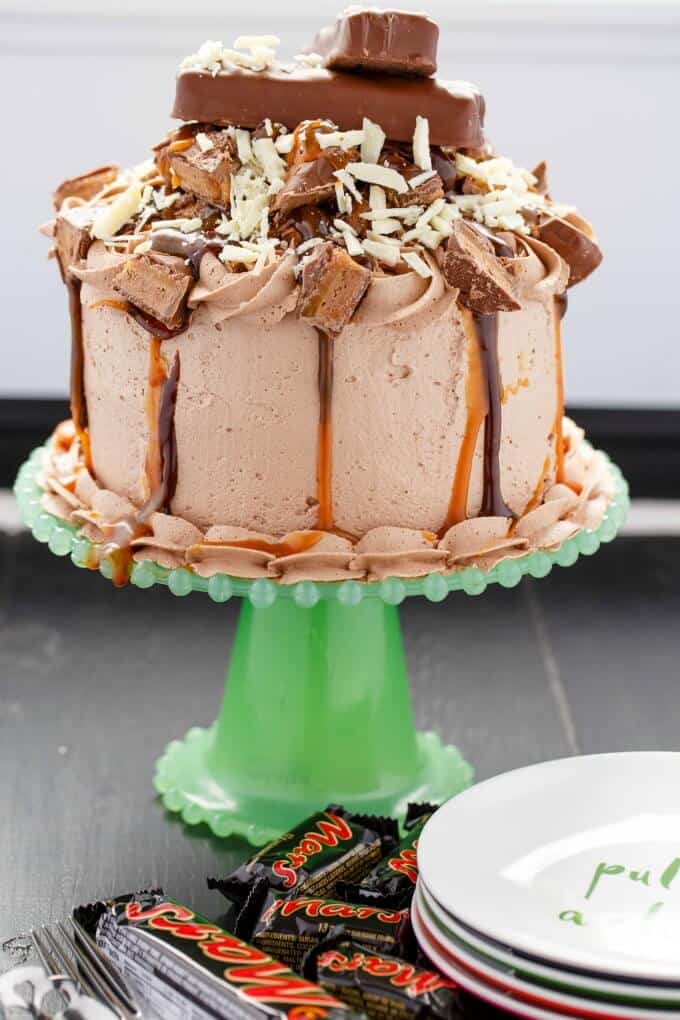 Overloaded Mars Bar Cake (Halloween Leftovers)
Cook Time:
1 hour
30 minutes
Total Time:
2 hours
10 minutes
A cake that is packed full of leftover Mars Bars from Halloween! You can get super creative with your decorating!
Ingredients
Buttercream
1 ½ cups butter
3 ½ cups confectioners' sugar
100g (about ½ cup) bittersweet chocolate, melted
1 tbsp. unsweetened cocoa powder
3 tbsp. heavy whipping cream + more if necessary
Instructions
Prepare cake as described and allow to cool. Save making the ganache until you have the cake assembled.
Buttercream
Add butter to the bowl of your stand mixer and beat until light and fluffy, about 5 minutes. Add sugar, cocoa, cream and cooled melted chocolate. Mix on medium until fully combined and fluffy (you can add more cream if necessary for a softer buttercream, but you don't want too thin!) Beat on lowest speed for a few minutes to get rid of air bubbles.
Assembly
Place one layer of leveled cake onto cake stand. Add some buttercream and 2 chocolate bars (roughly chopped) on top. Place other cake layer on top.
Cover in buttercream and smooth as best you can. Place remaining buttercream into piping back with a 1M or 2D tip. Pipe large shells around the bottom of the cake. Pipe large rosettes around the top of the cake. Chop up two more chocolate bars and place them on top of the cake (in between the rosettes.) Place cake into fridge.
When buttercream is nice and cold, drizzle caramel sauce and ganache alternatively down the sides of the cake and on top, immediately placing into the fridge so the two produce a nice drip effect.
Finish off the cake with two whole Mars Bars and some additional pieces on the side if desired. Sprinkle with shredded white chocolate.
Notes
The amount of chocolate bars, ganache, and caramel sauce used are all based on how creative you get with decorating!
You want to make sure the cake is nice and cold before drizzling with caramel sauce and ganache so it doesn't just run off the cake.
Nutrition Information:
Yield:

12
Serving Size:

1
Amount Per Serving:
Calories:

694
Total Fat:

39g
Saturated Fat:

21g
Trans Fat:

1g
Unsaturated Fat:

15g
Cholesterol:

77mg
Sodium:

413mg
Carbohydrates:

87g
Fiber:

1g
Sugar:

80g
Protein:

5g
Proud of myself getting a "Halloween" recipe up! If only I could get more up this week. But rest assure, I have an awesome theme week in mind. If I can actually accomplish it, I am sure my readers will enjoy it 🙂
Love this overloaded Mars Bar cake?! Try some of these recipes: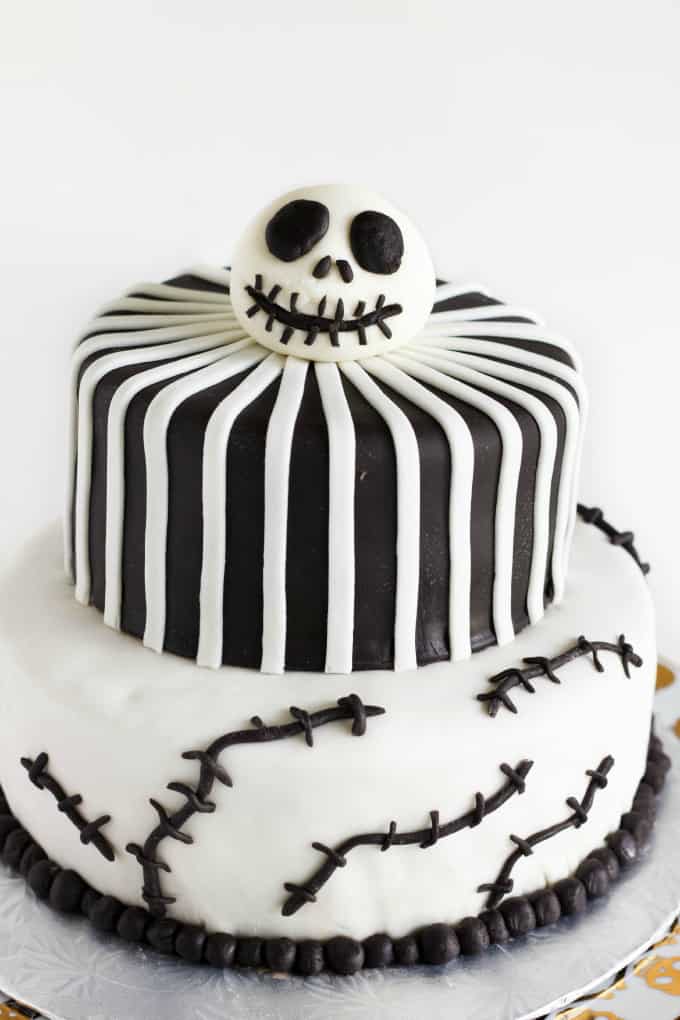 Nightmare Before Christmas Cake (Jack Skellington Cake)