No more searching for the ultimate chocolate cake recipe tutorial! Double or even triple this recipe to make the highest of cakes!
I know everyone has their favorite chocolate cake recipe and putting mine out there in the world may seem pointless against all the others, but let me say that I seriously believe that I have created perfection! No more changes, and no more re-posting of the same recipe slightly altered. I find every time I make a cake for the blog I am always rewriting out the recipe. In all fairness, I did make changes, but now when I post a cake design, I can just send people to this page for the recipe! Cleaner looking posts, all the while giving you the option to choose what flavoring you want under a specific cake design.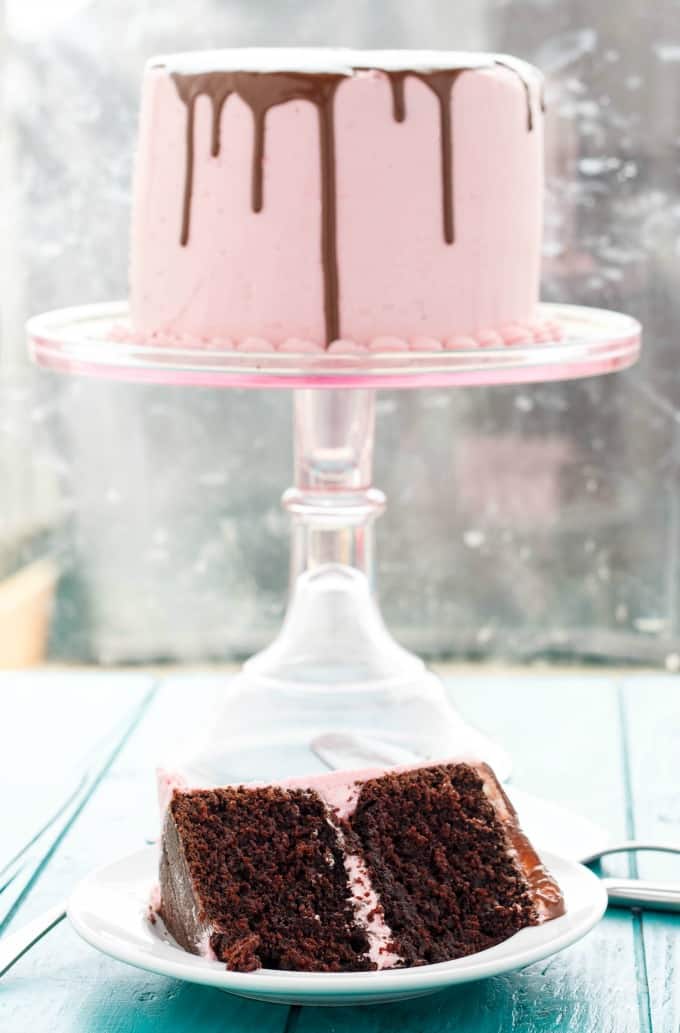 I kept the design simple today because I wanted to focus on the chocolate cake recipe tutorial. I went with a pink American buttercream because I like the contrast between and pink and brown on a cake 🙂 I think it really shows off how beautiful and light this chocolate cake is, and as I must reiterate, I seriously think it is the best chocolate cake recipe out there! Let's get started!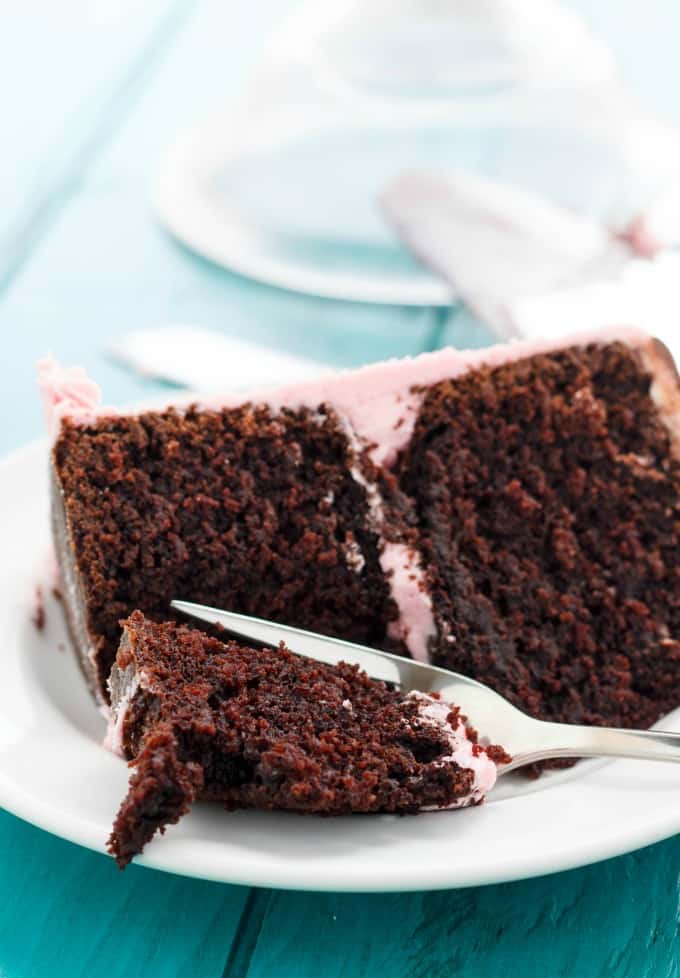 My preferred method for preparing a cake pan for baking is lightly greasing it with shortening (think Crisco vegetable shortening) followed by dusting the pan with flour. Give it a good shake to make sure all of the pan is covered, and then lightly tap out the excess flour. Done! I learned this during my first Wilton cake decorating class and I honestly stick to it. Never had an issue so why change things up?!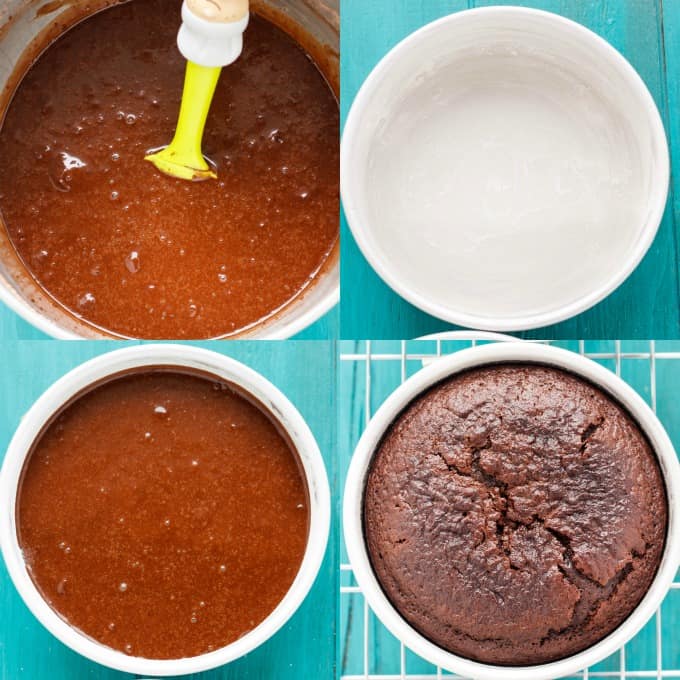 Owning two of each size pan is necessary, but I wish I had three or four of each because more often than not I find I make tall cakes. In this case I made the cake with two 6-inch pans and while their height was perfect, sometimes you just want a little more oomph! But as you can see, each layer was quite thick! This recipe makes two 6-inch pans perfectly (in the past I used to stretch out this recipe but the cake layers would be so thin!)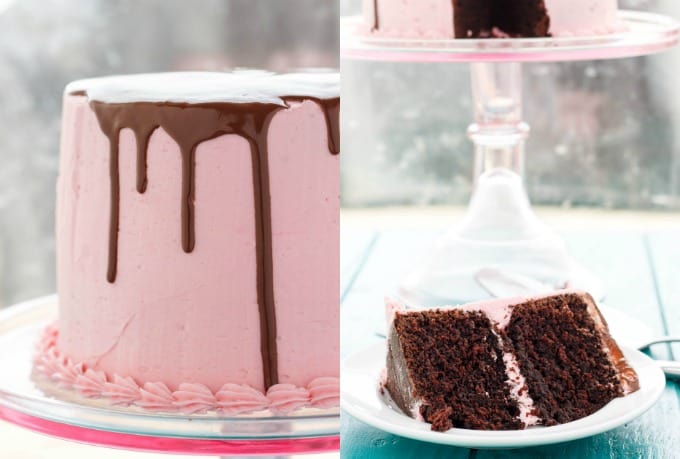 Lastly, while this cake is my go-to and I am providing all the cooking details, this recipe is for SIX-INCH pans! Easily double or triple the recipe for larger batches (8-inch pans) but remember that the cook time will change (I use the good ole toothpick trick, haha.) I never wrap my cake pans but recently bought Wilton's Bake Even Strip Set and I am curious to see how they do. They are supposed to help the dome shape of cakes, but I don't ever have that issue. I will keep you posted!
📖 Recipe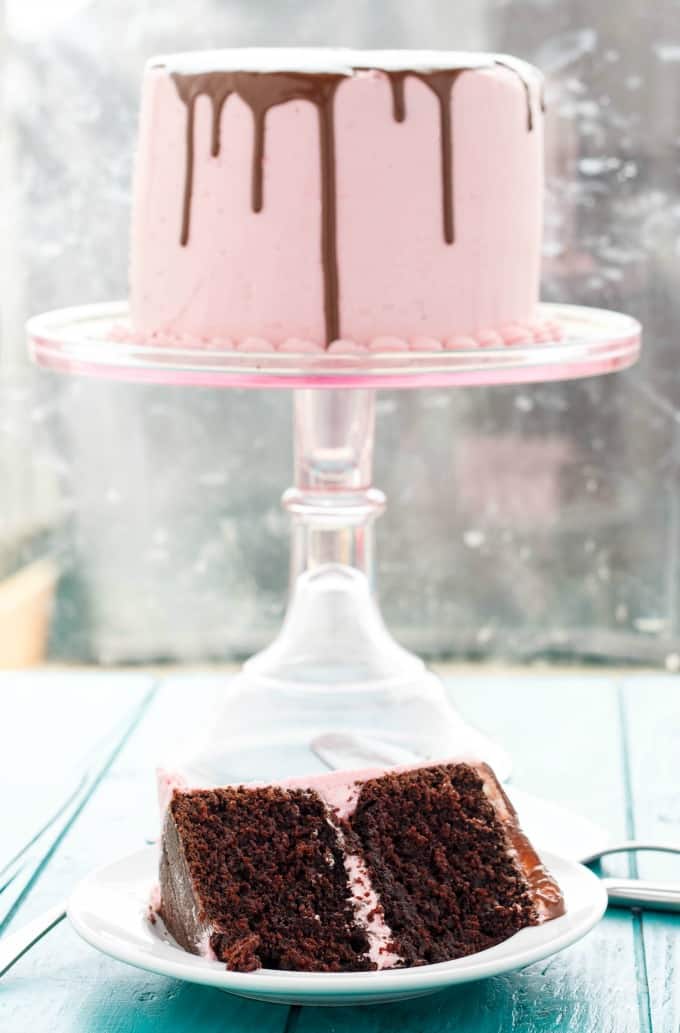 Chocolate Cake Recipe Tutorial from The Cookie Writer!
This recipe makes enough for two 6-inch cake pans. For even more cake double or triple the recipe but just keep an eye on cook time if you are switching the size of your pans!
Ingredients
1 cup all-purpose flour
½ cup cake and pastry flour
1 cup granulated sugar
¼ cup brown sugar
½ tbsp. baking soda
½ cup cocoa powder
½ cup melted coconut oil
¾ cup buttermilk, room temperature (I actually make my own with 1 tbsp. vinegar and milk)
1 egg, room temperature
½ cup hot coffee
1 tsp. vanilla
¼ tsp. salt
Instructions
Preheat oven to 350F. Grease two 6-inch round pans with shortening and flour. Tap out excess flour and set aside.
Add sugars and oil to the bowl of your stand mixer. Beat until well combined, about 5 minutes. Add in egg and vanilla and mix very well.
Sift together the flours, soda, salt, and cocoa powder. Alternatively add the dry ingredients and buttermilk, beginning and ending with flour mixture. Slowly pour in hot coffee. Use a spatula to fully incorporate everything.
Divide batter evenly among the two pans. Place into oven and bake for 30-40 minutes, or until toothpick comes out clean. Cool until able to touch the pans on a cooling rack. Flip cakes out and allow to cool completely.
Nutrition Information:
Yield:

12
Serving Size:

1
Amount Per Serving:
Calories:

334
Total Fat:

14g
Saturated Fat:

9g
Trans Fat:

0g
Unsaturated Fat:

3g
Cholesterol:

27mg
Sodium:

306mg
Carbohydrates:

48g
Fiber:

2g
Sugar:

25g
Protein:

5g
Time to work on perfecting my other base cake recipes (you hear that, vanilla cake recipe?! I will find the perfect, moist, white cake!) Until then, check out some of my other cake designs!
Love this chocolate cake recipe tutorial from The Cookie Writer?! Try some of these recipes: