Love a good ole fashioned pecan pie? Well, you will just LOVE this pecan pie cake! Everything about pecan pie but in cake form!
The photos and recipe for this pecan pie cake have been updated as of April 17th, 2016!
What a wondrous treat I have for you today!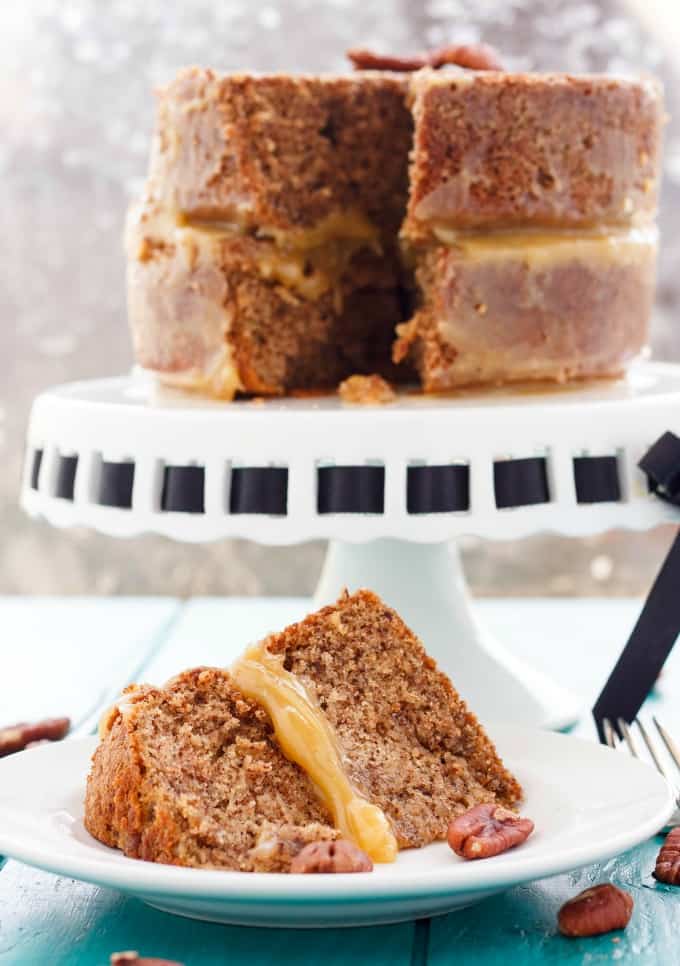 As I stated in my last post, I went all out for Valentine's Day. Along with my 
mushroom risotto
 and 
roasted asparagus
, I made Tofu steaks and finished the meal off with a pecan pie cake! Oh, I also made 
roasted cauliflower
 because that has to be my husband's top side recipe. Somehow we managed to save room for this awesome cake. A little bit of work in the sense of crushing pecans to line the cake pans with (I got lazy and didn't crush them enough.) However, the recipe was tasty and sweet, reminding us completely of pecan pie. I halved the recipe to make a small 6-inch cake, but
the recipe below is for a full-size, 9-inch cake (3 tiers!
)
UPDATE
: Since revisiting this recipe I found it so much easier to add the pecans to a food processor! This resulted in perfect-sized crushed pecans to line the edges of the pan! I have also just provided the recipe I made (which is enough for a two-layer, 6-inch cake.)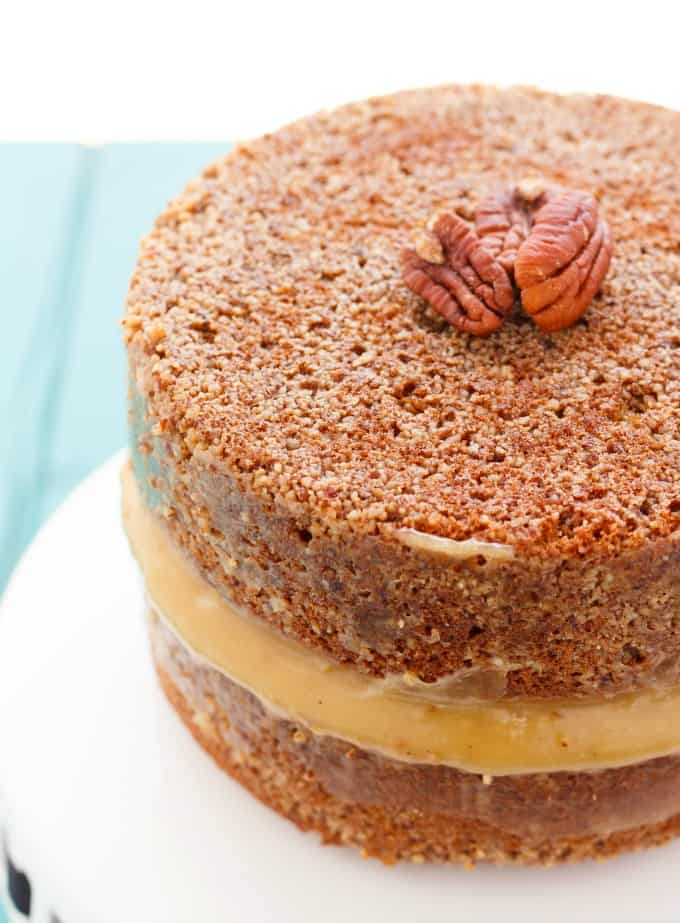 I honestly did not think pecan pie could get any better… But in cake form it is outstanding! I love the lighter feeling since there is no pie crust, and the layers of cake are separated by this thick, but too sweet, filling.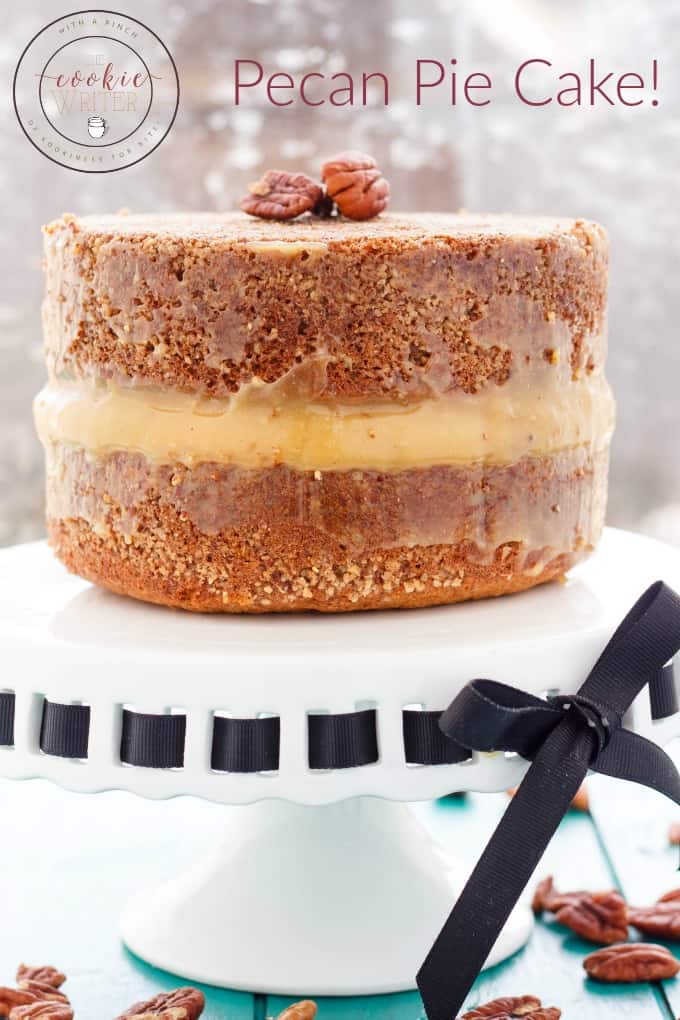 Pecan Pie Cake
---
Kacey
Yields 2
This pecan pie cake is so easy to make, and will get you over that pecan pie craving!
40 minPrep Time
50 minCook Time
1 hr, 30 Total Time
Ingredients
Cake

1 1/2 cups pecans, toasted and finely chopped (or placed in a food processor)
1/2 cup butter, room temperature
1 cup brown sugar
2 eggs + 2 egg whites (save yolks for filling)
1 tsp. vanilla
1 tbsp, maple syrup
1 cup all-purpose flour
1/2 tsp. baking soda
1/2 cup buttermilk
1/8 tsp. salt

Filling

1/4 cup brown sugar
1/4 cup corn syrup
1 tbsp. maple syrup
1/8 cup cornstarch
2 egg yolks
3/4 cup heavy whipping cream
1/8 tsp. salt
1 tbsp. butter
1 tsp. vanilla
Instructions
Filling

Add the brown sugar, corn syrup, maple syrup, cornstarch, yolks, cream, and salt to a small saucepan. Whisk over medium heat until your mixture reaches a boil. Cook for one minute, making sure to stir constantly, and wait until mixture has thickened.
Remove from heat and stir in butter and vanilla. Allow to cool completely at room temperature. You can refrigerate the filling overnight (just remember to place a piece of plastic wrap over the surface so no film builds.)
Preheat oven to 350F.
Butter two 6-inch cake pans. Divide 1 cup of pecans among the pans, moving the pecans in the pans so that the bottoms and sides are fully covered. Reserve the remaining 1/2 cup of pecans.
Add the butter and sugar to the bowl of your stand mixer. Beat until light and fluffy, about 5 minutes. Add in the eggs one at a time, until each is blended in. Pour in the vanilla and maple syrup.
In a separate bowl, sift together the flour, baking soda, and salt. With the mixer on low, alternatively add the flour mixture and buttermilk to the butter mixture. Begin and end with the dry ingredients. Stir in the last of the pecans and set aside.
Using a hand mixer, whip up the egg whites to stiff peaks.
Pour half of the egg white mixture into the batter and CAREFULLY fold it in. Pour in the remaining egg whites and repeat, mixing until just combined. You don't want to deflate the egg whites.
Evenly pour the batter into each of the pans. Bake for 30-35 minutes, or until a toothpick comes out clean.
Place the pans on wire racks and allow to cool for about 10 minutes, or until you can hold the pans with your bare hands. Flip the pans over and gently remove cakes. Allow the cake to finish cooling completely on the racks.

Construction

When it comes time to construct the cake, place one layer of cake onto your cake board and spread a generous amount of filling onto the top of the cake. Place the next layer onto the filling and, if desired, drizzle with remaining filling.
7.8.1.2
67
https://thecookiewriter.com/pecan-pie-cake/
(Adapted from Sweet Jeanette)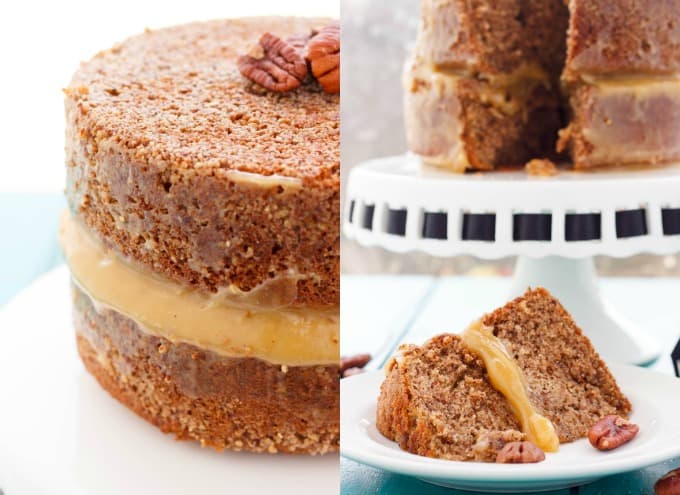 I have never made a "naked" cake before. It felt weird not putting any icing on the outside, but rest assure, the filling made up for it! I found the filling quite thick, almost like very thick pudding. I adjusted the ratios a bit to hopefully yield a smoother filling. It tasted great but there was just something off in the consistency (I don't mean lumps, just very thick!) UPDATE: Since remaking this recipe I played around with the filling and think I came out with the perfect mixture! If you find your filling a bit loose, just refrigerate it but as you can see from the photos, the filling held up quite well. You can give the cake a more rustic "naked" look my spread the filling around the sides.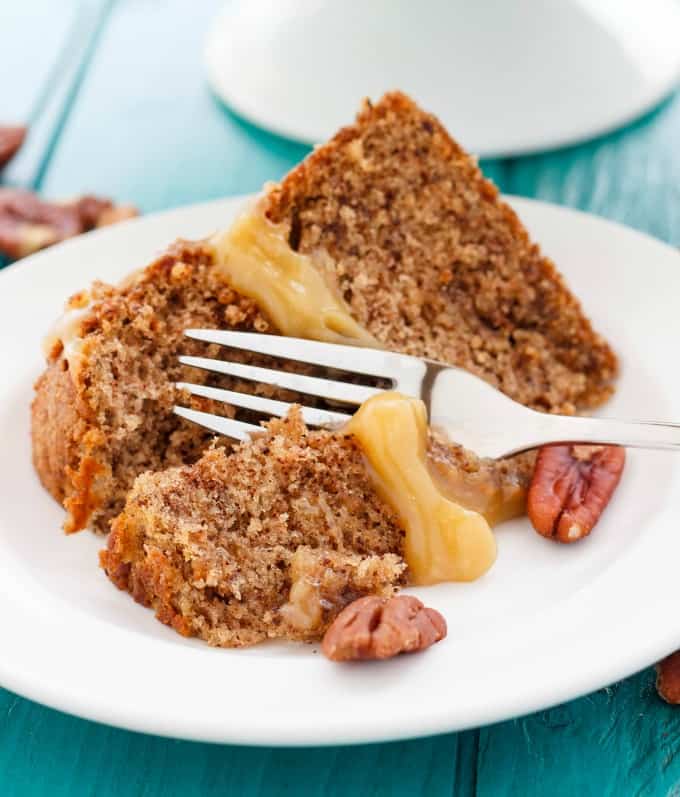 Halving this recipe, I ended up making a two-layer 6-inch cake. It was still quite a bit for us but I am glad I didn't have a 9-inch cake to eat!  And please, don't be lazy like myself, and actually chop up those pecans as finely as possible. My large pecan chunks had a hard time sticking to the butter in my pan. UPDATE: The food processor worked wonders here and I don't recommend any other way! Still came out looking lovely, I just placed more pecans into my cake batter rather than trying to get them to stick to the outside of the cake. Lesson learned. A food processor would have made that step much easier, but it is one kitchen tool I do not have.
Love this pecan pie cake?! Try some of these recipes: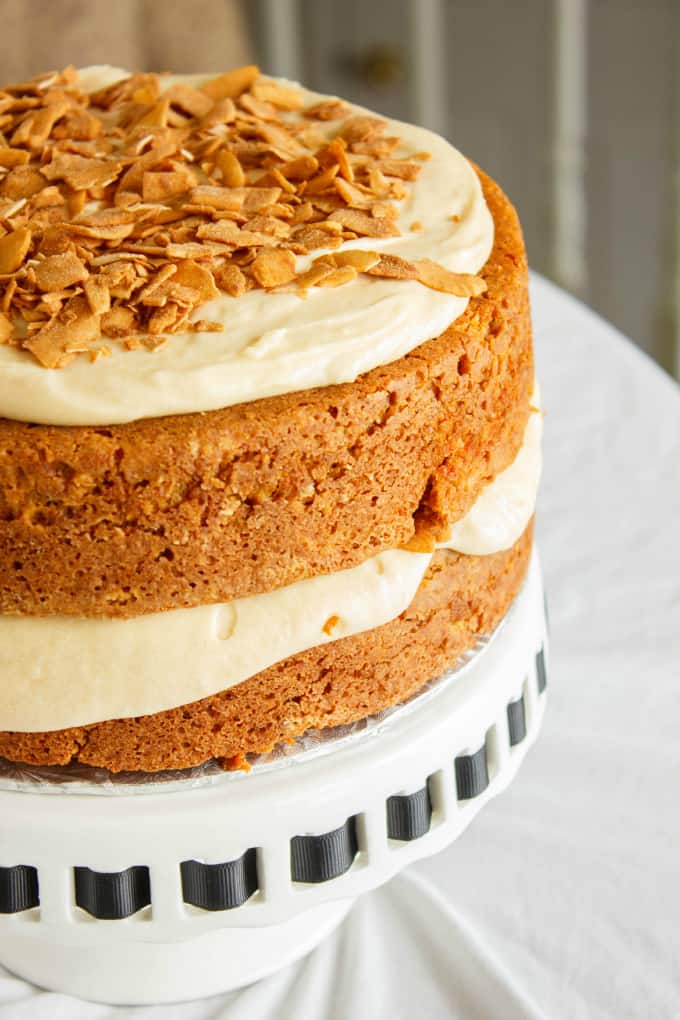 Carrot Cake with a Brown Butter and Brown Sugar Buttercream