Summer is slowly creeping up on us, and what better way to celebrate it than with these BBQ potatoes and vegetable medley! We are checking out The Little Potato Company's Terrific Trio as I continue my brand ambassadorship!
Our Canadian temperatures have still been a bit crazy. I know on the west coast they have been having warm weather, while us here in Ontario are still dealing with cooler temperatures. I mean, it isn't horrible, but they are confusing. Have to leave the house in the morning with a heavier jacket but by the afternoon a spring jacket will do. That aside, we thought it was high time to break out the BBQ! And what better way to start the season off than with steaks and these BBQ potatoes and vegetable medley!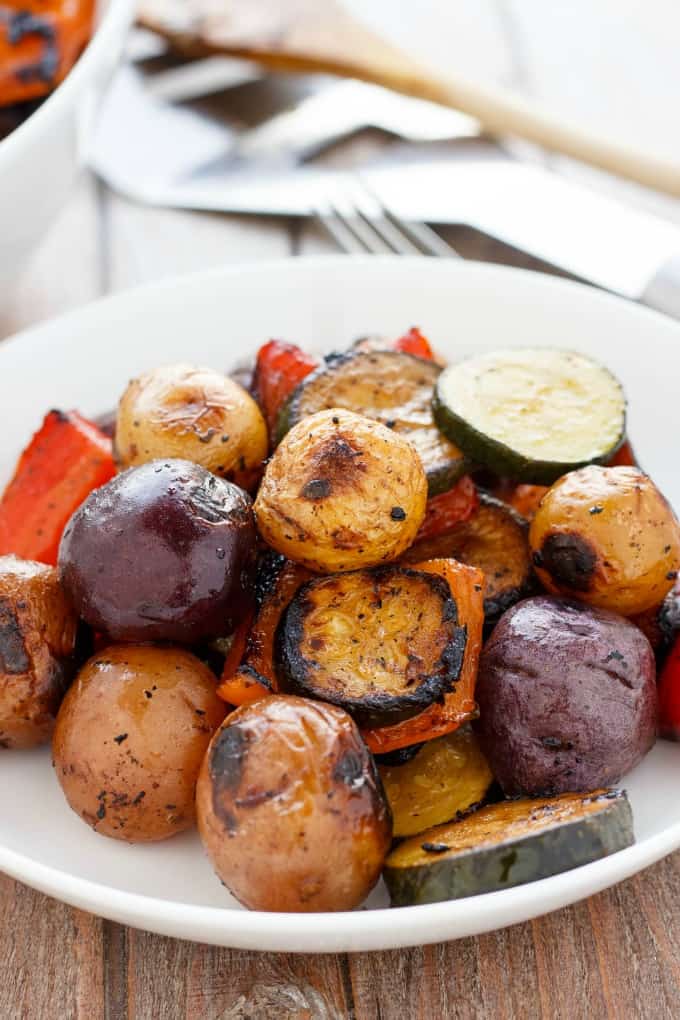 The Little Potato Company is all about showing off their amazing Creamer potatoes and this time around we went for something, quick, simple, and sparse on ingredients. I wanted to highlight the Terrific Trio here, and by keeping my ingredients to a minimum I was able to achieve that. Do I consider this recipe a 5-ingredient or less creation? I think so! To me, every house should have salt, pepper, oil, and garlic as staples so those are not included in my 5 ingredients 🙂 But if you want to add more veggies, go for it! I actually threw on some grilled mushrooms since I was not joining in the steak dinner.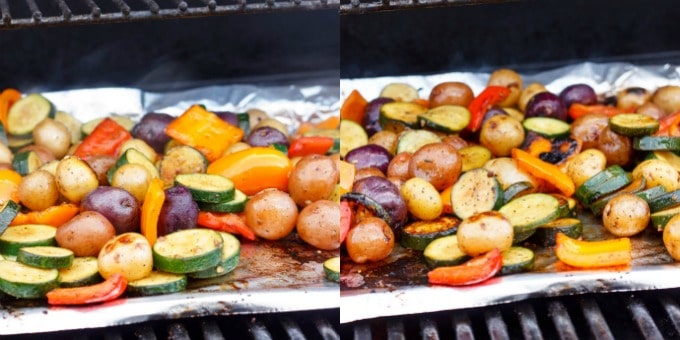 What is better than seeing some pics of dinner in action?!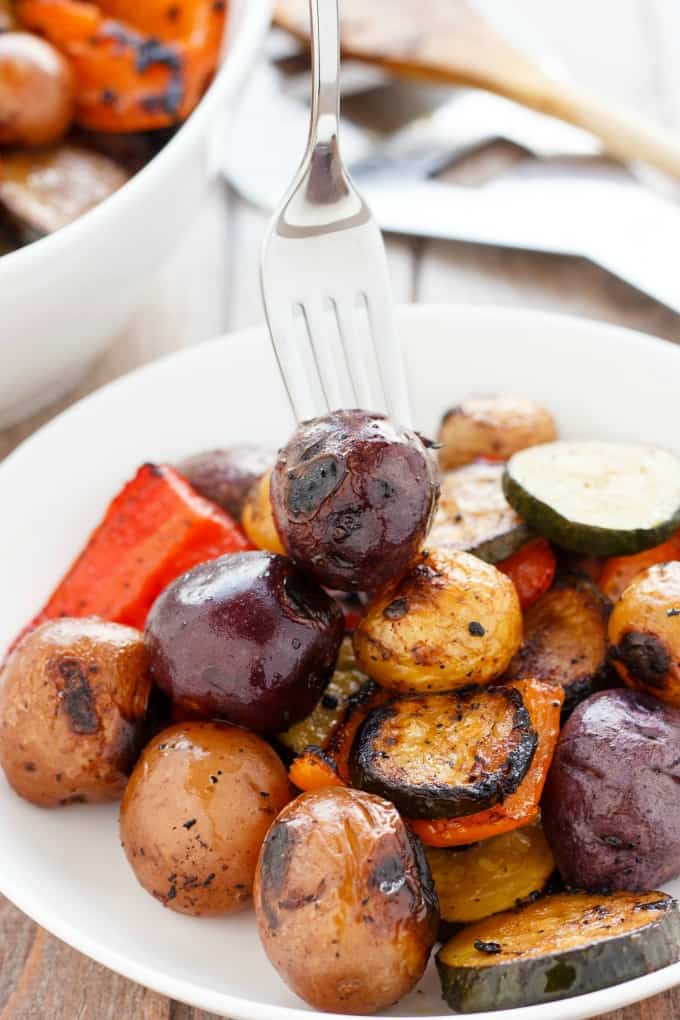 Time and time again I have stated how nutritious and delicious these potatoes are. My sister mentioned the other day that her friend finally got around to picking up a bag of Creamer potatoes after hearing me talk about them forever. Her exact words were: "they were actually creamy." Yes! Taste is so important, and there is just something about these little guys. And with this recipe I kept everything vegetarian, vegan, gluten-free, and dairy-free, so any guest should be able to have a bite! Of course, while I did prep the meal, I left the BBQing to my husband. Well, now that I think about it, as soon as his steak was done he vanished... But don't worry, he would NEVER pass up on potatoes!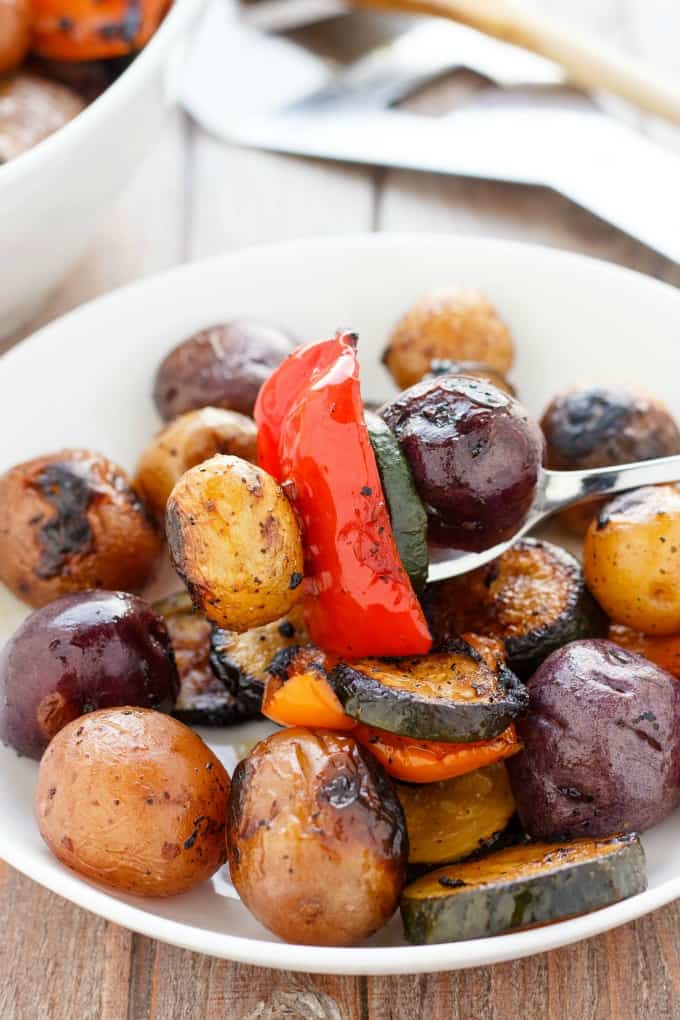 📖 Recipe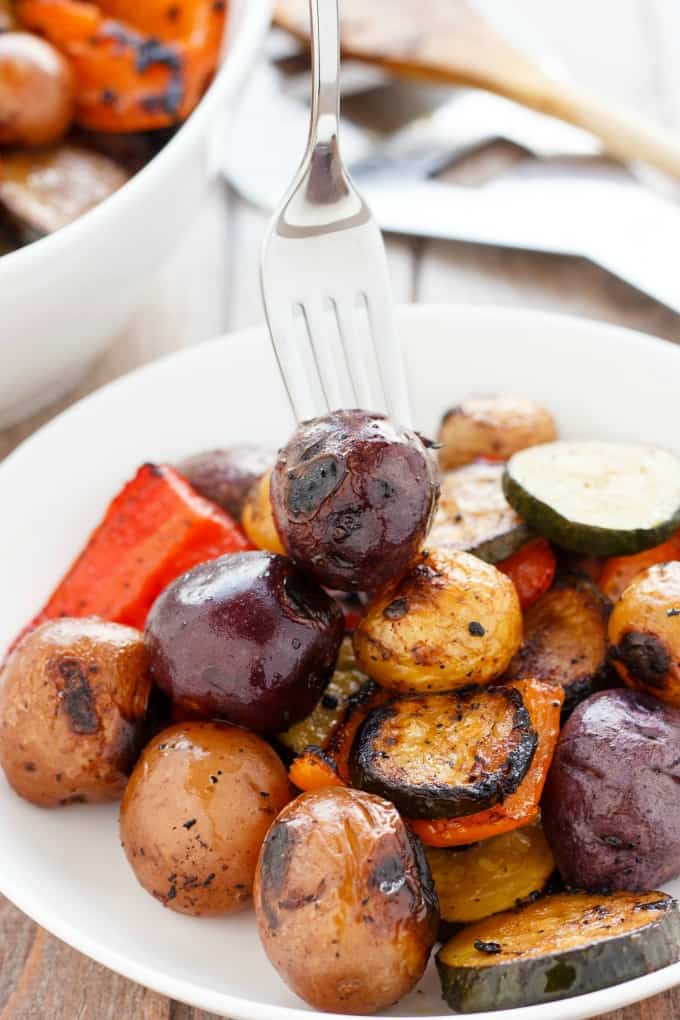 BBQ Potatoes and Vegetable Medley
A quick and simple BBQ meal that can easily be adjusted (ie. more veggies!)
Ingredients
1.5 lbs Creamer potatoes (I used The Little Potato Company's Terrific Trio)
2 large zucchini, sliced ½-inch thick
2 sweet bell peppers, chopped
3 garlic cloves, minced
2 tbsp. olive oil
3 tbsp. balsamic vinegar
Instructions
Poke your potatoes with a knife and place into microwave for 7 minutes.
Combine all the ingredients into a large mixing bowl and toss until evenly combined. Season with salt and pepper generously.
Heat BBQ to a high heat (450F) and place veggies on a grill pan. Cook, covered, stirring every so often until veggies are tender-crisp (or softened to your liking,) about 20 minutes.
You can halve your potatoes to save on cook time!
Nutrition Information:
Yield:

4
Serving Size:

1
Amount Per Serving:
Calories:

384
Total Fat:

24g
Saturated Fat:

17g
Trans Fat:

0g
Unsaturated Fat:

6g
Cholesterol:

0mg
Sodium:

148mg
Carbohydrates:

39g
Fiber:

3g
Sugar:

6g
Protein:

5g
While these BBQ potatoes and vegetable medley were grilled, this recipe would easily transfer to the oven. I did microwave my potatoes first to soften them, but if you used The Little Potato Company's microwave ready packages, you wouldn't need to complete the hassle of poking all the potatoes so they don't blow up in the microwave 🙂 I just really like the colors in the Terrific Trio and think they made a show-stopping side dish for summer!
This is a sponsored post. I was fortunate enough to receive products and monetary compensation from The Little Potato Company. Though products were received, all opinions are my own and I would not recommend a product that I did not enjoy.
Love these BBQ potatoes and vegetable medley?! Try some of these recipes: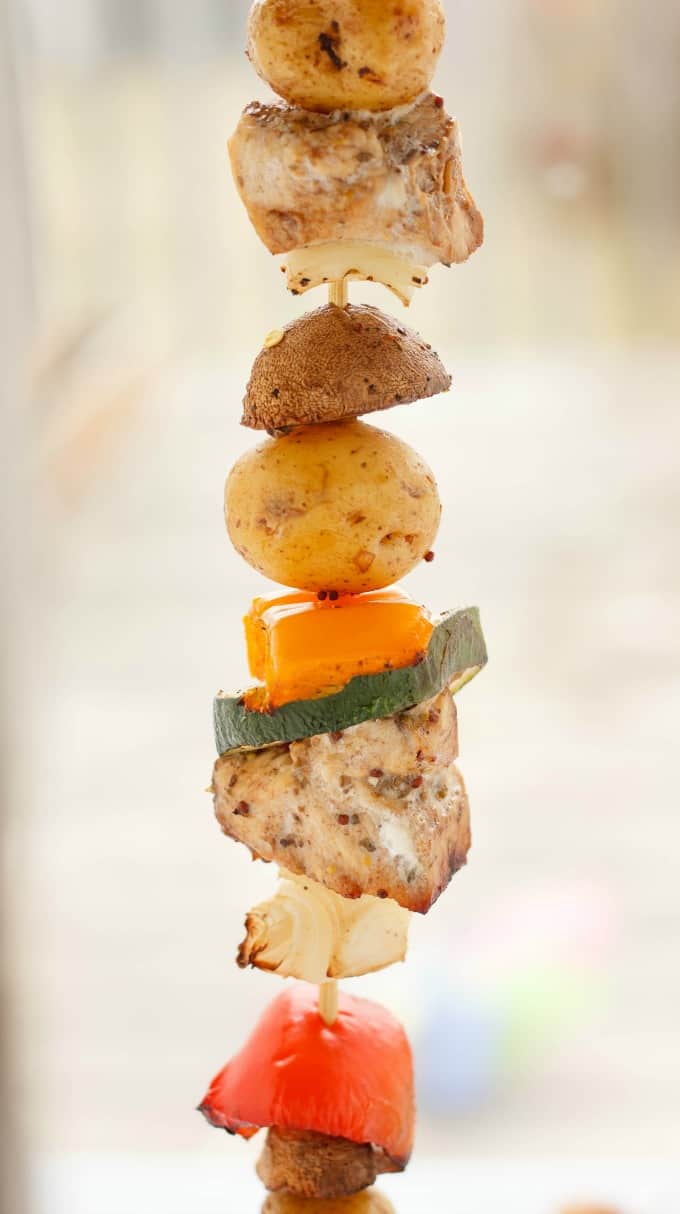 Shish Kabobs in the Oven (Chicken and Tofu Varietals!)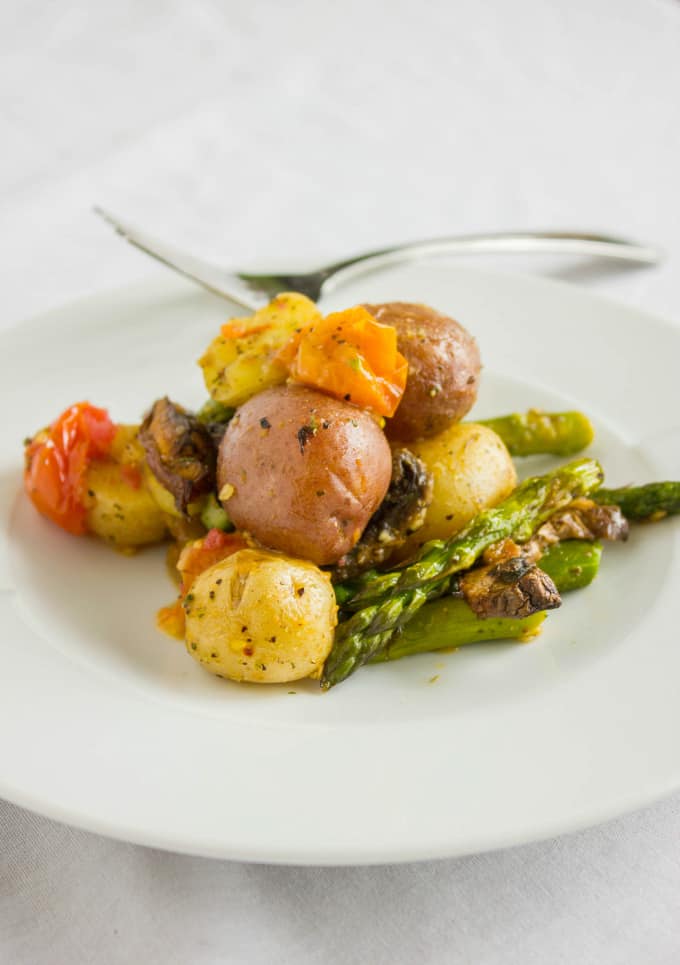 Easy Creamer Potatoes with Roasted Vegetables (Microwave Ready)