Welcome to my second post with The Little Potato Company courtesy of my brand ambassadorship with them!
I am so happy to be working with Creamer potatoes again, and this post will hopefully broaden your knowledge of these little potatoes.
For previous facts and knowledge, please be sure to check out my Smashed Potato Shepherd's Pie as this recipe was created using The Little Potato Company's Blushing Belle potatoes.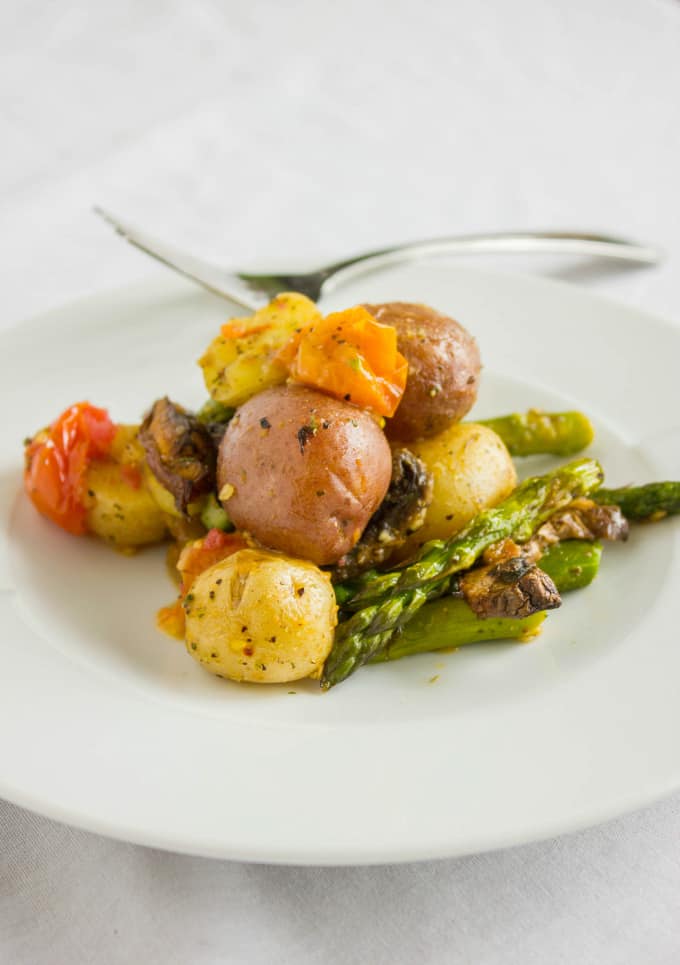 Something I know everyone loves is a delicious dinner that takes little to no time at all to make. I know I am famous for making recipes much more "difficult" and time consuming, but there are nights where I don't want to spend hours in the kitchen. On these nights, I look for quick and simple recipes, but making sure that flavor is never lacking. I knew with today's recipe I wanted to utilize one of The Little Potato Company's quick-picks. They have these awesome Microwave Ready products and I have found myself eating them quite often as a fast dinner/side. So easy to work with! Let me tell you about them.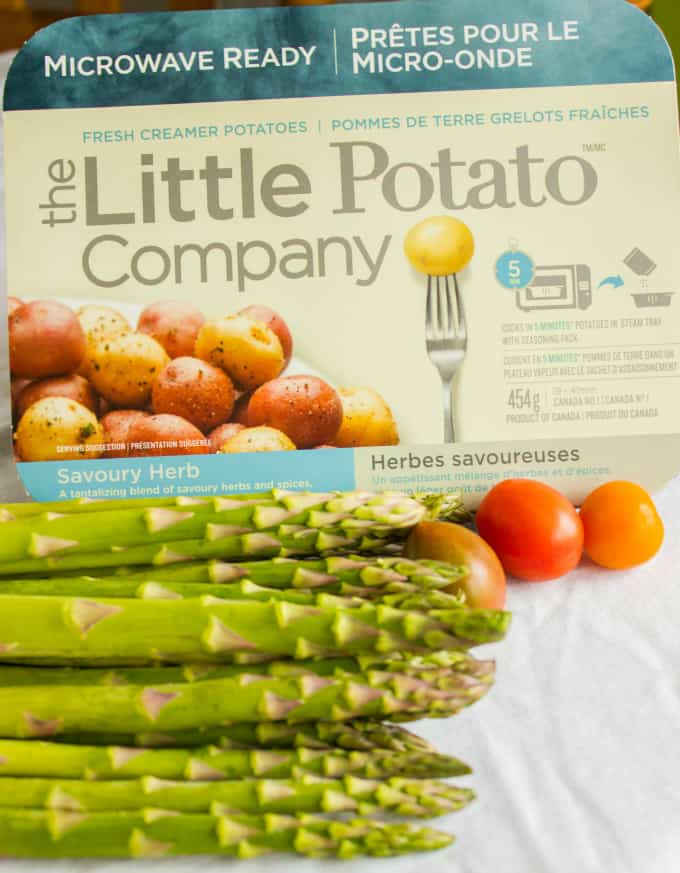 At my local Metro (grocery store for the non-Canadians,) I have had the opportunity to try two of the three flavors: Savory Herb and Zesty Italian. I was floored with the tastes! The Zesty Italian has a special place in my heart. I literally take 5-6 minutes to microwave the product, and mix in some delicious butter along with the seasoning pouch they provide you with. How quick and easy is that?! Whenever I eat one, I always think about college students who are looking for fast meals that take up little space. These products are solely made in the microwave, a favorite cooking vessel for many students. Plus, they are easy to "beef up" so to speak. This is where today's recipe comes into play. I thought these Creamer potatoes with roasted vegetables was a perfect way to showcase the Microwave Ready packages, but also show that this recipe can be made with your ordinary bag of Creamer potatoes!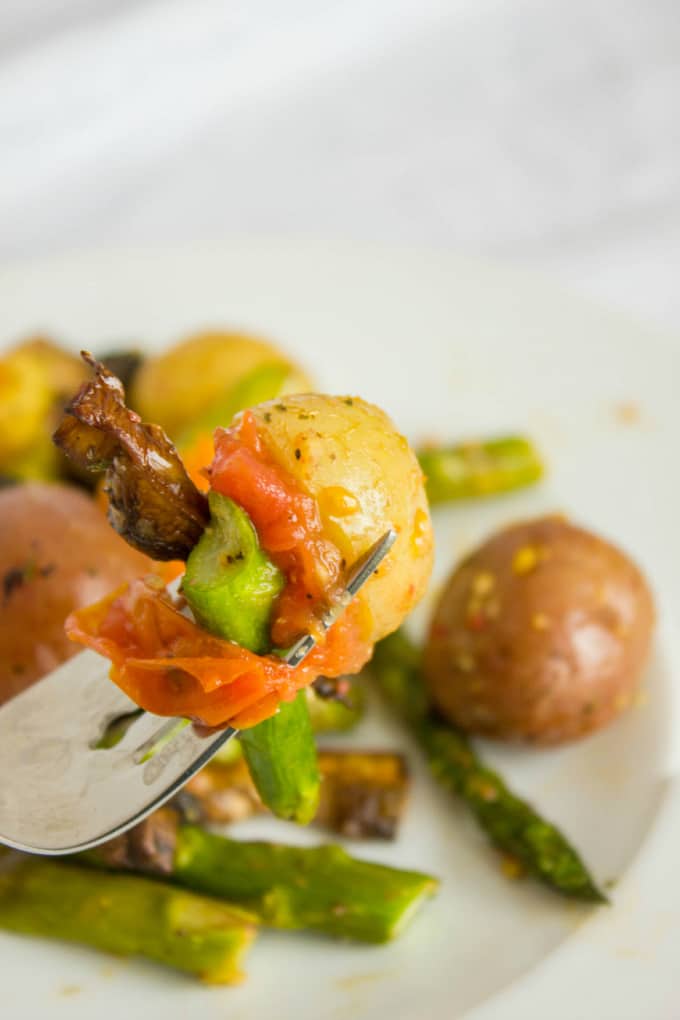 I have provided the recipe for both methods, but if you are short on time with dinner and want a quick side dish, I highly suggest using the Microwave Ready product. With this method, these Creamer potatoes with roasted vegetables are completed in less than 30 minutes and a great pairing to any entree! I personally ate the meal as my dinner, but I think this recipe would work nicely as a side for a Sunday dinner. I was so excited to try my creation that I totally forgot to add the Bocconcini cheese to my first recipe. But you know what? It was not missed! I mean, I love cheese, but these Creamer potatoes with roasted vegetables makes for a fantastic vegan and gluten-free side dish! I will keep pushing the words "quick" and "easy."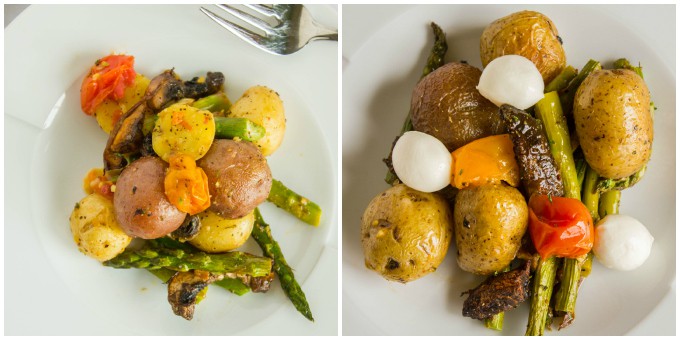 Just for fun, here is a side-by-side comparison of the two recipes. Technically the same meal, but the one on the left uses the Microwave Ready product from The Little Potato Company and the one on the right is the same recipe using Creamer potatoes from the bag. While I love both, I must admit the seasoning package that comes with the Microwave Ready product is just perfect. Plus, makes my recipe easier (see, I used that word again!)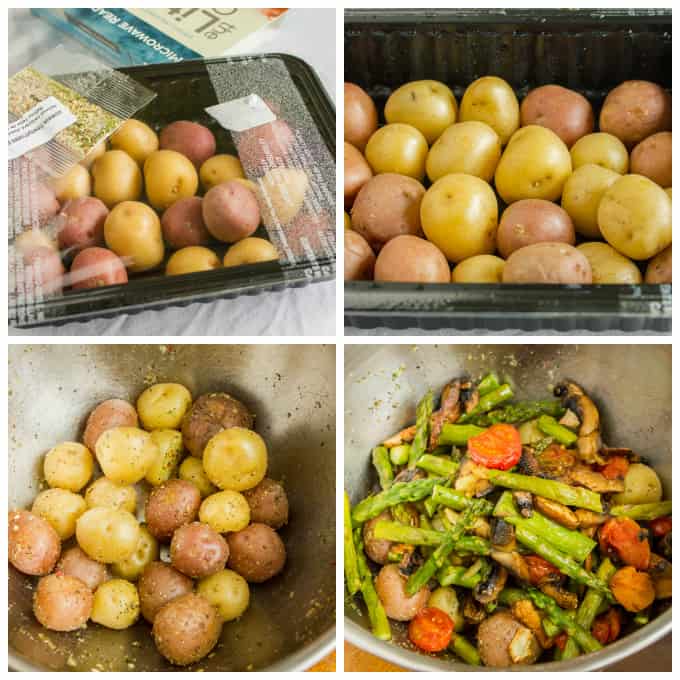 📖 Recipe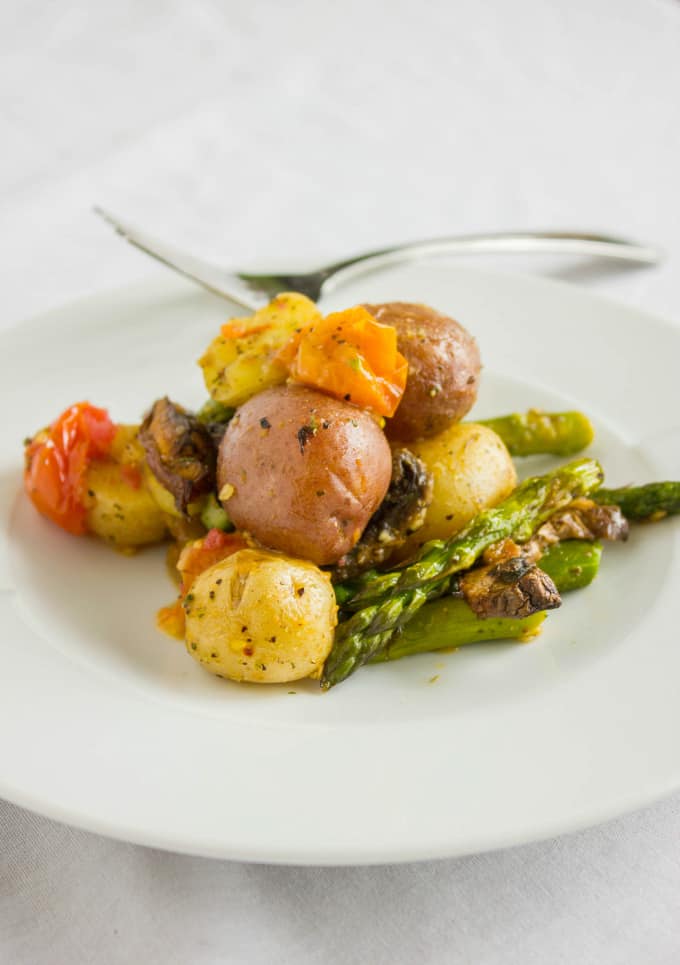 Easy Creamer Potatoes with Roasted Vegetables (Microwave Ready)
An easy side dish, especially if you pick up Microwave Ready potatoes; these Creamer potatoes with roasted vegetables are super tasty!
Ingredients
1 package of The Little Potato Company's Microwave Ready Potatoes (Savory Herb, Zesty Italian, or Garlic Parsley.)
1 bunch of asparagus, trimmed
1 pint cherry or mixer tomatoes, halved
1 portobello mushroom, cut in half and then sliced
2-3 garlic cloves, roughly smashed
Olive oil
Salt and pepper
Option 2 using Creamer Potatoes:
1 ½ lbs Creamer potatoes (I used Dynamic Duo.)
1 bunch of asparagus, trimmed
1 pint cherry or mixer tomatoes, halved
1 portobello mushroom, cut in half and then sliced
2-3 garlic cloves, roughly smashed
Olive oil
Salt and pepper
¼ - ½ tsp. cayenne powder (based on spice tolerance.)
½ tsp. dried basil
½ tsp. dried parsley
1 (130 g ) container Bocconcini cheese (optional)
Butter (optional)
Instructions
Preheat oven to 425F.
Combine the asparagus, tomatoes, mushroom, and garlic together. Drizzle with enough olive oil to gently coat the veggies. Season with salt and pepper. Transfer to a large baking sheet and make sure it is all in a single layer. Place into oven and bake for 10-15 minutes (depending on the thickness of your asparagus spears.) Remove and set aside.
Unpack the microwavable container and place into microwave for 5 minutes (just follow the directions on the box!) Allow to sit for 1 minute afterwards.
Add the potatoes to a large mixing bowl. Sprinkle in the seasoning package that came with the microwave ready dish and drizzle with some olive oil or butter. Toss to combine. Add in the veggies and toss again. Add some fresh mozzarella if desired or serve as is!
Alternative method (using fresh potatoes.)
If you cannot get a hold of the microwavable package, bring a large pot of salted water to a boil. Add the Creamer potatoes and cook for about 10 minutes, or until just tender. Drain. Combine on a baking sheet with the mushroom, asparagus, garlic, and tomatoes. Toss with some olive oil. Sprinkle with salt, pepper, and cayenne powder. Toss again and place into 425F oven for 10-15 minutes, or until veggies are cooked to your liking.
Place everything into a large mixing bowl and season with basil and parsley. Add butter or olive oil if desired and mix in the Bocconcini cheese. Serve!
Nutrition Information:
Yield:

4
Serving Size:

1
Amount Per Serving:
Calories:

613
Total Fat:

32g
Saturated Fat:

21g
Trans Fat:

0g
Unsaturated Fat:

8g
Cholesterol:

19mg
Sodium:

414mg
Carbohydrates:

77g
Fiber:

8g
Sugar:

23g
Protein:

11g
I am so proud of my super quick and easy recipe! I had to resist adding caramelized onions to this meal. I know it would taste amazing, but it would add on another 30 minutes or so to this recipe. However, if you feel like spending a bit more time in the kitchen, hint, hint...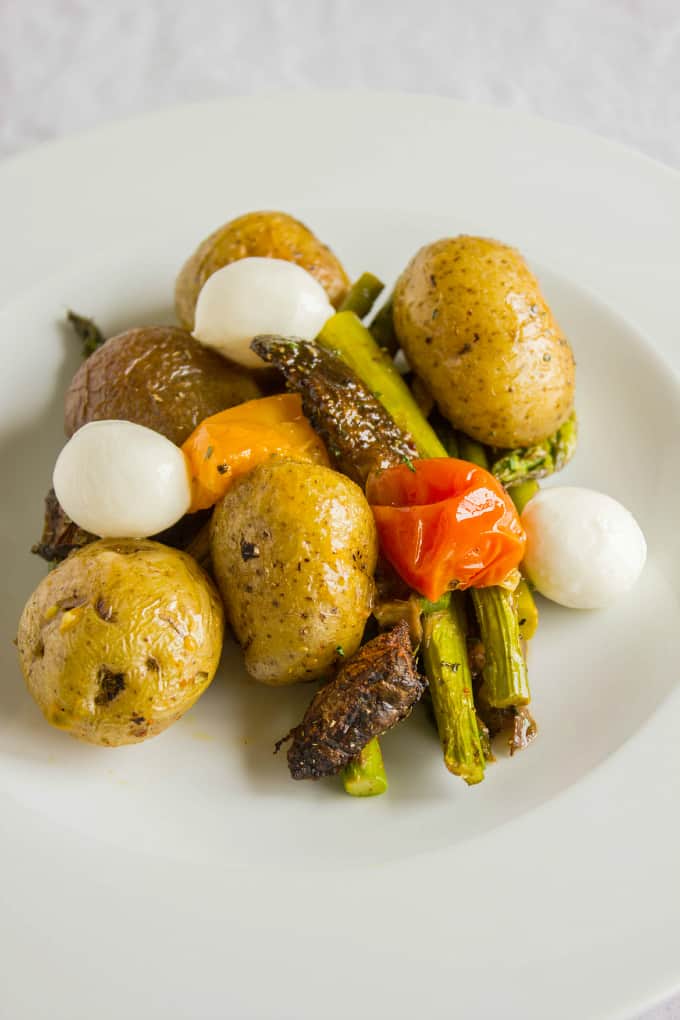 On another note, The Little Potato Company also offers Oven-BBQ Ready and Oven-Grill Ready products (one for Canadians, one for Americans.) These are great if you have extra space in the oven or grill, as they only take 30 minutes to cook. Same concept as the Microwave Ready products where you mix in the seasoning they provide. Then spruce them up however you see fit, or leave them be! I bet this Creamer potatoes with roasted vegetables would work with these products, too!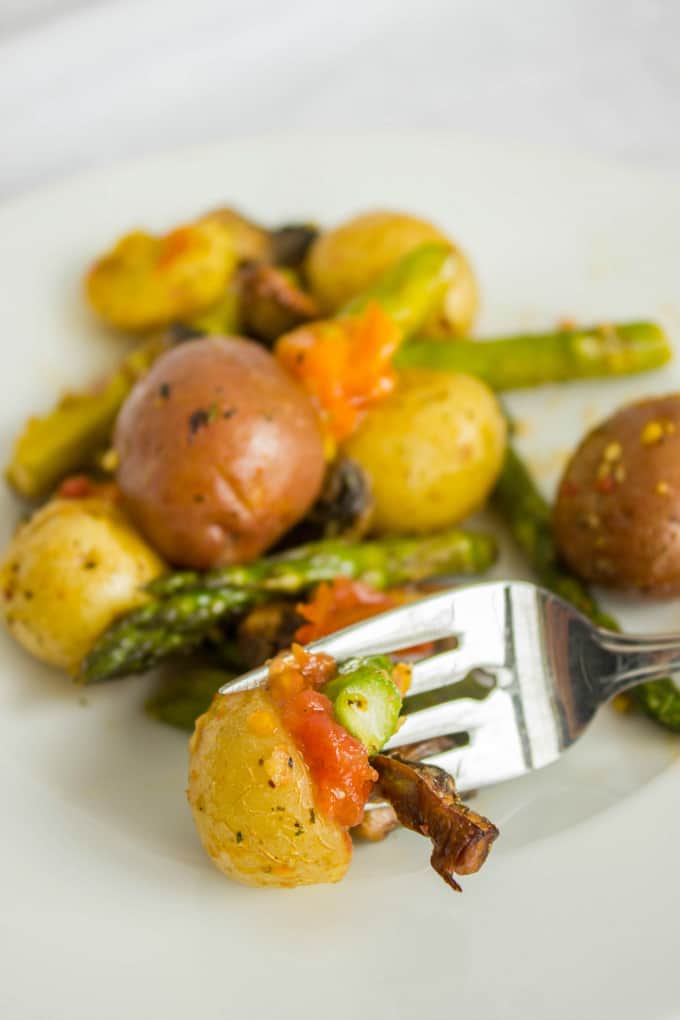 Have fun and be creative with your mix-ins! If you do not have portobello mushrooms on hand, button mushrooms would work, too. You could leave the tomatoes uncooked and maybe add in some zucchini. Endless possibilities! And just to show you once again, if you cannot find the Microwave Ready products from The Little Potato Company, just cook up this dish using any of their other bags (I am still hoping to find the Something Blue potatoes!)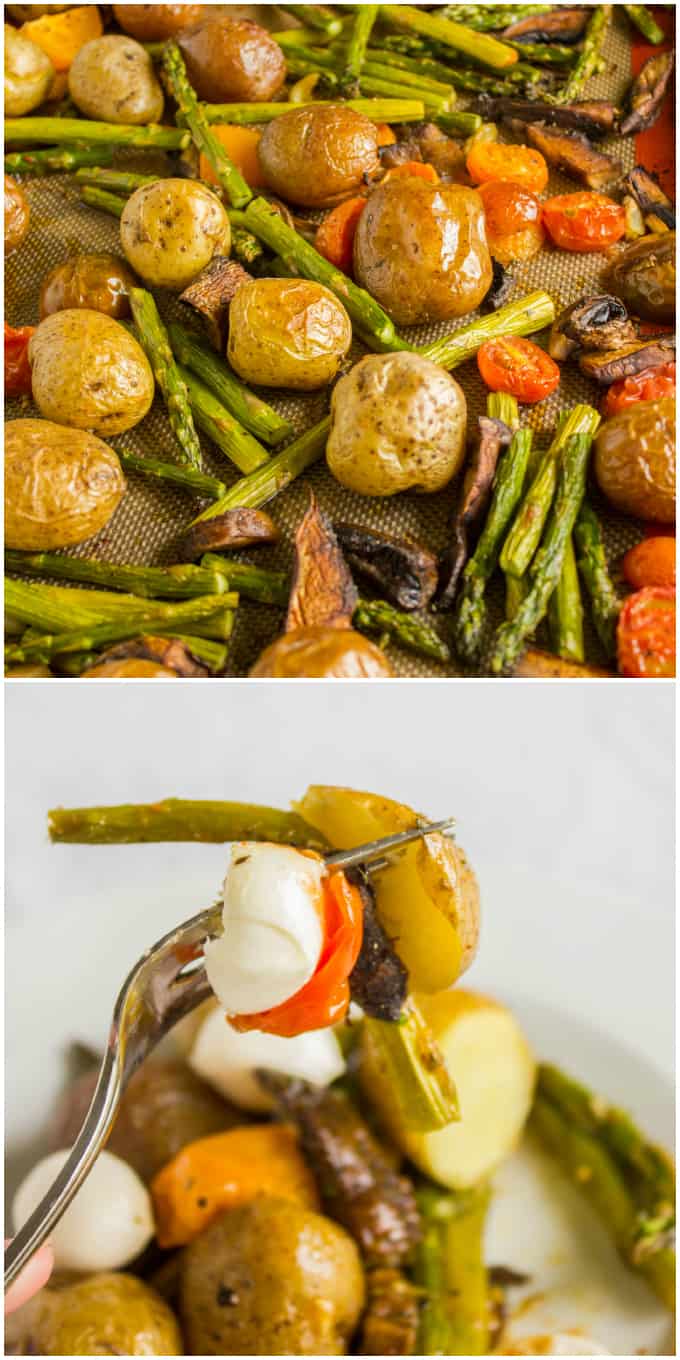 This is a sponsored post. I was fortunate enough to receive products from The Little Potato Company. Though products were received, all opinions are my own and I would not recommend a product that I did not enjoy.