I realized I started off the year right by posting a lot of healthy recipes. I was on a roll! And then like many gym memberships, I began to veer away, further and further... And noticed all my dessert recipes! I can't help it! I love sweets! My family always asks "how are you not 900 lbs?" Easy, I don't eat all the sweets myself, that would be crazy! Chocolate cake? Having a slice or two and giving the rest away. Cookies? Save myself half a dozen and give away the rest. I bake so often that I don't have the desire to eat a whole tray of cookies... well, maybe, but I still avoid that situation!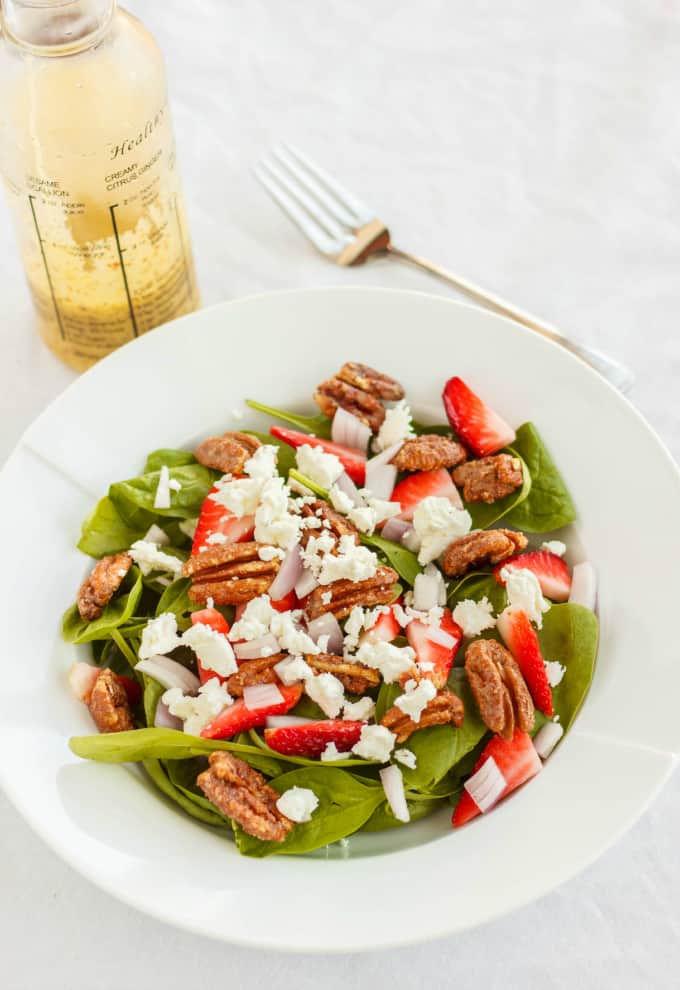 Contrary to the thoughts of many, I do eat things other than dessert. When we go to restaurants, I get full from my meal, but always have room for dessert! However, some restaurants I find the portions are so-so, and I am left feeling hungry still. I love Milestones meals, plus their amazing Bellini! Sometimes though, I feel paying over $10 for a salad is a bit much... Milestones' California spring salad is a favorite of mine, and I could eat it every day. But I would also be broke. So I began the journey to recreate it at home and I think I have it down!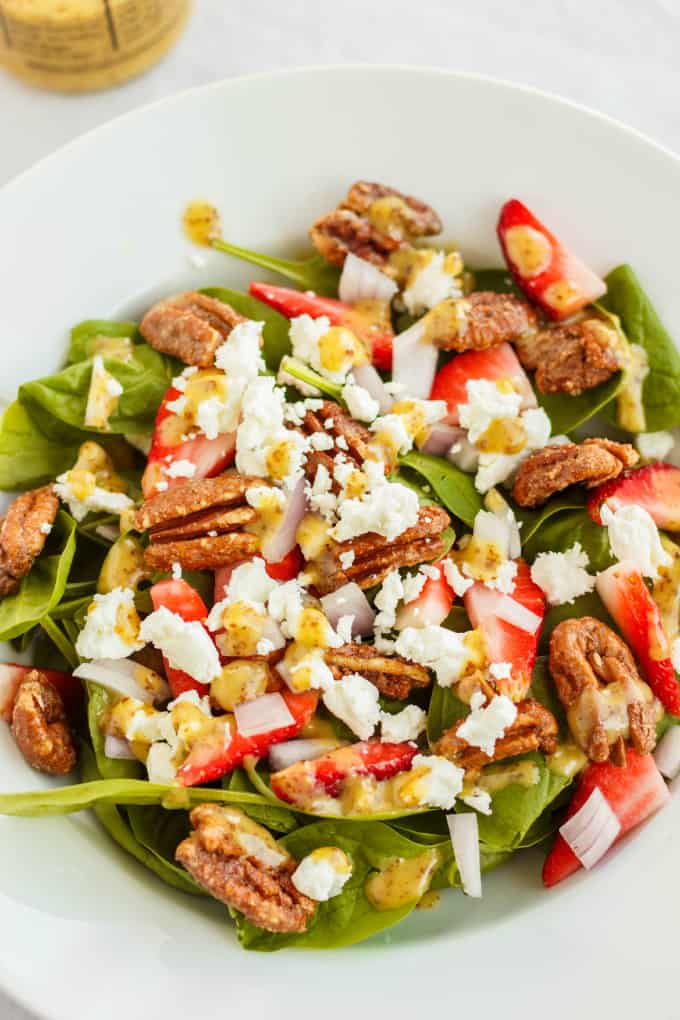 When I first had Milestones' California spring salad I thought the dressing was a poppy seed dressing. I swear it! But their menu says honey mustard... When I first made this recipe years ago, I would make it with a homemade poppy seed dressing. It was not until recently when I was checking the menu again that I saw the honey mustard dressing. For today's recipe, I paired it with a homemade honey mustard dressing, but I personally prefer the poppy seed dressing (a recipe I will be posting in the future.) I should really ask someone at the restaurant if they changed the dressing over the years because I feel like I was so sure it was a poppy seed dressing...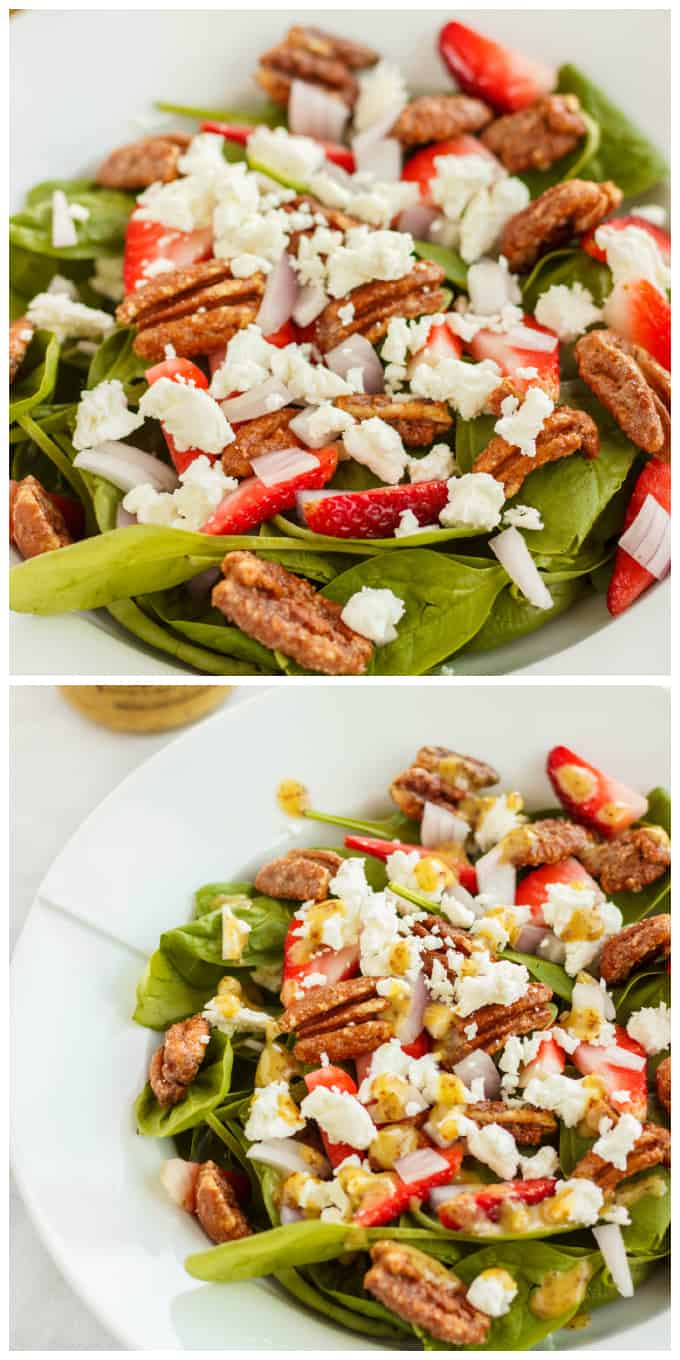 Now, at their restaurant, the Milestones' California spring salad uses a spring salad mix. My grocery store was all out, so I used baby spinach. Really, it is all up to you as even though this is Milestones' California spring salad, the recipe is not the EXACT one (I don't think they are handing out their recipe book!) Pretty darn close though! I like extra toppings on my salad so I definitely add way more than they do at their restaurant (making it well worth the money to make at home.) This homemade version is very cost efficient and won't leave you feeling guilty in the end. Now I can enjoy this salad any time!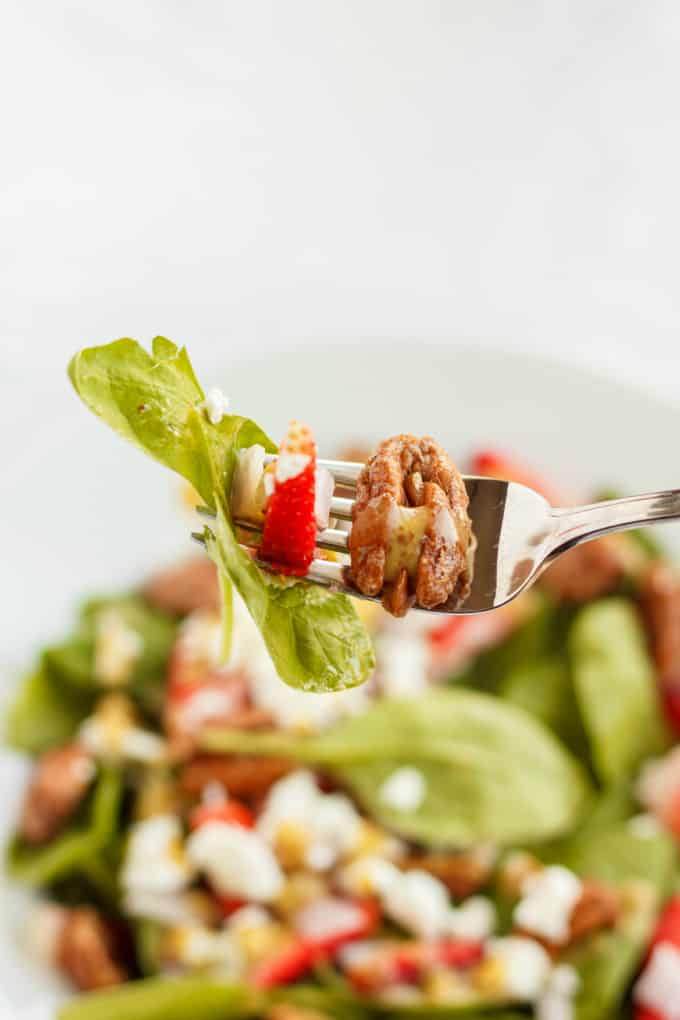 📖 Recipe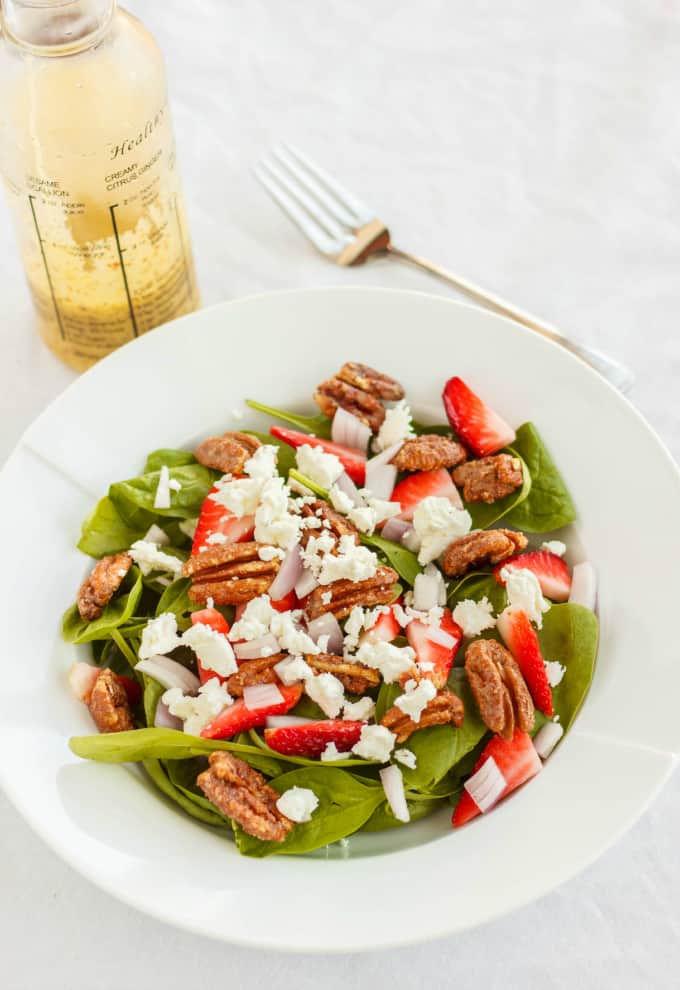 Milestones' California Spring Salad
A copycat recipe of Milestones' California spring salad including the dressing recipe and a link to the spicy glazed pecans.
Ingredients
Spring salad mix
Spiced pecans (recipe found in post.)
1 red onion, thinly sliced
Goat cheese, crumbled
Strawberries, sliced
Dressing:
2 tbsp. white wine vinegar
1 tbsp. coarse mustard
1 tbsp. honey
Salt and pepper
Pinch of nutmeg
1 garlic clove, minced
About ¼ cup olive oil (add slowly, you may not need it all!)
Instructions
In a food processor, add the white wine vinegar, mustard, honey, salt, pepper, nutmeg, and garlic. Pulse until combined. Slowly add in the olive oil with your machine on. Stop every so often to taste dressing to see when you reach your desired consistency (¼ cup is almost too much oil I find.)
Salad:
Combine all ingredients and top with dressing. Serve immediately!
Nutrition Information:
Yield:

2
Serving Size:

1
Amount Per Serving:
Calories:

368
Total Fat:

31g
Saturated Fat:

6g
Trans Fat:

0g
Unsaturated Fat:

24g
Cholesterol:

7mg
Sodium:

316mg
Carbohydrates:

20g
Fiber:

3g
Sugar:

14g
Protein:

5g
This is not my first restaurant copycat recipe. I think I have something for Milestones, because I have recreated a couple of their recipes (hopefully they do not hunt me down!) If you are interested in more of their recipes, take a look at the following: Milestones' Bellini, Milestones' chocolate ganache torte, Milestones' roasted mushrooms soup, and Milestones' brown rice spaghettini pasta.)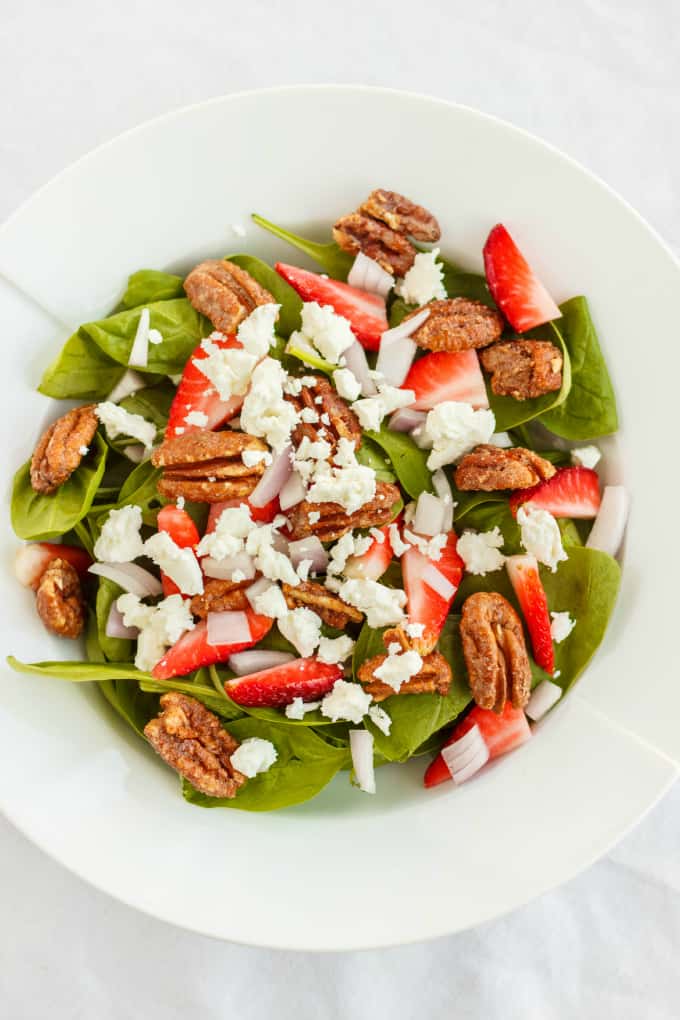 Really quick and simple salad. I am a big goat cheese lover, so I add a lot! Surprisingly, I am pretty sparse on my pecans, but then again I know how expensive they are so that may just be me being cheap!