Craving some BBQ dishes but can't access your appliance? Fret no further with these tofu or chicken shish kabobs in the oven! Quick, delicious, and the perfect way to continue my brand ambassadorship with The Little Potato Company! Plus, who doesn't want to win a month's worth of free potatoes!
I won't lie: the first thing I did when creating this post was look up the difference between kabobs and kebobs. I have seen it spelled both ways, and according to online sources, both are right, it is just the matter of how you prefer to spell it. I prefer kabobs so I am sticking to this spelling.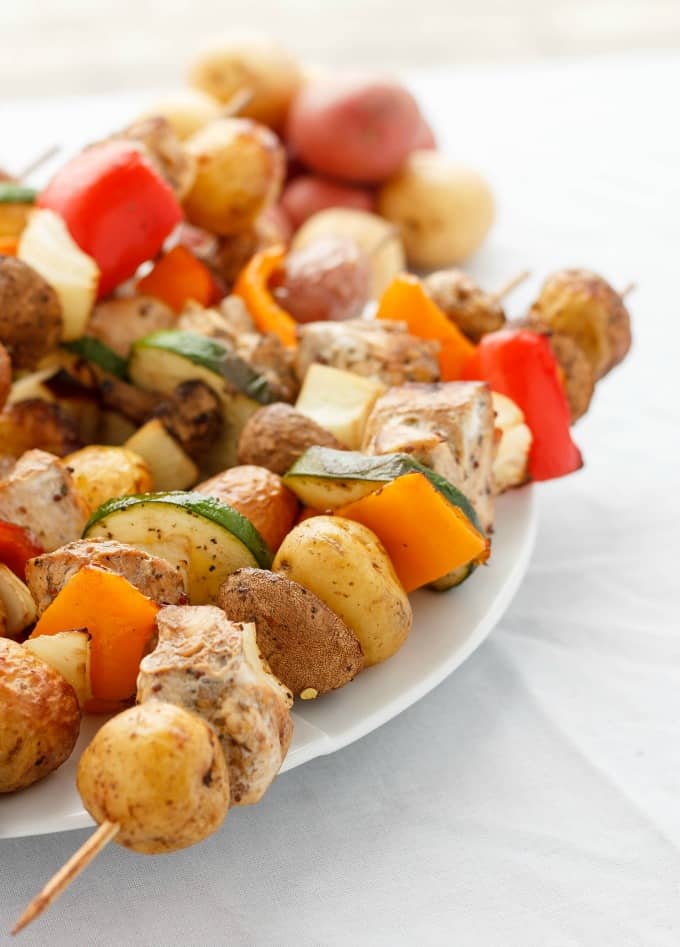 That out of the way, I am happy to be working with The Little Potato Company again. They have taught me a lot over the past year and I feel their core values are both important and successful when it comes to choosing potatoes that are hearty and healthy. My family loves these Creamer potatoes and we try to include them as often as possible (especially me now that my iron levels have plummeted!)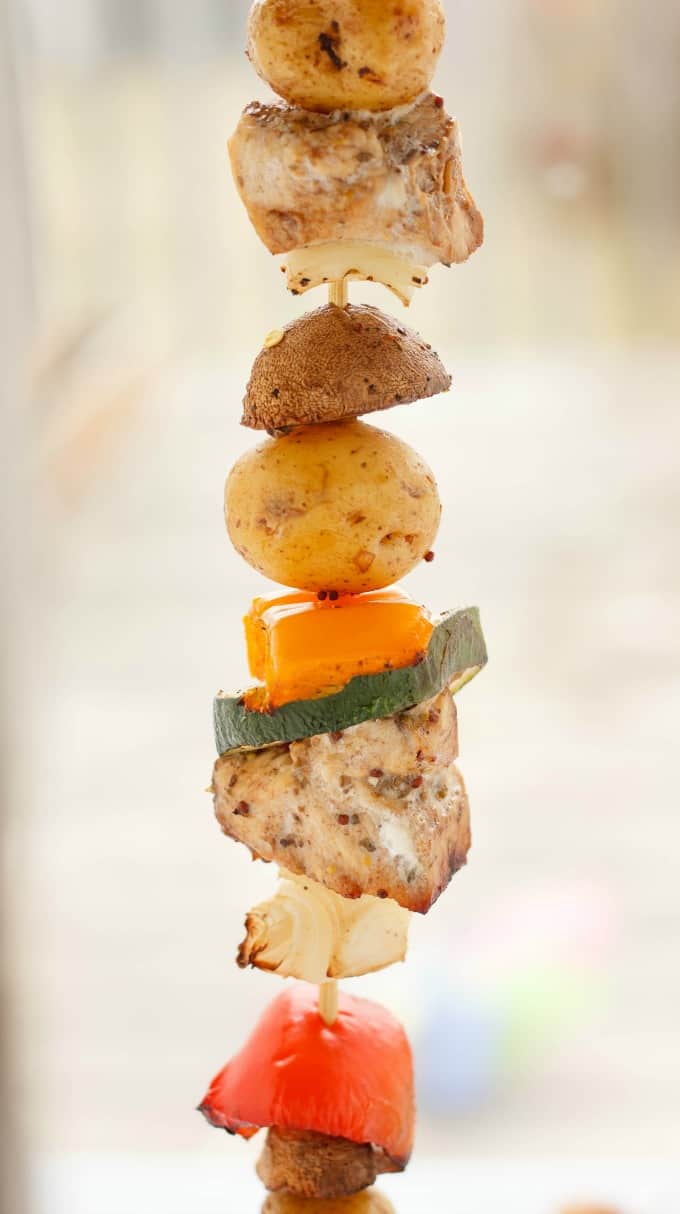 These shish kabobs in the oven include both a meat and vegetarian version. People seem to fear cooking for vegetarians if they are not used to the task, but let me tell you, soooo many recipes can easily be made vegetarian (or just slightly adapted.) In this case, I made chicken shish kabobs in the oven for my husband and daughter, and tofu shish kabobs in the oven for myself. And it was so simple! I obviously marinaded the chicken and tofu separately, but the veggies were placed into a large bowl and when it came time to put the kabobs together, it was just a matter of completing the tofu ones first so there was no cross-contamination. And there you have it: a meat and vegetarian dish for your dinner (or BBQ, or just for your regular family routine!)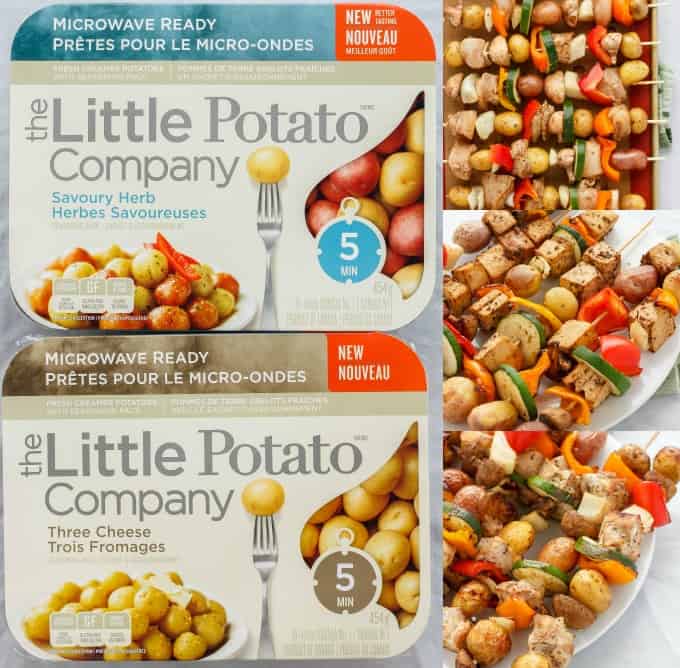 Oh! And I totally utilized their microwave ready packages to speed up the cooking process even more. Now when you cook these kabobs, you are focusing on the chicken being cooked through as opposed to worrying about hard potatoes.
Okay, you may feel there is not enough marinade for all the above ingredients, but I honestly had some leftover! With the extra liquid hanging around in the tofu bowl, I used it to toss with the microwaved potatoes (I guess I could have microwaved the potatoes ahead of time, too, and just mixed them with the veggies but I didn't think of that at the time!) DO NOT reuse the marinade from the chicken bowl, ever. Cross-contamination is very bad.
📖 Recipe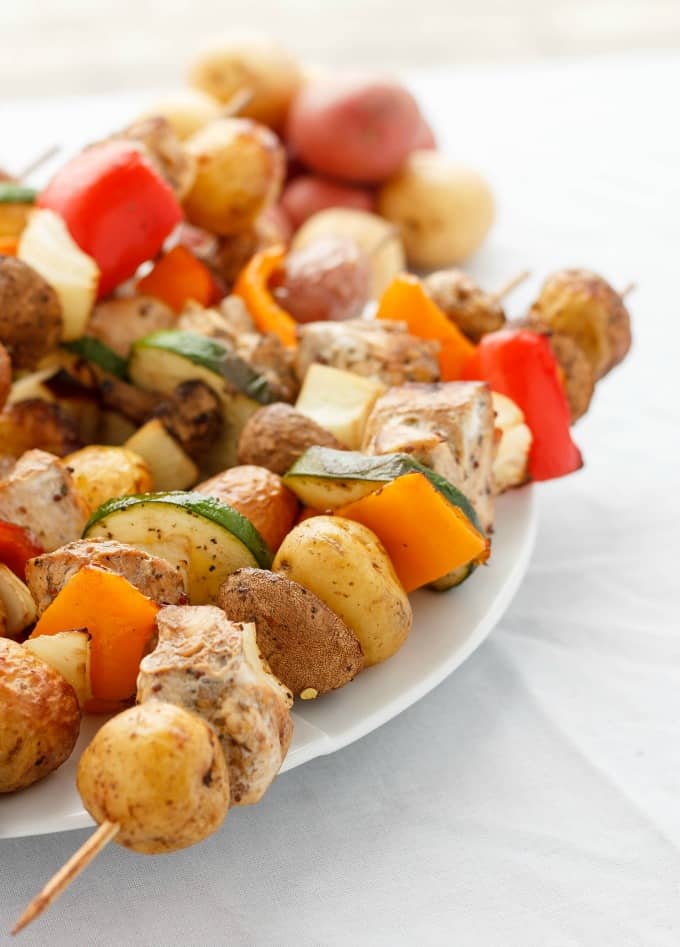 Shish Kabobs in the Oven (Chicken and Tofu Varietals!)
Shish kabobs are so easily customized, you can easily make some for your meat eating guests, and some for your vegetarian guests!
Ingredients
Protein
1 lb firm or extra-firm tofu, well-drained and pressed dry the best you can.
2 lbs bone-less, skinless chicken breasts
Marinade
¼ cup balsamic vinegar
2 tbsp. soy sauce (use a GF version for your Celiac friends.)
1 tbsp. whole grain coarse mustard
2 tsp. dried oregano
1 tbsp. maple syrup
1 tbsp. olive oil
3 garlic cloves, minced
Instructions
Combine all the marinade ingredients in a small mixing bowl. Set aside.
Remove stem and core from peppers and cut into large 1x1 inch pieces. Slice mushrooms in half. Slice zucchini about ¼ - ½ inch thick. Cut onion so large chunks hold together (easier to skewer.) Place into a large mixing bowl.
Slice tofu and chicken into even-sized portions (my tofu was about 1x1 inch and the chicken was about 2x2 inch.) Place into separate mixing bowls.
Add a couple of tablespoons of marinade to the veggies with salt and pepper. Divide the rest of the marinade evenly between the chicken and tofu. Cover each bowl and allow to sit in the fridge overnight.
Assembly and Cook Time
Preheat oven to 450F. Line two baking sheets with aluminum foil or silicone mats.
Follow the directions on the microwave ready packages (5 minutes.) OR, if using a bag of Creamer potatoes, poke some knife holes into the potatoes, place onto a plate, and microwave for 5-8 minutes on high heat.
Assemble kabobs by placing meat or tofu, followed by a mix of veggies and potatoes. Continue to do this until nothing remains (make sure to do the tofu ones first so you can do not contaminate any of the veggies and such with the chicken.)
Spread out evenly onto the baking sheets. Cook the tofu ones for 15-18 minutes. The chicken ones will need anywhere from 15-25 minutes, depending on the size of your meat. Make sure to flip the meat ones halfway through!
Nutrition Information:
Yield:

4
Serving Size:

1
Amount Per Serving:
Calories:

765
Total Fat:

19g
Saturated Fat:

4g
Trans Fat:

0g
Unsaturated Fat:

13g
Cholesterol:

193mg
Sodium:

682mg
Carbohydrates:

60g
Fiber:

9g
Sugar:

15g
Protein:

91g
We loved this taste of spring here, and using Creamer potatoes keeps everything healthy and nutritious. I love that these potatoes are gluten-free and are naturally fat-free, cholesterol-free, and only 20 calories each! (source.) For more information on their nutrition (and wonderful story) please checkout The Little Potato Company!
This is a sponsored post. I was fortunate enough to receive products and monetary compensation from The Little Potato Company. Though products were received, all opinions are my own and I would not recommend a product that I did not enjoy.
Love these shish kabobs in the oven with Creamer potatoes?! Try some of these recipes: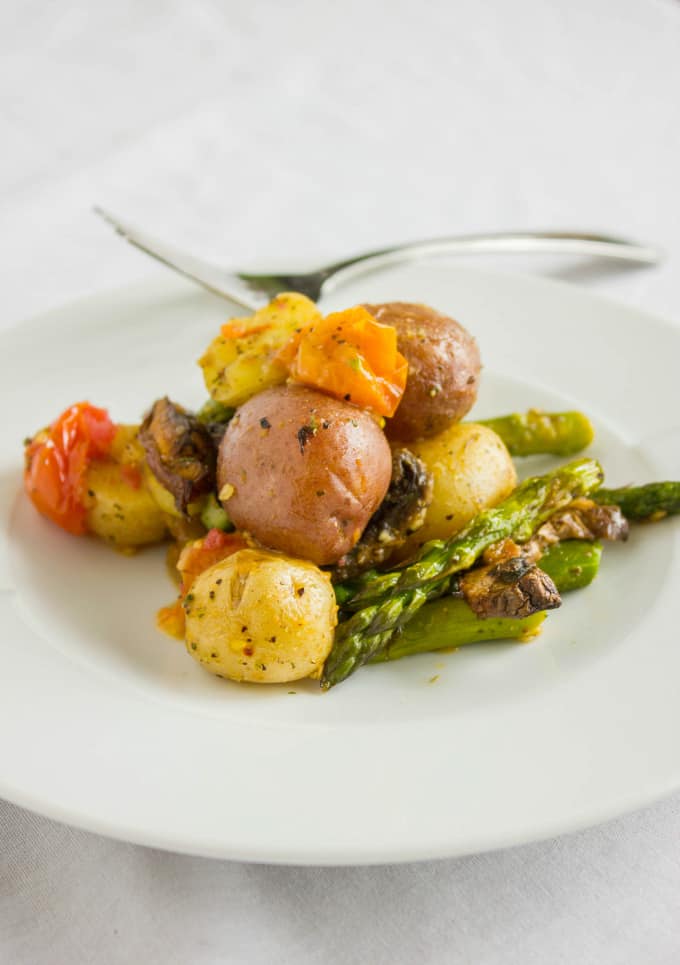 Easy Creamer Potatoes with Roasted Vegetables (Microwave Ready)