A rich blend of cheap vegetables cooked to perfection makes these caramelized onions and mushroom mashed potatoes perfect for Easter! Or, you know, as a guilty pleasure meal during the week!
I had good intentions of posting a fun Easter recipe today and then realized I was waaaaay busier than I thought! Maybe I will get around to it later this week.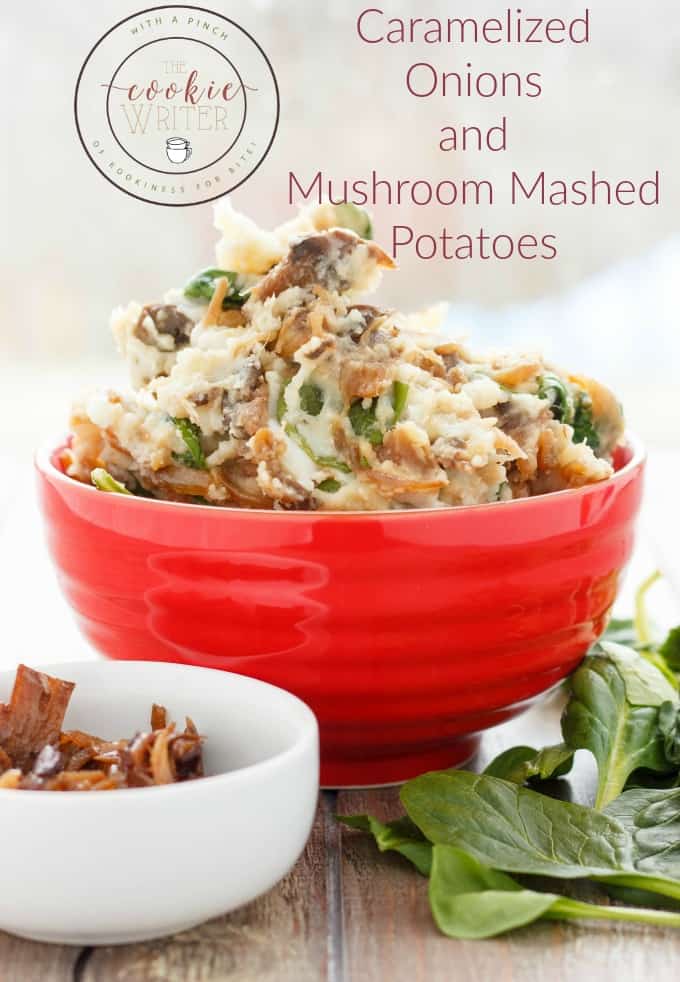 However, who doesn't like taking cheap ingredients and turning them into something amazing?! I LOVE caramelizing onions. You take a root vegetable that is great on its own, and transform it into a gourmet ingredient just by doing a little extra work. If I could only eat onions caramelized, I would. But hey, actually utilizing them in something like these caramelized onions and mushroom mashed potatoes is good, too 🙂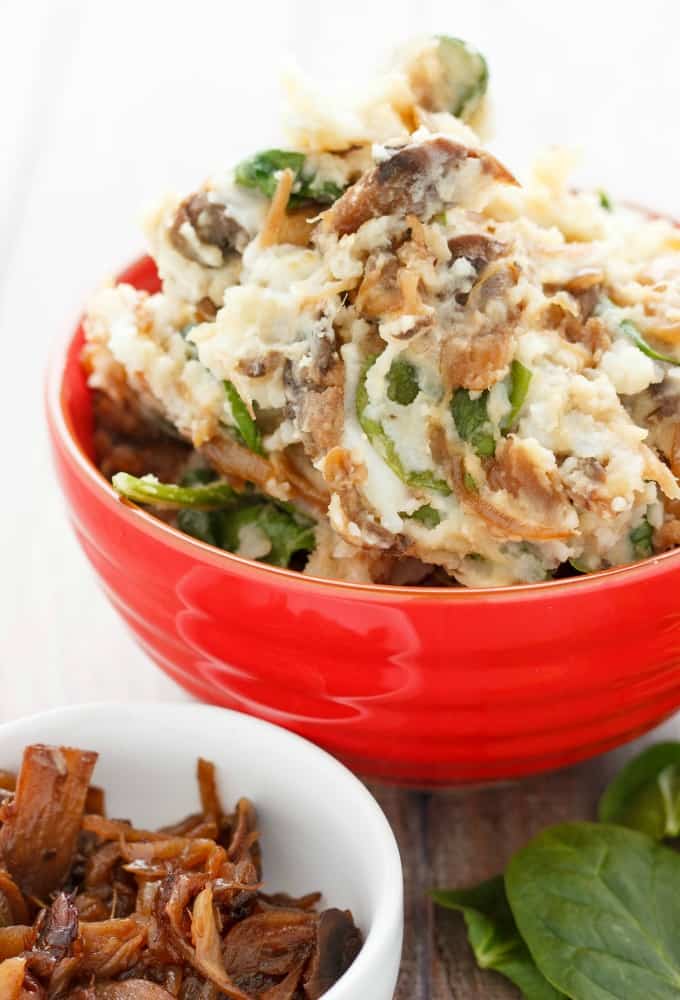 It totally looks like there are more gourmet ingredients in this recipe compared to potatoes. I mean, the ratio is a bit off but that is because I removed some potatoes before mashing since I knew my daughter would complain about "the green stuff." Kids. But all these goodies packed into mashed potatoes?! Count me in! I feel spoiled now because ordinary mashed potatoes may not cut it. Bacon would be a great addition for meat eaters, but the meal as is is just perfect for a vegetarian side dish for Easter dinner. And speaking of Easter, it is sneaking up on us fast, so start preparing!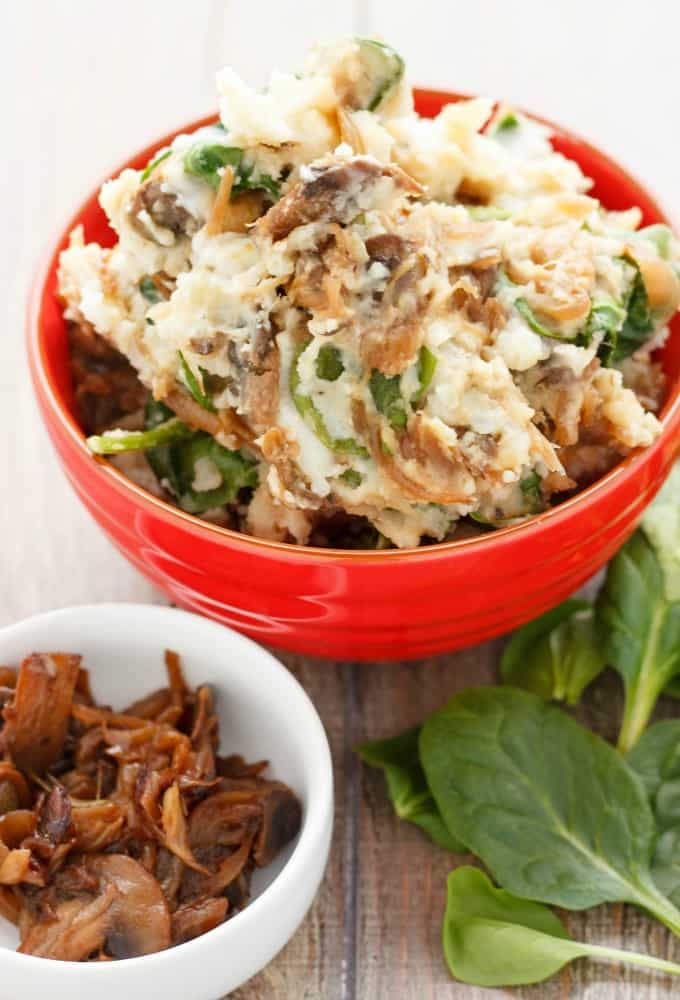 Caramelized Onions and Mushroom Mashed Potatoes
---
Kacey
Yields 4-6
Caramelizing onions is a great way to enhance flavour in a basic dish. How caramelized you make your onions all depends on how long you want to cook them!
20 minPrep Time
45 minCook Time
1 hr, 5 Total Time
Ingredients
3 lbs potatoes, peeled and cubed
1 cup milk + more if necessary
1/4 - 1/2 cup butter (depending on your desired consistency and silkiness!)
2 oz fresh spinach
Salt and pepper

Caramelized Onions

2 lbs onions, sliced thinly
8 oz button mushrooms, sliced thinly
2 tbsp, butter or oil, or a mix of both!
1/4 cup balsamic vinegar
Instructions
A tutorial on how to make caramelized onions can be found here .

Caramelized Onions

Heat the olive oil in a large pan over medium-high heat.
Add your onions to the hot pan and toss in the olive oil.
Cook, stirring occasionally, until you begin to see the onions brown lightly. This takes about 5-10 minutes.
You will see the onions starting to stick, which is fine. Add in mushrooms and continue cooking, stirring frequently, until the mushrooms and onions are caramelized (depends on how deep you want to go in colour.) Stir in balsamic vinegar and cook until absorbed. Remove from heat.

Potatoes

Add cubed potatoes to a large pot and fill with cold water until the potatoes are just submerged. Place over high heat and bring to a boil. Cook, uncovered, until tender, about 15-20 minutes. Drain well and return to pan.
Add in butter and milk and mash until no lumps remain (add in increments as everyone has their preferred consistency when it comes to mashed potatoes!) Stir in fresh spinach until nice and wilted. Pour in onion and mushroom mixture and season with salt and pepper.
7.8.1.2
400
https://thecookiewriter.com/caramelized-onions-and-mushroom-mashed-potatoes/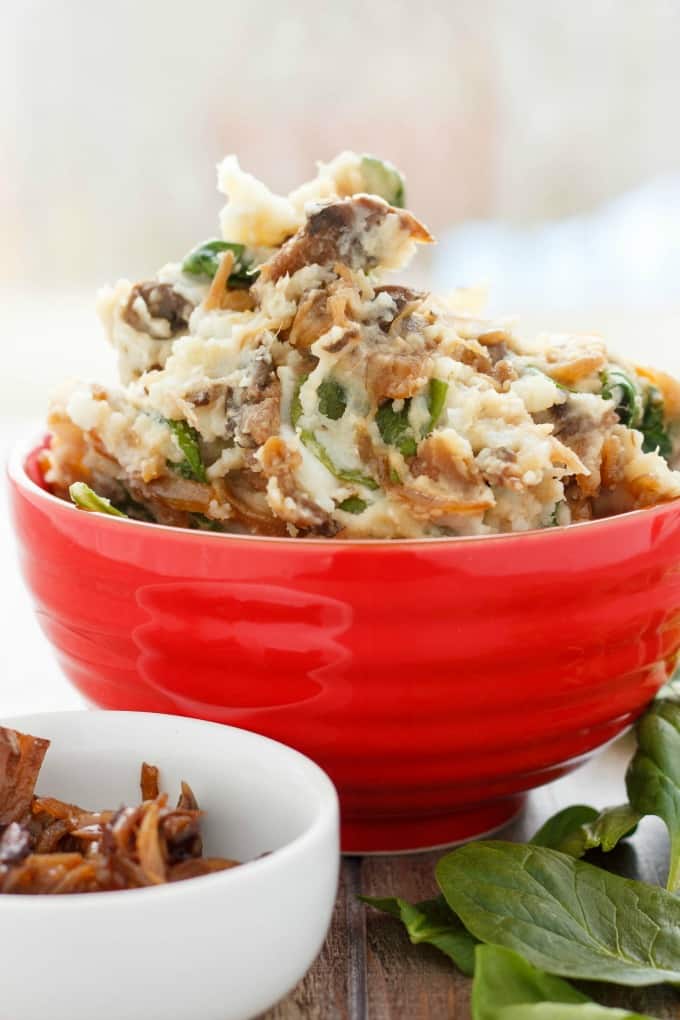 I feel caramelized onions scare people off, but over the years I have definitely become accustomed to making them. So much so that I really need to redo my caramelized onion tutorial because I can cook them in no time now (whereas they used to take me 45 minutes!) Seriously, don't let the onions scare you here. You can always make them ahead of time and when it comes down to the caramelized onions and mushroom mashed potatoes, pull them out of the fridge, reheat, and mix in!
Love these caramelized onions and mushroom mashed potatoes?! Try some of these recipes: