Caramelized onions transform ANY dish! Knowing how to caramelize onions is key to having a successful dish! You can easily make the dish vegan by omitting the butter, and using oil.
While I was making homemade pizza the other night, and trying to decide on toppings, I told Mr. TCW "I think I have expensive taste." I don't mean it in the sense that I go out and pick super expensive meals for the heck of it. I find that I take what many would consider "cheap" food products, and turn them into something "rich."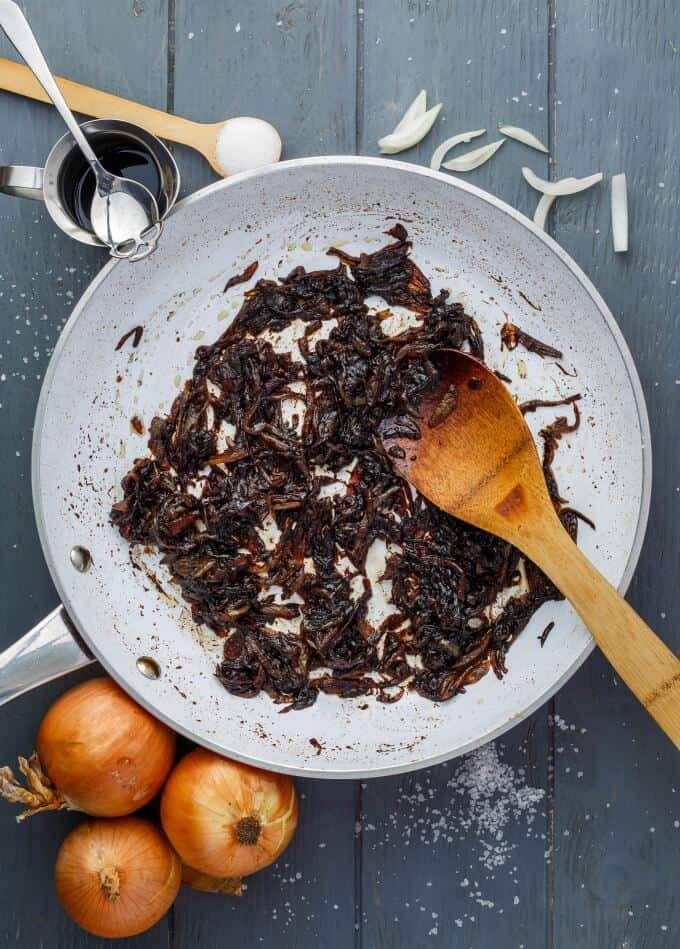 For example, I believe caramelized onions are the highest form of any onion cooking method. Sure, you can eat them raw, saute them quickly, perhaps even roast them. But nothing screams more flavor than caramelizing onions! It is my absolute favorite cooking method for onions. The downside is the length it takes to reach that golden color, and the amount of babysitting you do while they cook. However, I find more often than not, I am taking the extra time to caramelize my onions for any dish.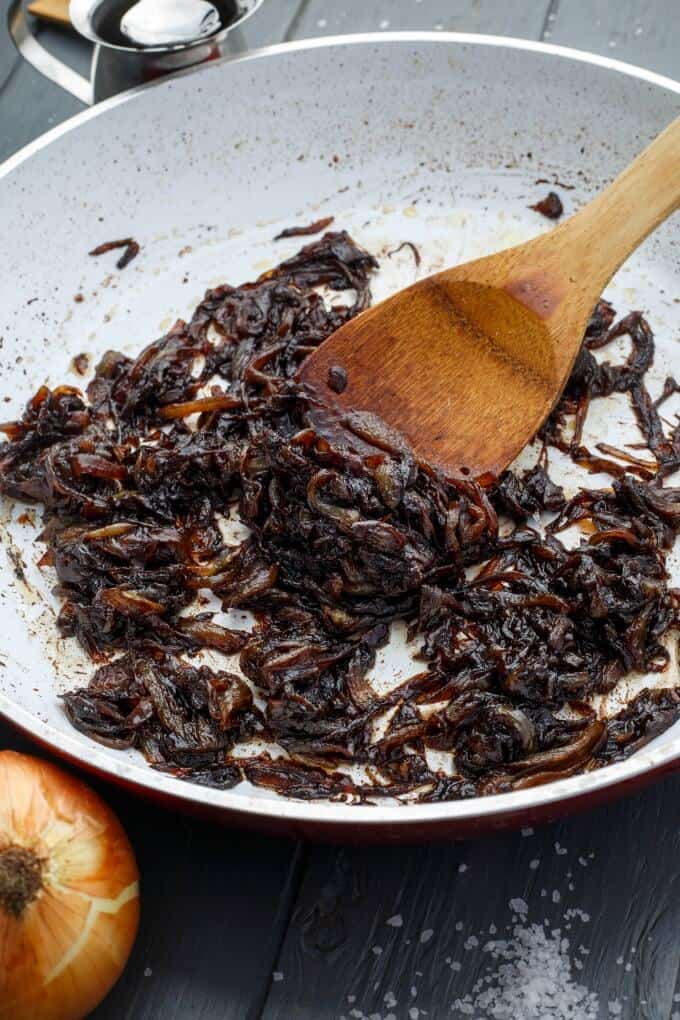 Since many of my meals have consisted of caramelized onions, I thought it would be best to write a how-to on the process. The length of cooking time depends on how caramelized you want your onions to be. Sometimes, if I am in a hurry, I get them to a light golden stage and say that's it, no more! Other times, I see how long I can go before I drive myself insane 🙂 All in all, it is a simple process, just a bit time consuming. I've started making huge batches and storing the leftovers in the fridge so I always have some on hand.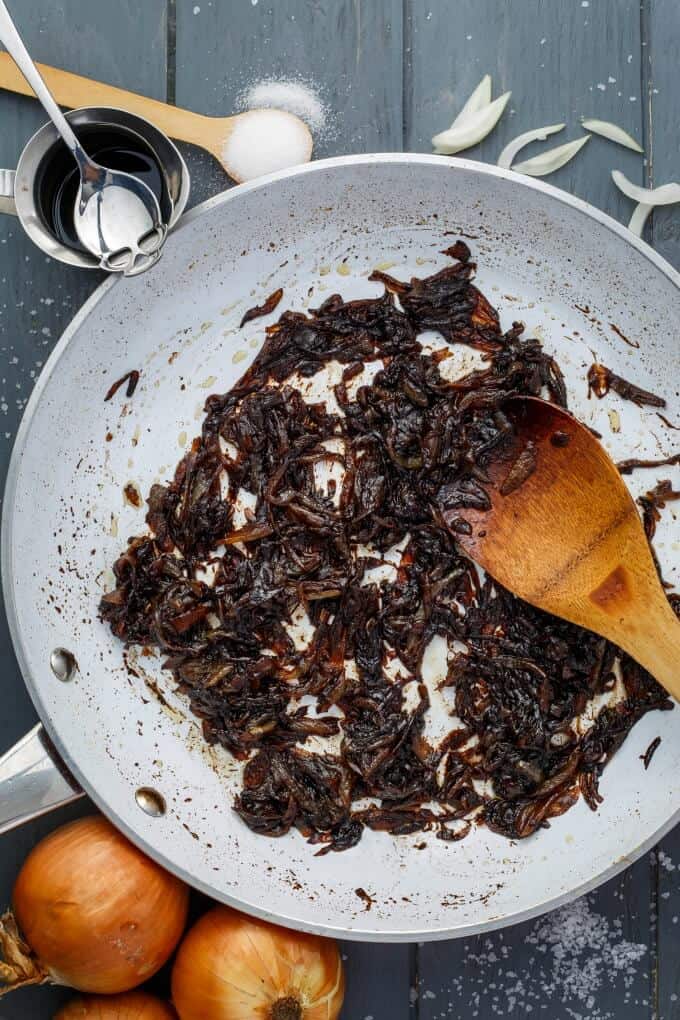 📖 Recipe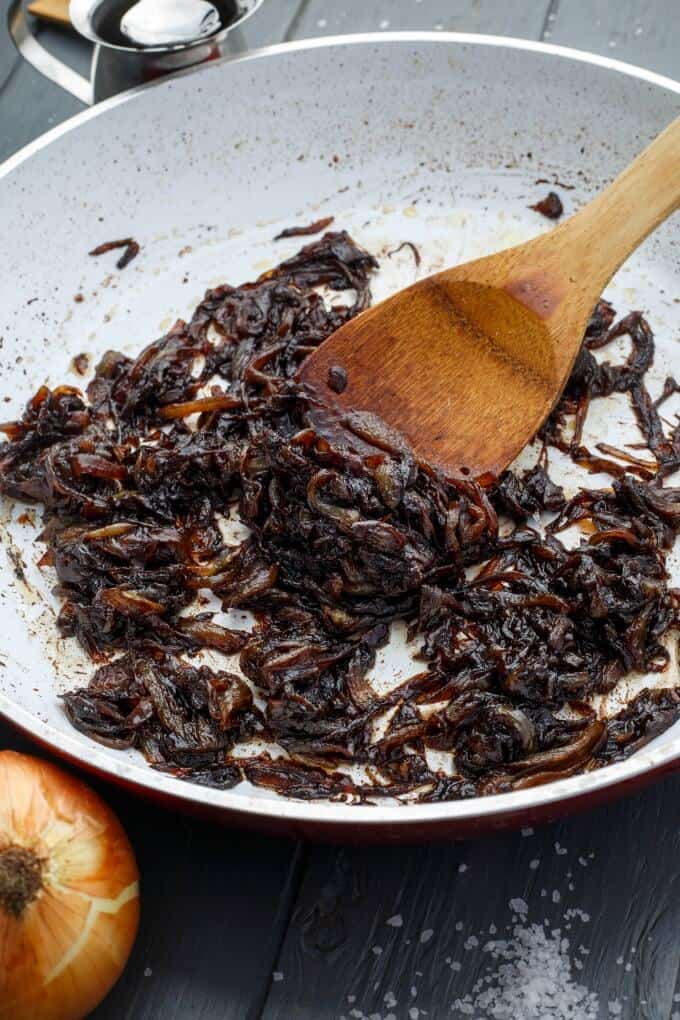 How to Caramelize Onions
How deep you want the flavors in this dish will all depend on how dark you cook them!
Ingredients
3 lbs onions, peeled and sliced thin
3 tbsp. butter or olive oil, or a mix of both
½ tsp. salt
2 tsp. granulated sugar
¼ cup liquid of your choosing to deglaze the pan (I prefer balsamic vinegar, but broth, wine, even water will work.)
Instructions
Place a large frying pan over medium-high heat. Melt butter or oil until bubbling. Add onions and cook, stirring ocassionally, until beginning to brown, about 10 minutes. Sprinkle with sugar and salt.
Continue cooking, stirring often, until darkened in color (10-15 minutes.)
Deglaze pan with liquid of your choosing. Cook for a few minutes longer, stirring constantly.
Remove from heat and use accordingly!
Notes
After adding the sugar, you will find you will need to stir more often so the onions do not burn.
Nutrition Information:
Yield:

1
Serving Size:

1
Amount Per Serving:
Calories:

1056
Total Fat:

51g
Saturated Fat:

24g
Trans Fat:

1g
Unsaturated Fat:

23g
Cholesterol:

92mg
Sodium:

1478mg
Carbohydrates:

147g
Fiber:

19g
Sugar:

73g
Protein:

19g
How to caramelize onions relies on high temperatures for this process. The first couple of times I made caramelized onions, the process took forever because I was scared I was going to burn the onions. When it doubt, turn down the heat a bit. All this will result in is a longer cooking time (which isn't necessarily a bad thing.) It is a real simple process and you can make it your own by adding in different elements (like I said, I have used balsamic vinegar, red wine vinegar, white wine, and red wine to deglaze my pan.)
Honestly though, medium-high heat is your friend. How to caramelize onions is not as intimidating as you think. Practice! Maybe each time you make them, go a step further and see how dark you can get them. I love deglazing with balsamic vinegar because it adds so much color AND the taste is phenomenal!
Love this tutorial on how to caramelize onions?! Try some of these recipes: