Homemade hot cocoa is perfect on a chilly night, or the perfect recipe for two for Valentine's Day!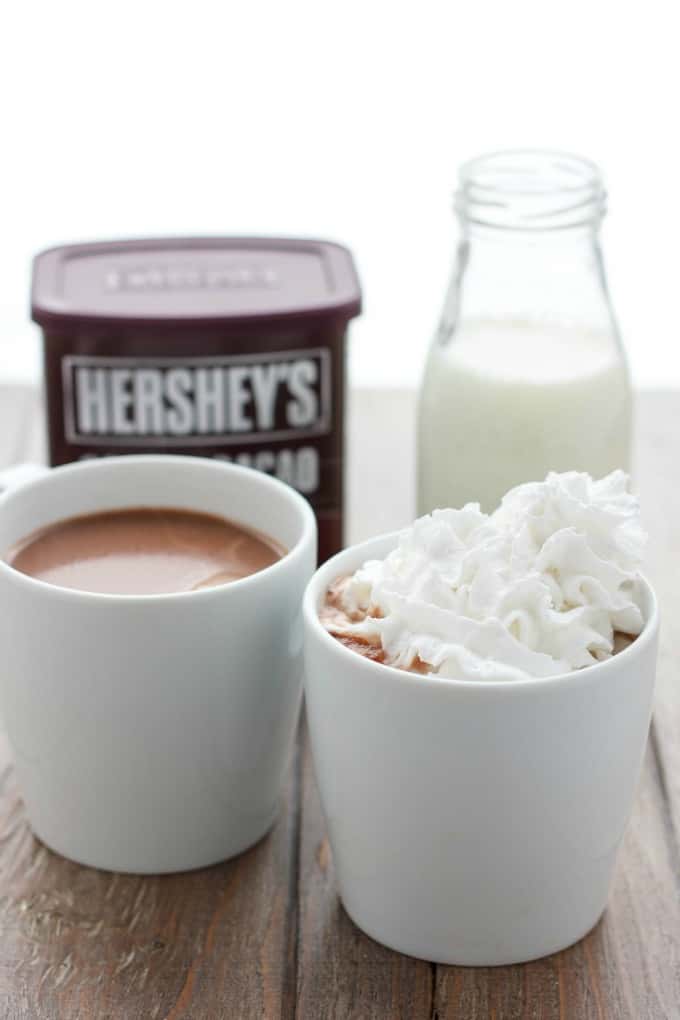 As my neighbor, Melissa, and I crossed the parking lot to hop into my mother-in-law's SUV (that I had borrowed), we both muttered and complained about how miserable this winter has been. I mention how I love the winter and she looks at me in shock and asks "how?! You are complaining as much as me!" While our winter temperatures have been atrocious, I have to admit I love the winter from a distance. Imagine: curling up on a sofa, a blanket covering you as you sip homemade hot cocoa and sit in front of a fireplace. I don't own a fireplace, nor would I be found sitting on the couch with a blanket since kiddo would be jumping all over me as I try and sip my hot chocolate. But that hot cocoa... It is a necessity through these cold months! Now that I have been making homemade hot cocoa for a number of years, I can no longer go back to the store bought mixes. Even ordering hot chocolate from coffee shops doesn't always work for me because some make theirs super sweet, or not sweet enough. I think I have come across a recipe that is the perfect balance of sweetness, while remaining full of chocolate goodness.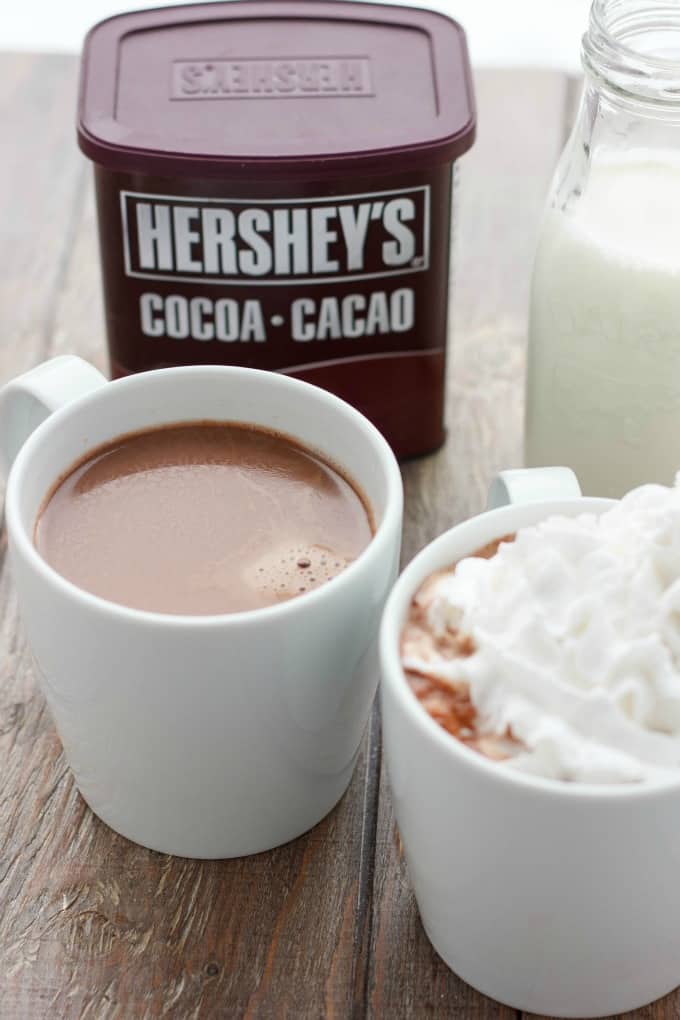 Now this being said, everyone has a different sweet tooth ratio. I love my hot chocolate topped with whipped cream. Others prefer marshmallows. Spruce it up however you like it, but rest assure, the base recipe is quite divine!
📖 Recipe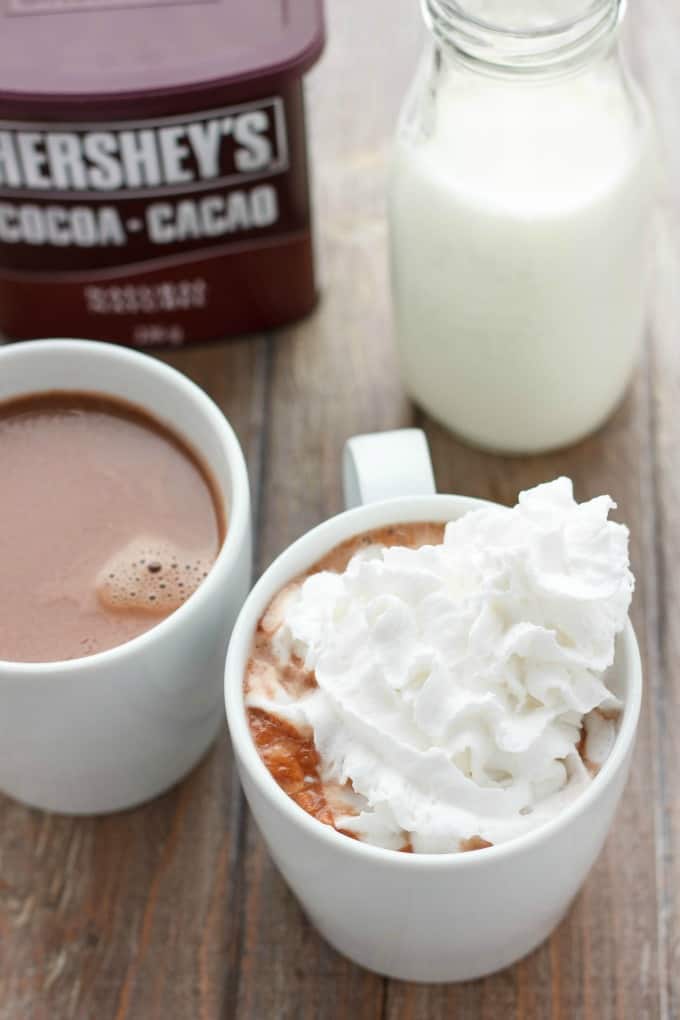 Homemade Hot Cocoa (For Two!)
Adjust the sugar quantity accordingly! I preferred the recipe as is because it was less sweet until the whipped cream melted in 🙂
Ingredients
3 tbsp. unsweetened cocoa powder
2-3 tbsp. sugar (I tend to use 3 tbsp. if I do not have any whipped cream on hand.)
1.5 cups milk
¼ cup heavy whipping cream
2 tbsp. boiling water
¼ tsp. vanilla
Pinch of salt
Homemade whipped cream, store-bought, or whipped coconut like I used!
Instructions
In a small saucepan, add the cocoa powder, sugar, and salt. Pour in boiling water and heat over medium, allowing the mixture to come together into a smooth paste, stirring frequently. Add the milk and cream. Stir and raise the heat, bringing it to just before a boil.
When hot, remove from heat and add vanilla. Divide into two cups and top with whipped cream.
Nutrition Information:
Yield:

2
Serving Size:

1
Amount Per Serving:
Calories:

572
Total Fat:

28g
Saturated Fat:

21g
Trans Fat:

1g
Unsaturated Fat:

5g
Cholesterol:

51mg
Sodium:

283mg
Carbohydrates:

74g
Fiber:

6g
Sugar:

64g
Protein:

10g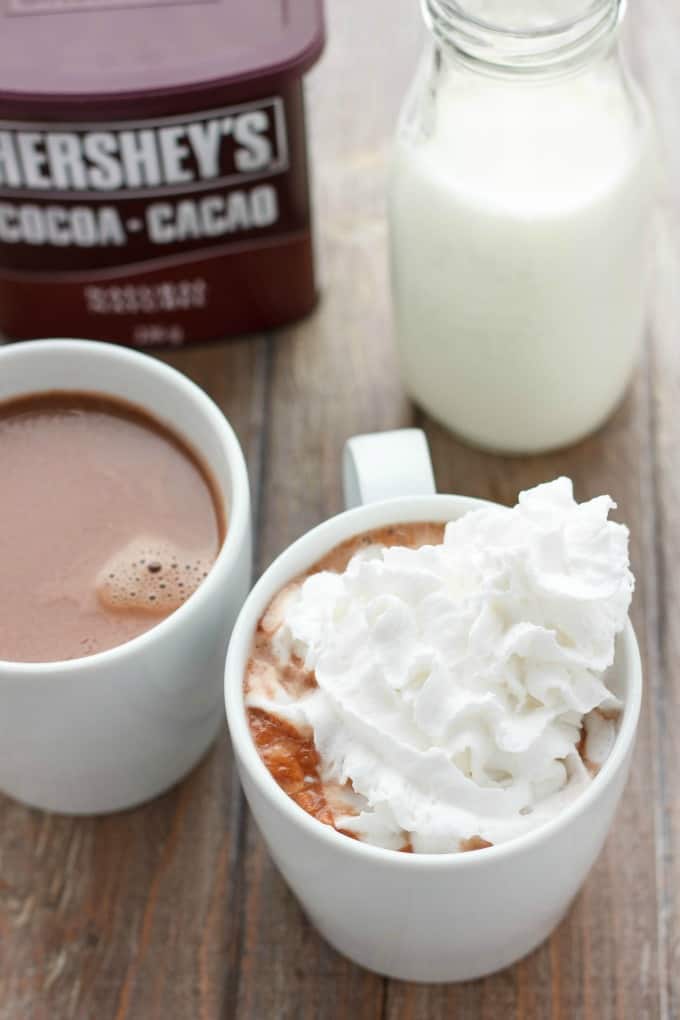 If you find you do not have any whipping cream on hand, you can replace the ¼ cup called for in the hot chocolate recipe and replace it with ¼ milk instead. I have made the base recipe both ways and find even with just milk, the chocolate is quite rich. Plus, when the whipped cream melts into the hot chocolate that adds quite a bit of sweetness. Tasty, delicious sweetness I will add 🙂