Many have pizza night once a week at their homes, but have you considered homemade pizza night?! It is our favourite and this homemade pizza dough recipe is easy and tasty!
This homemade pizza dough recipe has been updated as of January 5 2016!
"What do you want on your pizza?"
"Ummm, let me think about it."
"Well hurry up, we want to get the order in."
"Okay, I want sun-dried tomatoes, onions, and hot peppers."
"Fin-"
"Wait, do I want goat cheese instead of hot peppers? I mean, I can always add some spicy elements from home."
"I don't know, you decide!"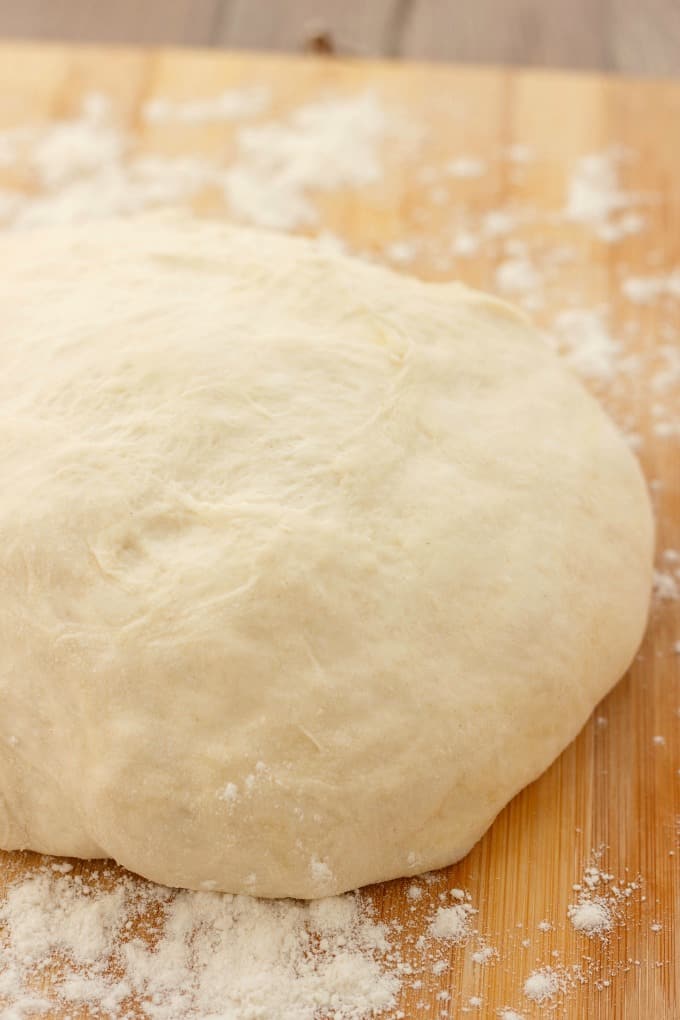 This usually goes on for half an hour before I tell Dan to surprise me. I am so indecisive when it comes to pizza toppings! We usually go for the deals where they state: One 3 topping pizza for $x.xx. But when I am limited to my number of toppings, I find myself overwhelmed with all the ingredients they offer! Then I start calculating how expensive the toppings are and what would be the best deal. I cannot believe many pizza places charge for toppings such as garlic or hot peppers. They are soooo cheap to begin with! To save myself the stress and decisions (as well as money!) I decided we were going to have homemade pizza nights again. I miss doing them. I can't find the pizza yeast I used to use to make my previous crust, so I can't remember the last time we had homemade pizza.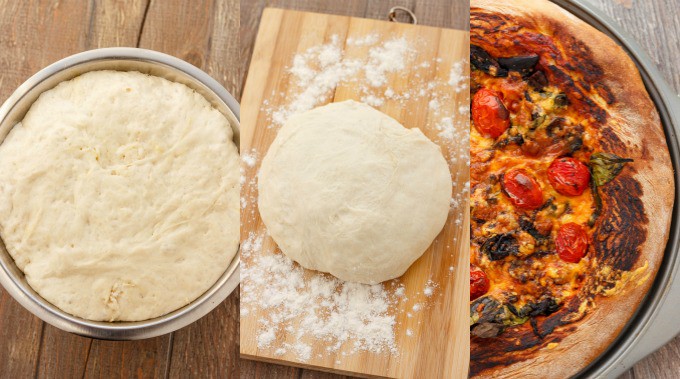 Tips:
I read online that using all-purpose flour results in a chewier crust, whereas using bread flour will give your a crispier crust. I have not used bread flour to make my pizza, but I am thinking of giving it a shot next time.
This recipe makes enough dough to create one large pizza crust. You could probably split the dough and make two small/medium pizzas.
This dough needs at least 1-2 hours to rise, so make sure you give yourself plenty of time (as in, if you want to eat dinner around 6PM, do not start making this pizza crust at 5PM!)
If you are not planning to use the dough right away, after the initial rise (2 hours), place the dough into a container and store in the fridge for about a week.
If you want to freeze the dough, as soon as the pizza dough is completed in the mixer, do not let it rise. Cover the dough in some olive oil and store in a freezer bag. When ready to use, remove from freezer and bag, and allow to rise in bowl. Bake it like usual.
So of course, when it came time to decide on toppings for the pizza, I was overwhelmed. I decided we were having pizza two nights in a row so I could make two different pizzas (this one was balsamic mushrooms with caramelized onions!)