This chocolate chip banana bread with coconut and nuts is my favourite way to use up overly ripe bananas!
The photos and recipe for this chocolate chip banana bread with coconut and nuts has been updated as of January 29th, 2016!
A relatively quick post today.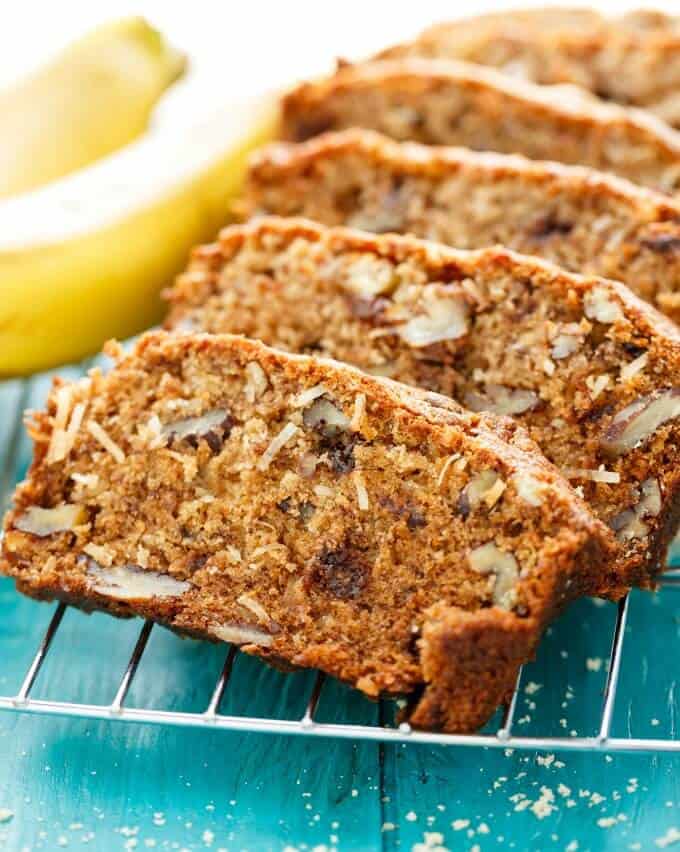 I decided to make a loaf of chocolate chip banana bread as our bananas were at that perfect ripe stage. I usually prefer making the banana bread in muffin form because they cook faster and are the perfect sized snack. However, seeing all these banana bread recipes online, I wanted to try something different, even if my recipe was pretty much identical to my muffin format. To "spice" things up, I added coconut to the batter. It gave the bread a bit of a crunch, while adding a subtle coconut flavour.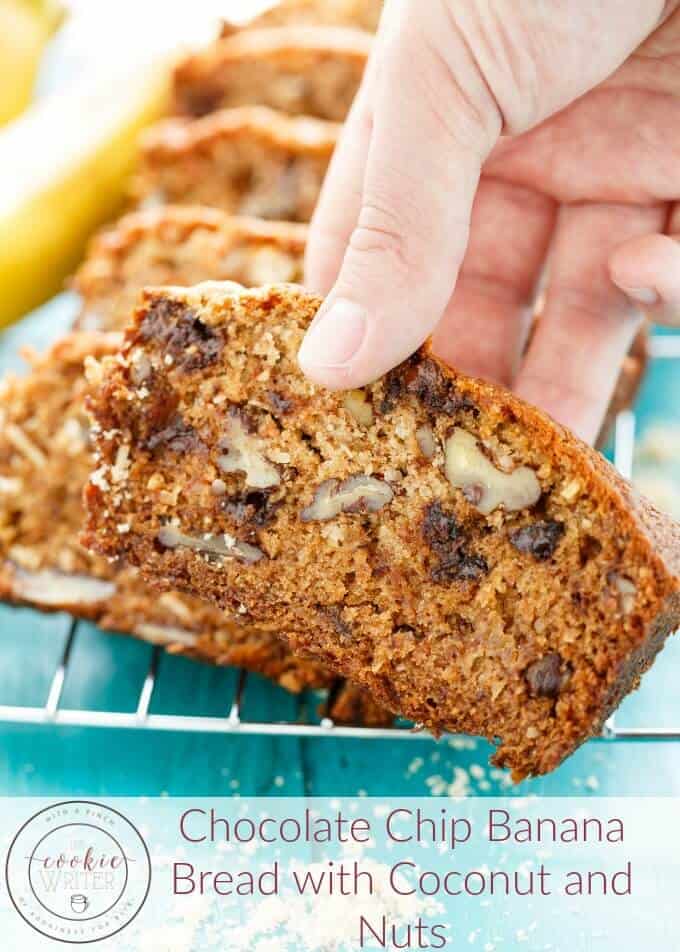 Chocolate Chip Banana Bread with Coconut and Nuts
---
Kacey
Yields 1
Use whatever nuts you like and remember that banana bread tastes best with chocolate!
15 minPrep Time
60 minCook Time
1 hr, 15 Total Time
Ingredients
1 1/4 cups all-purpose flour
1 tsp. baking soda
1/4 tsp. salt
1 tsp. ground cinnamon
2 large eggs
1/2 cup coconut oil, room temperature
1 tsp. vanilla
1/2 cup brown sugar
1/2 cup granulated sugar
3 ripe bananas, mashed
1/2 cup roughly crushed walnuts
1/2 cup roughly chopped pecans
1/2 cup chocolate chips
1/2 cup shredded unsweetened coconut
Instructions
Sift the flour, baking soda, cinnamon and salt into a bowl. Set aside.
Preheat oven to 350F. Grease loaf pan with coconut oil.
Cream together the coconut oil and sugars until light and fluffy (basically until the sugars meld together.) Add one egg at a time, waiting to fully incorporate before adding the next. Add in vanilla and bananas: mix until bananas have broken down. Add the flour mixture, chocolate chips, nuts, and coconut. Mix until just combined!
Pour into loaf pan and bake for 1 hour, 10 minutes or until toothpick comes out clean. Start checking around the 55 minute mark.
7.8.1.2
73
https://thecookiewriter.com/chocolate-chip-banana-bread-with-coconut-and-nuts/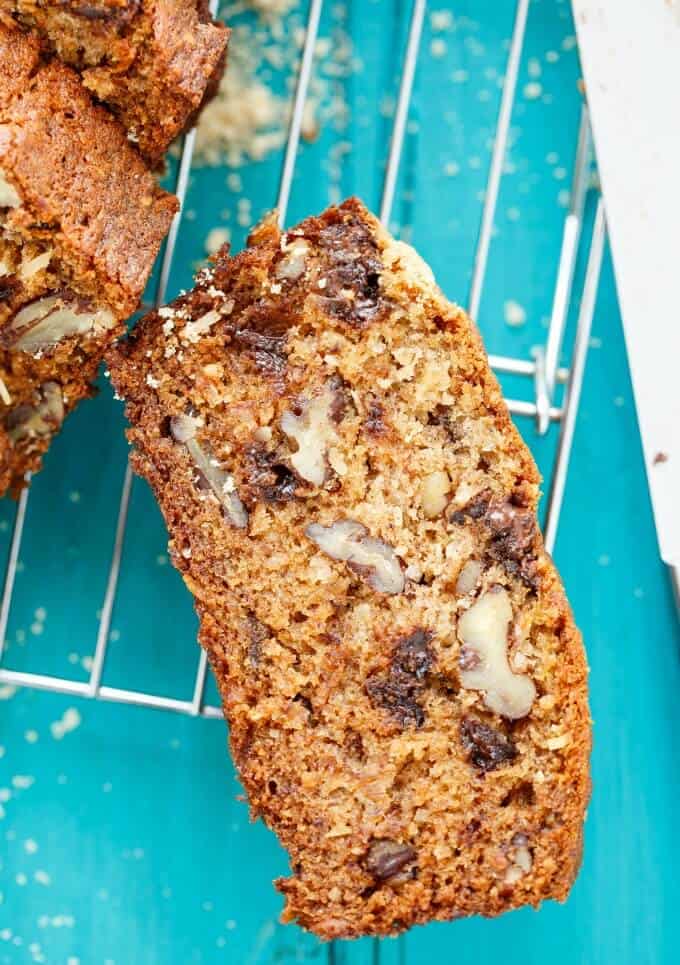 Even though you would never catch me eating a banana on its own, banana bread is my weakness. But it must contain chocolate! Same goes for my pancakes… I guess I need that sweet element. In all honesty, I cannot remember a time when I had banana bread without chocolate. Pretty sure I only know banana bread as "chocolate chip banana bread." 🙂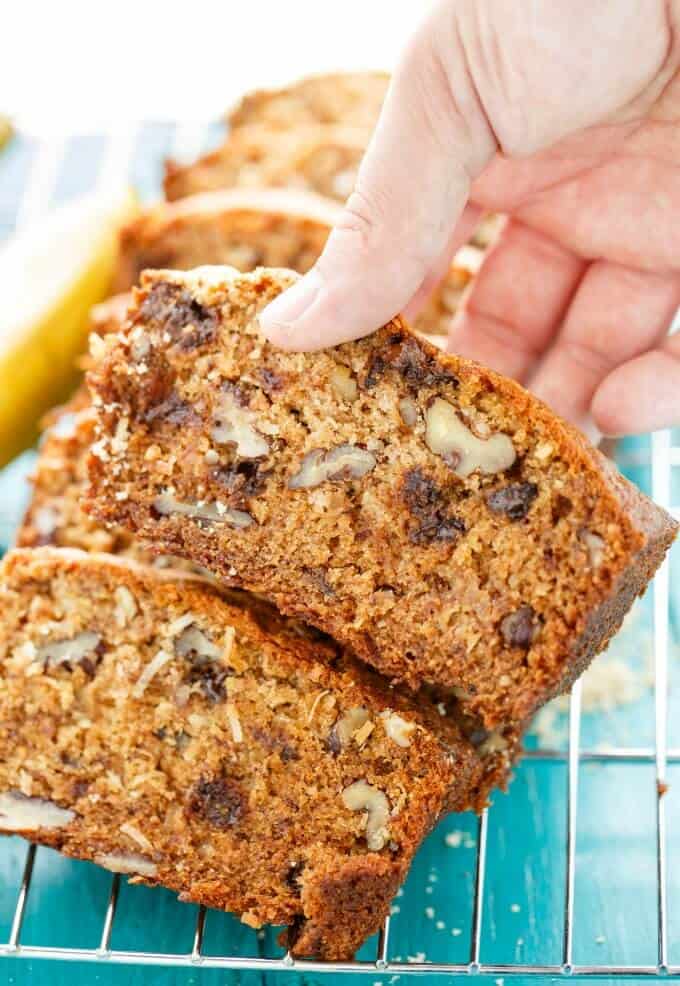 Love this Chocolate Chip Banana Bread with Coconut and Nuts?! Try some of these recipes: