Spice lovers will be all over these baked sriracha chicken wings! Cooked until crispy, these wings are then transferred to a large bowl where they are tossed in a sweet/spicy sauce! You have been warned 🙂
Before discussing today's recipe, I wanted to share with you a little background on the main ingredient: chicken wings. When I was a young girl, I remember my dad cooking up a bunch of chicken wings on the BBQ. They were super cheap, around .99 cents a pound. My dad would point out they were this cheap because they were referred to as the "garbage" part of the chicken. You are not getting as much to work with compared to chicken breasts and such.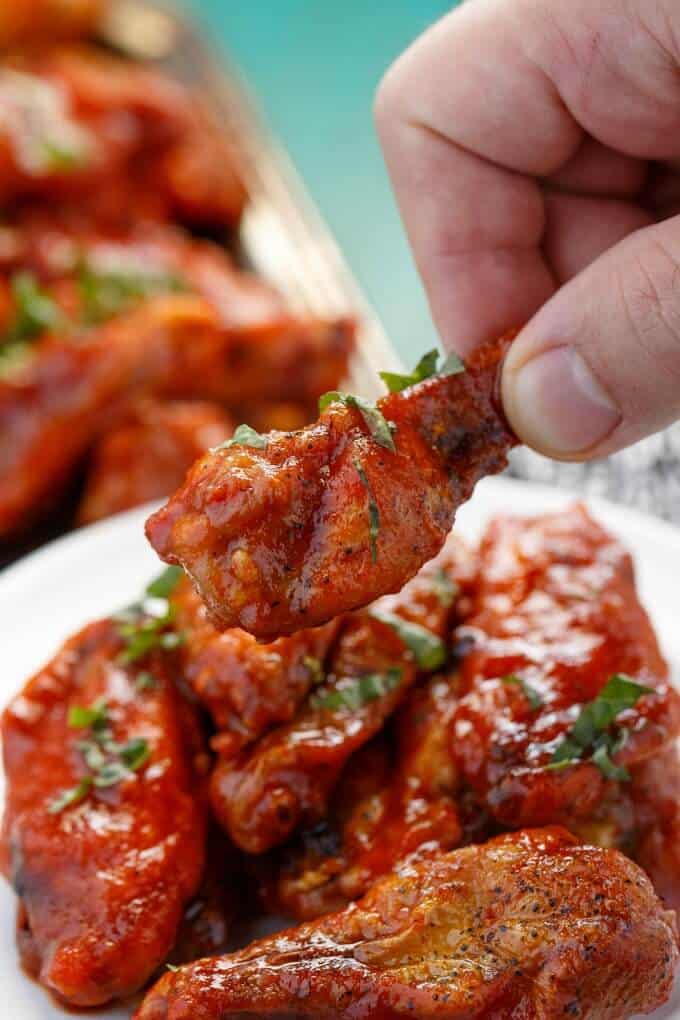 Fast forward to today. Chicken wings are super pricey! No longer considered the refuse of the chicken, chicken wings have taken up popularity in bars and restaurants around the globe. Here in Canada, it is quite common to see all-you-can-eat deals on chicken wings; probably the best thing going because otherwise, you are paying an arm and a leg. To clarify, chicken wings go on sale for $2.99 lb here. That is on sale! And this is the only time I will splurge on them for Mr. TCW. Now, let me bring you to today's recipe: baked sriracha chicken wings!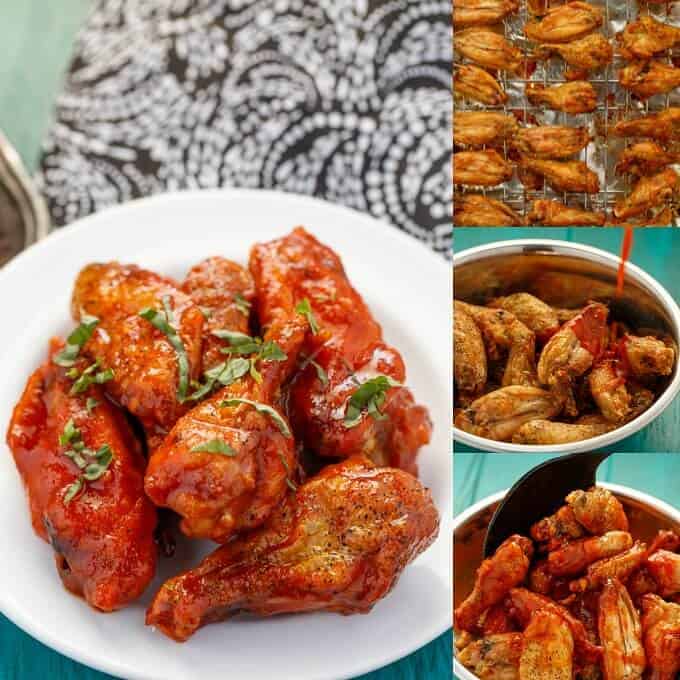 UPDATE: I had such a fun time revisiting these baked sriracha chicken wings and no one was disappointed. Crispy wings are essential. Dumping sauce onto non-crispy wings is just going to create more slimy and unappealing textures. I bake the wings at a high temperature, flipping them halfway through with nothing but salt and pepper on them. I also place them on a cookie wire rack so that the grease drips to the bottom of the pan.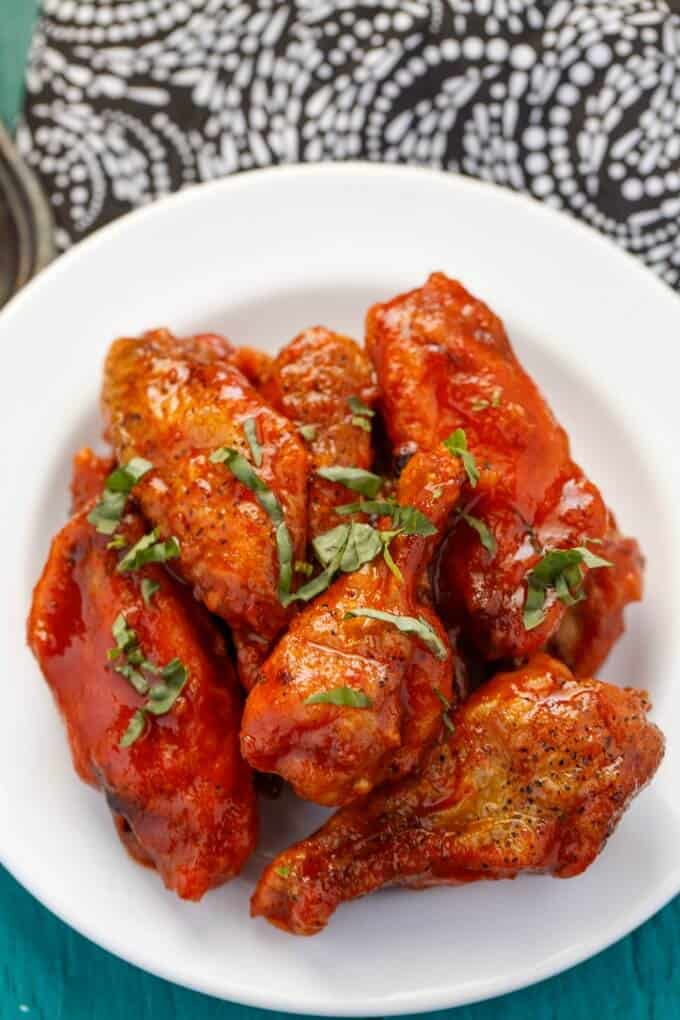 I have heard about people steaming their wings first to render off the fat, much like you would do to duck, but I have yet to try this! Alton Brown has never steered me wrong so I will have to give his technique a try 🙂 Until then, enjoy these crispy baked sriracha chicken wings (because they are everything you want in a wing recipe!)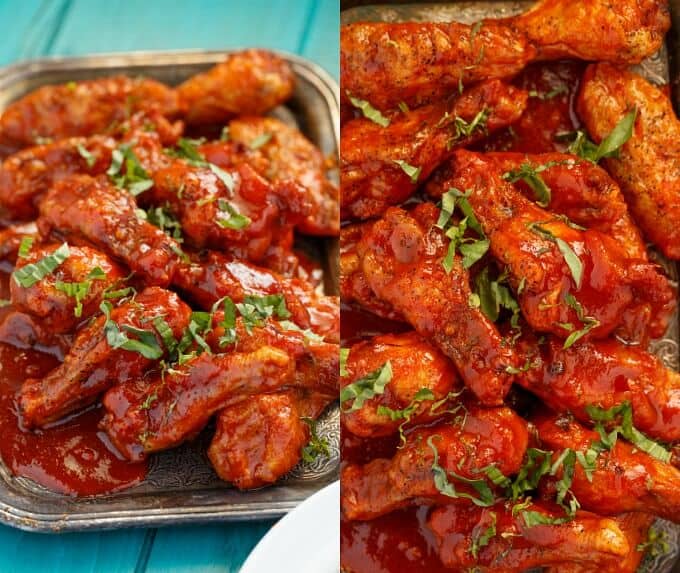 📖 Recipe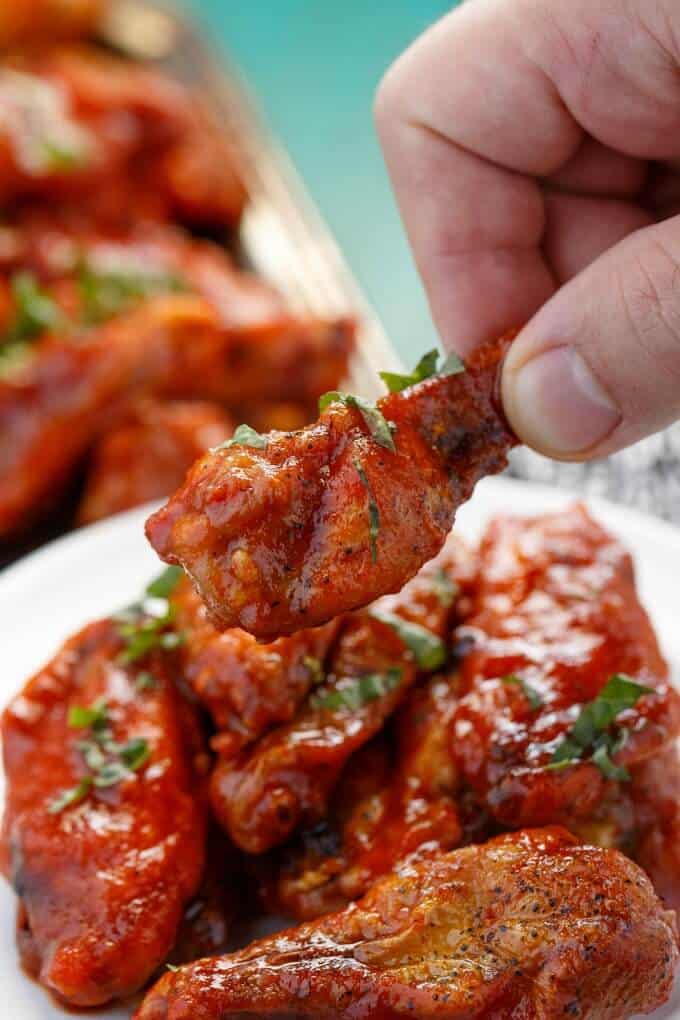 Baked Sriracha Chicken Wings
Crispy wings are the best, especially when covered in a spicy sauce!
Ingredients
2 lbs chicken wings
½ cup Sriracha
¼ cup honey
¼ cup butter
1 tbsp. soy sauce
3 garlic cloves, minced.
Salt and pepper
10 basil leaves, chiffonade
Instructions
Preheat oven to 450F.
Line a baking sheet with parchment paper or aluminum foil. Place a baking wire rack on top of the pan and arrange chicken wings on top. This allows for the heat to distribute evenly around the chicken wings, giving you a crispy skin and not a soggy one.
Season with salt and pepper.
Bake for 20 minutes. Flip the wings and continue cooking until wings are cooked, about another 20 minutes.
Sauce
In a small saucepan, add the butter over medium heat. Stir in garlic and cook for 1 minute. Add sriracha, honey, and soy sauce. Simmer for 5 minutes, stirring often.
Add chicken to a large mixing bowl. Pour sauce on top and mix until well coated. Serve with fresh basil.
Notes
I cook the sauce while the wings are in the oven to save on time.
Nutrition Information:
Yield:

4
Serving Size:

2
Amount Per Serving:
Calories:

951
Total Fat:

67g
Saturated Fat:

27g
Trans Fat:

1g
Unsaturated Fat:

34g
Cholesterol:

216mg
Sodium:

2106mg
Carbohydrates:

48g
Fiber:

2g
Sugar:

24g
Protein:

40g
While making the sauce, I added ingredients here and there. Tasting it along the way, I knew it was going to be a bit spicy, so that is why I added the honey and butter. Then of course, after reading the label of our Sriracha bottle, I see it is made with anchovies. Lesson learned, read the ingredients first. Otherwise, Mr. TCW stated the sauce paired perfectly with the wings. He likes spicy so it worked. If you think it will be too spicy, add some extra butter to mellow out the bold spices.
Love these baked sriracha chicken wings?! Try some of these recipes: