A couple of more firsts today.
When it comes to buttercream, most are familiar with what we know as American Buttercream. You know the ingredients: butter, confectioners sugar, vanilla, and some milk or cream. Very sweet icing that can be adjusted to suit our needs (stiffer consistency for flowers, thinner consistency for writing.) It is super easy, and relatively delicious (I am partial to chocolate buttercream.) Most are concerned with the overly sweet taste but it has never bothered me. Shortening is easily substituted in place of butter to give more stabilization (aka, having the sun beating on your cake for many hours is not particularly good but at least shortening will hold up better.)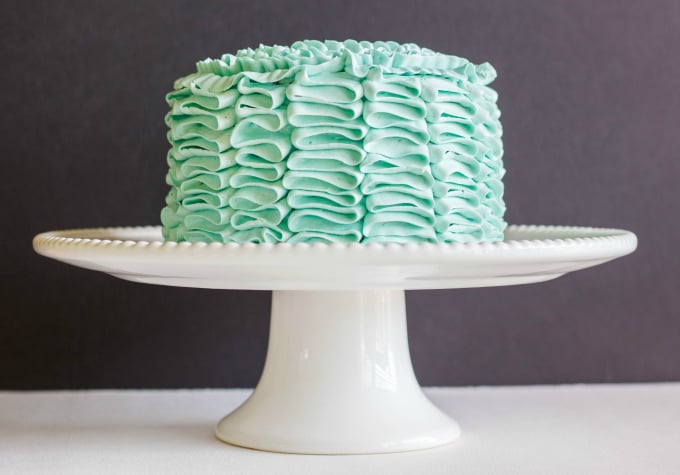 I kept hearing about other buttercreams: French, Swiss, and Italian meringue buttercream come to mind. People stated how these specific buttercreams would hold up better than your regular American buttercream. I knew I would eventually try a new technique, and today happened to be it! I decided to try a Swiss meringue buttercream because the technique seemed relatively easy and basic. Plus, I did not want to be worrying over a simple syrup mixture that is common in Italian meringue buttercream with Girlie running around.

📖 Recipe
Swiss Meringue Buttercream Ribbon Cake
This Swiss Meringue Buttercream Ribbon Cake is really easy to make, both in respect to the buttercream itself and the decorating technique.
Ingredients
5 large egg whites, at room temperature
1 ¼ cup granulated sugar
1 ½ cup salted butter, room temperature
2-4 tbsp. vanilla extract
Instructions
Pour about an inch of water into a small saucepan. Place over low heat and pick a bowl that will fit snugly on top of the opening. You don't want the bowl touching the water at all: you are creating a double boiler. In this case, I used my kitchen aid bowl.
When the water has reached a simmer (never let it form into a rolling boil!) place the egg whites and sugar into your bowl. Attach a candy thermometer to the side of the bowl, and whisk the mixture constantly until it reaches 160F.
Move your bowl to the stand mixer. Using the whisk attachment, whisk your mixture until stiff peaks form. It should take 10 minutes or more, and you want your bowl to be relatively cool before you add the butter. If the mixture is too warm, your butter will melt.
Cut your butter into bite-size pieces, about 1 tablespoon each. With your mixer on low, add one piece of butter at a time, counting for about 10 seconds before you put the next piece of butter in. Pay attention and make sure the butter is combined before you add the next piece. Patience is key! Keep mixing until all the butter is combined in and you are left with a smooth buttercream. Mix in your vanilla until combined.
Nutrition Information:
Yield:

10
Serving Size:

1
Amount Per Serving:
Calories:

379
Total Fat:

28g
Saturated Fat:

17g
Trans Fat:

1g
Unsaturated Fat:

8g
Cholesterol:

73mg
Sodium:

248mg
Carbohydrates:

26g
Fiber:

0g
Sugar:

26g
Protein:

2g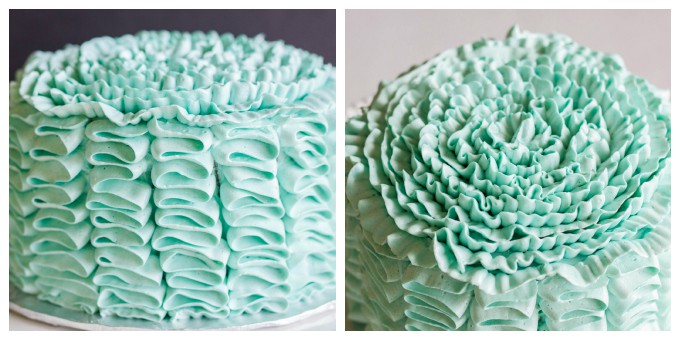 Note:
Swiss meringue buttercream will go through stages. It may appear to curdle when you put the butter in. Do not panic! Keep going, it will eventually smooth out. I never noticed mine curdle but then again, I was reading while I was adding the butter in 🙂 I will try and make a tutorial to show you how easy this recipe is. Don't be worried, you can't always sit back and think "what if?" When I first made homemade caramel, my batch failed miserably. So what did I do? I threw it out and began a second batch, which turned out perfect!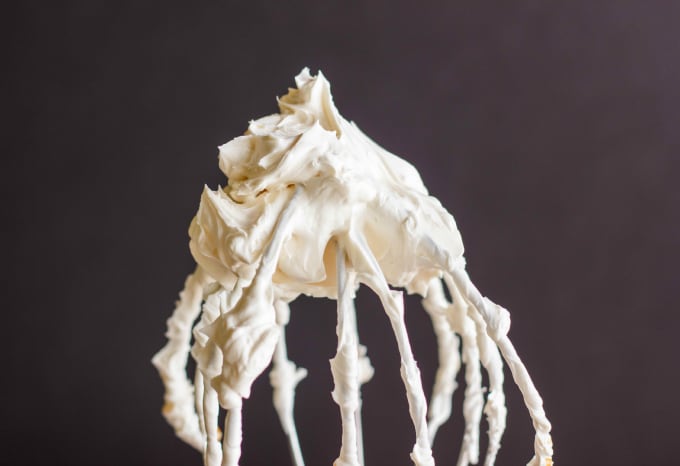 I could not believe how wonderful this tasted! I don't see myself going back to American buttercream anytime soon because I really enjoyed making this. Seeing the egg whites and sugar transform from a goopy concoction to a very light and fluffy buttercream is amazing. A lot more work in my opinion, you need to babysit the mixture on the stove. However, you will notice the lack of sweetness in this recipe compared to standard buttercream.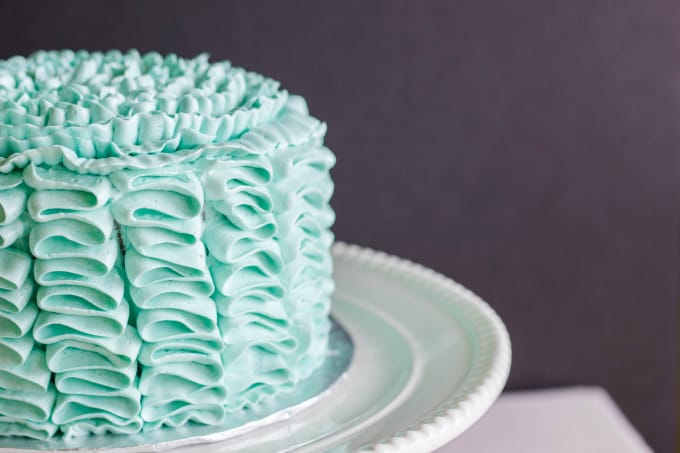 How does it taste? One would say, like butter. I did not realize how much flavoring you really had to add before you didn't taste copious amounts of butter. I only added two teaspoons of vanilla, and I wish I added more. Personally, I like the taste as is. But I am quite concerned about what Mr. TCW's coworkers are going to think. I would do a minimum of 1 tablespoon of vanilla and taste test. Swiss meringue buttercream is quite forgiving. You can add peanut butter, fresh fruit puree, or even melted chocolate to add flavor to the buttercream. Be careful with certain extracts like peppermint, which can be very strong, so you only want to add a bit at first.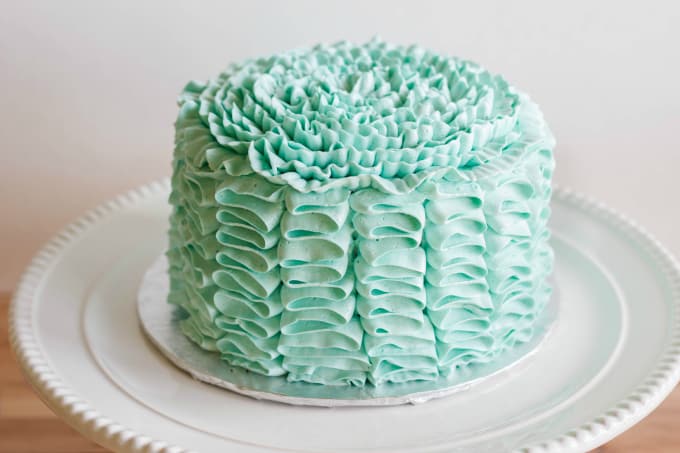 On another note, I found the Swiss meringue buttercream to be much easier to work with than American buttercream. It is so smooth, light, and silky. I was really concerned it would not hold up well, but my ribbons stayed in place. To achieve the ribbons, I used a Wilton tip 104 (petal tip.) Fill your bag with icing and place the wider end of the tip against the cake. Using a sweeping motion, move your hand back and forth as you move up your cake. It is really easy! Plus, you don't need to be too precise with the ribbons. I used the measuring advice from Craftsy.com to achieve almost even rows. As for the color, it is Wilton's teal.