I believe I have shared my love for Milestone's menu in the past. For those who are unfamiliar with my love, please check out: 
Milestones Chocolate Ganache Torte
, 
Milestones Bellini
, and 
Milestones Roasted Mushroom Soup
. I really enjoy their food, but I am often disappointed by their portion sizes. For their butternut squash ravioli, I received 7, yes, SEVEN, ravioli pasta pieces… This was for a main course! I was starving afterwards and found the price ridiculous for what I received. We went back last week to celebrate a promotion and we asked the server if I would receive more than seven pieces of ravioli. She said all their recipes were measured out proportions, so she could not guarantee me anymore. I decided to stick with a close second of mine, Milestones Tomato Basil Brown Rice Spaghettini.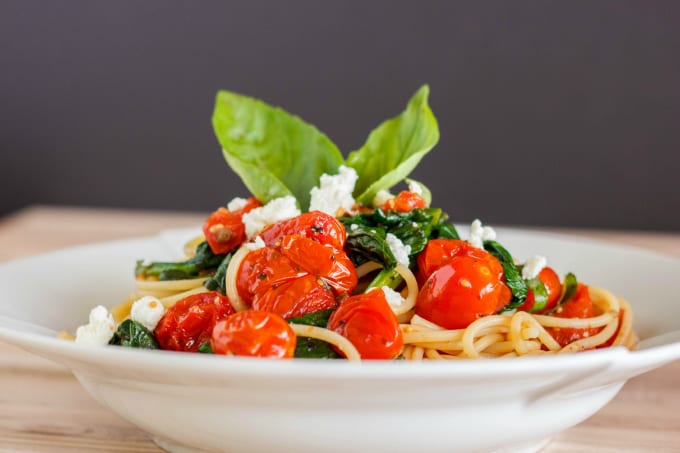 I still find their portion small for this meal, but at least I am left feeling satisfied. Since I do not suffer from a gluten allergy, I substitute the brown rice pasta for regular pasta. It is such a nice, simple, and tasty dish. Once again, my mind starting going and I thought "I can make this at home." And poof! Magically we had a replicated dinner at home, that personally I thought, tasted better than Milestones pasta! Dan fought the urge to go back for seconds, with my promise of making him popcorn later. I, however, could not fight the urge, and had a second bowl. It was THAT good!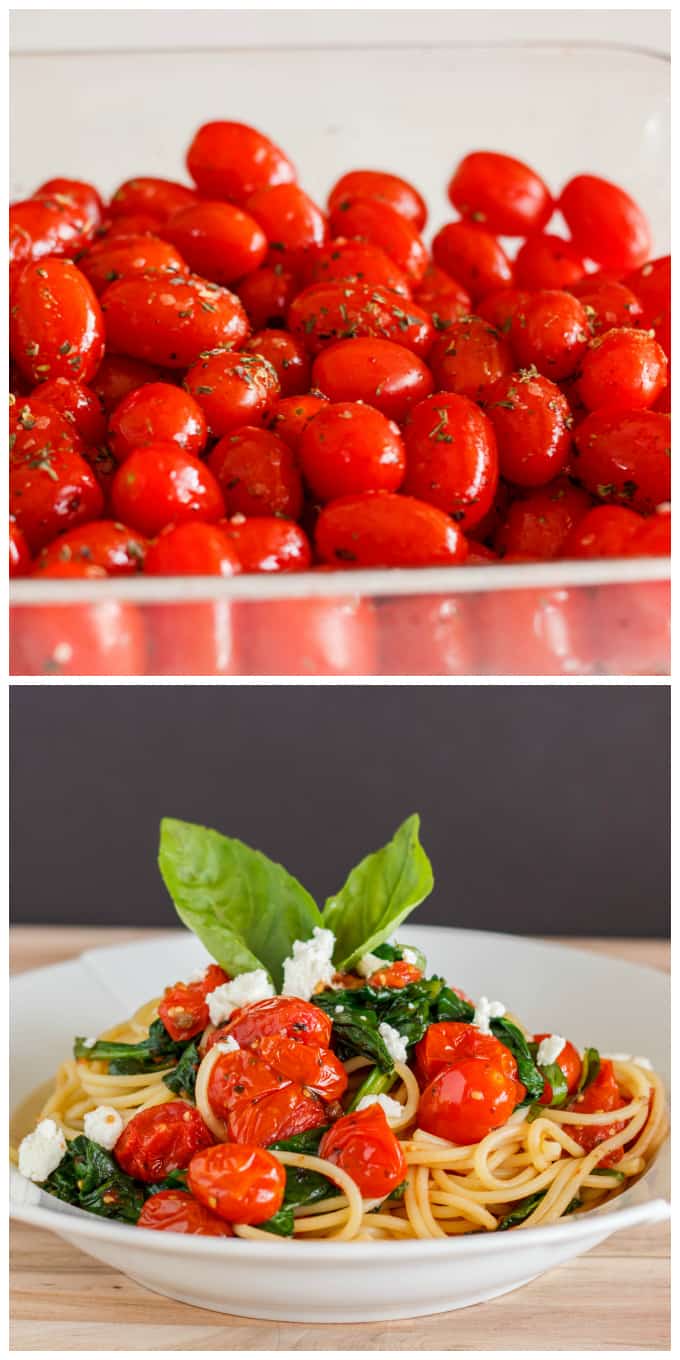 Milestones Tomato Basil Brown Rice Spaghettini
---
Kacey
Yields 4-6
15 minPrep Time
50 minCook Time
1 hr, 5 Total Time
Ingredients
2 lbs cherry tomatoes
2 tbsp. olive oil
2 tbsp. balsamic vinegar
1 tbsp. dried basil
1/2 tbsp. dried oregano
1/4 tsp. salt
3 garlic cloves, minced
8 oz fresh spinach
10-20 basil leaves
1/4 tsp. red chili flakes
1 lb spaghetti/spaghettini pasta
6-8 cups vegetable broth (to boil you pasta in. Can substitute water in place of broth.)
4 oz goat cheese, crumbed
Instructions
Preheat oven to 350F.
Place tomatoes into a glass baking dish. Pour in the olive oil and balsamic vinegar. Toss to combine. Sprinkle the tomatoes with salt, dried basil, dried oregano, and garlic. Combine once again and place into the oven. Bake for 40 minutes, tossing about halfway through.
Bring your broth or water to a boil in a large pot. When the water/broth is boiling, add your pasta and cook until al dente.
While the pasta is cooking, heat some olive oil into a frying pan over medium. Add the red chili flakes and cook for about 30 seconds. Toss in the spinach and sprinkle with some salt and pepper. Cook until the spinach is wilted.
Pour the tomatoes (with juice) over top of the pasta. Add in the spinach and fresh basil leaves, stirring carefully to combine the ingredients. Some of the tomatoes will pop, it is unavoidable. Serve in desired portions and top with some crumbled goat cheese (extra goat cheese if you are fiend like me!)
7.8.1.2
65
https://thecookiewriter.com/milestones-tomato-basil-brown-rice-spaghettini/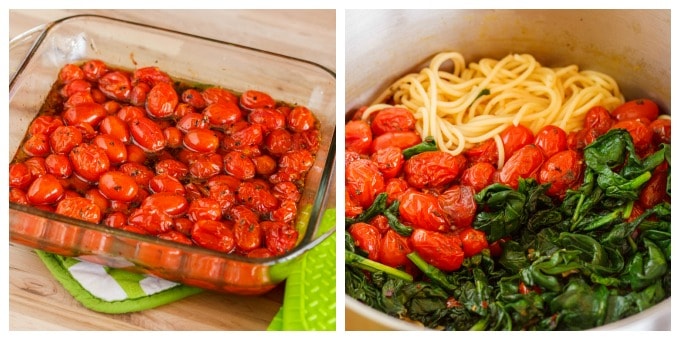 So it may not be the exact Milestones Tomato Basil Brown Rice Spaghettini you are familiar with, but I must say I will be sticking to this recipe. The ingredients are so cheap; you are making this for a fraction of the price you pay for one bowl at Milestones. But I understand, when you go out it is a treat. I prefer to order meals that I would not normally make at home, and in this case, it is pretty darn easy to make this pasta.