Well, here we are again.
Less than a week has gone by since I made my previous cake. I really enjoyed working with Swiss meringue buttercream and knew my next cake would use it again. However, I went down a different path. Anytime I make buttercream, it is usually vanilla or chocolate flavoured. I like them; others like them. They are the safe choices. After trying SMB, and tasting the rich buttery flavour, I knew it needed some balance.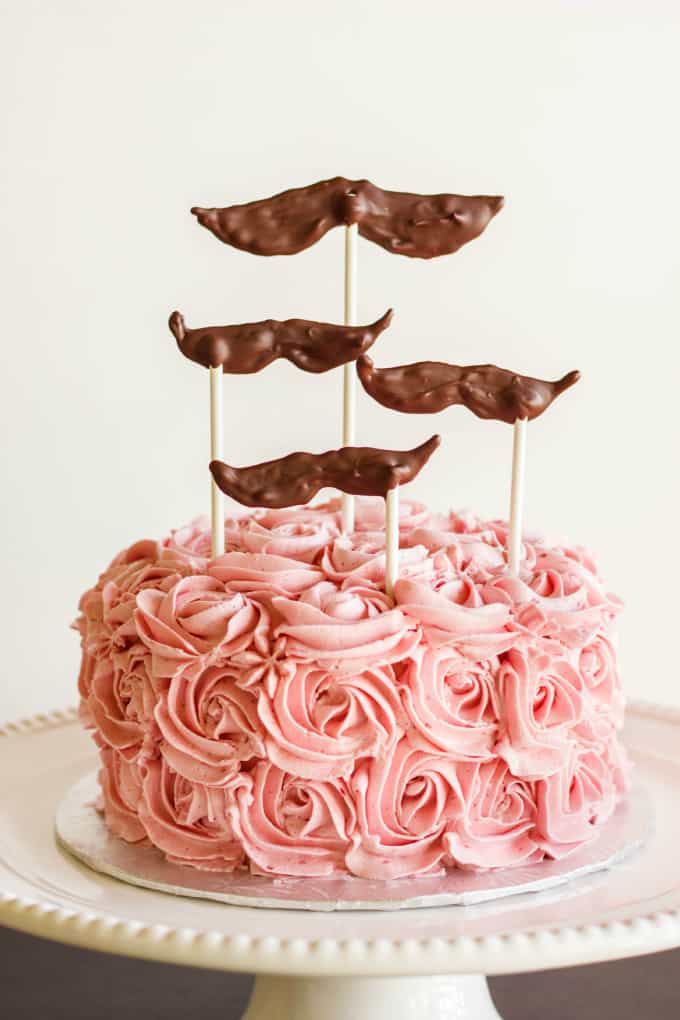 My cake today is based on the movie Her. I was picked to make a dessert and knew immediately I wanted to make a "romantic" cake, based on the plot of the movie. What is more romantic than pink flowers on a chocolate cake? Perhaps chocolate mustaches on a stick?!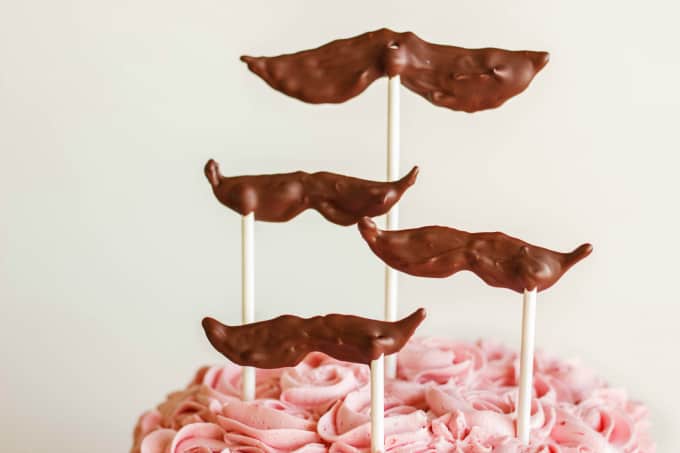 … Probably not 🙂 But I thought the idea was really cute since the mustache sticks out to me so much in the movie poster. I knew I had to play around with it.
I used my usual chocolate cake recipe and decided to pair it with a raspberry Swiss meringue buttercream. I worked off my basic SMB found here. The roses gave me more trouble than I thought they would. When I made the ribbons on my previous cake, they were so easy. I think I put too much thought into doing the flowers. Needless to say, I decorated the cake twice because I was not happy with the first outcome. I was going to redo it a third time but Dan stopped me. Definitely need to practice this one.
I thought perhaps the icing was too airy, but most of the air bubbles you see are actually flecks of the fresh raspberries I used in the puree. Oh well, in the end I am feeling okay about the cake. I thought the design was really cute overall.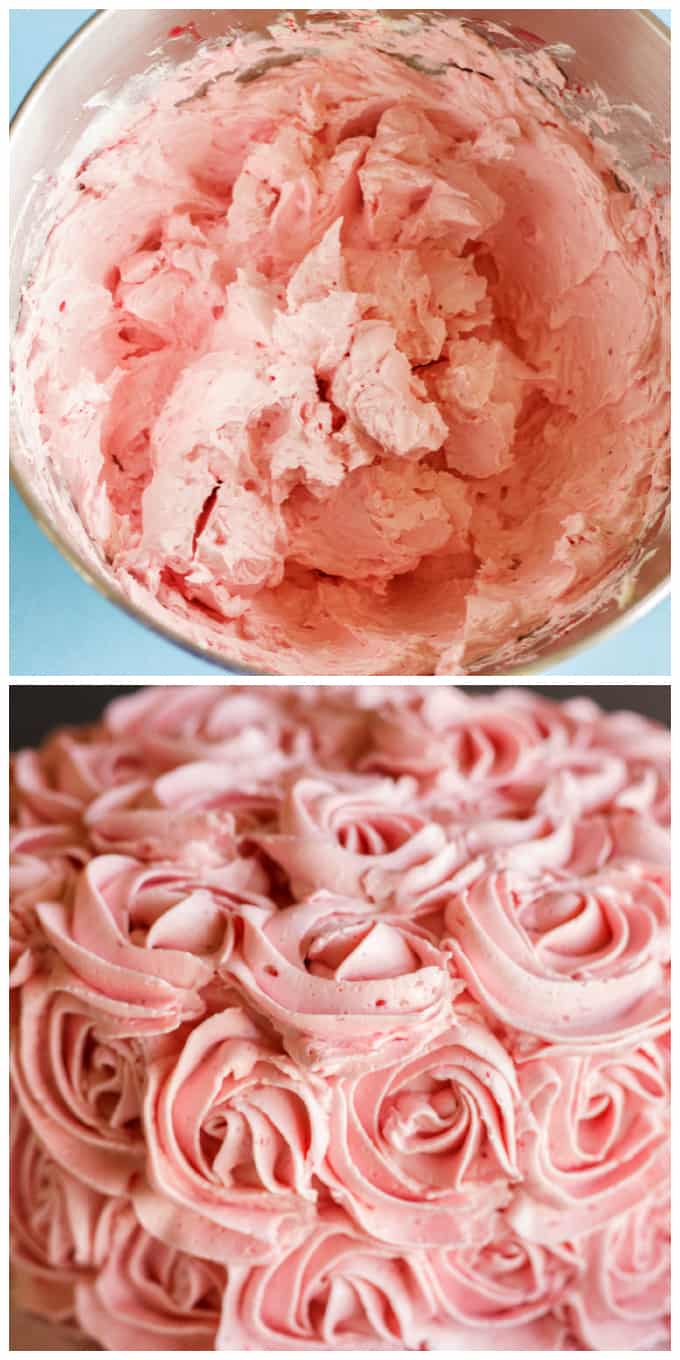 Chocolate Cake with Raspberry Swiss Meringue Buttercream
---
Kacey
Yields 2-3
15 minPrep Time
25 minCook Time
40 minTotal Time
Ingredients
5 large egg whites, at room temperature
1 1/4 cup granulated sugar
1 1/2 cup salted butter, room temperature
Raspberry Puree-
3/4 cup frozen raspberries, defrosted
1 tsp. sugar (or more to taste)
1/2 tsp. fresh lemon juice
Instructions
Strain your raspberries through a sieve into a bowl. You will probably ending up with anywhere between 1/3 cup to 1/2 cup of raspberry juice. This just keeps the seeds out of your puree.
Discard the seeds and add in the lemon juice and sugar. The amount of sugar is based upon how sweet you want your puree. Since I was mixing this into SMB, I left it pretty natural. Set aside.
Pour about an inch of water into a small saucepan. Place over low heat and pick a bowl that will fit snugly on top of the opening. You don't want the bowl touching the water at all: you are creating a double boiler. In this case, I used my kitchen aid bowl.
When the water has reached a simmer (never let it form into a rolling boil!) place the egg whites and sugar into your bowl. Attach a candy thermometer to the side of the bowl, and whisk the mixture constantly until it reaches 160F.
Move your bowl to the stand mixer. Using the whisk attachment, whisk your mixture until stiff peaks form. It should take 10 minutes or more, and you want your bowl to be relatively cool before you add the butter. If the mixture is too warm, your butter will melt.
Cut your butter into bite-size pieces, about 1 tablespoon each. With your mixer on low, add one piece of butter at a time, counting for about 10 seconds before you put the next piece of butter in. Pay attention and make sure the butter is combined before you add the next piece. Patience is key! Keep mixing until all the butter is combined in and you are left with a smooth buttercream.
Pour the raspberry puree into the buttercream. Stir on low until combined.
7.8.1.2
63
https://thecookiewriter.com/chocolate-cake-with-raspberry-swiss-meringue-buttercream/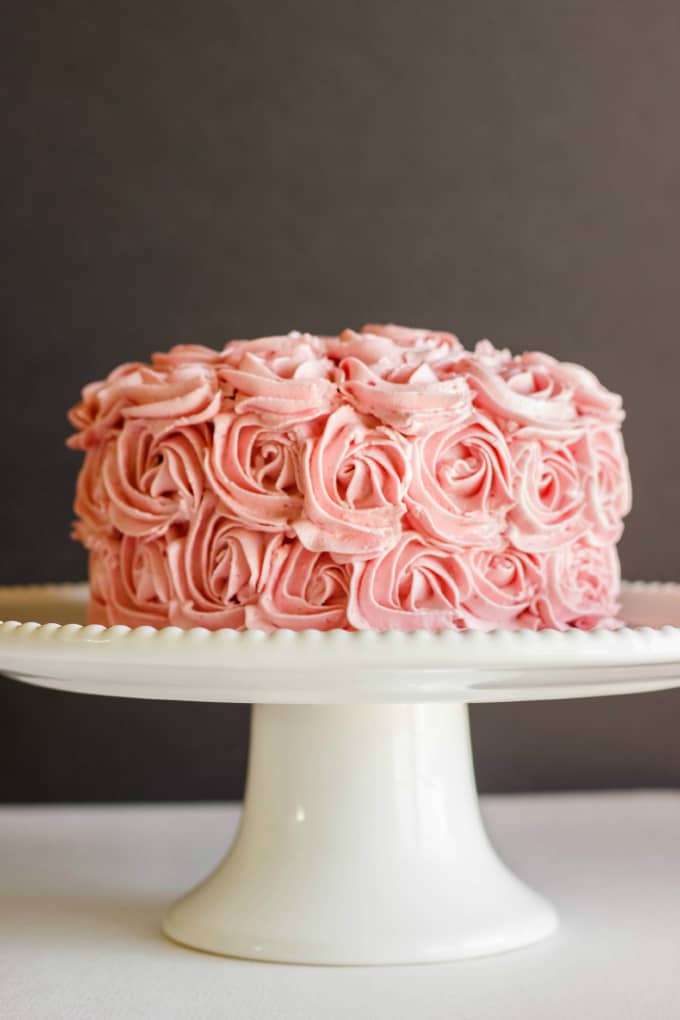 I know it is said that Swiss meringue buttercream is pretty forgiving, but when I poured in the raspberry puree I almost fell over! It acted like oil and vinegar. I thought for sure the red colour was not going to blend in. I wish I took a picture. But do not panic. After about a minute, it eventually combines and you are left with a tasty icing!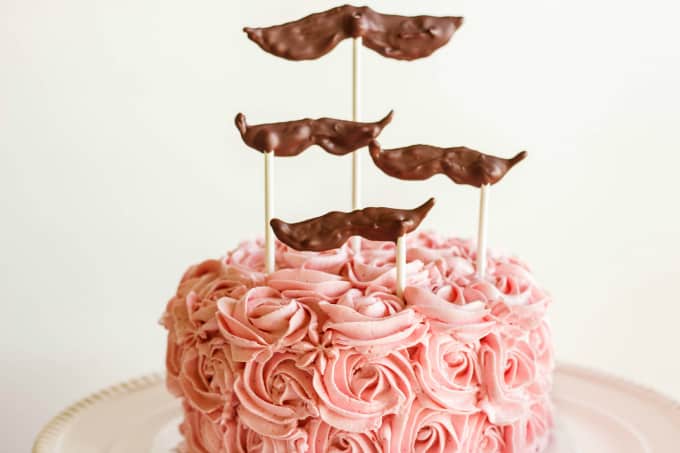 I should have a tutorial up soon for the SMB. The tutorial is now up! Keep an eye out, as I am sure you will be seeing more cakes in the future. Oh! Ps. If you need any advice tempering chocolate to make the mustaches, check out Sugar Hero. I also used her mustache stencils 🙂