These Christmas doughnuts with candy melts glaze are not as bad as you think! They are baked, not fried!
I FINALLY used my doughnut pan!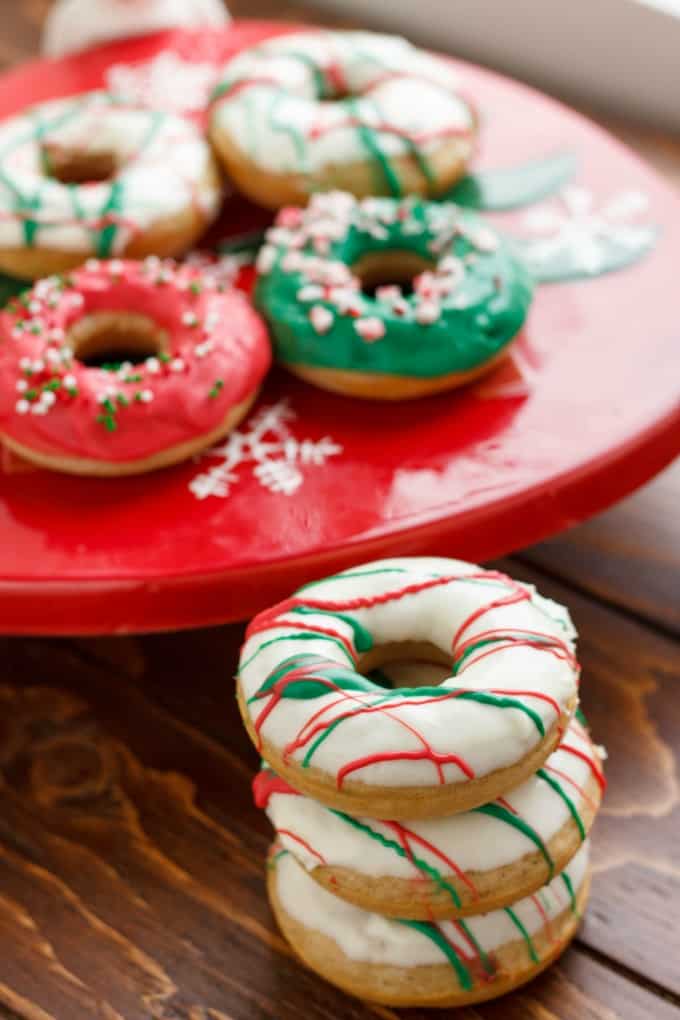 Took me forever to even invest in a doughnut pan and even longer to find a doughnut recipe that stood out to me (super impressed with what I found at Grab A Plate!) Okay, so now I realize I am kind of lying because I did attempt a doughnut recipe a month or so ago but that did not work out too well... But today's Christmas doughnuts sure did and they were super easy to make! The candy melts glaze helped cut time greatly and resulted in a nice, firm "icing" on top of the doughnuts. I am all about sugary-sweet toppings, but seeing as these Christmas doughnuts are made using bananas and NOT fried, I wanted to try and stay somewhat healthy.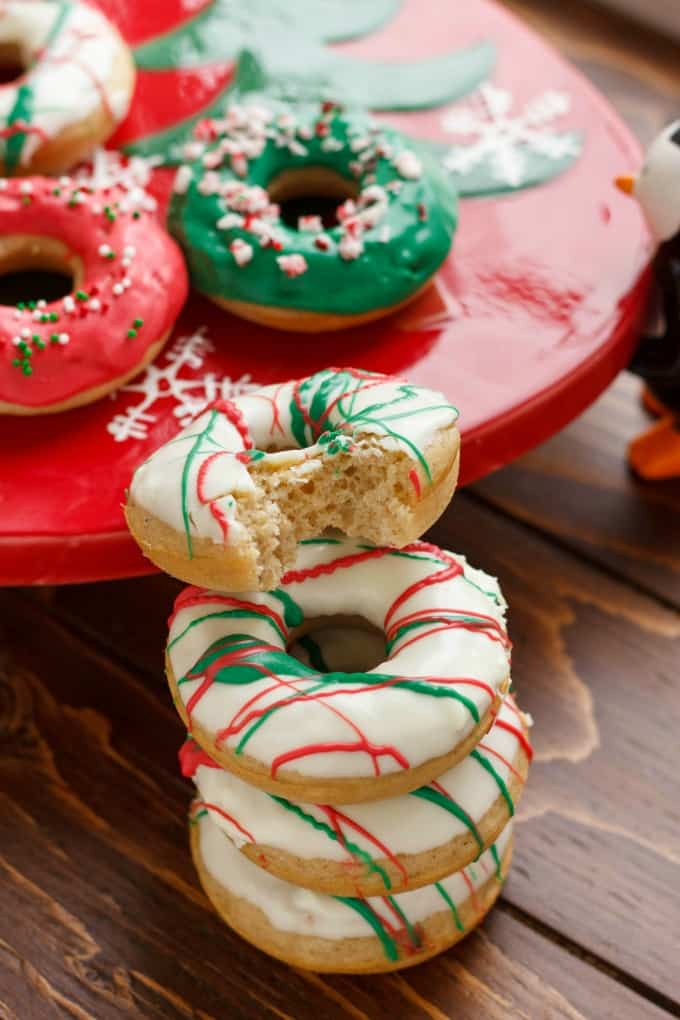 I spoke about candy melts and food coloring in my giant Christmas cupcake post, but I will repeat some information here just in case you missed it. These candy melts (bought from the Bulk Barn here in Canada) came pre-colored. It is easier and more efficient as candy melts usually have to be colored with something other than a water-based substance. I just did not want to buy more food coloring as I prefer the type I have. But if you do decide to color your own candy melts, chances are you will need another type than the standard Wilton gel type.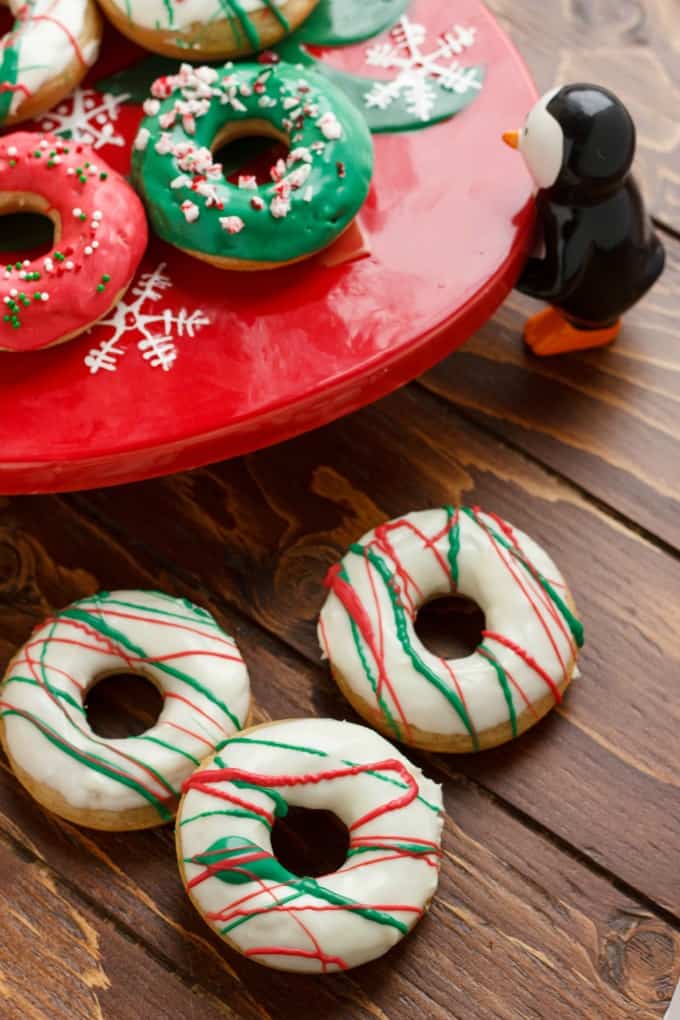 📖 Recipe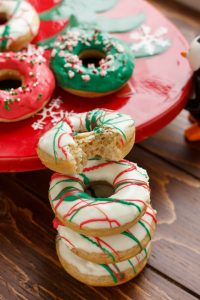 Christmas Doughnuts with Candy Melts Glaze
These Christmas doughnuts are baked and not fried! A fluffy, banana doughnut topped with Christmas-colored candy melts.
Ingredients
1 ¾ cups all-purpose flour
1 ¾ tsp. baking powder
¼ tsp. baking soda
⅓ cup brown sugar
Pinch of salt
¼ tsp. ground nutmeg
½ tsp. ground cinnamon
1 cup buttermilk, room temperature
1 egg, room temperature
2 tbsp. coconut oil
2 medium-large bananas
1 tsp. vanilla
Topping:
Candy melts in assorted colors
Sprinkles or crushed candy cane for garnish
Instructions
In the bowl of your stand mixer, combine the sugar, coconut oil, egg, bananas, and vanilla. using the paddle attachment, mix until everything combines and the banana is broken down.
In a separate bowl, sift together the flour, baking powder, baking soda, salt, nutmeg, and cinnamon. Stir to combine. Alternatively add the dry ingredients and milk to the banana mixture, starting and ending with the dry mixture. Mix until JUST combined.
Preheat oven to 350F. Grease your doughnut pan.
Add batter to a large Ziploc bag or decorating bag and snip the end off so you have a small opening. Pipe batter into each doughnut crevice, filling about ¾ of the way up (too little will result in small doughnuts, but too much batter will result in over-stuffed doughnuts with no hole!)
Bake for 10-11 minutes or until toothpick comes out clean. Allow to cool for a couple of minutes in pan before moving them to a cooling wrack.
To top the cooled doughnuts, melt candy melts. Dip doughnuts into melts and cover with desired garnish (I used a spoon to get the lined pattern.)
Nutrition Information:
Yield:

8
Serving Size:

1
Amount Per Serving:
Calories:

221
Total Fat:

5g
Saturated Fat:

3g
Trans Fat:

0g
Unsaturated Fat:

1g
Cholesterol:

24mg
Sodium:

234mg
Carbohydrates:

40g
Fiber:

2g
Sugar:

14g
Protein:

5g