Heard of the blend & extend method? Today I discuss how wonderful this method is, all the while sharing my mushroom and beef cheese balls for the FBC 2016 contest (with Mushrooms Canada!)
Sooooo excited for today's recipe!
Cheese. Caramelized Onions. Mushrooms.
As I stated in my last post, my sister came out to help me with a ton of back to school recipes. While here, she helped me with the recipe that I came up with for Mushrooms Canada's FBC 2016 contest! This contest was for Canadian food bloggers only, offering a chance to win tickets and accommodation to their sold out conference this year in Toronto. I tried winning last year with my mushroom and spinach puffs, but even though I did not win, I was super happy with the appetizer! I am back again this year with my mushroom and beef cheese balls (mini style!)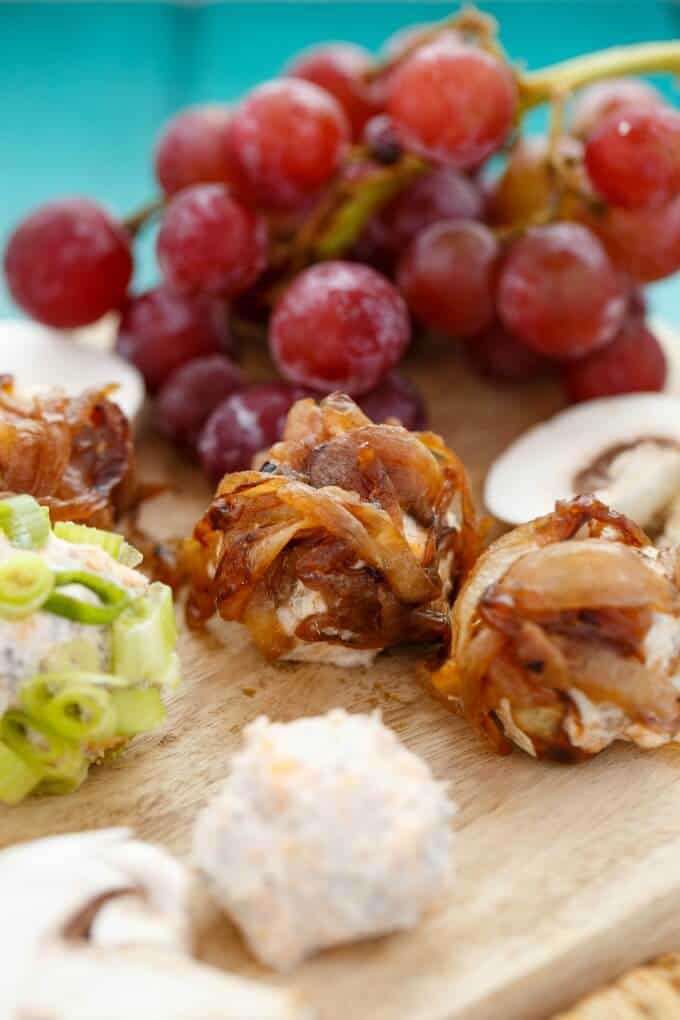 I am going to start off by saying that these mushroom and beef cheese balls can totally be made into a full size ball. Since the winning recipe has their appetizer served at the event, I thought mini cheese balls would be the way to go. But trust me, this holiday season this cheese ball is coming out! My sister, who is not even a ground beef fan, devoured these balls! I am surprised her boyfriend had the opportunity to try any. My husband sure didn't, haha. Then again, he did not get my to try my previous entry either... But I was the one to inhale those 🙂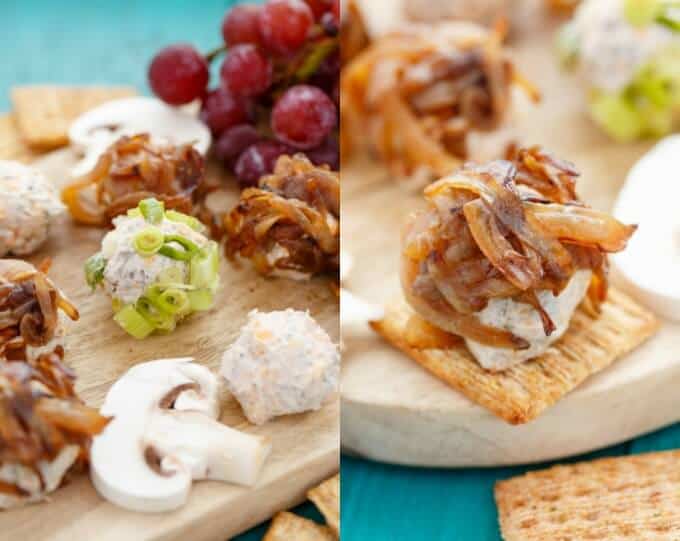 The blend & extend method is a really neat concept used to bring together mushrooms and ground meat, extending traditional recipes. You see this method more commonly in meatballs, burgers, and egg rolls. The combination of finely chopped mushrooms and beef results in this rewarding texture, yielding a cheaper meal because you are mixing in mushrooms with ground meat. And we all know how expensive ground beef has been lately! Coming up with a creative recipe using the blend method was a lot of fun, and I am so happy to have come up with these mushroom and beef cheese balls because they are definitely different from the norm (but trust me, the other entries look amazing!)
Would I change anything next time? Well, since there was meat in these cheese balls, I couldn't have any and they looked SOOOOO good! Totally going to make a vegetarian version because I know I will need some of these around the holidays 🙂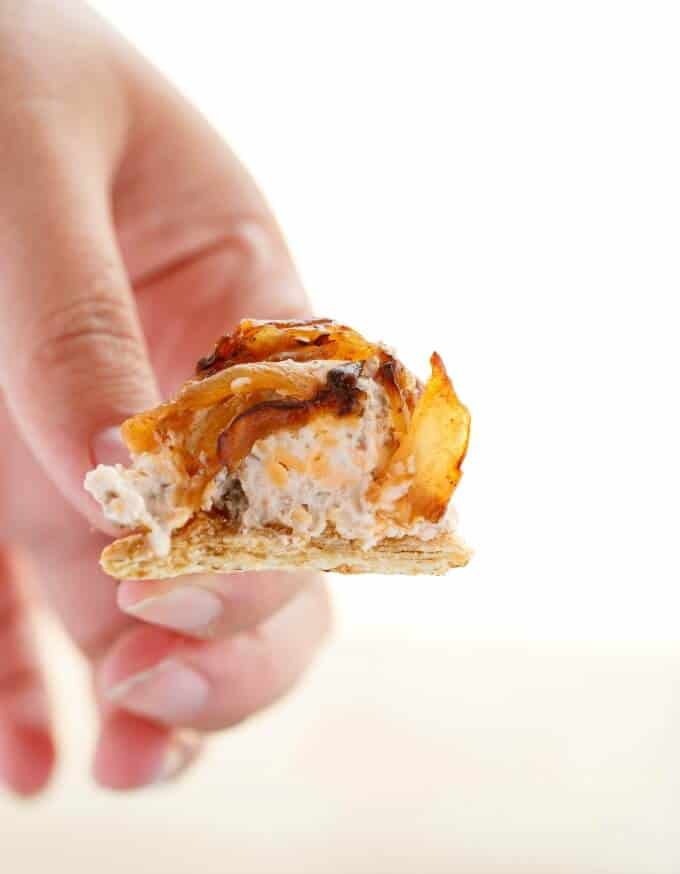 Now, let's talk caramelized onions. Are they needed? I guess not, but come on, they are awesome!!! I left some plain, some rolled in green onions, and some rolled in caramelized onions. 100% of the feedback went to the ones with caramelized onions. They were just the most flavorful. Plus, they look really pretty! Honestly, you know I say you can leave things out and what not when it comes to my recipes, but I feel the onions add so much! If you make one giant cheese ball, covering it in caramelized onions will be super easy. I had no issues rolling the balls in the onions. Just remember to let the onions cool down first, and roll the cheese balls before refrigerating so they are a bit tacky. Otherwise the onions won't have anything to stick on to!
📖 Recipe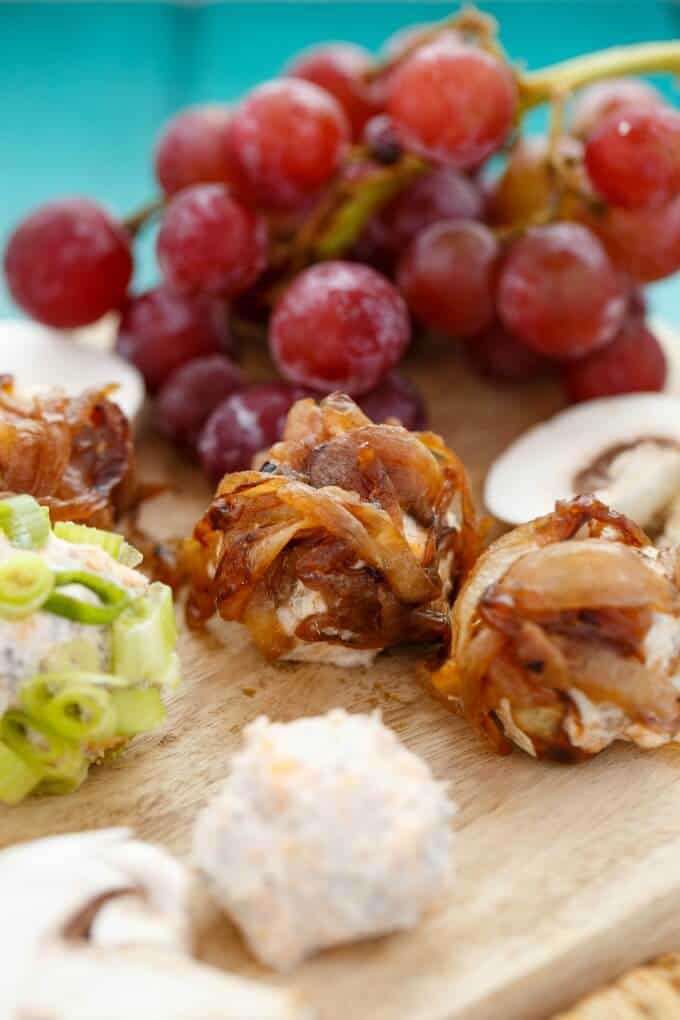 Mushroom and Beef Cheese Balls (Mini Style!)
You can cook the mushrooms and beef in a separate pan from the onions at the same time to cut down on time!
Ingredients
16 oz (1 lb) cream cheese, softened
2 ½ cups grated cheddar cheese
2 tsp. powdered ranch seasoning
¼ lb button mushrooms, chopped finely or placed through food processor
¼ lb ground beef
Caramelized Onions
5 large onions, sliced thin
4 tbsp. butter
1 tsp. granulated sugar
Salt
Instructions
If using caramelized onions, set a large frying pan over medium-high heat. Add butter and once hot and bubbling, add onions. Cook, stirring often, until beginning to color. Add sugar and salt. Keep cooking, stirring often, until caramelized to your liking. Remove from heat.
Add beef and mushrooms to pan. Cook until meat is browned and cooked through. Drain excess grease. Season with salt and pepper.
In a large mixing bowl, combine cream cheese, cheddar cheese, and ranch seasoning. Once combined, stir in ¼ cup of meat-mixture at a time until you reach your desired consistency (you may have leftover meat.)
Measure out one tablespoon-sized portions and roll into balls. Roll in onions until coated. Place into refrigerator until ready to serve over crackers.
Nutrition Information:
Yield:

48
Serving Size:

1
Amount Per Serving:
Calories:

84
Total Fat:

6g
Saturated Fat:

4g
Trans Fat:

0g
Unsaturated Fat:

2g
Cholesterol:

20mg
Sodium:

133mg
Carbohydrates:

2g
Fiber:

0g
Sugar:

1g
Protein:

4g
Even if I don't win, these mushroom and beef cheese balls are a winner in my books. Definitely showing up this holiday season (might have to compete with my aunt and her cheese ball recipe!) Feel free to make the recipe vegetarian, because I know I am sure going to give it a shot. And any ground meat will work; I just happened to have ground beef on hand.
Love these mushroom and beef cheese balls (mini style!)?! Try some of these recipes: