Here is hoping for a victory when it comes to these mushroom and spinach puffs!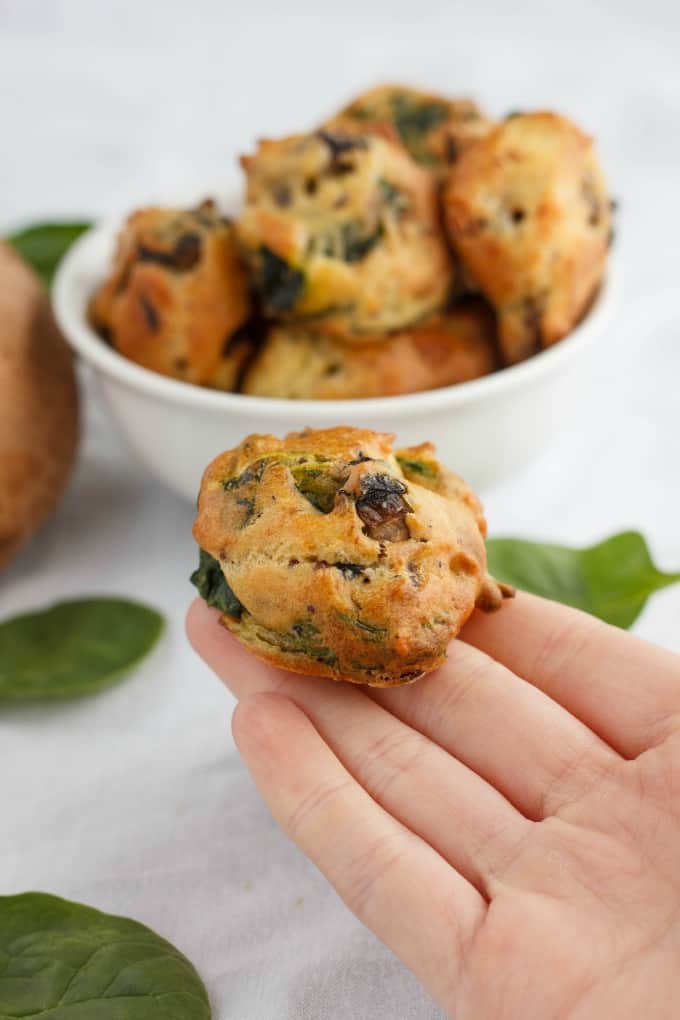 When I stumbled across the Mushrooms Canada contest on The Food Bloggers of Canada website, I knew I needed to create something delicious and easy! People always want easy recipes with bold flavors, and I think I did it. These mushroom and spinach puffs are the perfect little appetizer and hors d'oeuvre for your get together and are really quick even with a homemade "dough." There was so much inspiration behind this recipe, I don't know where to begin!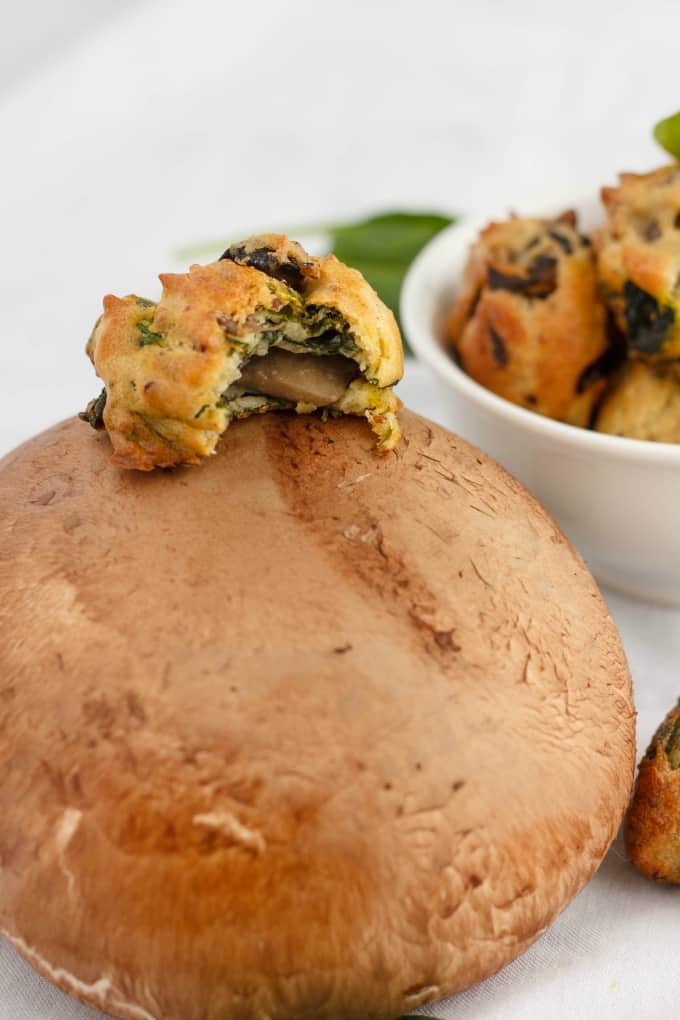 I have worked with a very similar "dough" when making cream puffs in the past. Dough is probably the correct term but whenever I think of puffs, I think something more elegant like pastries. In my research I have discovered that the dough is referred to as pâte à choux. Since I did change up some things compared to a traditional pastry dough, I don't really want to name or identify it with a specific technique, but just be aware that this recipe, as scary as it sounds, is really simple and you can change it up however you see fit (I went from the traditional sweet recipe to a more savory approach.)
Another inspiration behind these mushroom and spinach puffs was the mushrooms themselves. I LOVE portobello mushrooms. Heck, I love all mushrooms, but when you want to go gourmet on a budget, portobellos are the best choice. I would have loved to use shiitake or chanterelle mushrooms here, but let's be honest, you are going to be forking over a pretty dime for those bad-boys (not that there is anything wrong with that.) When I make these again (and there will be an again) I am definitely adding shiitakes to the mix!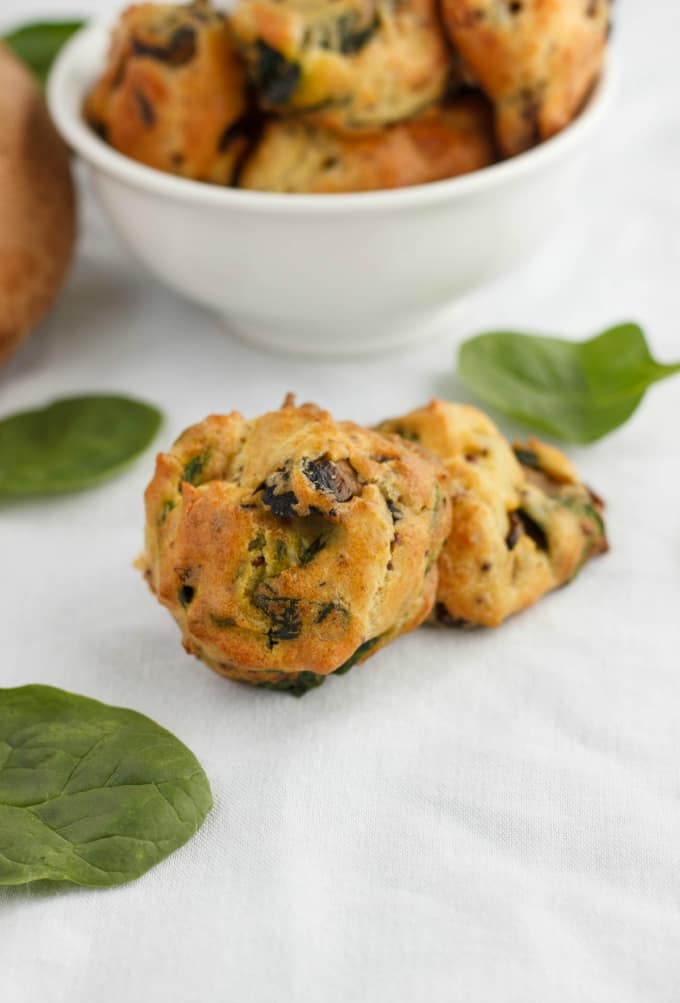 Okay, so let's talk about this recipe. As I said, it seems intimidating with homemade dough and a baking process, but trust me, I have never made anything simpler. Okay, I have but just listen. This dough has 3 components, 4 if you happen to use unsalted butter: Butter, eggs, and water. That is it. I used salted butter so there was no need for additional salt, but it is generally stated that you should use unsalted butter and season accordingly (I have never had an issue so I am sticking to salted butter!) Those are all the ingredients?! Really?! Yes!!

"Can I screw this up?" Technically you can mess up anything but I am here to tell you that the chances should be slim to none. Follow the recipe below and I assure you, you will soon be munching on these mushroom and spinach puffs!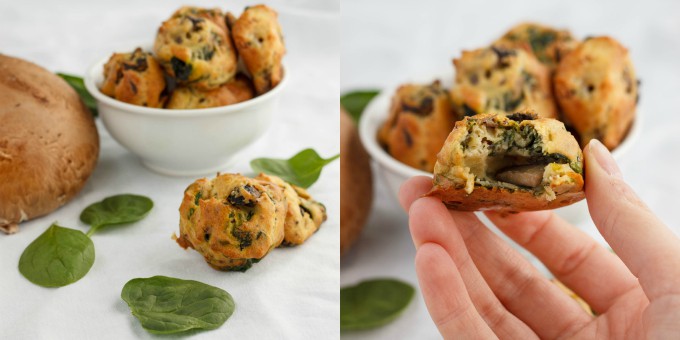 📖 Recipe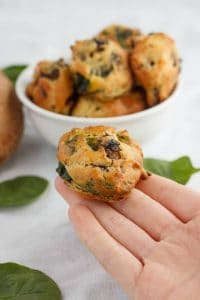 Mushroom and Spinach Puffs
Looking for a quick and easy appetizer? Try these mushroom and spinach puffs! All homemade, but takes little time and worth the effort!
Ingredients
Filling:
½ lb (2 large) portobello mushrooms, stems and gills removed; cubed into small chunks
1 cup fresh baby spinach
Salt and pepper
½ tsp. ground thyme
3-4 garlic cloves, minced
1 tbsp. butter
Dough:
½ cup all-purpose flour
½ cup vegetable broth
1 tbsp. coarse mustard (optional but highly rewarding!)
¼ cup butter
2 eggs, room temperature
⅛ - ¼ cup freshly grated Parmesan cheese
Instructions
Heat a large frying pan over medium-high. Add the butter and wait until it is very hot. Add the mushrooms and cook for a couple of minutes. Stir in garlic, salt, pepper, and thyme. Cook for a few more minutes until mushrooms are nice and golden (5 minutes total.) Stir in spinach and toss until wilted. Remove from heat and set aside.
Preheat oven to 400F. Line a baking sheet with parchment paper or silicone liner.
In a medium-sized saucepan, add the broth, mustard, and butter and place over high heat. Bring to just a boil and add the flour, stirring constantly with a wooden spoon while reducing the heat to low. Stir for 2 minutes or until a ball of dough forms (I like to cook the flour a bit like a roux so try and do 2 minutes minimum.) Remove from heat and pour into bowl of stand mixer (you can also do the remaining steps by hand but the mixer makes it easier.)
Allow to cool for a couple of minutes. I stir in the mixture every minute to get the heat to disperse. With the paddle attachment and the mixer on medium, add 1 egg at a time and mix until well combined! Repeat with following egg. You want a smooth mixture. Pour in cheese and mushroom mixture and stir with wooden spoon until combined.
Using a 1 tablespoon-sized measuring device, spoon out balls of dough and place onto baking sheet, spreading out so about 12 fit per tray. Place into oven and bake for 20-25 minutes, or until nicely brown and balls are firm. Remove from oven and allow to cool for a couple of minutes on the baking sheet (you will know when they are ready to move when you have no difficulty picking them up!) Cool completely on wire rack. Serve as is!
Nutrition Information:
Yield:

12
Serving Size:

1
Amount Per Serving:
Calories:

78
Total Fat:

6g
Saturated Fat:

3g
Trans Fat:

0g
Unsaturated Fat:

2g
Cholesterol:

44mg
Sodium:

123mg
Carbohydrates:

5g
Fiber:

0g
Sugar:

0g
Protein:

2g
Typically you would use water in this recipe, but vegetable broth sounded like a nice addition to a savory meal. You will also note I added coarse mustard, which is optional, but I swear by adding it to many of my sauces. There is just something about it that heightens the flavors in a recipe. Just take your time, breath, and have all your ingredients measured out and prepared ahead of time so you are not scrambling around the kitchen. I know we are cooking the mushrooms and spinach ahead of time but it literally takes 5 minutes so do not fret!