Whether you eat it as an appetizer or a main course, this vegetable risotto with homemade chicken stock is a fantastic way to wow that special person in your life. Risottos are a lot easier than you think 🙂
The photos and recipe for this vegetable risotto with homemade chicken stock have been updated as of November 20th, 2016!
So I know I have been going easy with the recipes and trying to share some meals that are quick, to the point, and delicious. Don't get me wrong, I love everything I share but I really do like gourmet and sometimes gourmet takes a little bit more time and effort on the cook's part.
Risotto.
It is my FAVOURITE! I love it! Anytime we go out to eat somewhere fancy, it is the first thing I look for and most of the time these restaurants have delicious mushroom risottos with fancy ingredients (think gourmet mushrooms!) I am salivating as I type this because I love it that much!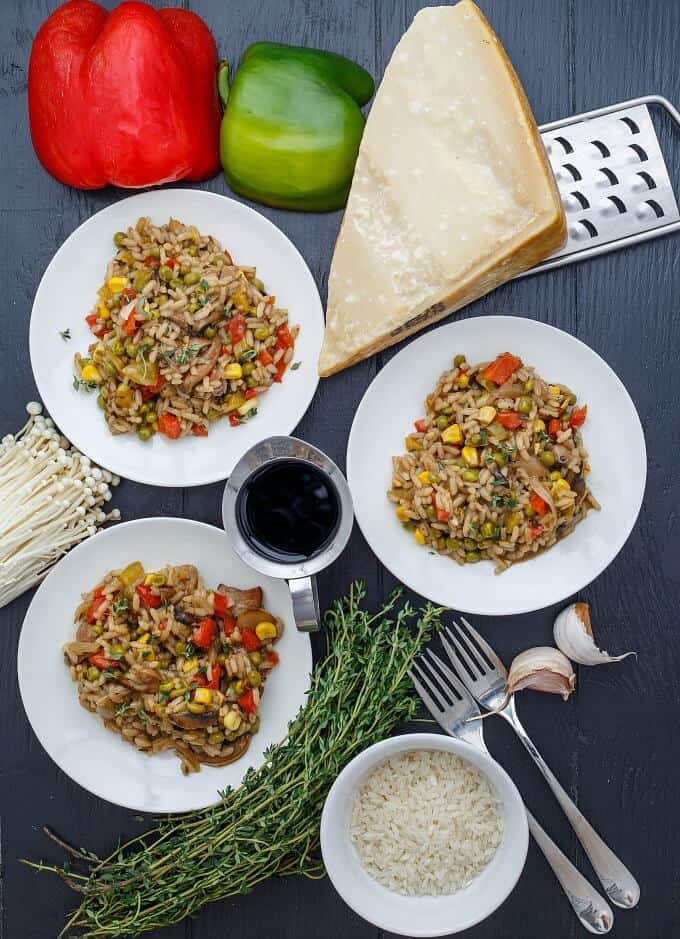 Okay, enough of that since I am pretty sure I have made my point 🙂 One thing I really do like when it comes to risottos at restaurants is how fairly priced they seem. Risotto takes time and effort. To me, if the risotto is made perfectly, I have no problem paying a fair amount (my meal is always cheaper than my husband's meat dishes, but for a vegetarian meal I still feel the price is worth it.)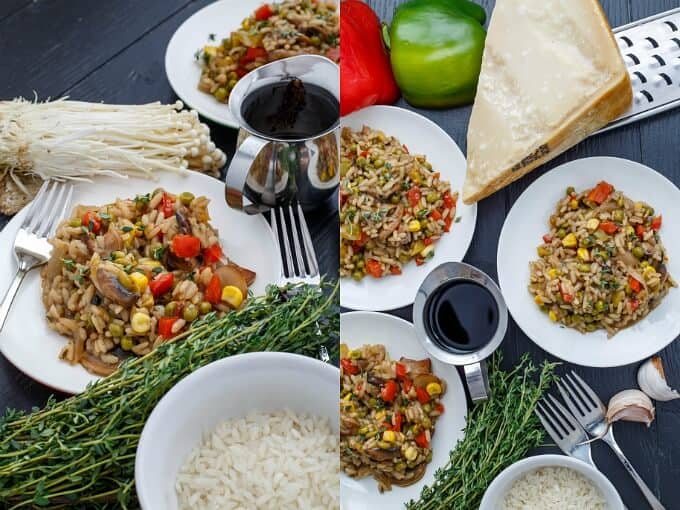 The thing is, we do not always want to go out to eat, and this means I have to take matters into my own hands. I made this vegetable risotto with homemade chicken stock (you can read about my endeavours here) for my husband because 1) I had chicken stock to use up and 2) I am greedy and wanted all the mushrooms possible for my own balsamic mushroom risotto. How colourful and fun this vegetable risotto was to make! Seriously, I am weird and love making risotto. Standing at the stove, pouring in hot broth as the rice soaks up the liquid… Yummy! I know all my time will be worth it in the end.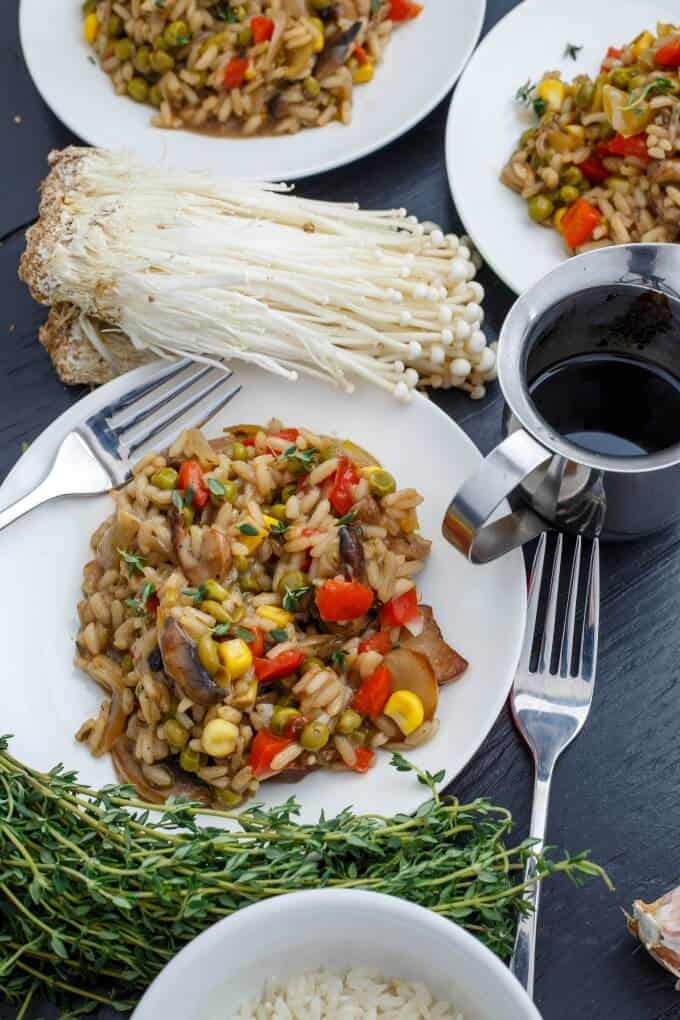 Couple fun facts/interesting tips to help you with your risotto.
1) Always use hot or simmering broth. I keep a pan on low at the back of my stove so I can ladle hot liquid from it. It helps cook the rice nicely and will result in the perfect texture. Room temperature or cold broth will just cause problems with your rice. Take the extra 5 minutes and preheat that broth.
2) Have all your ingredients prepped and sorted ahead of time. I know this is a given and everyone "does it," but you are literally standing at the stove for a good 30 minutes or more, so you do not want to be worrying about where x ingredient is.
3) Have a bit of extra broth measured out into your pot. I find sometimes I use more, sometimes less, when it comes to the recipe. With the homemade chicken stock I actually used about 1/4 – 1/2 cup more liquid than usual when it comes to my risotto.
4) Have fun and experiment with flavours! This was my first time making a vegetable risotto and Dan loved the extra goodies in it. It was also a perfect way to use up leftovers. I mean, once you get the basics down to making risotto, the possibilities are endless!
Love this vegetable risotto with homemade chicken stock?! Try some of these recipes: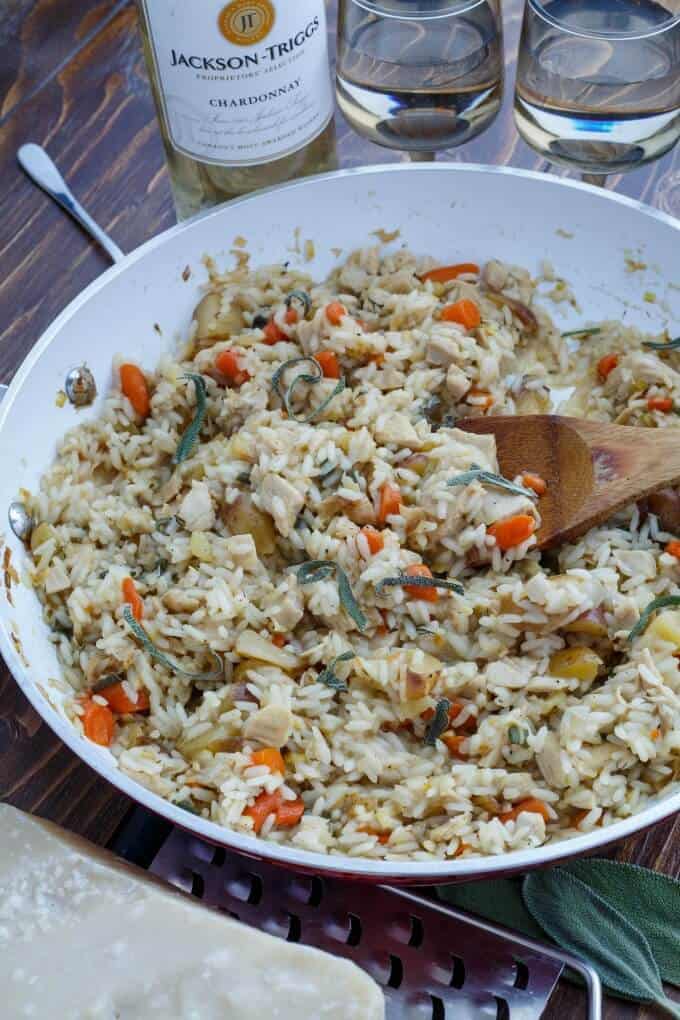 Leftover Thanksgiving Turkey Risotto