Is there anything you cannot do with ham?! Today we have a tutorial on how to make homemade ham stock! Great way to use up that leftover ham bone 🙂
I am seriously beginning to think ham lasts forever. Okay, it is doused in a hefty bundle of salt, but I mean a large ham chunk can really go far if you have leftovers. I DON'T HAVE ANYMORE HAM AROUND, but I did make this stock last week to utilize every part of the meat. People don't realize how far a piece of meat can go, and especially in today's economy, putting everything to use is more important than ever. I always make homemade chicken stock with my chicken carcass, so I figured why not try my hand at homemade ham stock!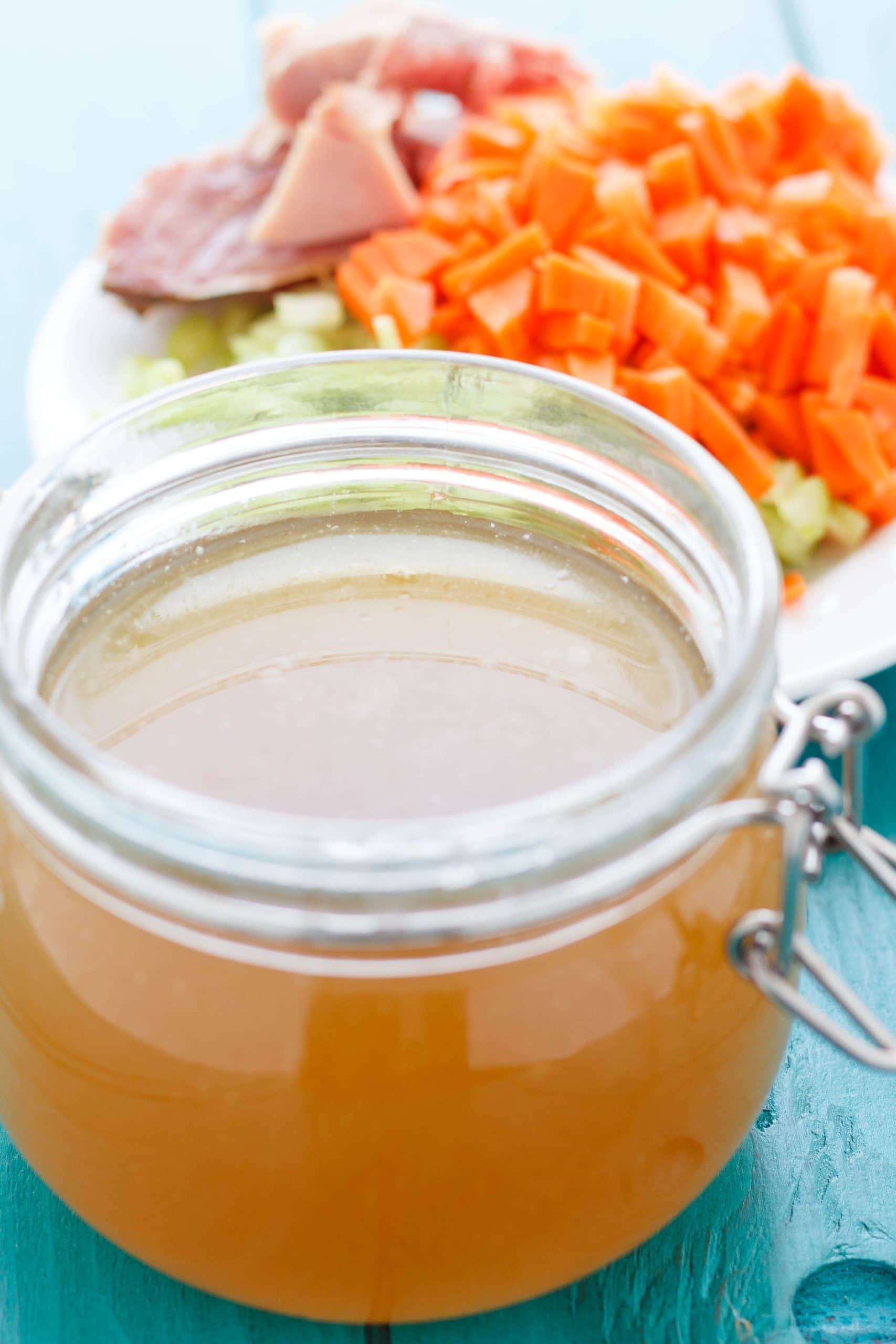 Two words: Easy. Delicious!
You get so much flavor from the bone. I couldn't believe how far this stuff went, and it really brought out bold flavors according to my husband. Since ham is so salty, I was really careful where I used this homemade ham stock. I did use it in risotto and really feared it would be too salty, but it worked! Usually I am all about telling people to salt their meals, but in this case, I skipped the salt altogether in the cooking stage. You can always add salt, but you can never take it away!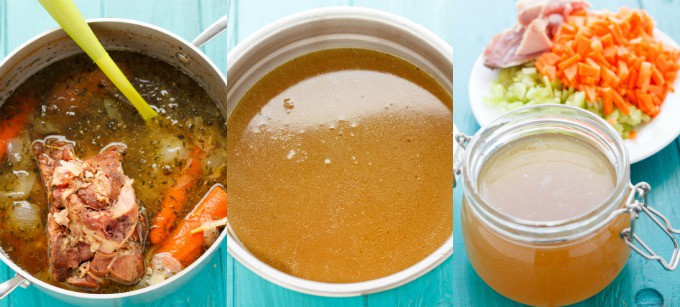 As always, you can customize your stock as you see fit. I generally throw in a bunch of random veggies I have hanging around that need to be cleaned out of the fridge. This time I went the stove-top route which was super handy as I was left with more time to work in other ham recipes (if you have not seen all the ham posts recently, just type in leftover ham and you will be shocked!) Slow cooker method works wonderfully as well, especially if you do not want to babysit a pot!

📖 Recipe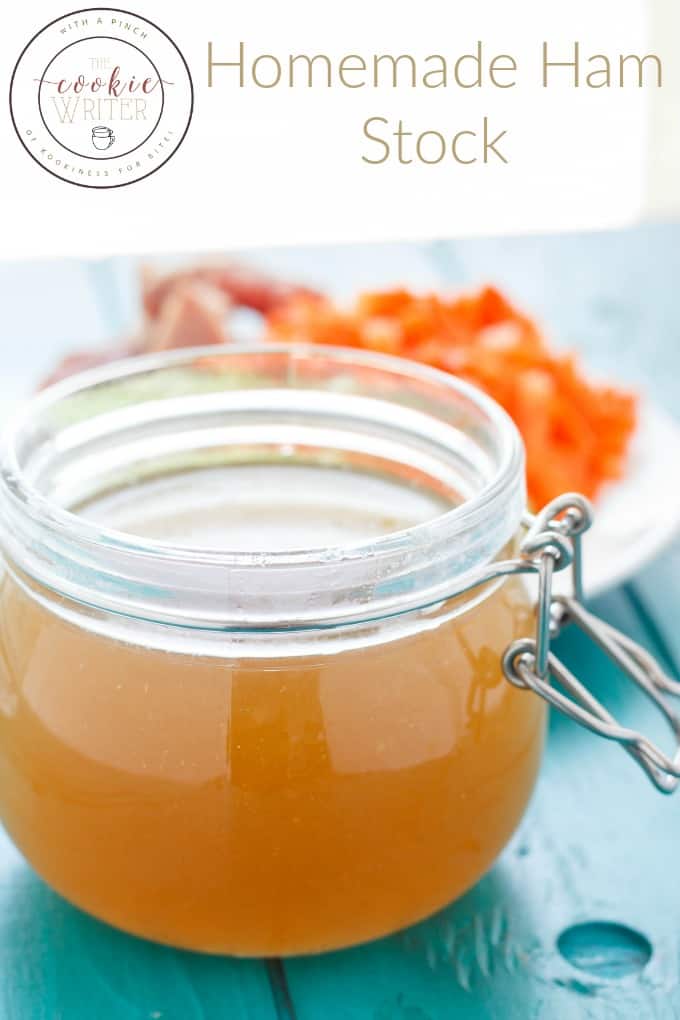 Tutorial: Homemade Ham Stock in the Slow Cooker
Total Time:
3 hours
10 minutes
Is there anything you cannot do with ham?! Today we have a tutorial on how to make homemade ham stock! Great way to use up that leftover ham bone.
Ingredients
1 leftover ham bone/carcass
12 cups water (or more if using a stock pot)
2 large carrots, broken in half
1 head of garlic
2 large onions, peeled and sliced in half
2 celery stalks
1 bunch fresh thyme
Black pepper
Instructions
Add all the ingredients except for the water to a large pot or stock pot. Add in enough water so everything is covered and you are about 1 and a half inches from the top of your pot (12 cups of water fit into my large pot, but a stock pot could hold 14-16 cups.)
Bring to a boil, reduce heat, and simmer. 3 hours should be ample time in a large pot, but in a stock pot it could take upwards of 4 hours. The longer you cook, the further the stock will reduce, resulting in a bolder flavor. Taste test along the way.
Pour through a fine sieve. Allow to cool. Remove fat that has settled on top (best to sit overnight in the refrigerator to do this.)
Store in containers in the refrigerator for 1 week or freeze!
Nutrition Information:
Yield:

6
Serving Size:

1
Amount Per Serving:
Calories:

66
Total Fat:

1g
Saturated Fat:

0g
Trans Fat:

0g
Unsaturated Fat:

1g
Cholesterol:

14mg
Sodium:

259mg
Carbohydrates:

8g
Fiber:

2g
Sugar:

3g
Protein:

6g
Truth time! I have been working on getting my summer posts completed early. That's right, it has been all about the summer recipes here! I figure why not come up with some recipes now so I have all the time in the world to spend with my daughter once school is out. The family has been eating a lot of chicken. A lot. So much so that I actually had to give some portions away as we had no room! Sure I could have froze them, but what's the harm in getting my name out there 😉
Stay-tuned for that leftover ham risotto because it is the perfect way to use up both leftover ham and leftover ham broth!