Easter is over, but don't let that ham go to waste! This leftover ham stir fry transforms one meal into a totally healthy new one!
Ham, ham, ham! There seems to be a never ending supply! Doesn't help I made a ham before Easter and then we had ham for Easter dinner as well 🙂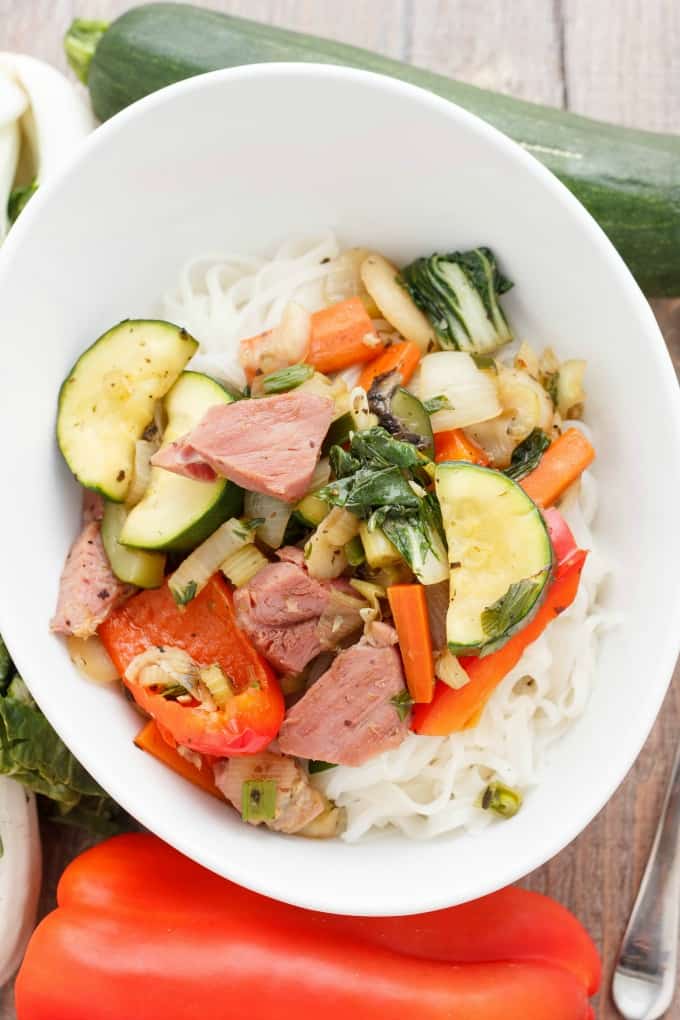 Besides leftover ham pizza (which you can find over at The Weary Chef today!) I have also made a leftover ham mac and cheese that will be posted later this week. But one request from my husband was a stir fry. I mean, it is a great way not only to use up leftover meat, but any veggies you have hanging around. In this case, our leftover ham stir fry contained a mix of Asian greens which were a perfect balance to that salty ham!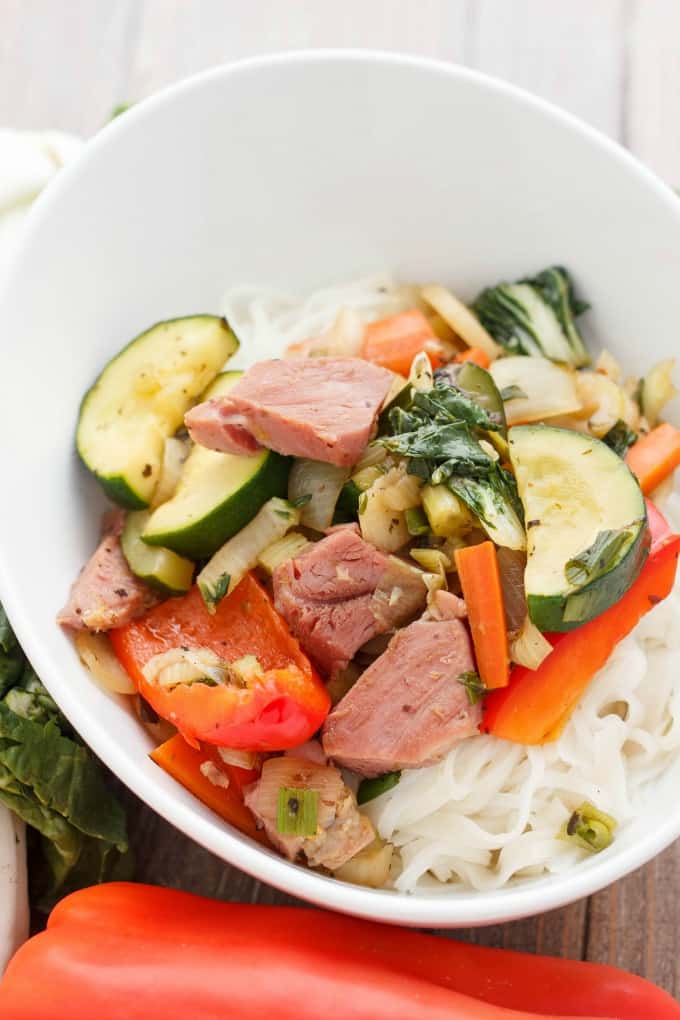 Stir frys have always been a struggle for me. When I first began cooking them they were always soggy... I didn't realize heat was an important element. I now only cook my stir frys over medium-high or high heat. Sure, there is some oil splatter, but this is the biggest way to ensure tender-crisp veggies, without a ton of liquid hanging around. Also, if you have a TON of veggies, I find cooking each veggie separately works perfectly. It may take longer, but you aren't overcrowding your pan (which I am famous for!)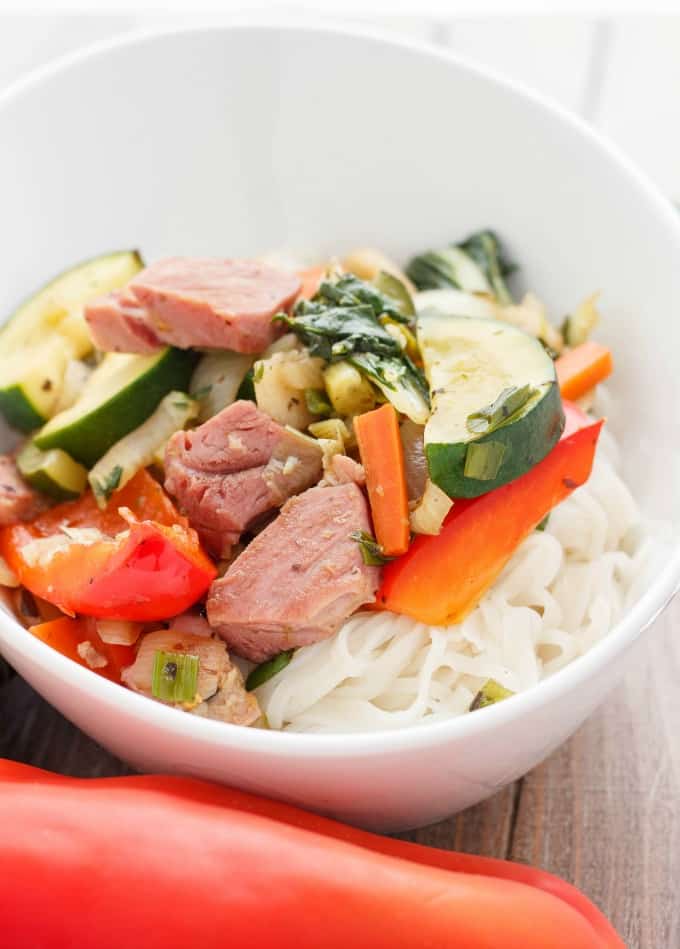 📖 Recipe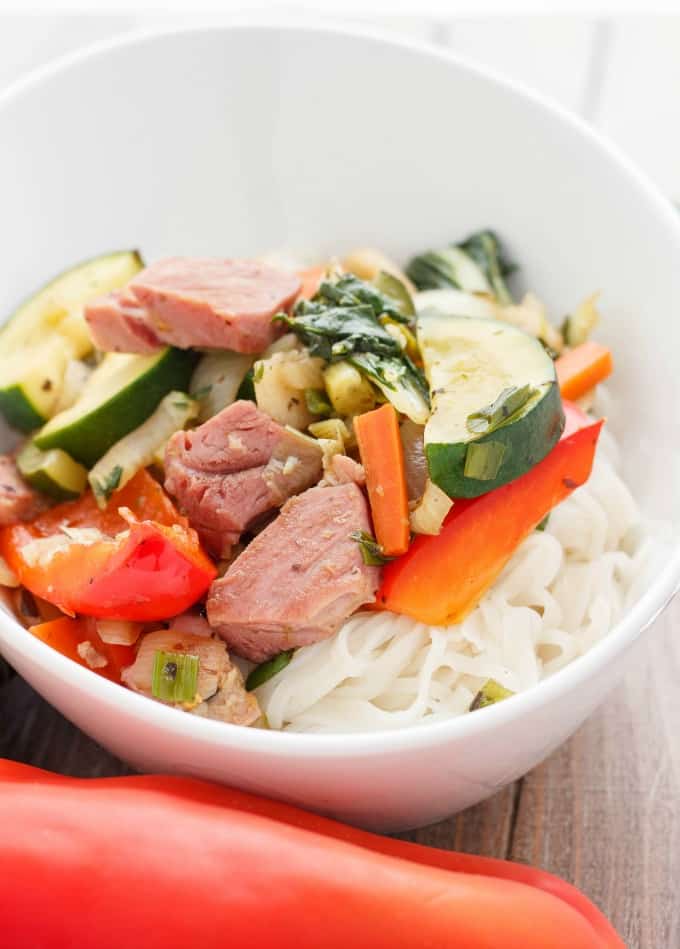 Leftover Ham Stir Fry
Ham is pretty salty as is, so be sure to adjust your seasonings accordingly!
Ingredients
2 cups chopped, leftover ham (or as much as you desire!)
½ lb carrots, sliced into small, thin matchsticks
1 large onion, chopped
1 portoello mushroom, halved and sliced
2 celery stalks, chopped
2 bunches baby bok choy, white part sliced and green part roughly chopped, divided
1 large zucchini, halved lengthwise and sliced
1 red pepper, chopped
3 garlic cloves, minced
1 small can of sliced water chestnuts, drained
Preferred oil (avocado or vegetable oil works well!)
Sauce
¼ cup soy sauce
1 cup broth of your choosing
Salt and pepper (ham is quite salty to be careful here.)
¼ tsp. chili flakes
2 tsp. dried oregano
2 tsp. cornstarch
Instructions
Add a couple of tablespoons of oil to a wok and set over medium-high heat. When hot, add in the carrots and cook for 5 minutes. Stir in onions, mushroom, celery, and white part of bok choy. Cook for 3 minutes. Add in zucchini, red pepper, garlic, and water chestnuts. Cook for 3 minutes. Add in soy sauce, ham, and green part of bok choy. Cook 3 more minutes.
Whisk together all the sauce ingredients until really well combined. Poor into stir fry and cook for a few minutes, or until nicely thickened!
Serve or rice or noodles.
Nutrition Information:
Yield:

6
Serving Size:

1
Amount Per Serving:
Calories:

163
Total Fat:

6g
Saturated Fat:

1g
Trans Fat:

0g
Unsaturated Fat:

4g
Cholesterol:

30mg
Sodium:

1176mg
Carbohydrates:

16g
Fiber:

3g
Sugar:

6g
Protein:

14g
Sooooo, let's just say you should see some more ham recipes in the future 🙂 I love utilizing leftovers and ham goes so far. This leftover ham stir fry was, to me, somewhat healthy, but let me tell you, the leftover ham mac and cheese coming this week is far from that (but we all need a treat once in a while!!)