I don't care what anyone says, risotto is the best food on the planet! This balsamic mushroom risotto is packed full of bold flavors, and is both gluten-free and vegetarian!
Easy recipes are pleasing for many, but there are some recipes that cannot be ignored!
I loooooovvveeee risotto! It is so hard for me to choose a favorite meal, but risotto is up there. I love eating it, I love making it, heck, I would eat it every day. When it comes to food I can be a bit greedy so I tend to make one batch of risotto for myself, and one for Mr. TCW. This way, no fights from either of us! Yeah, Mr. TCW is a big rice guy, too. That being said, you may remember the vegetable risotto with homemade chicken stock I posted last week. Today I bring you my vegetarian version: balsamic mushroom risotto!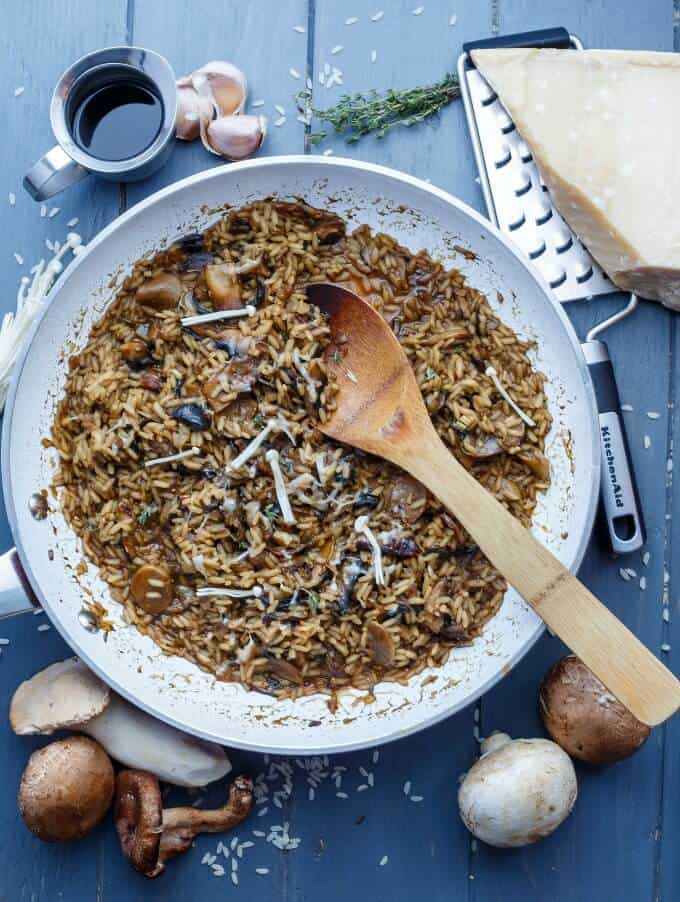 I shouldn't say risotto isn't easy. It does take some skill, but once you get the hang of it, there is no going back. Actually, the first time I ever made risotto, I had never had it before... Yes, I actually decided that I needed to try this remarkable food and no where around us at the time offered such a feast. Let me tell you, I had no clue what the texture was suppose to be like! Arborio rice takes time to soften, but at the same time you do not want the rice too soft. I kept thinking I was never going to stop adding broth! The results were wonderful! I actually posted about my previous mushroom risotto on the blog and since then, it has been made MANY times and revamped endlessly.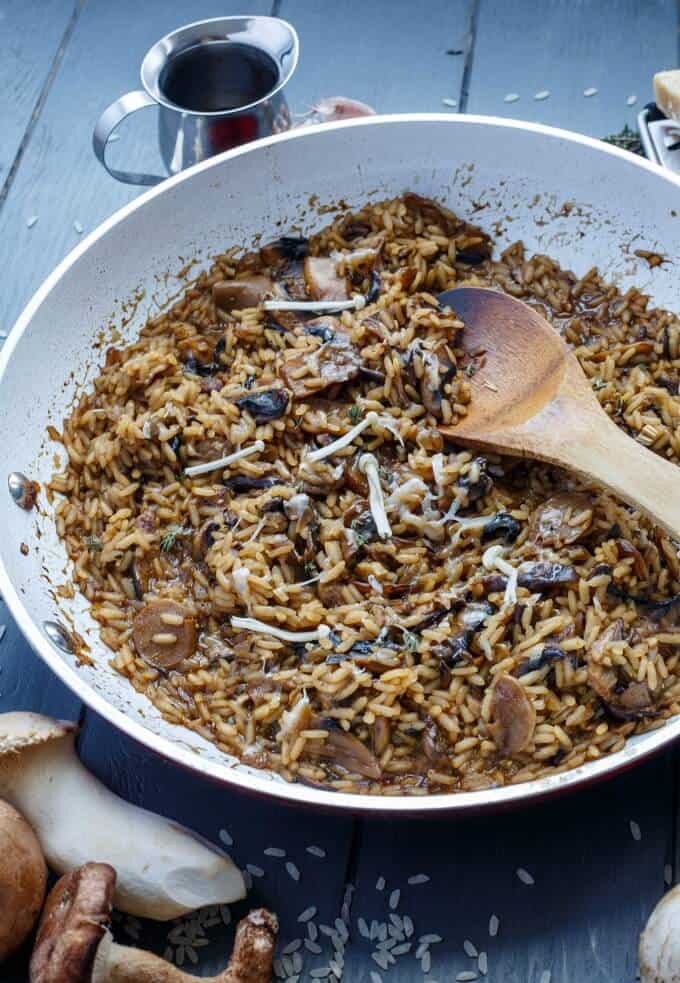 Today's balsamic mushroom risotto was created using the wonderful shiitake mushrooms (Mr. TCW found a great deal at the local grocer and now I am addicted!) Balsamic vinegar was used because I was out of any wine in the house and feel any addition besides broth to risotto only heightens the meal (plus, who doesn't love balsamic?!)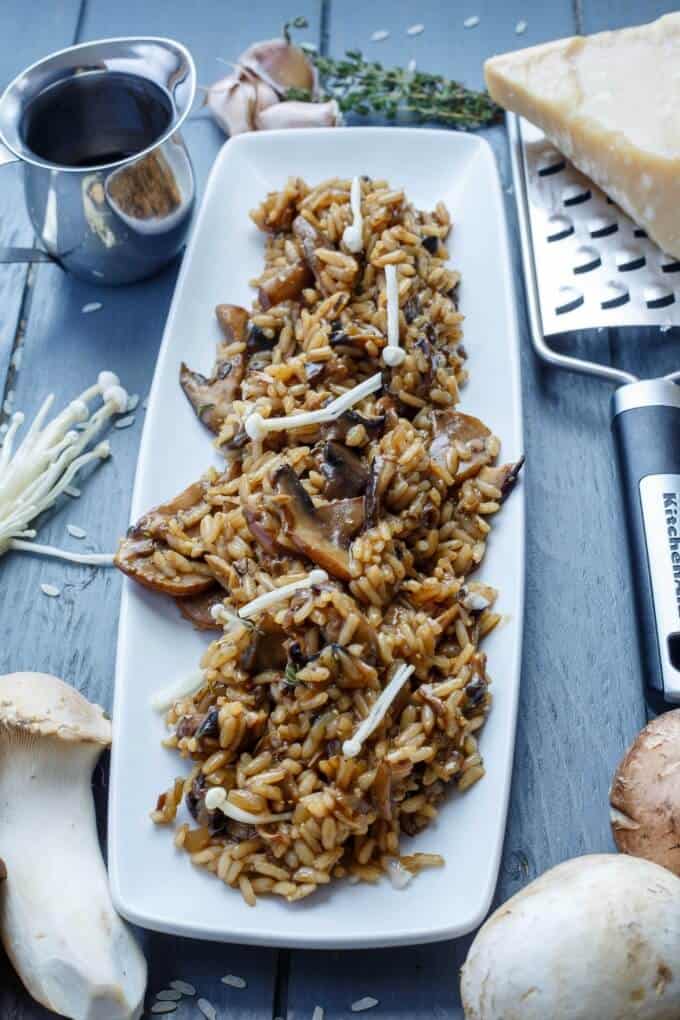 PS: Are these shiitake mushrooms not drool-worthy?! I included a mix of button and shiitake mushrooms, but if I was super rich I would dine on expensive mushrooms all the time (and shiitake mushrooms are on the cheaper spectrum compared to other gourmet mushrooms.) Use any assortment of mushrooms you feel comfortable (or can find.) UPDATE: This time around I did a mix of shiitake, cremini, oyster, and button, finished off with enoki!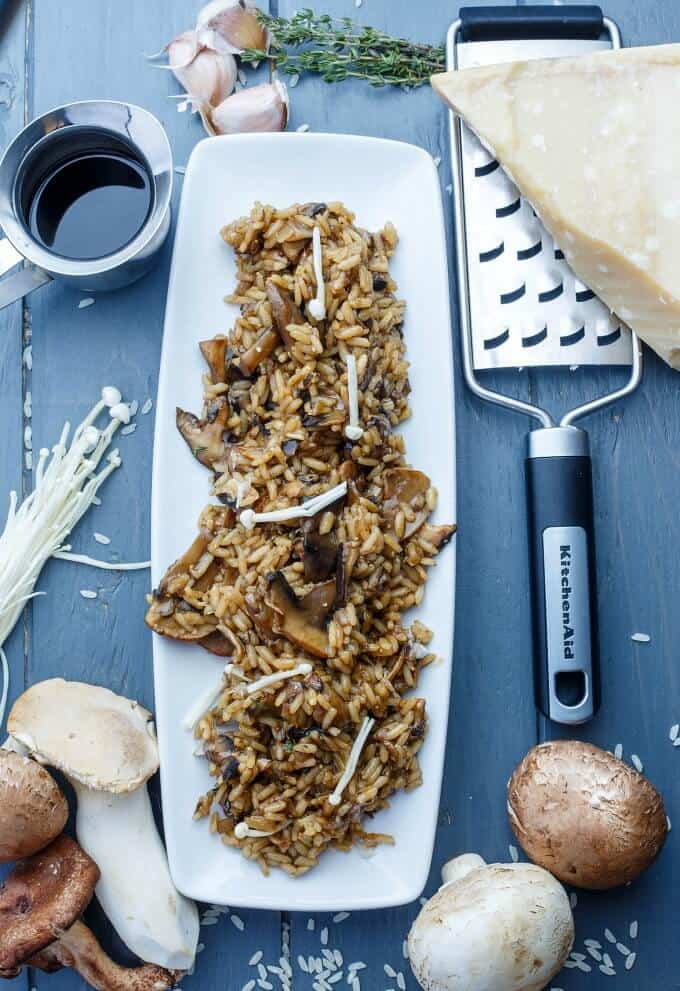 📖 Recipe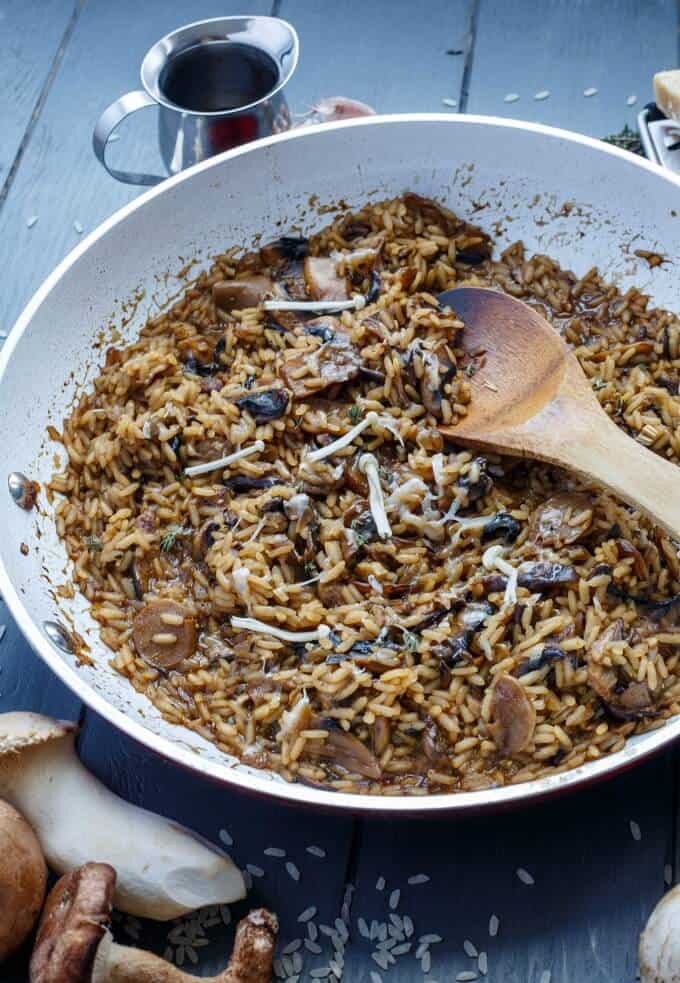 Balsamic and Mushroom Risotto
Earthy, tasty, and mushroom-y: this is the only way to describe this amazing balsamic mushroom risotto!
Ingredients
900 mL (about 4 cups) vegetable or mushroom broth, simmering
3 tbsp. butter
1 onion, diced
16 oz assorted mushroom, roughly chopped or sliced
3 cloves garlic, minced
½ tsp. dried thyme
¼ tsp. red chili flakes
1 cup arborio rice
¼ cup balsamic vinegar
1 tbsp. coarse mustard
½ cup Parmesan cheese, grated
Salt and pepper
Instructions
I mix my coarse mustard into the simmering broth so it disperses evenly.
Add the butter to a saute pan, melting over medium-high heat. Add the onion and cook until translucent and tender, about 3 minutes.
Pour in the mushrooms and cook until they begin to turn golden brown, about 8-10 minutes. Season with salt, pepper, and chili flakes.
Add the garlic, thyme, and cook for 1 minute.
Pour in the rice and cook for a good couple of minutes. Carefully pour in the balsamic vinegar. Lots of steam will appear as the liquid touches the pan. Quickly stir the bottom of the pan with a spatula so you can get all the nice brown bits up.
Pour in ½ cup of broth at a time, stirring until almost of the liquid is gone before you add the next amount. When you add your last half cup, try to leave a bit of extra liquid so it has a creamy look when we add the cheese.
Stir in the cheese and mix until it is melted.
Serve immediately!
Notes
I used a mix of shiitake, button, cremini, and enoki mushrooms, but you can use whatever you like.
You might not need the entire 4 cups of liquid.
If using enoki mushrooms, don't put them in until the last cup of broth is going in (they cook really fast!)
Nutrition Information:
Yield:

4
Serving Size:

1
Amount Per Serving:
Calories:

252
Total Fat:

9g
Saturated Fat:

5g
Cholesterol:

23mg
Sodium:

599mg
Carbohydrates:

39g
Protein:

4g
You won't be making this balsamic mushroom risotto on a busy work night, but everyone deserves a treat once in a while. I tend to make risottos on the weekend while Mr. TCW distracts kiddo. Though, she does come in handy when it comes to mixing and you will surely do a ton of stirring with this recipe!
Love this balsamic mushroom risotto?! Try some of these recipes: