Ahh! I completely forgot about these cute little shot glasses until I decided to do some "spring cleaning" in my photography/blog/recipe folder.
Halloween has been pretty awful here the last few years because of the weather. It also does not help we live on a giant hill so the number of kids I get are very minimal. The plus side is that people want to dump all their extra candy off because they don't want to be stuck with it! So my daughter does a few houses and still ends up with a bag full of candy. Last year we really saw a decline in kids because it was cold, wet, and just overall a sad night. Here is to hoping for a better Halloween next month!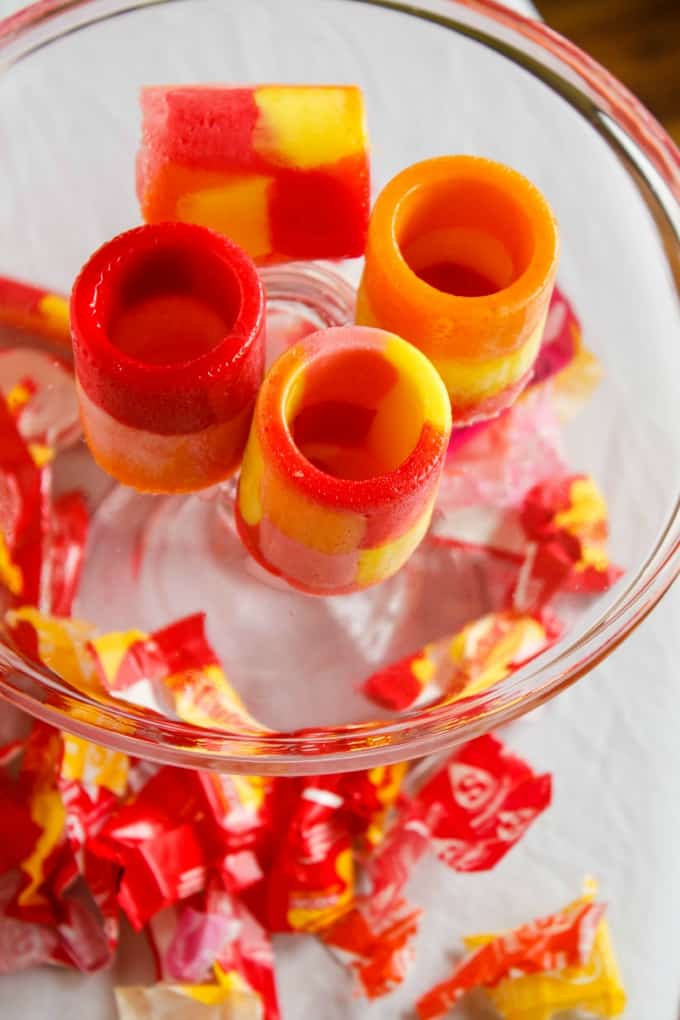 So what does Halloween have to do with today's post? Well, as I said I completely forgot about these but it is perfect timing! Say hello to Starburst candy shot glasses! Yes, they are completely edible and super easy! I am sure you saw my chocolate shot glasses last month and I am happy to say I used the same mold to create these starburst candy shot glasses. Now, I still feel the mold is a novelty, but I like that I am finding new and creative things to make in it.
My daughter was very interested in this creation. She was just over 3 years old when we created these and she was the perfect helper. Not only did she open all the candy, but she sorted each by color. It was a great learning experience for her, but also rewarding (who does not want candy after working hard?!) Basically she did everything on her own until it came to baking them. And they only took 10 minutes to bake so patience was not really necessary!

Originally I wanted to make solid color shot glasses, but our packages were all over when it came to the colors provided. We opted for a random design and I thought they were quite cute. My daughter did not eat all these. Oh no, that would be crazy! I ended up shipping them to my cousin's kids. The one we did keep though was a learning experience. First off, once your child starts licking/eating the starburst candy shot glasses, they will become sticky! So much stickiness! And if they drop one... Let's just saw Rex provided a nice amount of hair to the glass. Personally, I could see them more as a centre piece or a neat holiday party favour, but as I will say again, they get sticky when wet! Still a neat way to use up leftover candy 🙂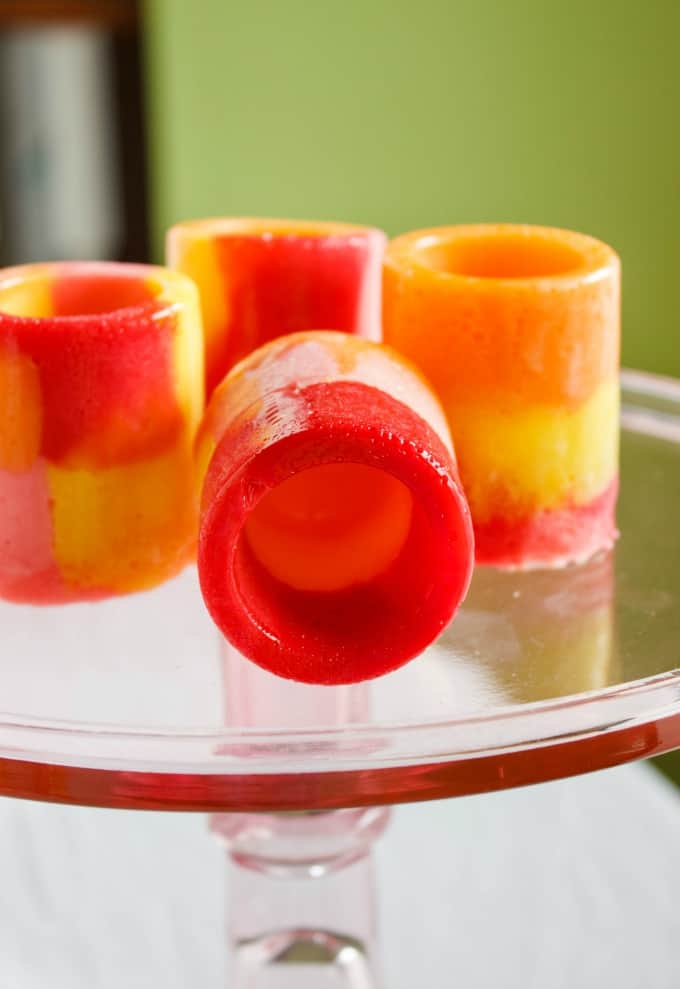 📖 Recipe
Starburst Candy Shot Glasses
Use up that leftover Halloween candy and make something creative and show-stopping! These Starburst candy shot glasses will make your kids scream (with joy!)
Ingredients
25 (2 pieces each) packs of Starburst candy (I used the ones from Halloween) 50 Starburst total.
Instructions
Preheat oven to 375F.
Remove the Starburst from their packaging (the most time consuming part!) Place candy into shot glass mold, filling just over the top (see pictures.) When they melt they will fill the container perfectly, just jam them in the best you can.
Place into oven and bake for 10-12 minutes, or until candy has melted (if you are afraid of overflow, you can place the mold on a baking sheet.)
Allow to cool in molds and then flip them out carefully.
Nutrition Information:
Yield:

4
Serving Size:

1
Amount Per Serving:
Calories:

112
Total Fat:

2g
Saturated Fat:

2g
Trans Fat:

0g
Unsaturated Fat:

0g
Cholesterol:

0mg
Sodium:

47mg
Carbohydrates:

24g
Fiber:

1g
Sugar:

13g
Protein:

1g
These molds are really starting to catch my attention. Other candy would work great here (jolly ranchers, maybe skittles, heck, caramels!) You do need a lot of candy to make one shot glass, but let's be honest, Halloween should provide more than enough for this treat! And if you are anything like me, I pop out to the stores the day after Halloween and clean up all the clearance candy! A box of 72 skittles/starbursts was .75 cents... That's right! I am thankful for having friends who work retail and letting me know when the sales hit!
I cannot wait to create more shot glasses with this Wilton mold (no affiliation)! The possibilities are endless!