I love apple season, but I love caramel more and this apple crisp pizza blends the two perfectly!
The blog remodel is sooooooo close to being complete! I have had such a great time working with Kristy and cannot wait to show everyone the finished result. We have worked hard and created something that fits The Cookie Writer perfectly. To think I really started taking blogging seriously in 2014 and now look where I am! Let's see how it goes for years to come!
Between the remodel, back to school (kiddo starts tomorrow!!) and house upgrades, I found myself slacking on desserts. We don't necessarily need them but I love having a slice here and there. Plus, Mr. TCW said I was neglecting his coworkers... I was not! I swear! I just haven't had time. Thankfully I live on a street with wonderful neighbors and received a ton of free apples. In order to use them up (and quick!) I made an apple crisp pizza. Let me say, best decision ever!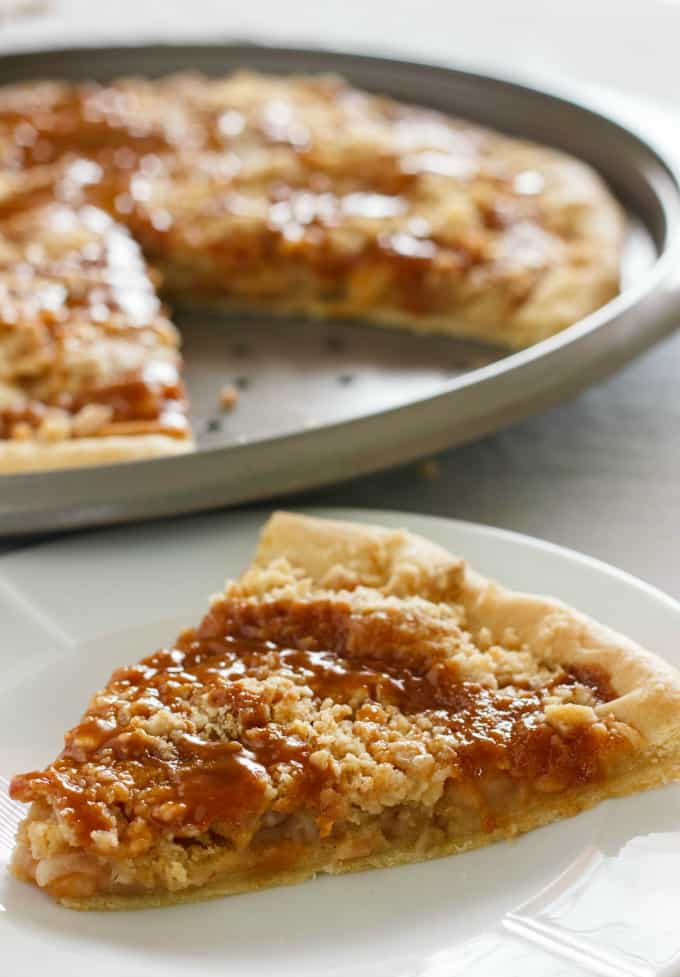 All the goodness of apple crisp in pizza form. Plus, the crust is actually pie crust, not pizza dough, so I feel it is even more dessert-like. Top it off with homemade caramel sauce (my weakness!) and you have the ultimate autumn dessert. I am seriously happy I only kept one slice because I could have ate the whole thing!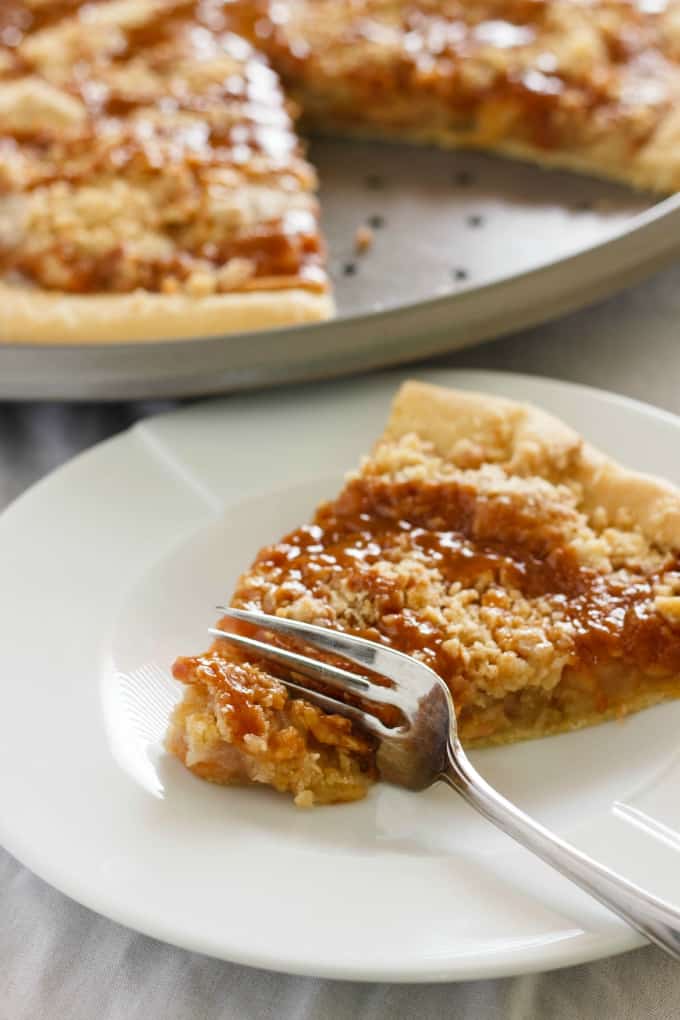 Now, I like going all-out, so this apple crisp pizza was completely homemade. But if you are not up to the task, and I don't judge, the dessert can easily be made with store-bought ingredients. It would definitely be easier and faster. Surprisingly, it was not too sweet and I find it all depends on the apples you use (mine were somewhat tart so that helped.) Adjust the sugar accordingly because some people like sweet and some do not.

📖 Recipe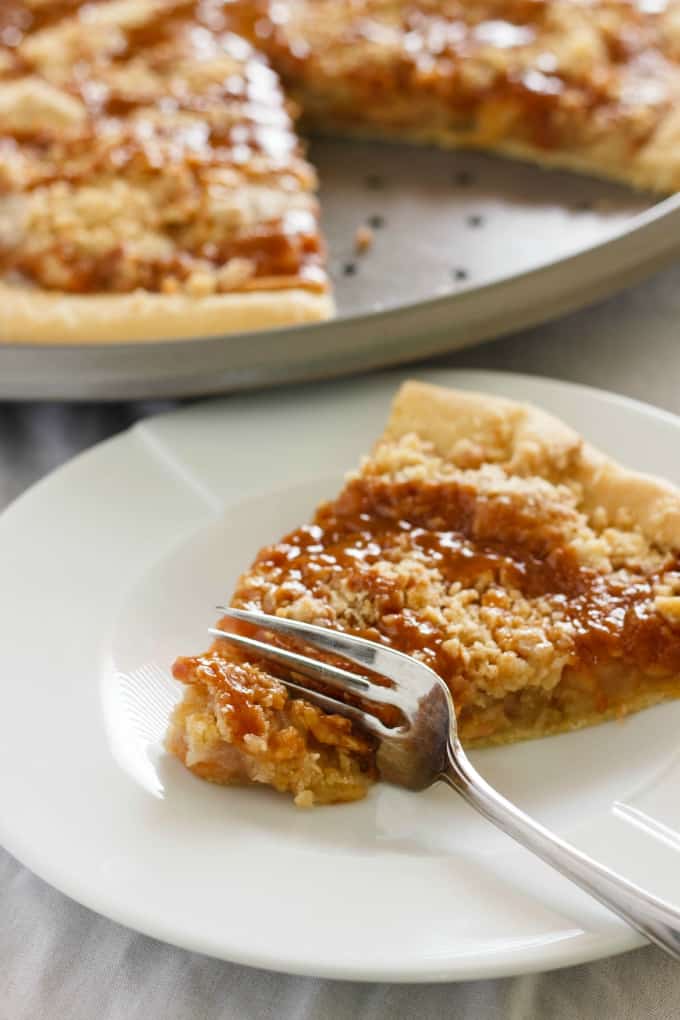 Apple Crisp Pizza
I love apple season, but I love caramel more and this apple crisp pizza blends the two perfectly!
Ingredients
1 homemade pie crust recipe or store-bought dough (we are rolling it out to resemble a pizza crust.)
½ cup caramel sauce (homemade or store-bought.)
Apple topping:
1 lb apples, peeled and sliced into ½ inch portions (about 4 apples.)
⅛ cup brown sugar
2 tbsp. all-purpose flour
1 tsp. cinnamon
Crisp topping:
¾ cup all-purpose flour
¼ cup brown sugar
¼ cup old-fashioned oats
1 tsp. cinnamon
¼ cup + 2 tbsp. butter, room temperature
2 tbsp. caramel sauce
Instructions
*Store-bought ingredients will definitely make this dessert quicker and easier, but check out my recipes below for homemade caramel and pie dough!
Preheat oven to 350F.
Toss apples with brown sugar, flour, and cinnamon. Take the pie crust and roll in out until it fits nicely onto you pizza pan (I believe my pan is 14 inch but you can make it thin or thick crust.) Fold the edges back a bit to form a crust. Pour apples onto crust and spread evenly into a single layer.
Combine the flour, sugar, oats, cinnamon, caramel sauce, and ¼ cup of butter with a fork or pastry blender. If the mixture is too dry, add butter 1 tbsp. at a time (I kept mine a bit dry so the topping did not melt everywhere!) Sprinkle over apples and spread out nicely.
Top with ¼-1/2 cup caramel sauce and place into oven. Bake for 35-40 minutes, or until crust is nice and golden.
Allow to cool slightly before cutting! Serve warm or cool.
Nutrition Information:
Yield:

10
Serving Size:

1
Amount Per Serving:
Calories:

367
Total Fat:

14g
Saturated Fat:

5g
Trans Fat:

0g
Unsaturated Fat:

7g
Cholesterol:

6mg
Sodium:

271mg
Carbohydrates:

59g
Fiber:

3g
Sugar:

26g
Protein:

4g
(Recipes for
homemade caramel sauce
and
pie dough
.)
I tend to use red delicious apples a lot, and I know they are not ideal for baking, but they have always been a favorite of mine. If I was to use an apple like red delicious I would for sure cut back on the sugar, but as most people use tart apples such as granny smith, I am comfortable with the amount of sugar in this recipe. I am sure someone will complain it is too sweet but as I said, all based on personal preference!

Here is to hoping to get in a few more apple recipes before the blog remodel downtime! The Cookie Writer may be down for a couple of days around September 15th, but I will keep everyone posted.