Ooey-gooey, delicious and tasty banana bread bars with a peanut butter-molasses drizzle!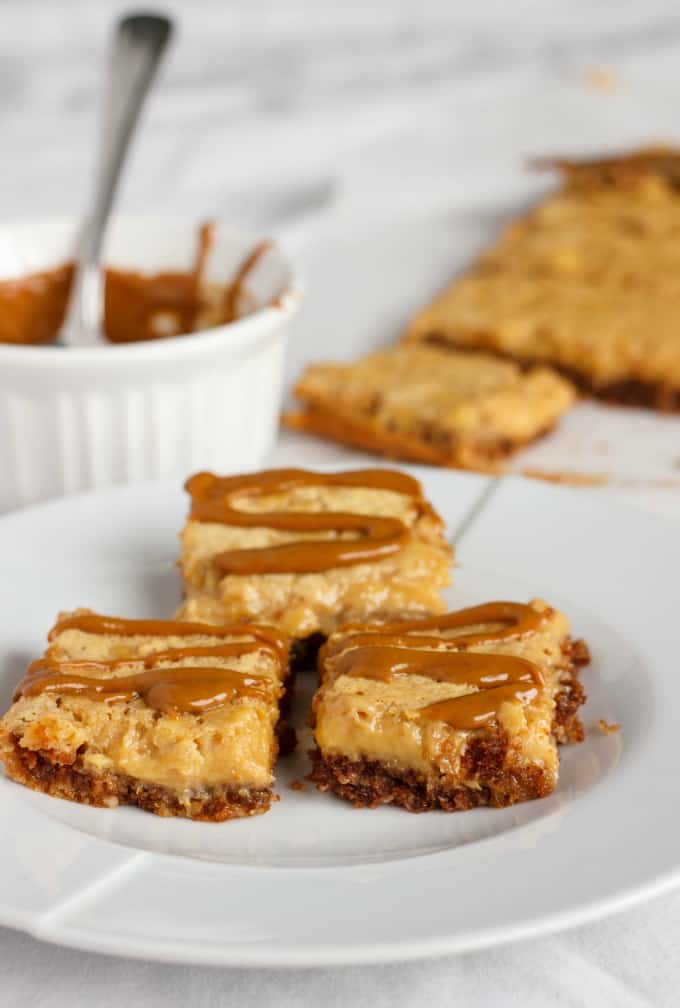 Before I hop into today's recipe, I want to say: THE NEW BLOG DESIGN IS COMPLETE. Done. Kaput. It has been an amazing experience and I cannot wait to talk more about it next week (I know, I know, but so many things have come up while the remodel was taking place!)
This past summer I entered the Crosby's molasses contest and was really happy to be a runner-up (it was such a close call with all the other recipes!) I am back again to enter into their latest contest, and boy do I think I have a winner. Though, I thought that the last time, too, but you never know!
Banana bread bars with a peanut butter-molasses drizzle came from a whole lot of inspiration. First off, people ALWAYS have bananas sitting around. I don't eat them plain but they sure come in handy for desserts! Secondly, when you have a huge hit such as these strawberry bars, you know you have to revisit them again, but with a twist.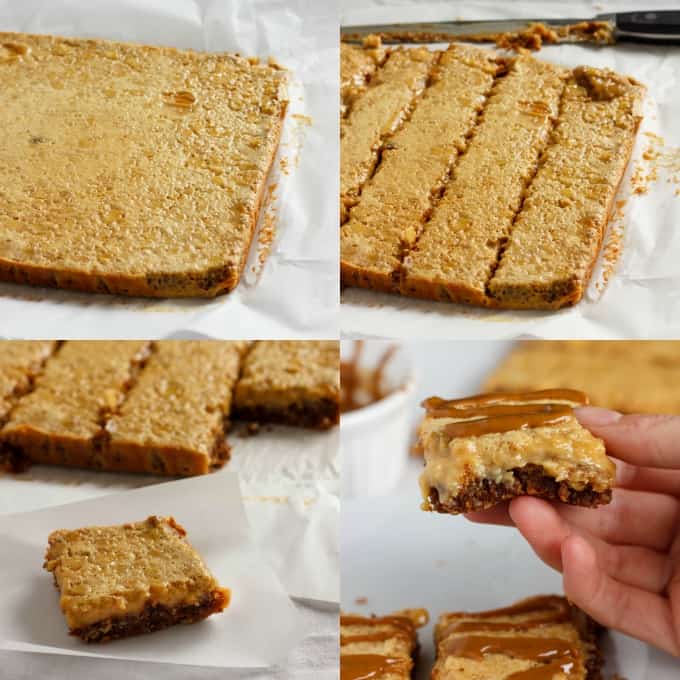 Soft, gooey, but still hold their shape, these banana bread bars were a hit with my family. I did learn a thing or two in the process which I will share with you. First off, patience!! I feel I say this a lot, but my patience level has actually improved over the years (just ask Kristy at She Eats and Peppercorn Creative as she helps me with my blog remodel!) But sometimes little obstacles come along that hinder your project, forcing you to try and speed things up. DO NOT DO IT! Wait!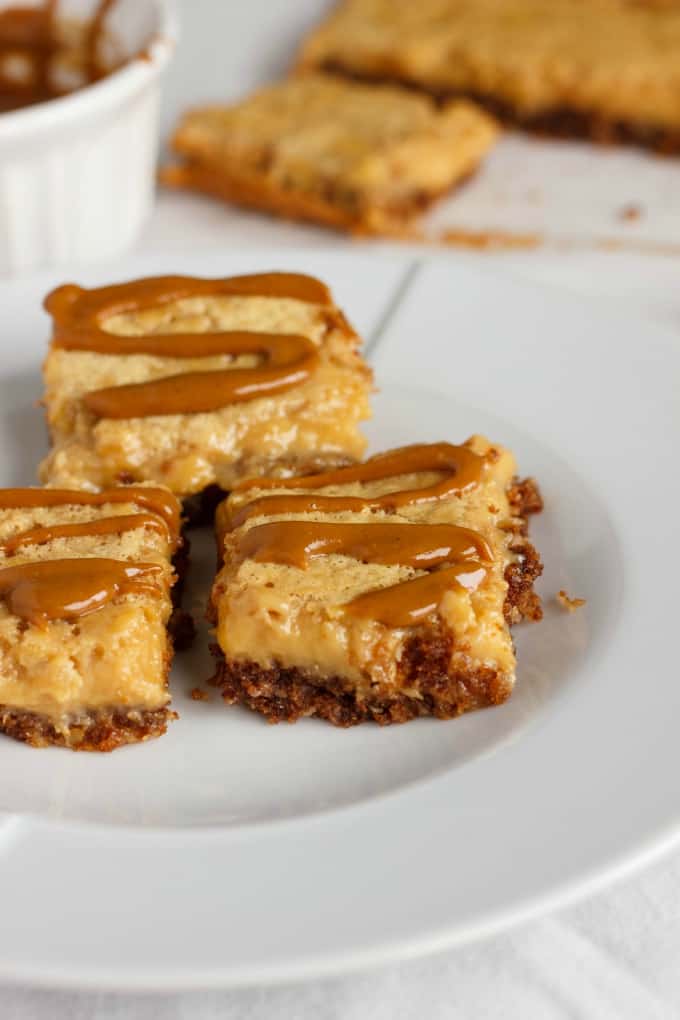 In my case, we had a storm moving in and before you knew it, my cloudy day turned into a dark nightmare! Now, I love storms so no complaints there, but I was concerned I would not have natural light left for the day if I did not get some pictures in soon. Yeah, mistake! I was definitely cutting into these bars way too early. They held their shape, but after I cut a few I realized I had to stop. When the bars had actually cooled to room temperature I had no issues.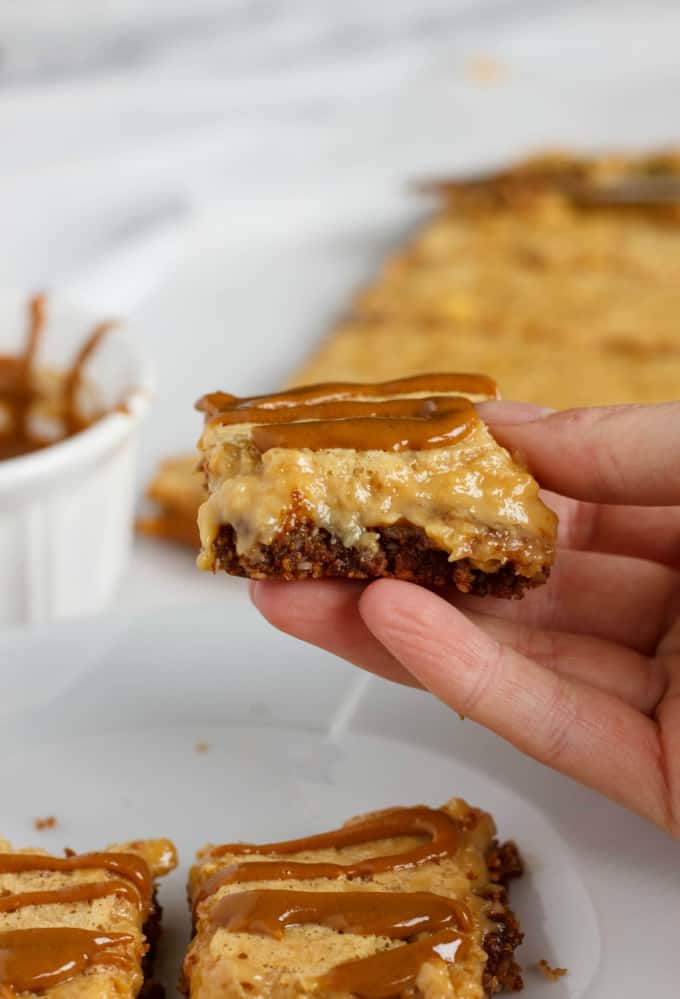 And that gooey-ness you see in the photos? That is actually the custard filling of the dessert! Pretty neat, eh? I like that it is still soft, but holds its shape. When you take these banana bread bars out of the oven, they still have some jiggle to them, and will eventually firm up as they cool. Just remember, patience!
📖 Recipe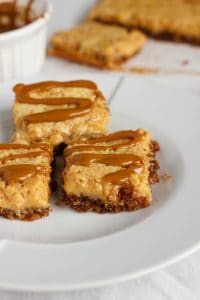 Banana Bread Bars with a Peanut Butter-Molasses Drizzle
Use up those leftover bananas on something other than banana bread (with these soft and gooey banana bread bars with a peanut butter-molasses drizzle!)
Ingredients
6 tbsp. butter, melted
1 cup unsweetened, shredded coconut
1 cup pulverized graham cracker crumbs
3 tbsp. molasses
½ tbsp. unsweetened cocoa powder
1 tsp. vanilla
Filling:
2 bananas, mashed (½ cup)
1 can condensed milk
2 egg yolks, room temperature
1 tbsp. molasses
1 tbsp. freshly squeezed lemon juice
½ tsp. vanilla
Pinch of salt
Topping:
⅛ cup peanut butter
½ tbsp. molasses
⅛-1/4 tsp. ground cinnamon (to taste)
Instructions
Preheat oven to 350F. Grease 8x8 inch pan with butter and line with parchment paper.
To make homemade coconut flour, pour a heaping 1 cup of unsweetened, shredded coconut into a food processor. Process until the coconut resembles flour (it will not be super powdery, but it definitely will be fine in texture.)
Crust:
Using a pastry blender or food processor, combine coconut flour, cracker crumbs, molasses, cocoa powder, and pinch of salt if desired. Add in the butter, vanilla. and mix until it all comes together. Press into the bottom of the pan and form up the sides the best you can. Bake for 8-10 minutes, or until lightly browned. Allow crust to cool.
While crust is cooling. we can make the filling. Whisk the egg yolks and milk well. Add in the vanilla, lemon juice, molasses, salt, and freshly mashed bananas. Mix well. Pour filling into crust and bake for 20-25 minutes, or until set (if will kind of look jiggly but not overly so.)
Cool on wire rack and chill in refrigerator until ready to serve.
For the topping, melt the peanut butter in the microwave. Stir in molasses and ground cinnamon. Cut bars into little squares and drizzle with peanut-butter molasses sauce!
Nutrition Information:
Yield:

6
Serving Size:

1
Amount Per Serving:
Calories:

409
Total Fat:

27g
Saturated Fat:

17g
Trans Fat:

0g
Unsaturated Fat:

8g
Cholesterol:

94mg
Sodium:

225mg
Carbohydrates:

40g
Fiber:

4g
Sugar:

25g
Protein:

5g
On another happy note, my daughter's first day of school went amazing! She had to miss one day this week from a cold (which I have been battling for a week!) Nonetheless, I miss her lots but relish in the fact that I can spend more time cooking (and creating delicious lunches for her!)