One week until school starts! I am sure the kids loving hearing that...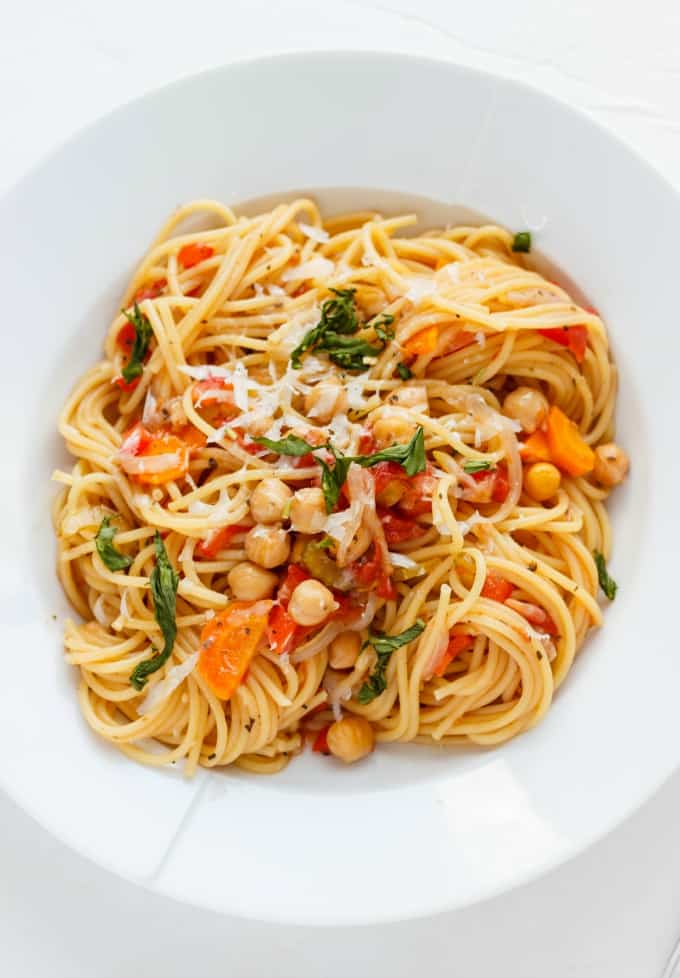 I have made a one-pot spaghetti pasta meal in the past on my blog, and many times in between. I thought I would continue the tradition on my blog right now and revisit the recipe for a more updated look (sooooo many cringe-worthy photos in my past.) Plus, people always want quick and simple recipes and this one fits the bill. Personally, when I am not in the mood to go crazy with dinner or want something fast, I make pasta. You can come up with a great sauce in no time and feed an obscene amount of people!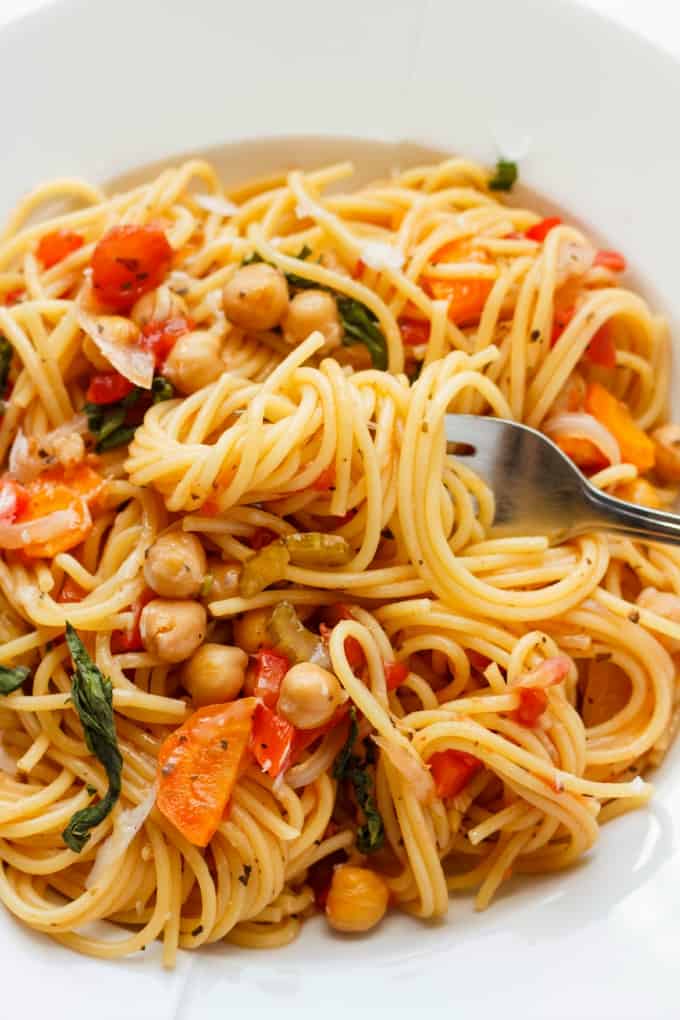 Sometimes I am a little wary of one-pot meals, and I will admit, when I first gave this recipe a try, I did not think it was going to turn out. Boiling pasta in a sauce just seemed crazy! Don't fret, it works! I am sure professional chefs would tear these one-pot spaghetti pasta meals to shreds, but for family's who want quick and simple meals, this is it. And I love how easily you can customize them! In the past I used red wine in mine and I totally would have this time around but I was all out. It is also a great recipe to use up leftover ingredients in your fridge (I threw in some chickpeas that I had opened the other day.) For the gluten-free person in your life, I could see this potentially working with gluten-free pasta, but since I have not tried it myself I do not want to put my stamp of approval on it (I noticed gluten-free pasta sometimes creates gummy water so I don't know how that would be in a one-pot recipe.)

📖 Recipe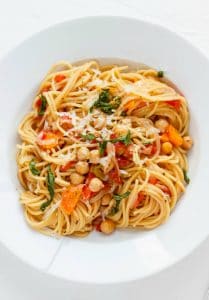 One-Pot Spaghetti Pasta Meal
Quick, simple, and delicious, this one-pot spaghetti meal is perfect with back-to-school upon us (or even just a night where you do not want to cook!)
Ingredients
454 g dried pasta
1 (28 oz) can diced tomatoes
2 medium carrots, sliced thin
2 celery stalks, sliced thin
1 red pepper, sliced thin
1 medium onion, sliced thin
3 garlic cloves, minced
¼ tsp. cayenne pepper
1 tsp. dried oregano
1 ½ tsp. dried basil
1- 2 cups canned chickpeas
900 mL vegetable broth (or flavor of your choosing.)
Salt and pepper
Instructions
*It is important to cut your veggies quite small so they have time to cook (unless you like a little crunch like us.)
Mix everything together in a large pot. Bring to a boil over high heat. Reduce heat to a simmer (I usually stick around medium heat) and cook until pasta is tender, uncovered, stirring occasionally to break up the pasta (I find that much tends to like to stick together!)
Serve with fresh Parmesan if desired.
Nutrition Information:
Yield:

4
Serving Size:

1
Amount Per Serving:
Calories:

349
Total Fat:

4g
Saturated Fat:

1g
Trans Fat:

0g
Unsaturated Fat:

2g
Cholesterol:

0mg
Sodium:

997mg
Carbohydrates:

65g
Fiber:

10g
Sugar:

10g
Protein:

14g
Now that my days will be free (thank you, school!) I am left wondering what exactly I will do. The blog remodel has been moving along so well, and Kristy has been super awesome throughout this journey! Years ago when I began my blog, I never imagined I would be where I am now. It began as a hobby, and still is, but I am starting to find my niche. I love to cook, but I LOVE baking/cake decorating/dessert. With kiddo starting school, I will have a lot of free time to focus on elaborate desserts and cakes. It is something I have wanted to practice for some time and definitely see myself enjoying it. I have done my fair share of desserts, but I find I can get really frustrated if things do not go according to plan, so having alone time is key. I will miss the little one, but I am sure my days will fly by when I get into a cake!