Silky, smooth, and the perfect balance of chocolate and cream, this Lindt Lindor chocolate mousse will win over ANYONE!
I am revisiting one of my first blog entries today (and probably one of my most requested desserts!)
I am talking about Lindt Lindor chocolate mousse!
So rich and creamy, but honestly the perfect dessert for chocolate-lovers! I cannot get enough of this stuff, and even the non-chocolate-lovers in my life cannot deny this recipe (I am looking at a certain brother...) Mousse can be a bit intimidating, but having made this recipe a dozen or so times I have finally gotten it to the point where I believe you cannot go wrong. Of course, there are somethings we need to discuss first.
When it comes to this Lindor chocolate mousse (or any mousse in general) you want to be really careful with the chocolate you select. White chocolate tends to seize really easily, while chocolates such as dark are a bit more forgiving. UPDATE: A reader helped me out by testing this recipe when I was having issues and I think we have all the kinks worked out! Thanks, Rida 🙂
You also want to avoid water getting into your chocolate at any cost. Since you are using the double-boiler method in this recipe, it should not be hard, but in the original recipe by Lindt, they told you to add water to your chocolate (and this always resulted in my chocolate turning grainy.) Another issue to discuss is egg yolks and tempering. There will come a point in the recipe where you will have to pour your melted chocolate into the egg yolk/sugar mixture. That is fine, but you must do it SLOWLY and whisk the ENTIRE time. If not, you are definitely going to curdle/scramble the eggs. This is bad. No one wants to eat scrambled eggs in chocolate. Blah!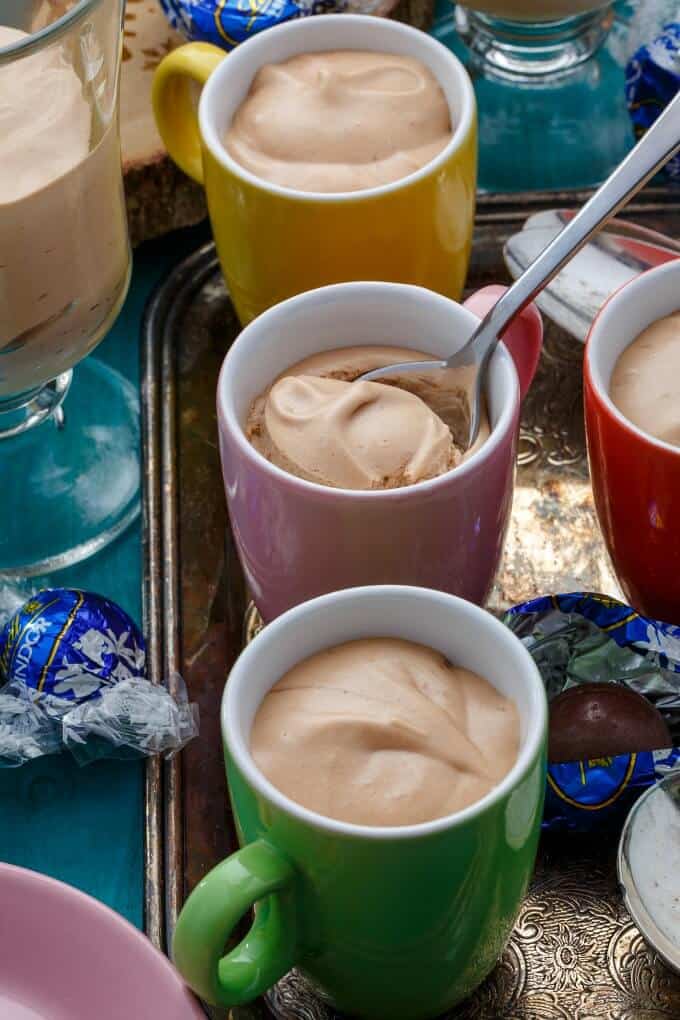 Otherwise, do not let mousse and tempering chocolate scare you. I have seen even easier methods than this but we really enjoy this Lindor chocolate mousse recipe (the egg yolks are an emulsifier and really help blend things.) And yes, I guess the egg yolks are technically raw, but raw eggs don't scare me in desserts (and the heat from the chocolate MAY be enough to "cook" the egg yolks.) If you are scared, which I assure you, there is no need to be, just use really fresh eggs.
📖 Recipe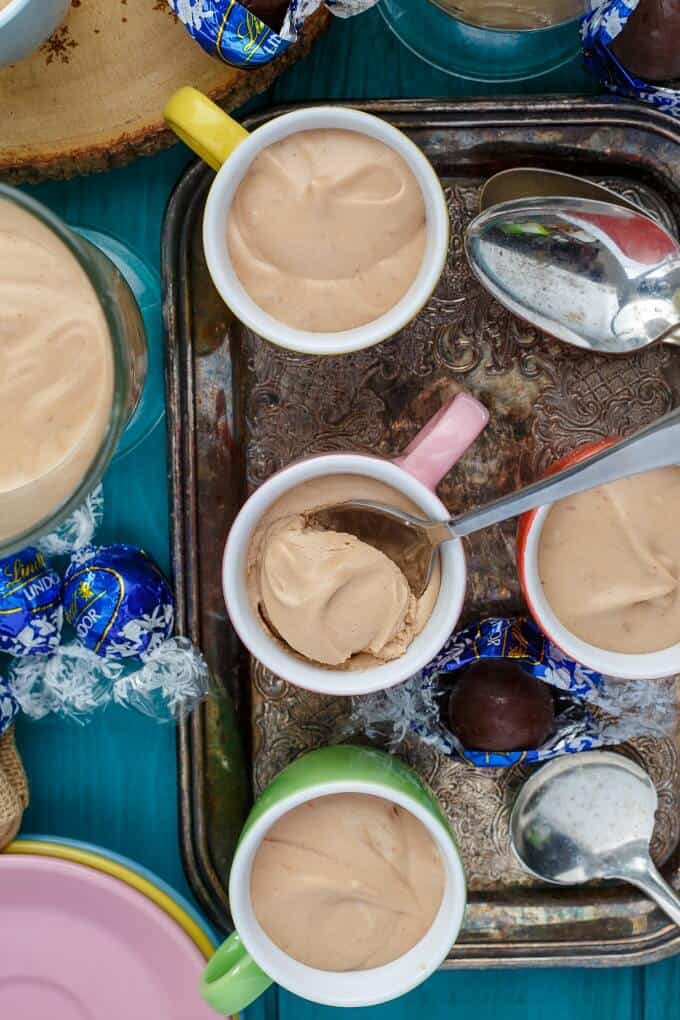 Lindt Lindor Chocolate Mousse
Simple (with a little patience,) and rewarding, you won't be able to stop at one!`
Ingredients
150 g Lindt Lindor Truffles (I used milk chocolate)
1 tbsp. butter
1` tsp. vanilla
1 cup heavy whipping cream
3 egg yolks, room temperature
⅛ cup granulated sugar
Pinch of salt
Instructions
Add cream to a large mixing bowl. Using an electric hand mixer, whip until stiff peaks form. Cover and refrigerate.
In another large mixing bowl add the egg yolks and sugar and whisk until egg yolks are paler in color, about 5 minutes.
Prepare a double boiler by adding about an inch or two of water to a small saucepan. Place a heat-proof bowl on top of the pan and make sure it does not touch the water. Place over medium-low heat and only have the water bubble at a small, gentle simmer.
Roughly chop chocolate and place into bowl with butter and salt. Stir frequently until chocolate is just melted and combined. Stir in vanilla. It may appear to seize up/thicken, but you should be fine. You can always heat it a bit more and stir to fix any issues but do not fret.
SLOWLY and CAREFULLY while mixing CONSTANTLY, add the chocolate mixture to the egg yolks. Patience is key. Once all the chocolate is in, give it a final whisk. Take the whipped cream from the fridge and pour it into the chocolate mixture. Mix until JUST COMBINED.
Once combined, pour mousse into individual cups, cover, and chill minimum 8 hours to overnight. The longer the better for that awesome, airy texture!
Notes
Eggs must be at room temperature. Don't over-whip your cream. If your chocolate mixture appears too thick after you mix in the vanilla, you can stir in some warm cream.
Nutrition Information:
Yield:

6
Serving Size:

1
Amount Per Serving:
Calories:

324
Total Fat:

27g
Saturated Fat:

16g
Trans Fat:

1g
Unsaturated Fat:

10g
Cholesterol:

155mg
Sodium:

69mg
Carbohydrates:

17g
Fiber:

1g
Sugar:

15g
Protein:

4g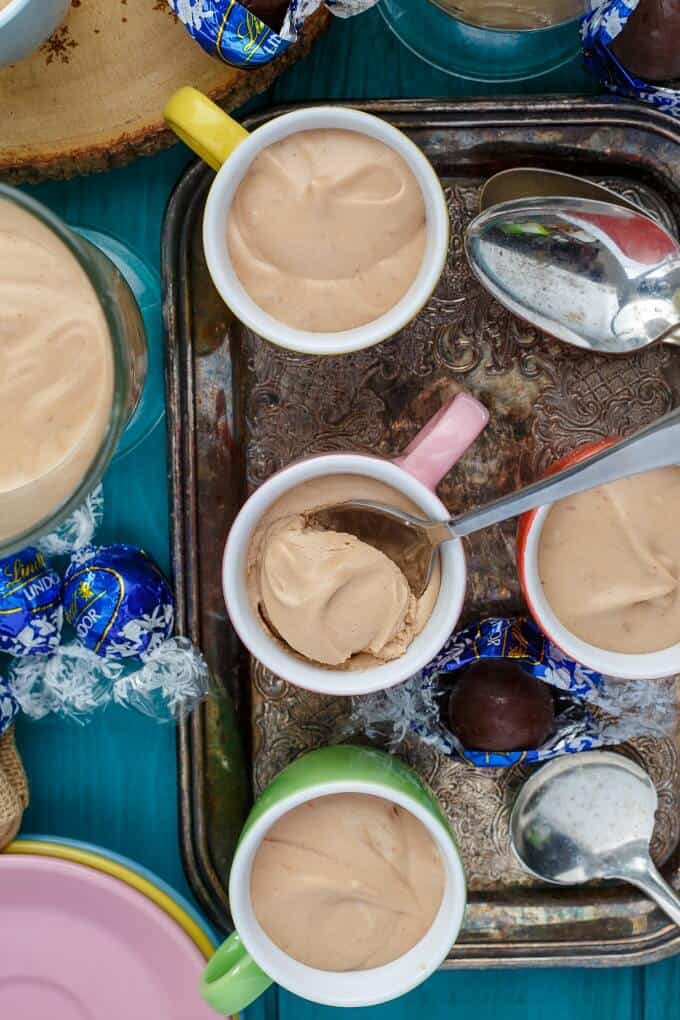 Remember when I said there were non-chocolate-lovers in my life? Well, my brother is one of those but he cannot stay away from Lindt chocolate! We usually love the red Lindor truffles, but these caramel ones were just as great. The Lindor chocolate mousse tasted just as great as if I had used the milk chocolate truffles (basically I am saying you can use any of your favorite chocolate flavors and it should work in this mousse!)
Love this Lindt lindor chocolate mousse?! Try some of these recipes: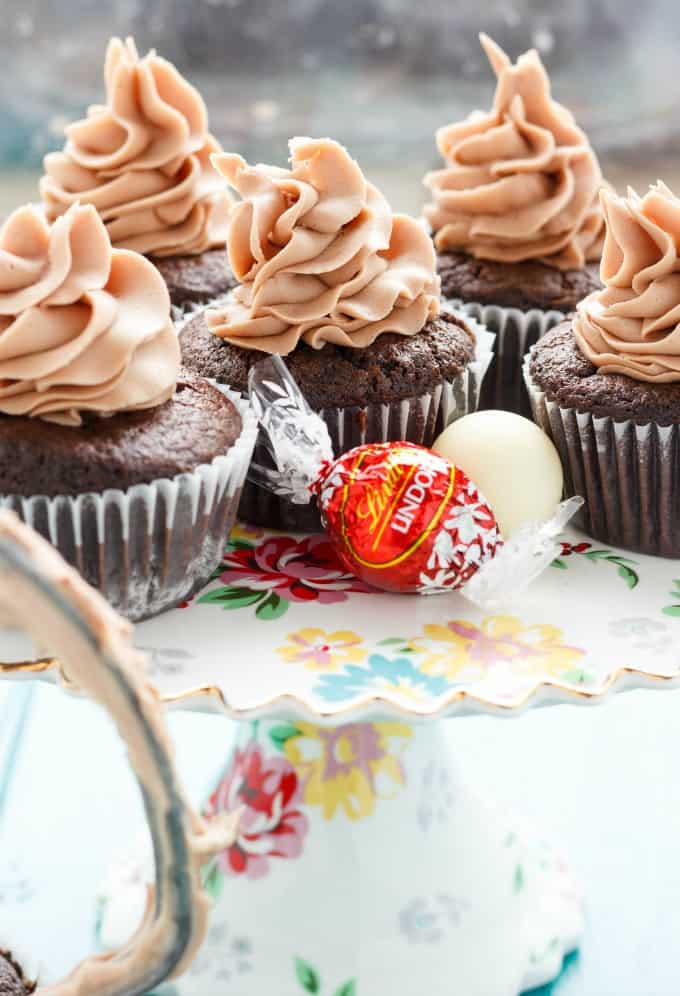 Lindor Milk Chocolate Cupcakes with Chocolate Buttercream