A rich blend of white and dark chocolate makes this gluten-free double chocolate torte with chocolate mousse out of this world!
This past week marked our 4 year wedding anniversary! To celebrate, I was going to treat Mr. TCW to a cake (which he gets frequently, but there are never any complaints.) We had to grocery shop to pick up some ingredients, and I decided to check the mail before we left. Lucky for us, we found a ton of coupons. But the best part was finding the coupons for Lactantia. I use their cream all the time, whether it be for baking or throwing into a fettuccine sauce.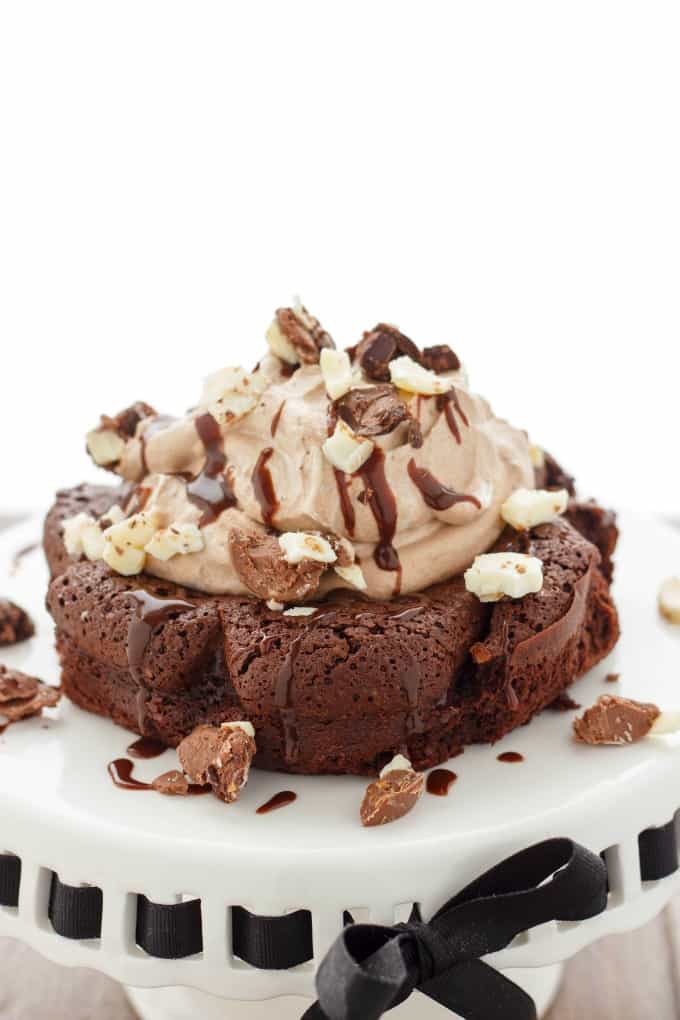 While browsing through the coupon book, I noticed they had some recipes listed. I came across their Dreamy Double Chocolate Torte and knew instantly that I was going to make it for our anniversary! No regrets here, it was super rich and absolutely delicious. The scary part was how badly I misread the ingredients. I ended up leaving out a whole cup of sugar and thought I was screwed. But it turned into the best mistake ever because the dessert was the perfect amount of sweetness. I could seriously not imagine another full cup of sugar...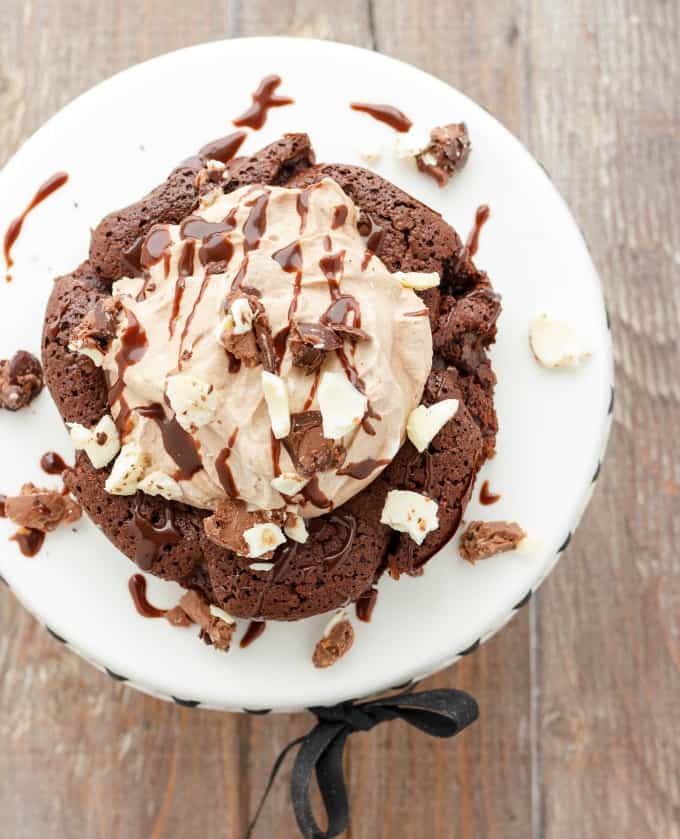 📖 Recipe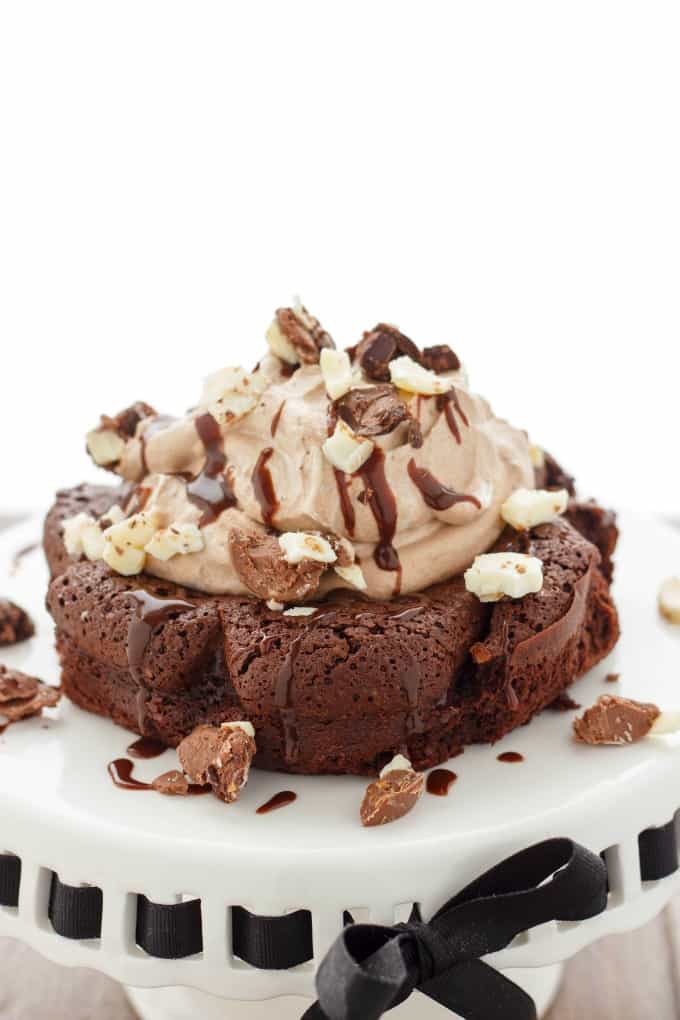 Gluten-Free Double Chocolate Torte with Chocolate Mousse
Total Time:
1 hour
10 minutes
I have halved the original recipe, but if you do double it, use a 10-inch springform pan and reduce cooking time as the torte will be thinner.
Ingredients
¼ cup dark chocolate, chopped
⅛ white chocolate, chopped
⅜ cup butter
⅜ cup sugar
⅛ tsp. salt
2 eggs, room temperature
1 tsp. vanilla
½ tbsp. coffee liqueur (I used Kahlua) optional
¼ cup sweetened cocoa powder
Mousse:
⅛ cup dark chocolate, chopped
⅛ cup white chocolate, chopped
1 cup heavy whipping cream
Instructions
Preheat oven to 375F. Grease a 6-inch springform pan and line with parchment paper.
Prepare a double boiler by adding about an inch of water to a small saucepan. Heat until water reaches a SMALL simmer. Place a heat-proof bowl on top of the pan and melt the dark chocolate. white chocolate, and butter together until smooth. Remove bowl from heat and whisk in sugar and salt. Pour in the vanilla, coffee liqueur, and eggs (whisking well before you add the next.) Whisk until evenly combined. Sift in cocoa powder and stir until combined.
Pour the mixture into the springform pan. Bake for 40-45 minutes, or until cake is set. Remove pan from oven and allow to cool for about 10 minutes on a wire rack. Gently peel the parchment paper away from the cake and turn over onto the wire rack. Allow to finish cooling completely.
For the mousse, reheat your double boiler. In a clean bowl, add ¼ cup of whipping cream and heat with the dark chocolate and white chocolate. Cook until melted and combined, stirring occasionally. Remove from heat and allow to come to room temperature.
Pour the rest of the whipping cream into the bowl of your stand mixer. Whip on medium-high until your cream reaches stiff peaks. Add the room temperature chocolate mixture and carefully fold into the whipped cream, stirring until combined. Cover the bowl with plastic wrap and chill in the fridge for about 20-30 minutes.
When ready to serve the cake, add the mousse to the top-centre of the cake. Garnish with chopped chocolate or cocoa powder.
Nutrition Information:
Yield:

10
Serving Size:

1
Amount Per Serving:
Calories:

258
Total Fat:

20g
Saturated Fat:

12g
Trans Fat:

1g
Unsaturated Fat:

6g
Cholesterol:

84mg
Sodium:

109mg
Carbohydrates:

17g
Fiber:

1g
Sugar:

14g
Protein:

3g
I don't understand why I have issues when it comes to making mousse. I have this terrible phobia of deflating my whipped peaks, so I NEVER seem to fully incorporate my chocolate completely. This results in large, hard chunks of chocolate throughout the mousse. Better yet, the chocolate I do not mix in from the bottom of the bowl usually goes back to its solid state, wasting a ton of goodness down there... Arg, time to get over that fear! At least when I updated this recipe I had nice, silky mousse!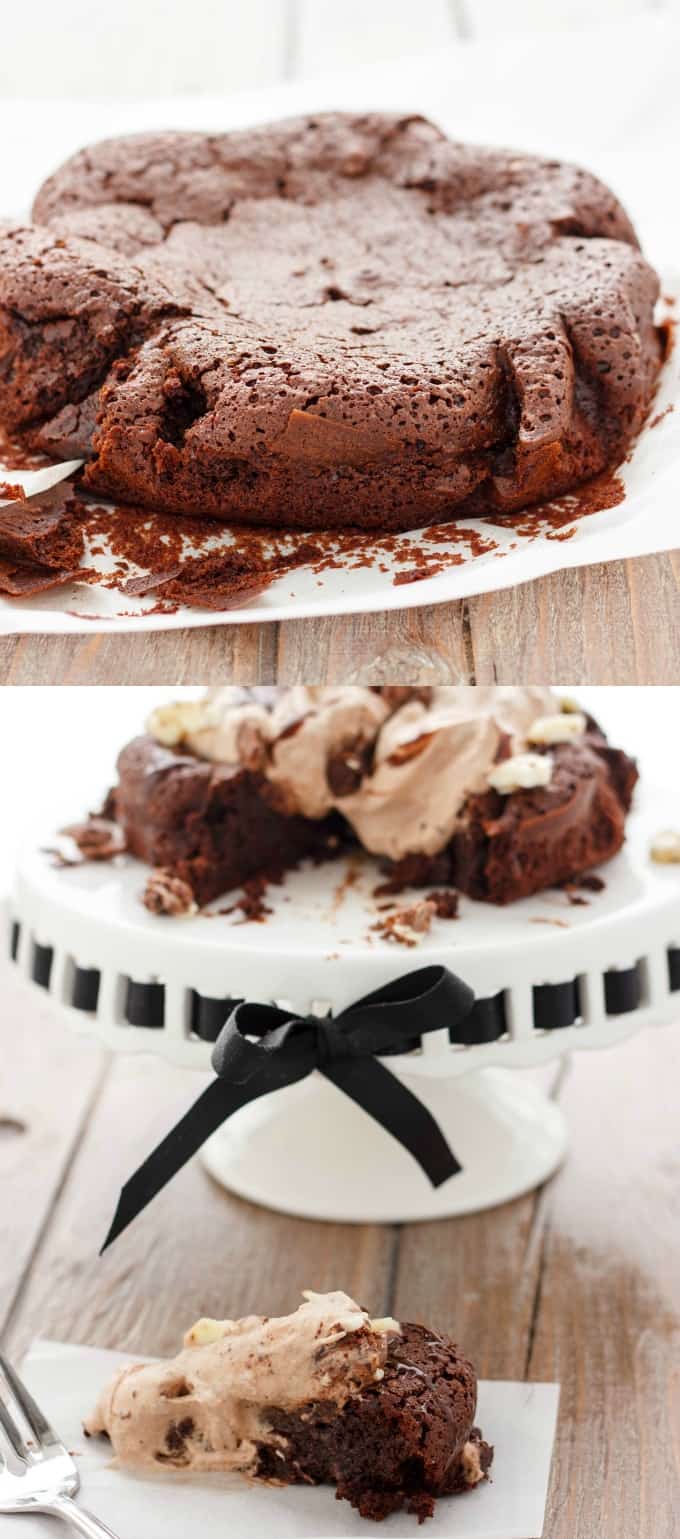 If you are curious to see the original directions and ingredients to this gluten-free double chocolate torte, I posted it here.