Every time I go to bake a cake, I think about the final design. Most of the time, the entire cake is covered in fondant or buttercream, never revealing the inside flavor to anyone until they cut into it. Online viewers can awe at beautiful creations, but do not stop to think about what goes on in the inside. Well, maybe they do, but I find when I bake my cakes, I always go back to the basics: chocolate cake.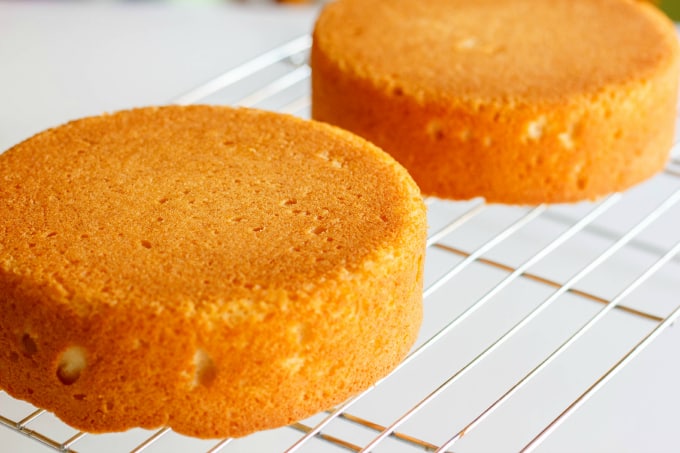 I must say though, not everyone loves chocolate. I'm looking at a certain sister... So, I knew it was time to find the perfect vanilla cake recipe. I had made this recipe once before for my sister and she loved it. I never had the chance to try it though, so today marked the day to revisit the recipe. I was very surprised by the quality of this cake! Soft, moist, and tasty! I'm not sure how well it will hold up overnight, as chocolate cake seems to hold moistness way better than your typical vanilla cake. But so far, so good!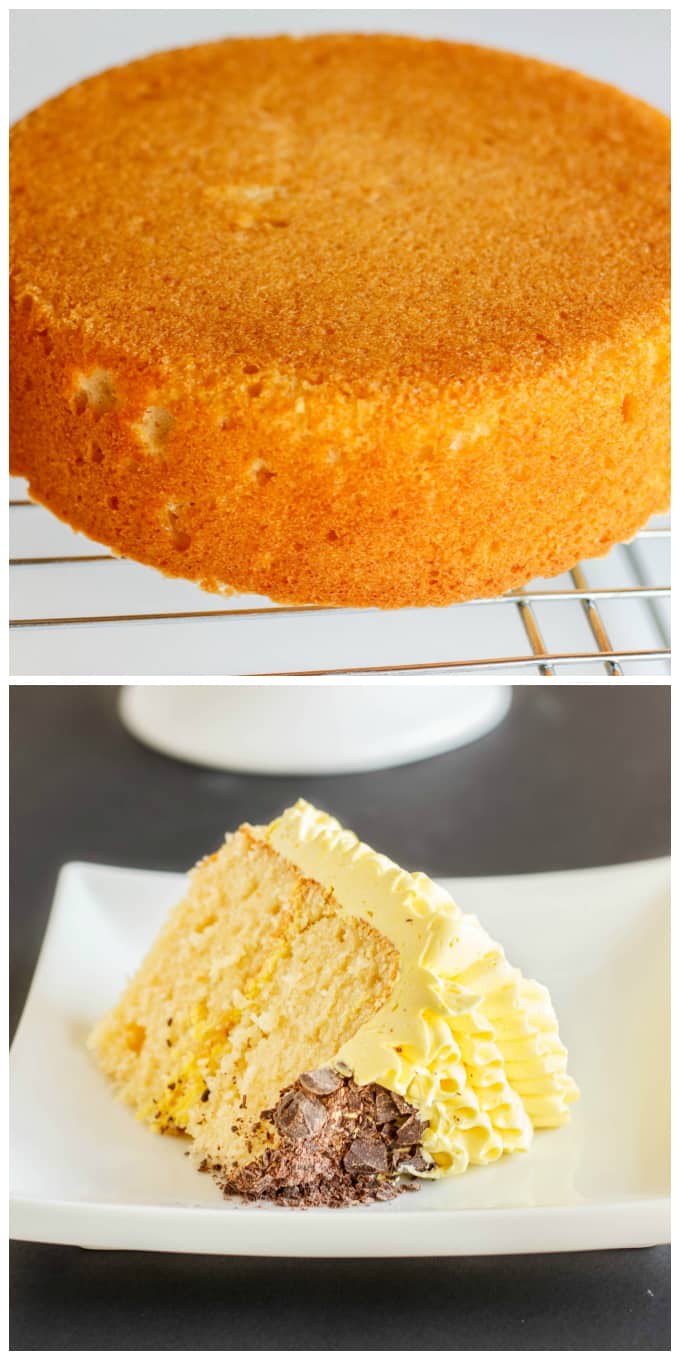 Please, as with any cake, do NOT over-bake it! I know, I know, this is something you hear all the time. A good vanilla cake is hard to find because it tends to dry out. Just keep a good eye on the pans in the oven and remove them as soon as you can.
📖 Recipe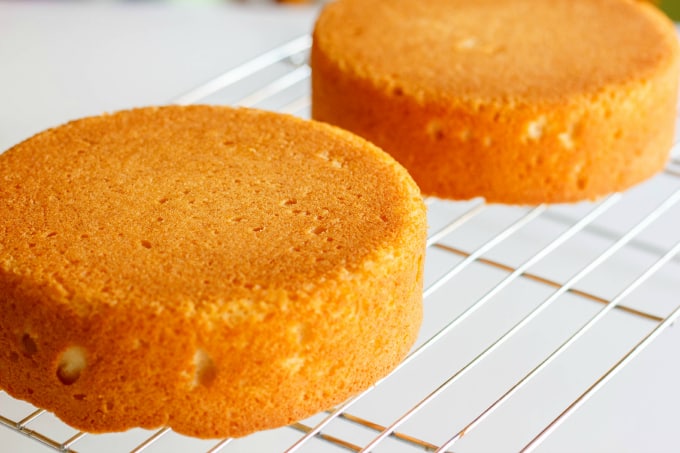 Basic Vanilla Cake Recipe
Everyone is always looking for a great vanilla cake recipe, and I think I have found it! Easy, tasty, and moist, there is no going wrong here.
Ingredients
1 ½ cups cake and pastry flour
1 ¼ cups all-purpose flour
2 ½ tsp. baking powder
⅛ tsp. salt
1 cup salted butter, room temperature
2 cups sugar
4 eggs, room temperature
1 ¼ cups evaporated milk
1 ½ tbsp. vanilla extract
Instructions
Place butter and sugar into the bowl of a stand mixer. Cream together until light and fluffy.
While the butter creams, sift together both flours, baking powder, and salt. Do this a second time to ensure a light and fluffy cake.
Preheat oven to 325F.
With the mixer on, add the eggs one at a time. Make sure to allow the egg to fully combine before adding the next one. Pour in the vanilla and combine.
Pour the dry mixture into the batter, followed by the milk, alternatively, starting and ending with the dry ingredients. Work in about ½ cup increments for the dry ingredients, and about ¼ cup increments for the milk.
Prepare two 9-inch cakes pans with shortening and flour. Pour the batter into the pans, evenly, about halfway full.
Bake for about 30-35 minutes, or until toothpick comes clean. Set the pans on cooling racks and allow them to sit for about 10 minutes. Flip the pans over and tap the cakes out, allowing them to finish cooling on the wired racks.
Nutrition Information:
Yield:

20
Serving Size:

1
Amount Per Serving:
Calories:

330
Total Fat:

15g
Saturated Fat:

8g
Trans Fat:

0g
Unsaturated Fat:

6g
Cholesterol:

81mg
Sodium:

240mg
Carbohydrates:

44g
Fiber:

1g
Sugar:

29g
Protein:

5g
Definitely a keeper in my books. As for the cake itself, it was covered in a lemon Swiss meringue buttercream, which I will reveal in tomorrow's post! I was very pleased with how it turned out; all the flavors melded together perfectly.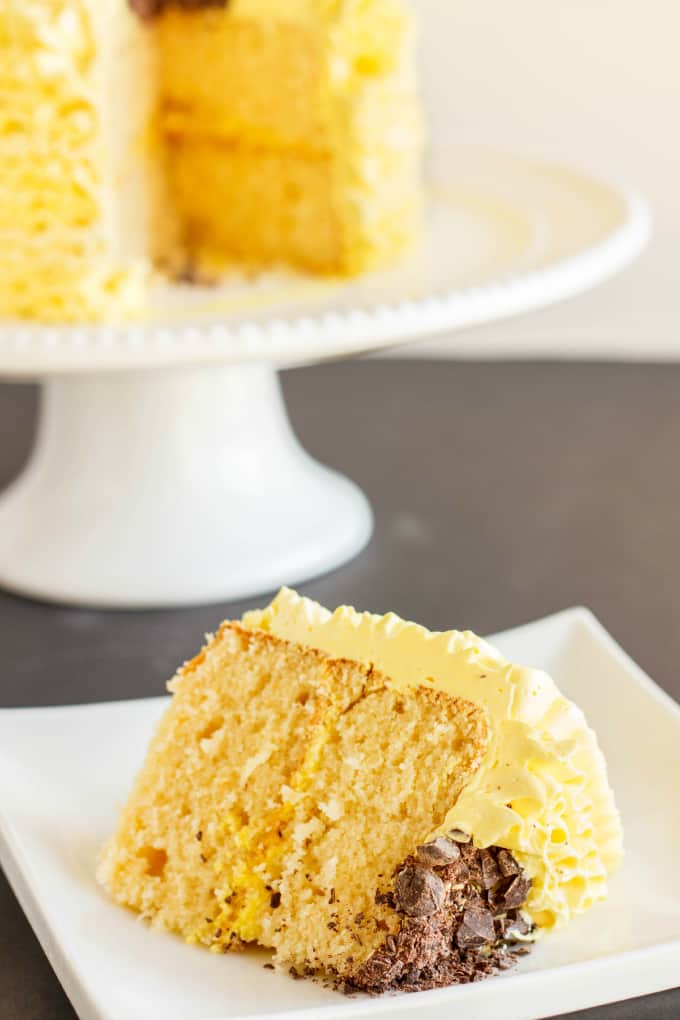 I found the cake did not rise crazily, so there was no big dome on top. I had to cut away a bit of the cake to make it flat, but nothing major. The cake gets a nice crust on the outside, making it ideal for bakers who do not like to crumb coat their cakes (like myself!) I may try and adjust this recipe to make a coconut flavor base, substituting the evaporated milk for coconut milk and some coconut extract.