When we were at the Oscar party a couple of weeks ago, it was brought up how hard it is to find a good macaroni and cheese recipe, especially baked. I have made some recipes in the past but they always ended up dry or lacking in flavour. It was quite frustrating as mac and cheese can be a perfect main course or side. I forgot about making mac and cheese for years until today.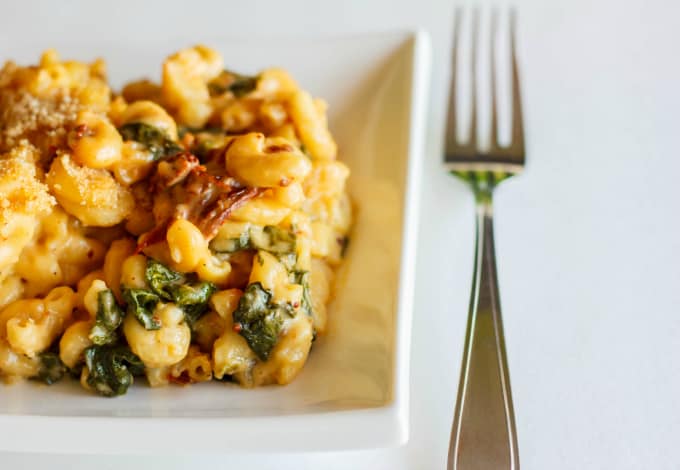 Once again, it is grocery week and I needed to make something with the remaining items in our fridge. Thankfully, cheese is always in our house by the abundance! I only had about 1/2 cup of table cream left so I used the last of my milk to make this meal. Usually I would use all cream in a dish like this, but you know what? I was pleasantly surprised by the flavour in this macaroni and cheese with sun-dried tomato. However, I know I will need to try this recipe with more cream next time, just to see if it is worth it or not 🙂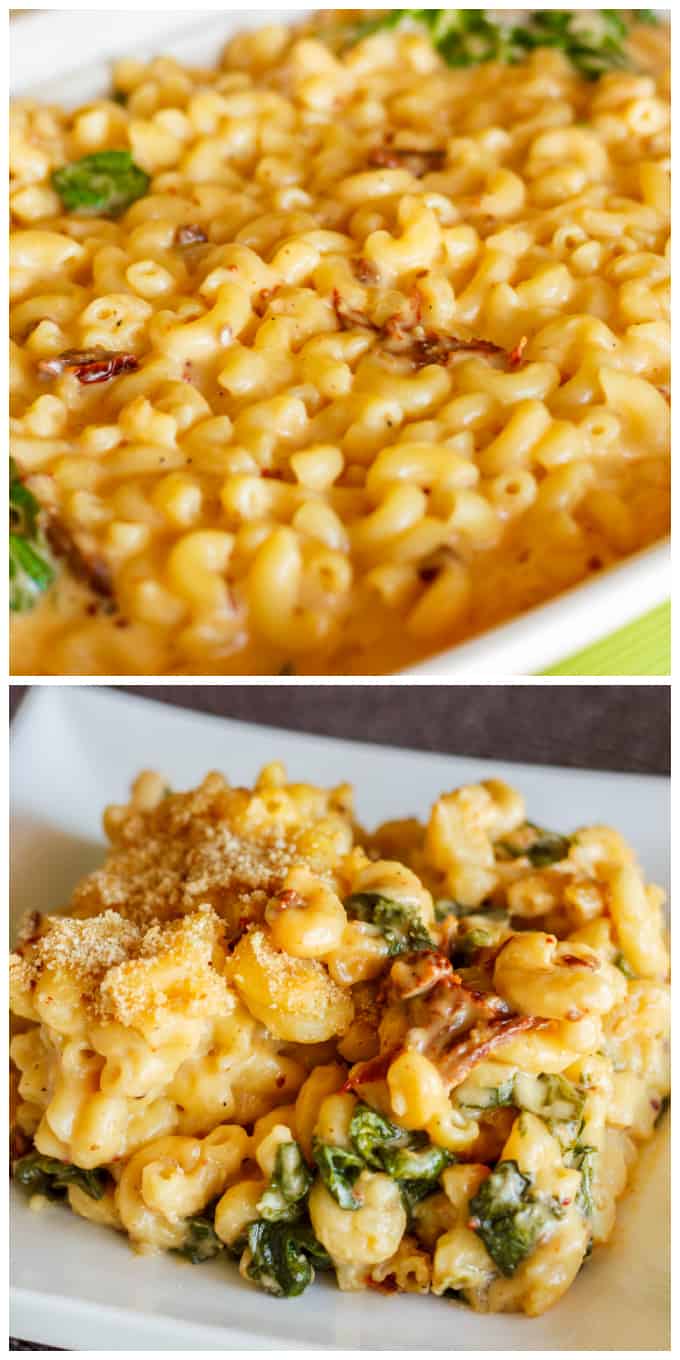 Macaroni and Cheese with Sun-dried Tomatoes and Spinach
---
Kacey
Yields 4-6
15 minPrep Time
30 minCook Time
45 minTotal Time
Ingredients
1 lb macaroni pasta
1/2 cup + 1 tbsp. butter
1/2 cup flour
3 cups milk (I substituted in half a cup of cream)
4 cups cheddar cheese
1 onion, diced
3 garlic cloves, minced
1 tsp. black pepper
1 tsp. salt
1/4 cup sun-dried tomatoes
8 oz fresh spinach
1/4 tsp. cayenne pepper
1 tbsp. coarse Dijon mustard
1/2 cup breadcrumbs
Vegetable broth (optional)
Instructions
Fill a large pot with water (or vegetable broth for extra flavour!) Place on stove and bring to a boil. Add your macaroni to the water and cook until al dente.
While you wait for your water to come to a boil, add the 1 tbsp. of butter to a large saucepan. Melt over medium heat and add your diced onions. Cook until soft and translucent, 5-7 minutes. Melt the remaining 1/2 cup of butter in with the onions and add the garlic. Cook for about 30 seconds and then add in the flour. Whisk the flour frequently for the next 6-7 minutes, allowing the roux to darken in colour.
Pour in your milk, whisking constantly until smooth. Season with salt, pepper, cayenne pepper, and add in the Dijon mustard. Stir until combined. Sprinkle in the cheese and blend until melted. At this point, give your sauce a quick taste-test to see if you need more seasonings (I don't go crazy with the salt because I know my sun-dried tomatoes contain a lot of salt.) Bring the sauce to a boil and add in the sun-dried tomatoes and fresh spinach. Give a quick stir and allow to simmer for 1 minutes. Remove from heat.
Preheat oven to 350F. Pour the sauce over the drained pasta and toss until combined. Butter a large casserole pan, a 9x13 pan should work. Pour in the pasta and sprinkle the top with the breadcrumbs. Bake in the oven for about 15-20 minutes, or until the pasta is bubbling. Allow to cool slightly and serve.
7.8.1.2
55
https://thecookiewriter.com/macaroni-and-cheese-with-sun-dried-tomatoes-and-spinach/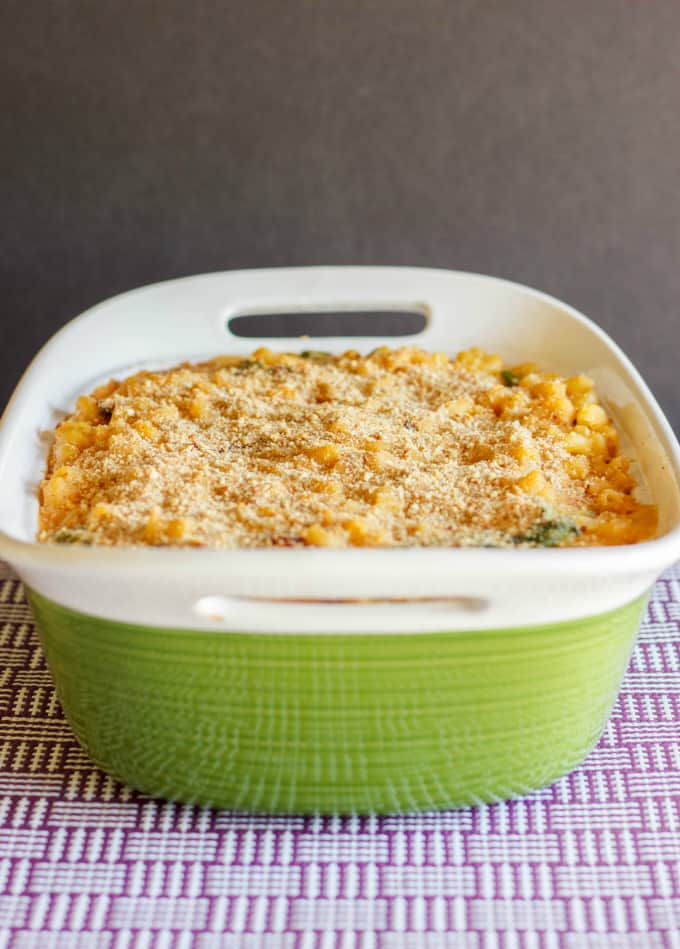 If you are not into baked mac and cheese, feel free to skip that part. I think it would taste good as is without the extra cook time. I love what the sun-dried tomatoes and spinach add to this meal. Macaroni and cheese can be quite bland if not seasoned perfectly. Since I realize my sun-dried tomatoes are quite salty, I don't go crazy with the salt. Otherwise, adjust according to your preferences.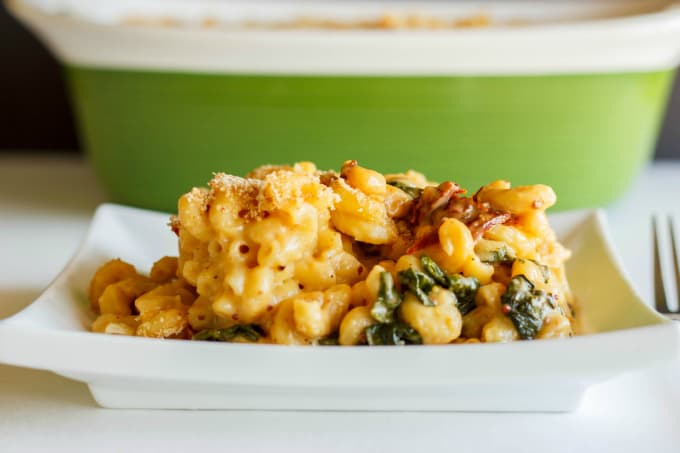 For the non-vegetarians, chopped ham would be a great addition to this recipe. Perhaps substitute the spinach for some kale instead, or add in diced tomatoes instead of sun-dried. Make it your own!