Comforting food is a necessity during the winter months, and this chicken fettuccine alfredo with veggies will fill the void!
A quick post today.
There are so many ways to convert a typical meat dish into a vegetarian one. If a vegetable soup calls for chicken broth, exchange it for a vegetarian broth. Same goes for risottos and dips. Most of the time I find a meal can be made vegetarian just by substituting the broth used (at a local restaurant, their artichoke and spinach dip would be vegetarian if they switched up the chicken broth.)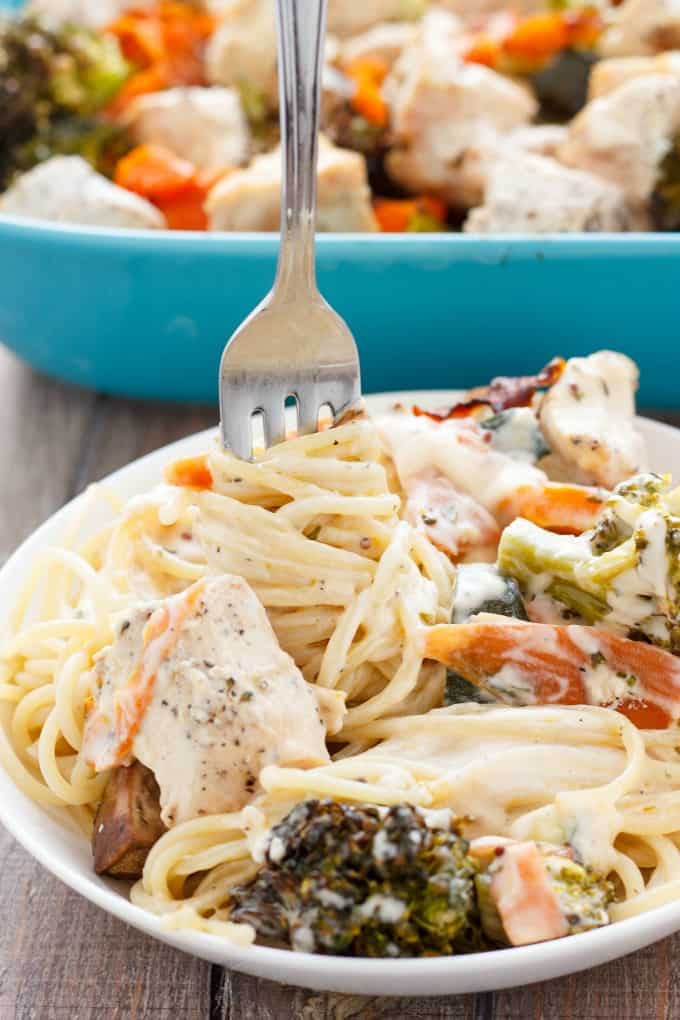 When it comes to a stir-fry or pasta, and one person wants meat in their entree while another does not, there is a simple solution. Cook the meat on the side. Then, when the meal is completed, whoever wants meat can mix it into their plate. Problem solved! A bit more work but it pleases everyone. This chicken fettuccine alfredo with veggies is one of those recipes. The family gets to enjoy a meat dish while I can still make myself a small side plate! And there is no real extra work required!

📖 Recipe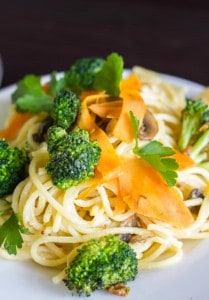 Chicken Fettuccine Alfredo with Carrots, Mushrooms, and Broccoli
Total Time:
1 hour
10 minutes
Using a sharp cheese just brings out the zing in this pasta dish!
Ingredients
1 lb uncooked spaghetti or fettuccine pasta
2 lbs boneless skinless chicken breasts, cut into bite-size portions
4 tbsp. olive oil, divided + more of needed
2 small broccoli crowns, cut into florets
2 large carrots, peeled into long strips (I use a vegetable peeler to achieve this effect)
2 portobello mushrooms, halved and sliced
1 orange pepper, chopped
1 zucchini, halved lengthwise and sliced
Salt and pepper
Sauce
1 cup heavy whipping cream
1 cup milk
3 tbsp. butter
3 garlic cloves, minced
3 tbsp. all-purpose flour
Salt and pepper
½ tbsp. coarse whole grain mustard
¼ tsp. cayenne powder
1 tsp. dried parsley
1 cup cheddar cheese, grated (or cheese of your choosing)
Instructions
Preheat oven to 400F.
On one baking sheet combine the chicken, broccoli, couple tablespoons of olive oil, salt, and pepper. On another, combine the remaining veggies, oil, salt, and pepper. Place into oven and bake for 20 minutes. Remove the veggie pan without the chicken and cook chicken pan for another 5-10 minutes, or until chicken is cooked through.
Sauce
Bring a large pot of salted water to a boil. Add pasta and cook until al dente. Drain, rinse.
While the pasta is cooking, add butter to a saucepan over medium heat. When the butter begins to foam add the garlic. Cook for 30 seconds. Add in the flour and stir with a whisk, creating a roux. Cook until the roux becomes blondish-brown in color, about 5 minutes. Make sure to whisk constantly, and allow the roux to cook. When the roux has darkened, stir in the milk and cream. Pour in the cheese, Dijon mustard, cayenne, parsley, and season with salt and pepper. Allow to come to a boil, reduce heat, and simmer until the sauce thickens.
Combine everything together and serve!
Nutrition Information:
Yield:

4
Serving Size:

1
Amount Per Serving:
Calories:

1508
Total Fat:

65g
Saturated Fat:

30g
Trans Fat:

1g
Unsaturated Fat:

30g
Cholesterol:

316mg
Sodium:

693mg
Carbohydrates:

124g
Fiber:

8g
Sugar:

13g
Protein:

103g
When the nice weather comes (if that will ever be the case here in Canada), grill the chicken on the BBQ and then add it to your pasta. It would be an awesome Spring dinner! And you could pick some more appropriate veggie to throw on the BBQ, like asparagus or eggplant! Yummy!
Love this chicken fettuccine alfredo with veggies?! Try some of these recipes: