The use of fresh herbs is always appetizing, but they can get expensive if you do not have a garden! Try this dry herb sausage spaghetti for a fun spin (and no worries of herbs going bad!)
I love using fresh herbs in my recipes. They add a whole new element to the dish, and if you run the herbs through your hands, it leaves them smelling like spring! Personally, I am partial to basil and thyme, but every herb smells wonderful (though I cannot take the taste of cilantro at all!) That being said, here in Canada you only have access to fresh herbs in your garden for a few months before our harsh winters set in. Or, if you are like me and cannot keep a darn plant alive, you are stuck buying fresh herbs from the grocery stores.
Now, that wouldn't be a bad thing except that I never use up my entire container of herbs and then they just go bad. I feel I am throwing away money to see herbs go to waste. This year I swear to learn how to take care of my fresh herbs because I cannot justify buying them all-year-round!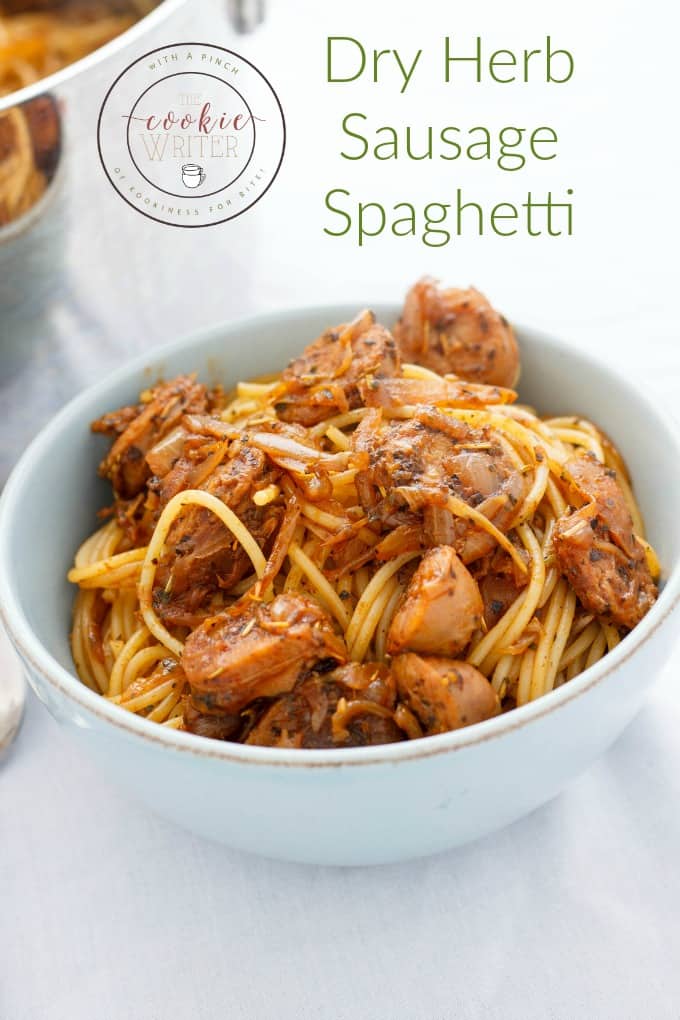 Today's dry herb sausage spaghetti dinner saves us all the hassle of fresh herbs and allows us to utilize our pantry. Dry herbs can last a lifetime, but for optimal freshness I would say it is best to replace your quantities every 6 months. We have a bulk store where you can pick up as much (or as little) as you need so it ends up saving you money in the long run AND provides maximum flavours to your meals.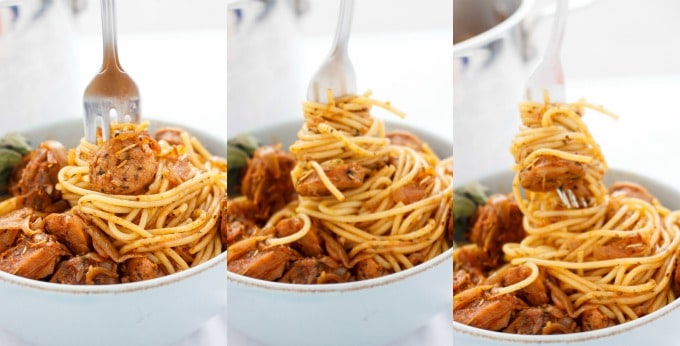 Back to the dry herb sausage spaghetti. This is actually a meal my husband brought into our household. It is so easy to make, and so cheap! Plus, he makes me a vegetarian version by omitting the sausage and doubling (or tripling) the onion quantity! My brother is OBSESSED with this meal. When he lived with us it was a norm to have this on the menu weekly. Since he has moved out, I still get the occasional text about needing the recipe. I don't know why he just doesn't write it down but now it is forever on the internet for easy access 🙂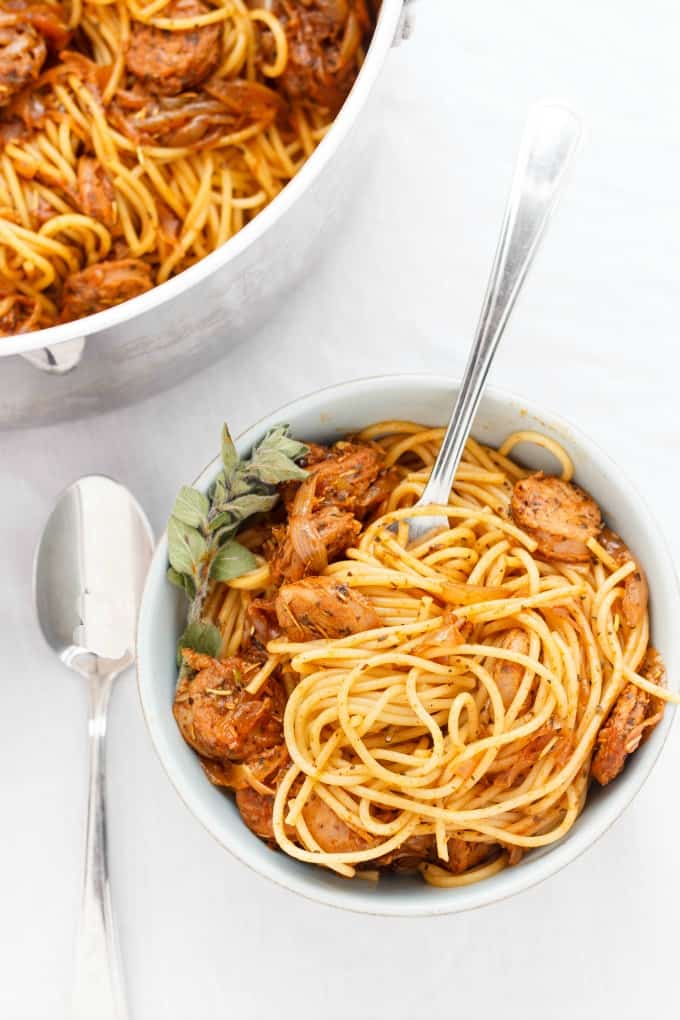 Dry Herb Sausage Spaghetti
---
Kacey
Yields 4-6
To save time, boil the pasta while making this meal, as the onions can take some time to caramelize!
15 minPrep Time
40 minCook Time
55 minTotal Time
Ingredients
1 lb pasta of your choosing
6-8 cups chicken broth

Sauce

1 1/2 - 2 lbs sausages (we like them spicy!)
5 garlic cloves, minced
2 lb onions, sliced thin
1 tbsp. paprika
1 tbsp. dried basil
1 tbsp. dried oregano
1 tbsp. dried rosemary
Olive oil (if needed)
Instructions
Add sausage to a large frying pan with 1 cup water (just enough really to cover the bottom of the pan.) Cook over medium heat, covered, until browned and crispy, flipping every so often. Remove from pan and place on cutting board. Allow to rest 10 minutes before slicing into coins.
While sausages are cooking, bring a large pot of broth to a boil. Add pasta and cook until al dente. Reserve two ladles of pasta water before draining.
Raise heat to medium-high. It is okay if there is still some water in the pan. If you need more liquid, add 1-2 tbsp. of olive oil to the pan. Add the onions and cook, stirring often, until browned (really depends on how deep you want to go with the caramelizing.) Stir in garlic, sausages, and herbs and cook for a another minute or so. Stir in one ladle full of pasta water at a time, waiting for the first batch to dissipate.
Combine sauce with pasta noodles and serve!
7.8.1.2
402
https://thecookiewriter.com/dry-herb-sausage-spaghetti/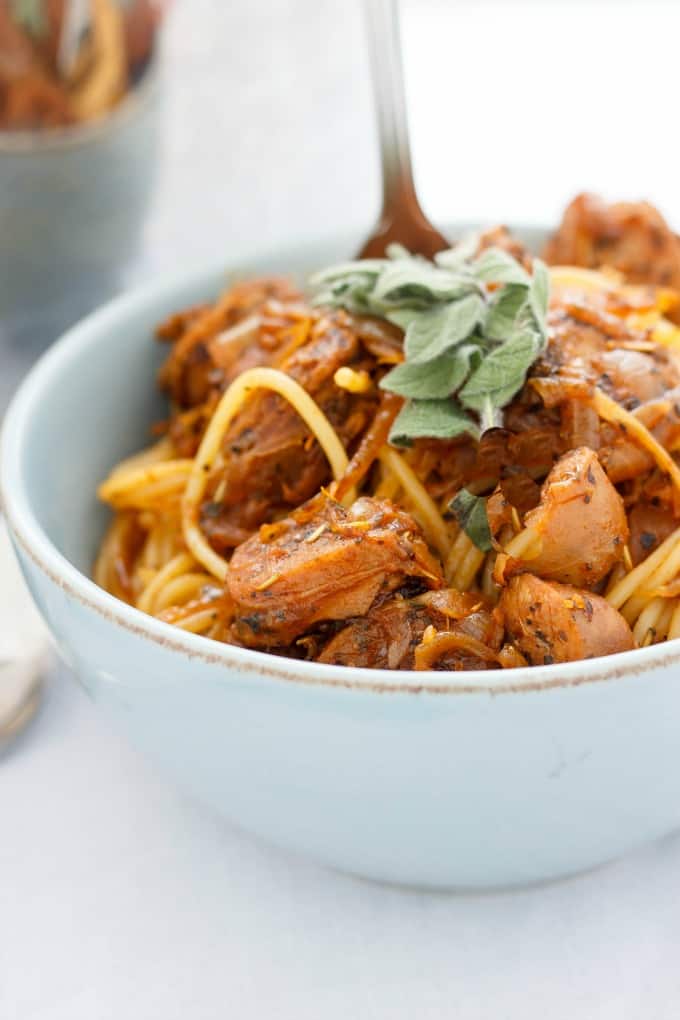 On that fun note, I'll leave you with that fact that my mother would not touch this recipe with a ten-foot pole. She believes herbs are a gimmick of the food industry… I love her to pieces, but we do not agree on a lot of things, and cooking is definitely one of them! I'll let her have her beliefs, but not without any fun-poking from us three kids!
Love this dry herb sausage spaghetti?! Try some of these recipes: