So silky and smooth, with a little hidden surprise inside, these lindor milk chocolate cupcakes with chocolate buttercream are definitely my most popular cupcake recipe!
Oh. My. God.
Have I created something dangerous. I mean really, really dangerous.
You know how your head starts turning when you have some extra ingredients or food hanging around, and you want to use them up? Yeah, I accomplished that today, and probably put on 20 lbs.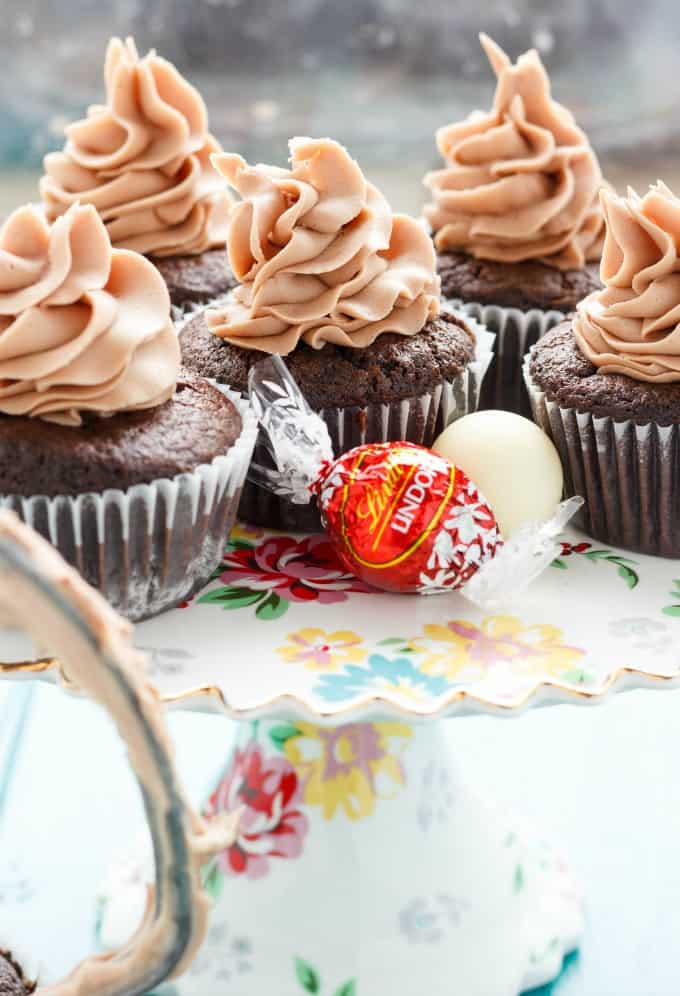 These Lindor milk chocolate cupcakes with chocolate buttercream are soooooooooo good. I am serious; probably my favorite chocolate creation ever. There is no going wrong with Lindt chocolate. Even someone like my brother, who is not a chocolate fan, loves Lindt's Lindor Milk Chocolate (I am not endorsed by Lindt at all, just stating a fact!) They are so soft, and creamy, and plain delicious! My mother-in-law always buys me the huge box of assorted flavors from Costco each Christmas and I tend to devour the box in no time. However, I do have my favorites. The milk chocolate and hazelnut flavors get eaten first, and I usually give my daughter the dark chocolate. Surprisingly, the white chocolate is always left. I have nothing against white chocolate; it may have to do when I was a child and my mother believed I was allergic to chocolate. That year I only received white chocolate for Easter (while my brother and sister got the good stuff!) All the flavors are delicious, I just have my personal favorites.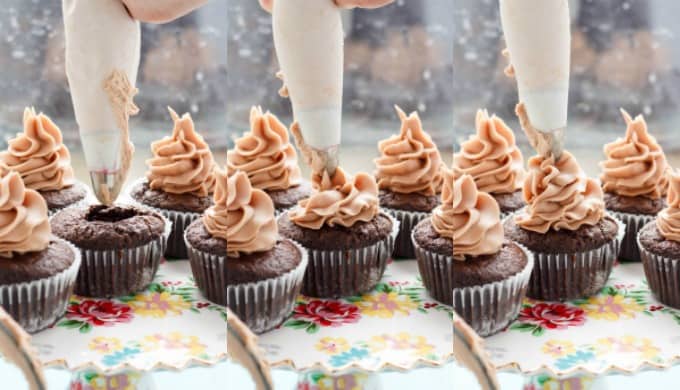 Since Valentine's Day is the next major celebration approaching us in the food blogging industry (though, football season is upon us, but we are not sports fans here,) I thought I would get a head start and use up these last remaining chocolate truffles. The idea for the Lindor milk chocolate cupcakes with chocolate buttercream hit me one night while I was in bed. Yes, I go to bed thinking about food and wake up thinking about it. I knew the small balls would fit perfectly into cupcakes, but I did not want to bake them directly into the batter because the Lindt Lindor Chocolate is usually very soft. Literally you bite into the hard shell, and the inner chocolate is melt-in-your-mouth deliciousness! So I did the next best thing; I placed the unwrapped chocolate directly into the cupcakes as soon as I removed them from the oven. Result? A soft melting of the chocolate, without losing it everywhere! Ahhhh! I am still drooling! Pretty sure I would remarry my husband if he presented these to me on Valentine's Day!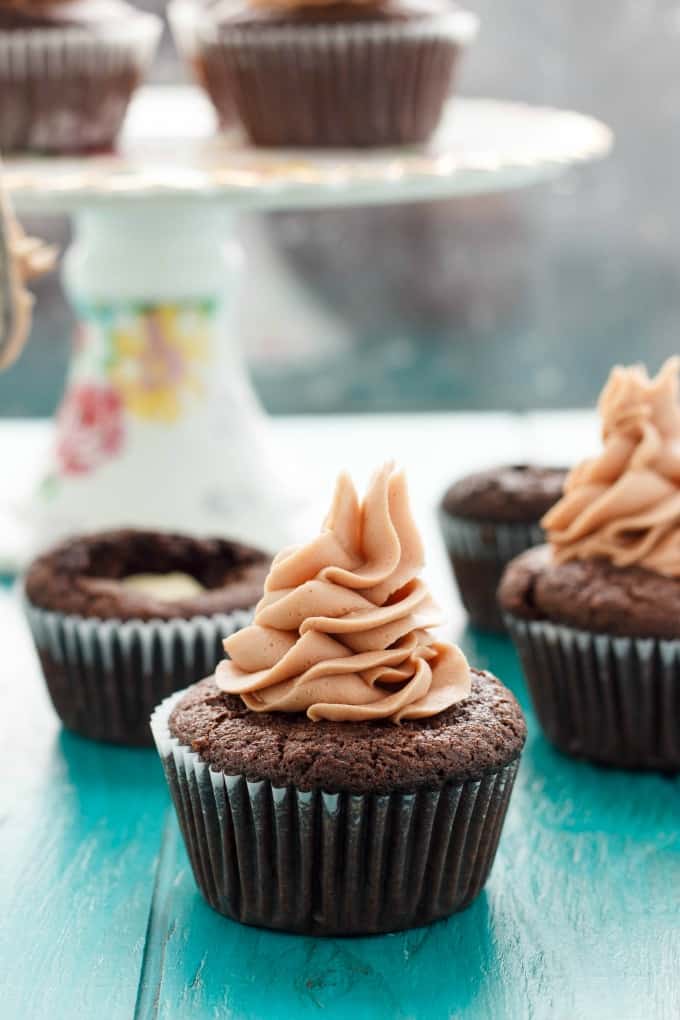 Now, one snag I hit along the way was getting the icing on top of the cupcake, even after the cupcakes had cooled. See, I wanted to do that cool blob technique because I already knew the cupcakes would be rich. I figured less was more when it came to the buttercream. Except, when I went to begin the blob right above the exposed soft chocolate, it instantly pushed into the Lindor chocolate, causing the filling to run everywhere. I tried chilling the cupcakes in the refrigerator to get the chocolate filling to firm up more, and that seemed to help, but the technique I wanted to use was still not working. UPDATE: No issues this time around. I just made sure to push the truffles further into the cupcake this time 🙂 In the end I went with the classic 1M swirl technique, making sure to drop the buttercream onto the cupcakes gently and not make the swirl too large. I was super happy with the result, even if I had to change my game plan. I had also wanted to make pink candy melt hearts as toppers, but my candy melts would not melt! I think they must have gone bad because I have never had this much trouble before.
📖 Recipe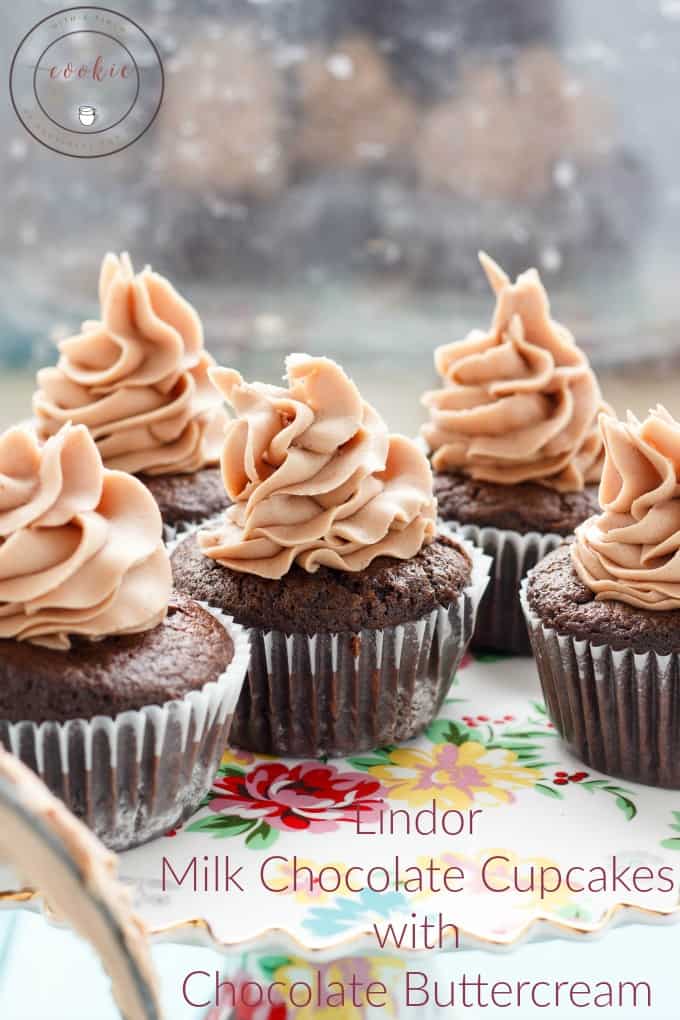 Lindt Lindor Milk Chocolate Cupcakes with Chocolate Buttercream
So soft and silky, these cupcakes will blow your mind!
Ingredients
1 cup all-purpose flour
½ cup cake and pastry flour (you can use all-purpose)
1 cup granulated sugar
¼ cup brown sugar
½ tbsp. baking soda
½ cup unsweetened cocoa powder
½ cup melted coconut oil
¾ cup buttermilk
1 egg, room temperature
½ cup hot coffee
1 tsp. vanilla
Pinch of salt
Filling
15 Lindt Lindor chocolate truffles (any flavor you like!), unwrapped
Buttercream
1 ½ cups salted butter, room temperature
3 ½ cups confectioners' sugar
100g bar of Lindt milk chocolate, melted
2 tbsp. heavy whipping cream
1 tsp. unsweetened cocoa powder
1 tbsp. Kahlua (can sub in heavy cream here)
Instructions
Preheat oven to 350F. Line muffin tin with paper liners.
In the bowl of your stand mixer, add in the coconut oil and sugars. Beat until well combined, about 5 minutes. Beat in egg until fully combined. Add in vanilla and stir.
Sift together the flours, cocoa, soda, and salt. Alternatively add in the flour mixture and the buttermilk to the butter mixture, starting and ending with the flour mixture. Carefully pour in hot coffee and mix until combined (I mix with my spatula afterwards to get anything off the sides.)
Pour into muffin tin, about ¼ inch from top.
Bake for 18-20 minutes, or until toothpick comes out clean. Immediately press a Lindor chocolate into each cupcake. Cool for about 5 minutes in the tin and then move your cupcakes to a cooling rack. Allow to cool completely before decorating.
Buttercream:
Break the chocolate into small pieces and place into a microwavable safe bowl. Heat in 30 second intervals until the chocolate is nice and smooth, You can also use a double boiler method instead. Allow to cool slightly.
Add the butter to the bowl of your stand mixer. Whip the butter until light and fluffy, about 5 minutes. Add in chocolate and mix until combined. Pour in the sugar, whipping cream, cocoa powder, and Kahlua. Keep whipping until fluffy.
Pipe onto cupcakes and serve!
Nutrition Information:
Yield:

15
Serving Size:

1
Amount Per Serving:
Calories:

630
Total Fat:

36g
Saturated Fat:

23g
Trans Fat:

1g
Unsaturated Fat:

10g
Cholesterol:

80mg
Sodium:

364mg
Carbohydrates:

73g
Fiber:

2g
Sugar:

54g
Protein:

5g
I was worried the chocolate buttercream would be on the soft side since I decided to use pure butter and melted chocolate. Usually I use cocoa powder. Since we are looking at temperatures between -20 and -25 degrees Celsius these days, I was not concerned at all about these cupcakes drooping on the way into Mr. TCW's work. I did not want to mask the Lindt chocolate flavor in the buttercream but found it needed a touch more chocolate, so that is why I added just a touch of cocoa powder. Helps to get rid of that overly sweet icing taste.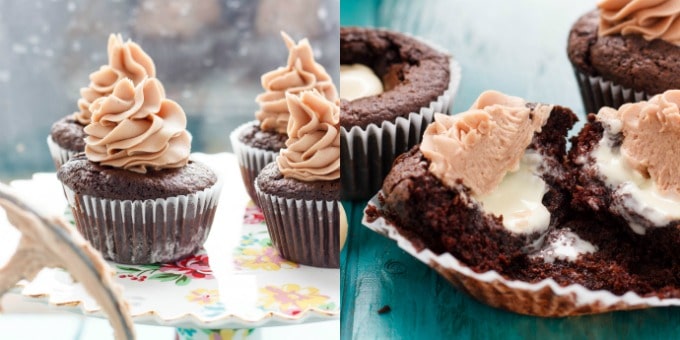 I just realized as I type this that I took no pictures of the actual inside of these Lindor milk chocolate cupcakes with chocolate buttercream! What was I thinking?! The whole point was to show off the awesome milk chocolate filling! I was obviously too busy eating these cupcakes to remember such an important feature. I guess that is an excuse to make them again?! Plus, I did technically create these for Valentine's Day, so I could always recreate them on February 14th... Or a gluten-free recipe... UPDATE: I made sure to get a picture of the inside of the cupcake this time around!