I am usually the one in the household who decides what's for dinner. Occasionally Mr. TCW will bring up something, stating that he "has not had spaghetti sauce in a while," or "what about something with rice?" He loves rice. And potatoes. I'm sure he would eat them everyday if I chose to make meals containing them 24/7. But I don't want heavy stuff all the time, and generally, anything to do with potatoes is usually heavy in my books.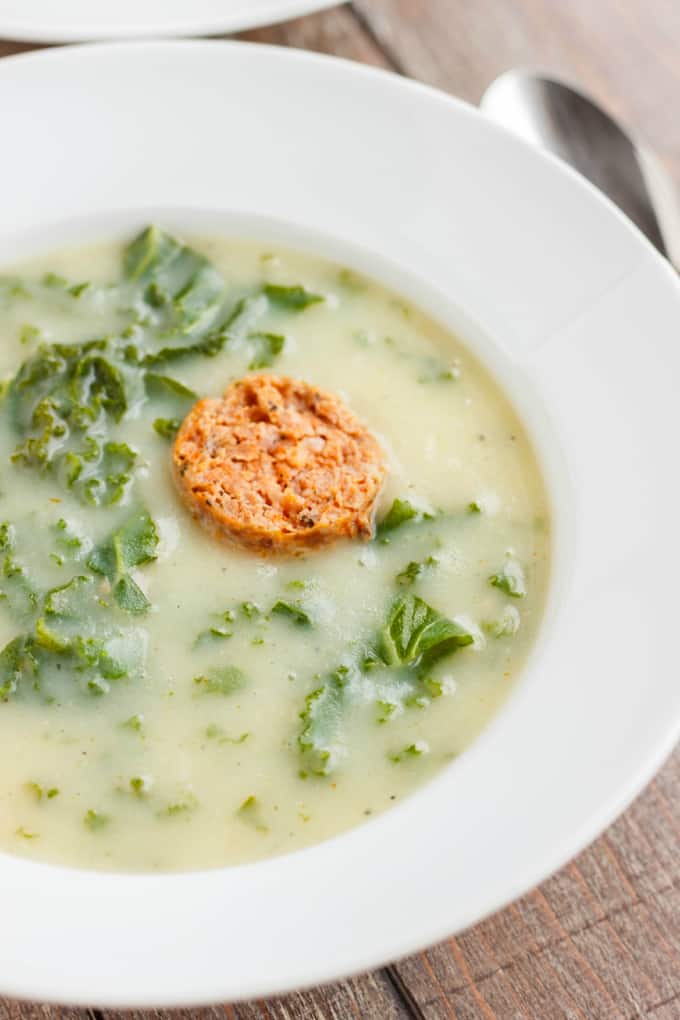 Today's caldo verde soup was put into Mr. TCW's head from a co-worker. Mr. TCW was so excited about this soup, he talked about it for days! We finally went out to pick up the ingredients and he was a bit disappointed he could not find chorizo or Linguiça sausage at our local grocery stores. We were headed home until the idea hit me to stop in at the butcher shop. He went in like a kid going to see Santa and was super happy to have found chorizo. Then it was back home for me to prepare the soup!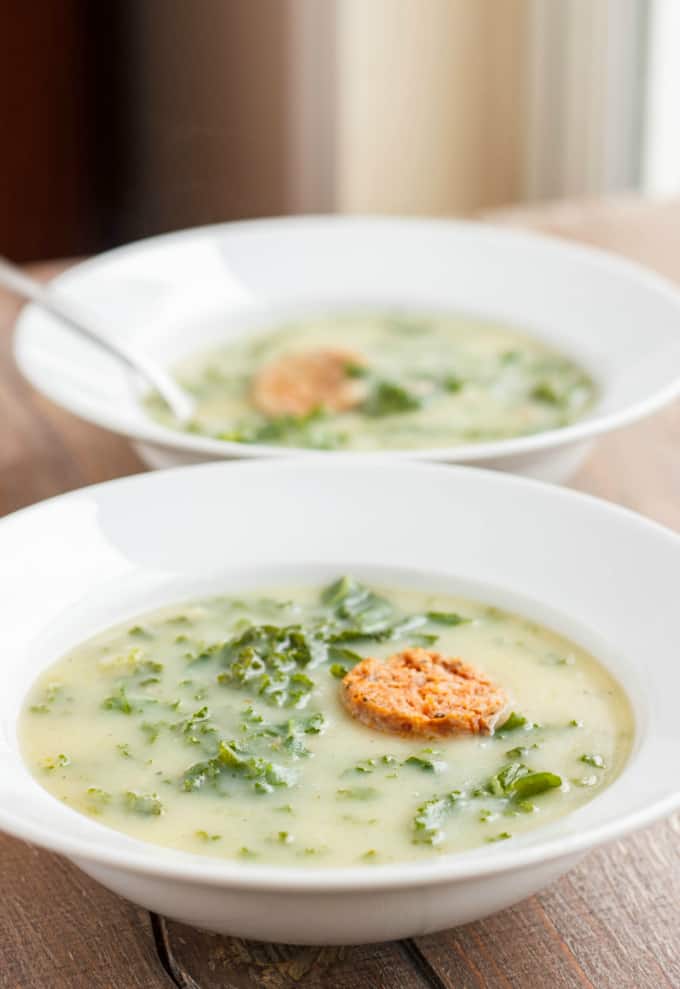 Now, since I had never heard of caldo verde before, I had to do my research. Interestingly, there is a lot of debate when it comes to this soup. People say caldo verde is suppose to contain collard greens and not kale. I went with kale because that is what Mr. TCW's co-worker's mom has always used, and I found a lot of people suggested kale. For "true" caldo verde, collard greens is suggested. Also, when it came to the sausage, I initially only put in half a pound because as per tradition, each soup is usually served with one SLICE of sausage. Yeah, when I made it the second time I doubled up the meat. Mr. TCW's co-worker also mentioned after my first attempt that his mom puts more sausage in. Live and learn!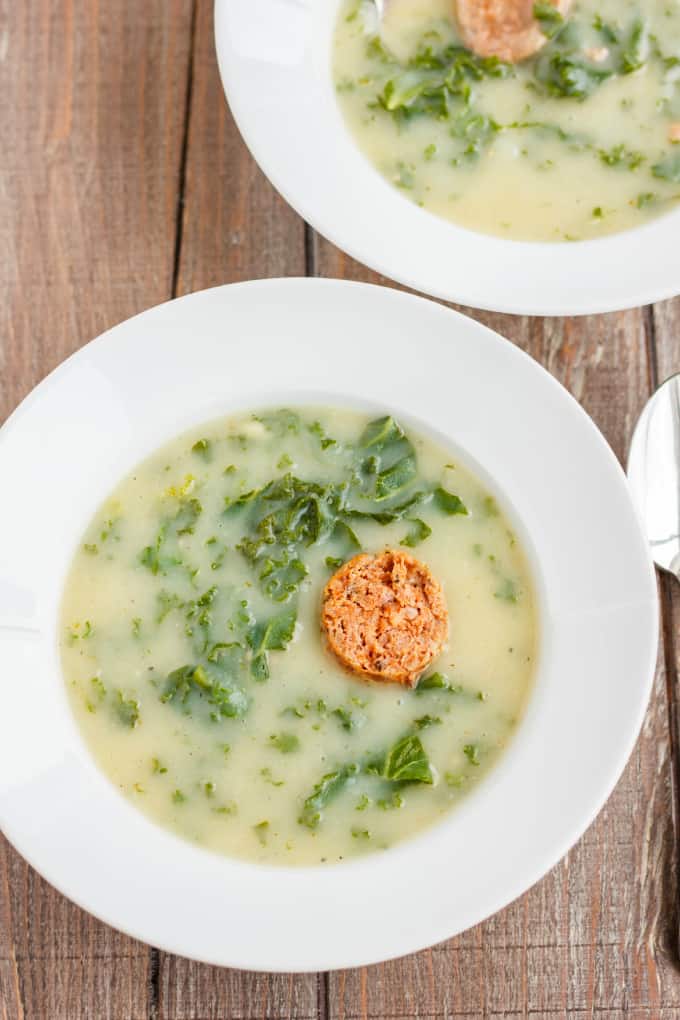 The rest was up to my choosing. You could use a broth here to give the soup more flavor, but I believe this soup is suppose to be very mellow. Mr. TCW absolutely loved it, my brother really enjoyed it, and kiddo even ate a ton (while I tried to keep her away from all the cooked sausage!) It is a very easy and quick soup, and actually gluten-free depending on the type of meat you use in this meal. The potatoes are what thickens up this soup. I am curious about trying a vegetarian version of this recipe because it was really simple and quite light.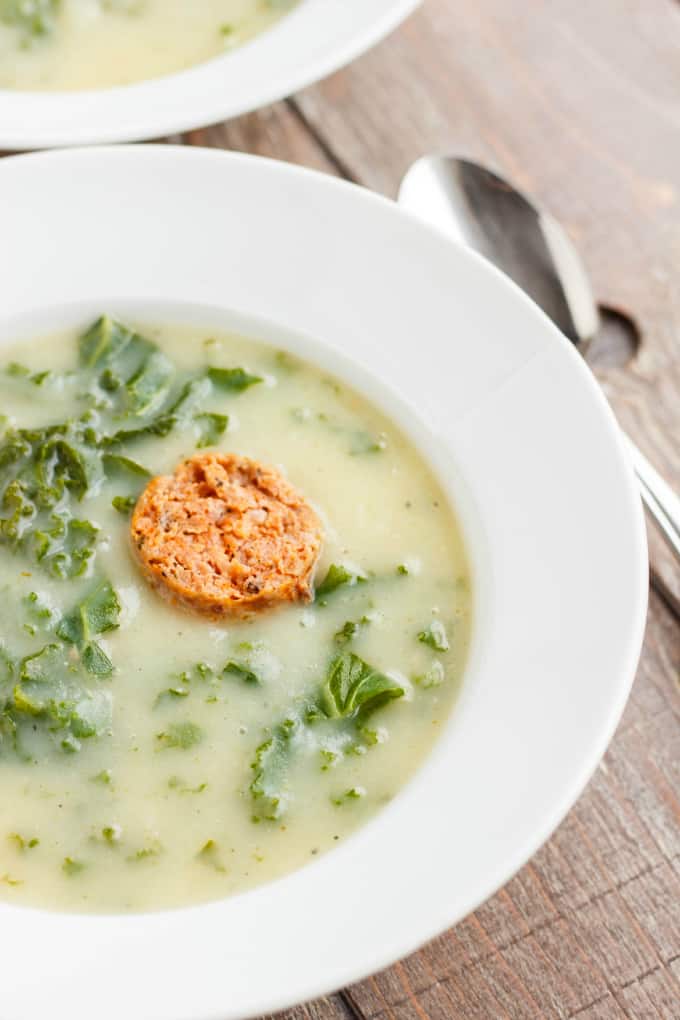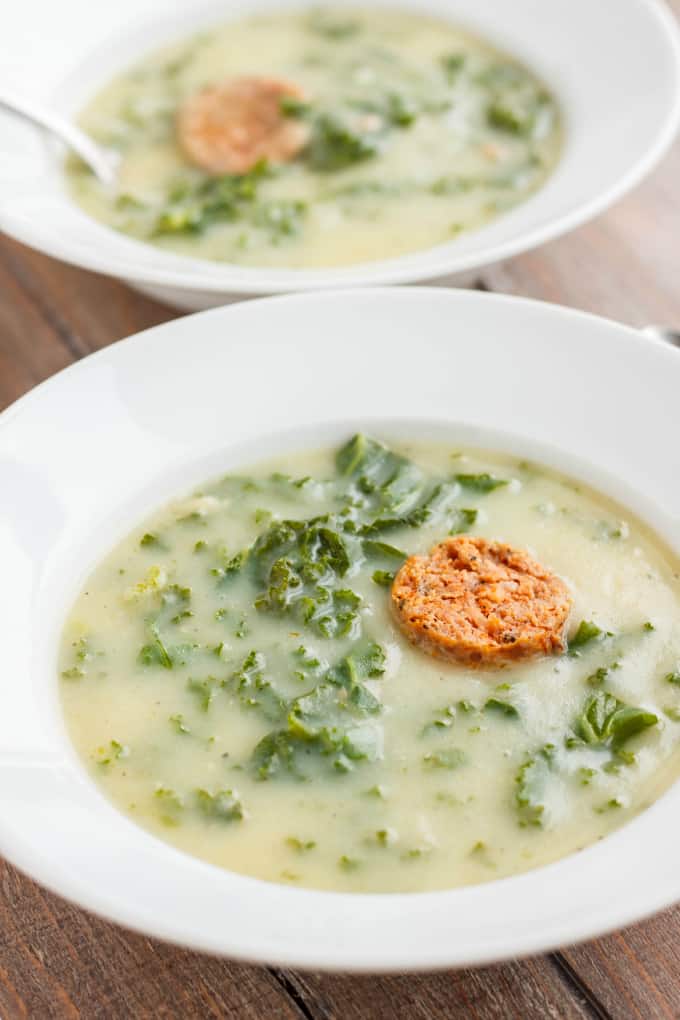 📖 Recipe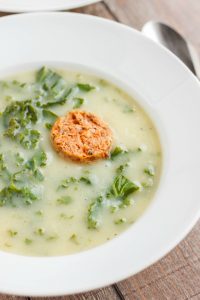 Caldo Verde Soup
Caldo Verde is a Portuguese soup that traditionally calls for potatoes, olive oil, salt, and collard greens or kale. It is easy, quick, and healthy!
Ingredients
6 cups water
3 tbsp. olive oil + 1 tbsp.
2 small onions, minced
2 garlic cloves, minced
6 potatoes, peeled and cubed small (I used 2 large, and 4 smallish potatoes.)
1 lb Chorizo sausage (about 4 sausages.)
Salt and pepper
1 bunch of kale, stems removed, julienned
Instructions
Add the 3 tbsp. olive oil to a large saucepan over medium heat. Pour in the onions and garlic and cook for 3 minutes. Season with some salt and pepper. Add the potatoes and cook for another 3 minutes, stirring pretty frequently so the potatoes do not stick to the bottom of the pan. Stir in the water and add in the sausages, leaving them whole. Raise heat and bring to a boil. Reduce heat and simmer, uncovered, for 20 minutes, or until potatoes are tender.
Move sausages to a cutting board. Using a hand blender, puree the potatoes until smooth. Season again with salt and pepper. Stir in kale and cook for about 5 minutes. While the kale is cooking, slice the sausages. Puree the soup again with the hand blender to get the kale combined into the broth. Add the sausages back to the soup and cook for another 5 minutes. Drizzle with remaining olive oil.
Serve!
Nutrition Information:
Yield:

6
Serving Size:

1
Amount Per Serving:
Calories:

512
Total Fat:

32g
Saturated Fat:

11g
Trans Fat:

0g
Unsaturated Fat:

19g
Cholesterol:

67mg
Sodium:

1015mg
Carbohydrates:

35g
Fiber:

4g
Sugar:

3g
Protein:

23g
One more tip! The second time I made this caldo verde soup, I hand-blended the potatoes until smooth, added the kale, allowed it to cook for a couple of minutes, and then pureed the kale as well. Mr. TCW's coworker suggested this method and Mr. TCW preferred this version in the end (definitely made the soup more green!) I will have to take a photo of this version to show you the difference in presentation.