Thanksgiving is all about the comfort foods! But what about the leftovers? Don't fret because this Thanksgiving turkey risotto is the perfect dish to use up all those goodies!
The photos and recipe for this leftover Thanksgiving turkey risotto have been updated as of November 19th, 2016!
I cannot believe I have failed to mention how I am done 95% of my Christmas shopping!! Not only that, but all the gifts that have arrived have been wrapped! Muahaha. Yeah, I am one of those weirdos who prefers to finish things early. It is almost as bad as my phobia of being late for anything. This is definitely my earliest completion of Christmas shopping, but I have my reasons. It seems like every weekend there is something planned. And if it is not a weekend, there is something midweek. If I didn't have to do all my dad's shopping I am pretty sure I would have been done Christmas shopping the first week of November!
Pushing those bragging rights aside, I am happy to say this allows me more time to focus on cooking and baking. And with the holiday season upon us, I definitely need all the time I can get! Today's recipe actually comes from last month when we had our Thanksgiving and I wanted to use up all the leftovers. In my homemade turkey soup post I spoke about how I made a TON of homemade broth and needed a way to use up the rest. Well, I thought I was pretty creative and came up with leftover Thanksgiving turkey risotto!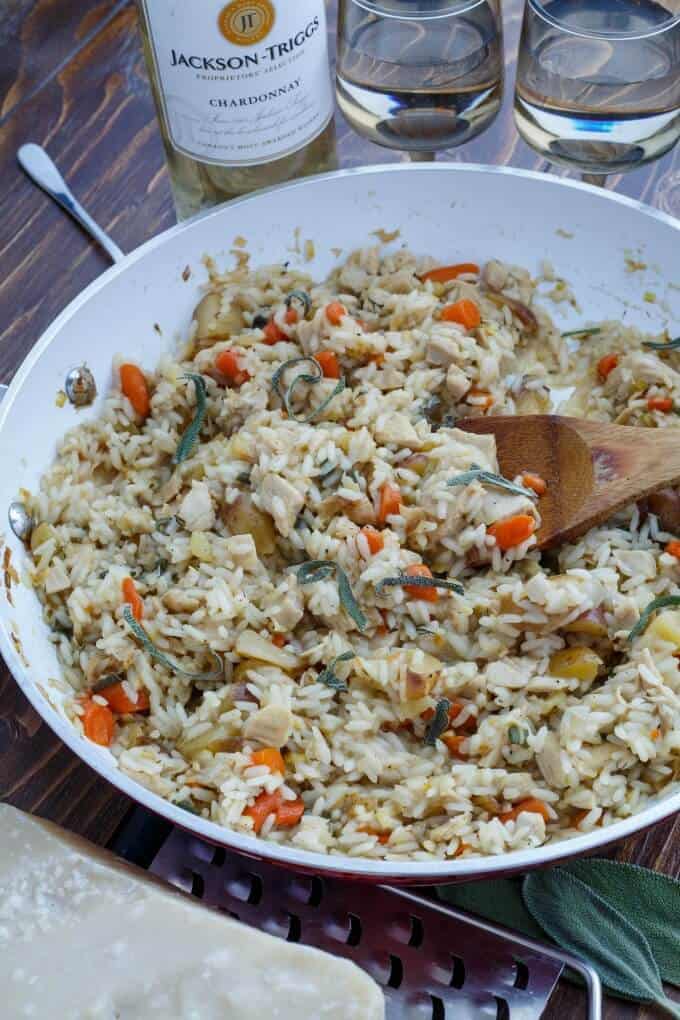 A blend of homemade turkey broth, turkey meat, and any other leftover mix-ins you like (I am talking about corn, carrots, and peas!), this recipe is bound to use up quite a bit of your meals! Plus, I thought it was kind of creative 🙂 Last year we did a leftover Thanksgiving pizza and while I wanted to revisit that recipe, I had too much broth on hand to think about it. Once again, any stock will do, as I know many do not have time for homemade turkey broth (seriously though, it takes little effort on your part and just simmers for hours on the stove.) And you can customize the broth (and turkey risotto) anyway you like!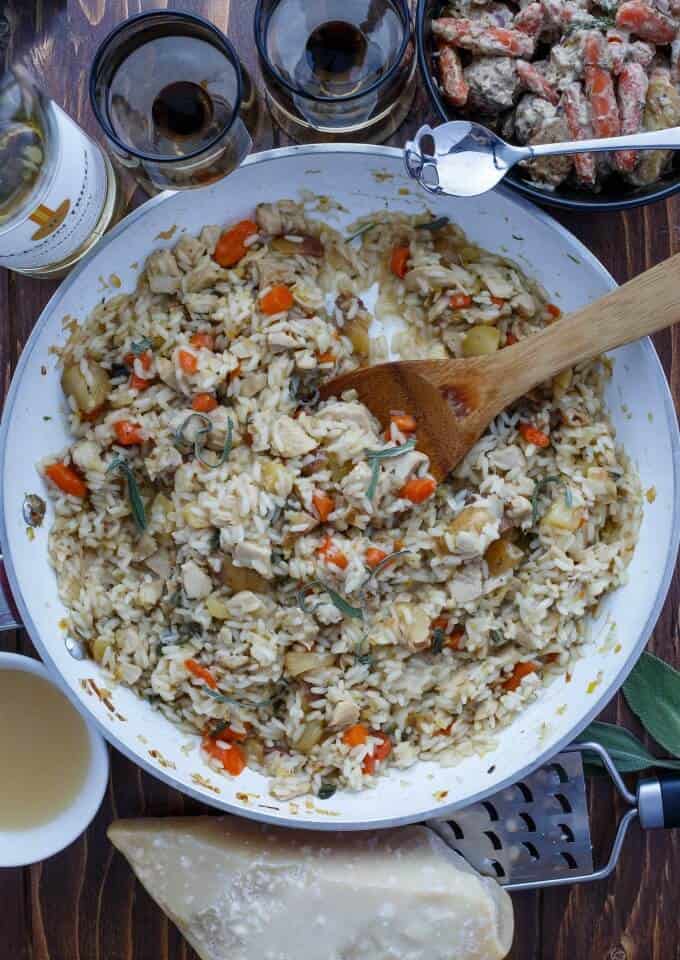 I feel my little round up of Thanksgiving recipes has been sufficient this year. There is one more recipe coming Monday, and then we slowly drift into holiday treats (yay, Christmas cookies!!) I am busy this weekend making a three-tier cake (which I hope turns out,) but since I have already sent my Food Bloggers' Cookie Swap cookies in the mail, I am free to focus entirely on my creation! Cannot wait to share my holiday cookie recipe December 16th along with the cookies I will be receiving from other food bloggers!
Love this Leftover Thanksgiving Turkey Risotto?! Try some of these recipes: