Hello, healthy meal! This ground turkey taco salad is perfect for back to school, the office lifestyle, or just plain healthy eating! Plus, you can customize the meal however you see fit 🙂
Today's ground turkey taco salad is another recipe thanks to my sister. She had been craving a taco salad for some time, and her boyfriend kept encouraging her to get one from a restaurant. However, she said she was too picky with what she wanted in her salad and figured she would eventually get around to making her own. The wait was worth it because this ground turkey taco salad turned out wonderfully! Even my husband, the non-salad eater, enjoyed it!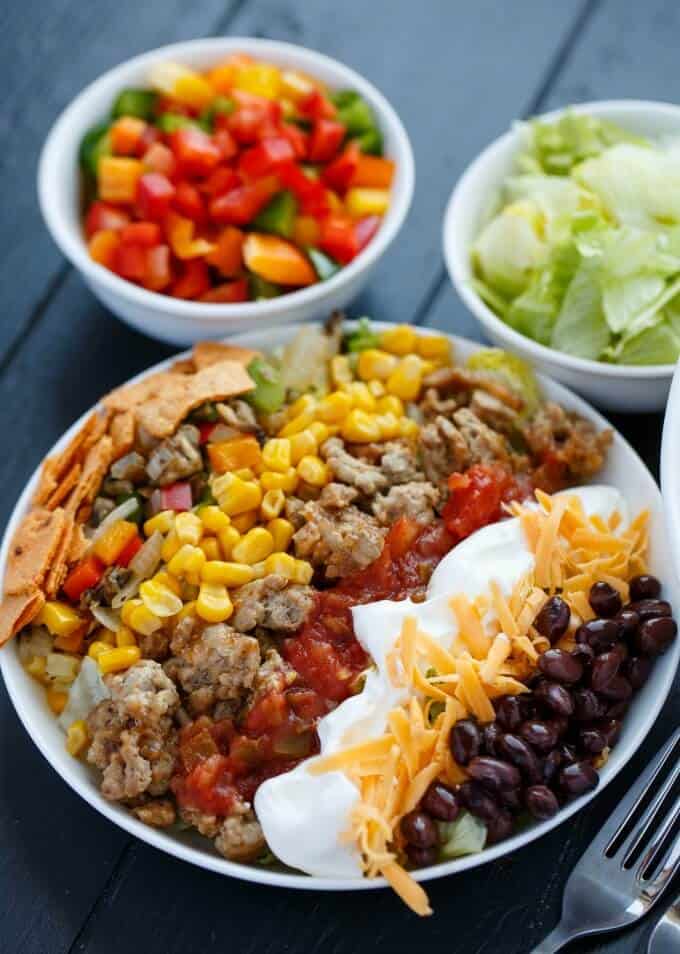 We went with ground turkey for many reasons. One: healthier! Ground turkey is all the rage, and with the price of beef sky rocketing, this was the obvious choice. Two: Diversity. I like when things are changed up from the traditional and while ground beef or pork would work here, there is just something nice about turkey being used in this salad. But as always, use anything you like! Just like the homemade lunchables with ham, you can change out the type of meat. I guess you can say my sister and I think alike when it comes to customized meals 🙂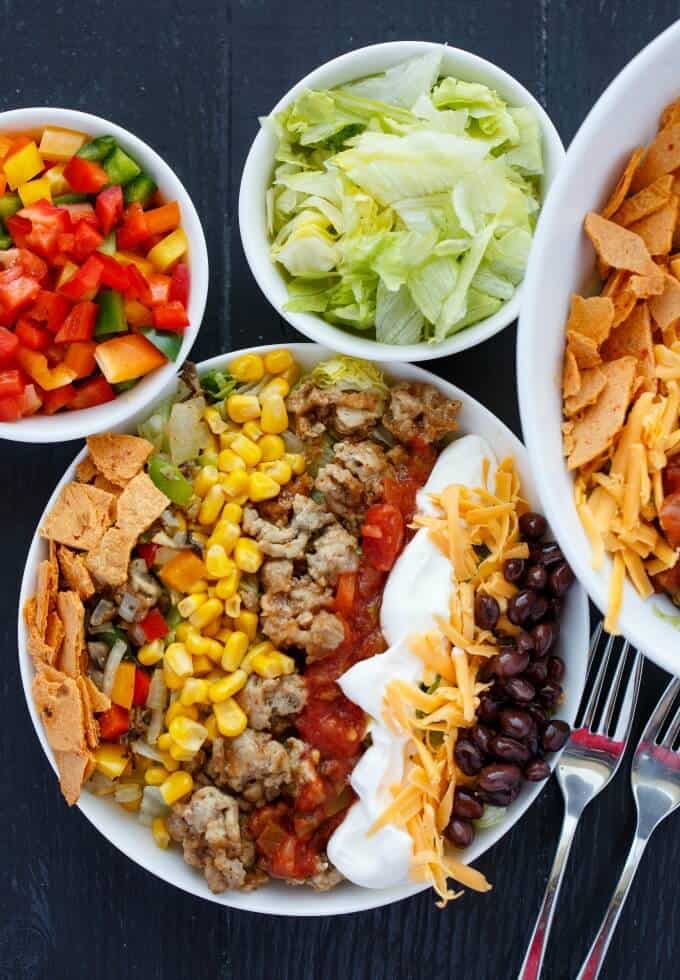 Not big on meat in general? Omit it and add lentils! Then beef up the use of veggies and toppings 🙂 My husband used less lettuce and more toppings, while my sister left out sour cream altogether. I love the idea of preparing for this ground turkey taco salad in advance. Prep everything and store them in individual containers in your fridge. This way you can make the meal the day of without having to prep everything. I would probably eat a whole lot healthier if I actually did this method! Quesadillas, tacos, other salads, you name it, you can have lunch prepped all week!
📖 Recipe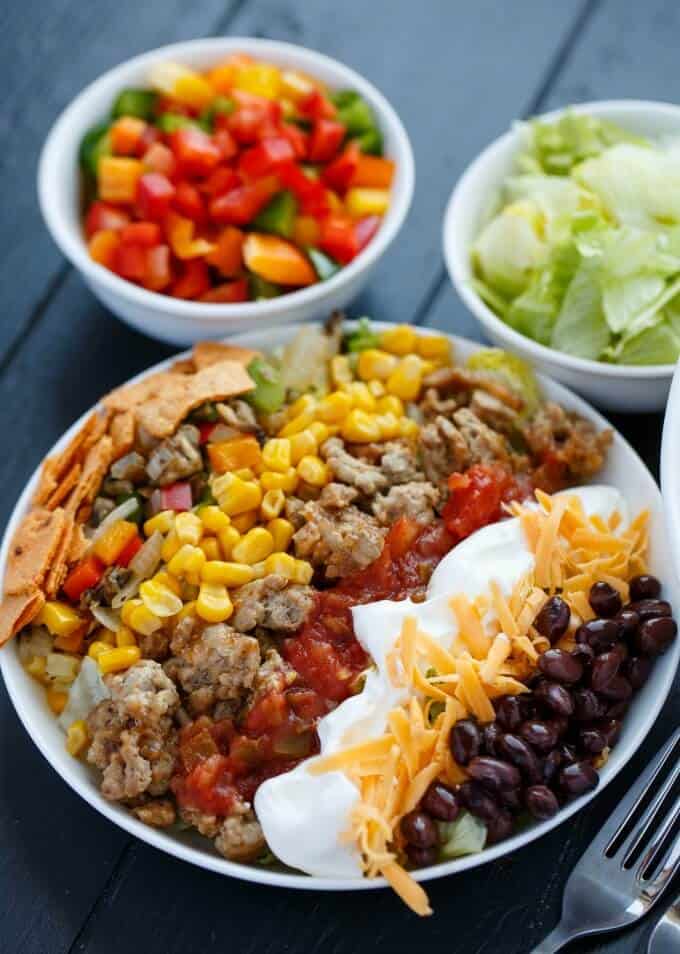 Ground Turkey Taco Salad
An easy salad for the workweek which is easily customized to your liking! Store everything individually in the fridge for easy access.
Ingredients
1 lb ground turkey
1 (35g) taco seasoning mix (I use Old El Paso: no affiliation)
⅔ cup water (or amount your seasoning mix calls for!)
1 head iceberg lettuce (or green of your choosing)
1 (19oz) can black beans, drained
1 medium onion, diced
1 red pepper, diced
1 green pepper, diced
1 cup frozen corn
1 cup cheddar cheese, grated
Salt and pepper
Optional Toppings
Sour cream
Ranch dressing
Cilantro
Homemade tortilla strips or store-bought (recipe below!)
Instructions
Place a large frying pan over medium-high heat. Add ground beef and cook for 1 minute. Stir in peppers and onions. Cook until meat is browned and cooked through. Add seasoning. corn, and water, cooking for a few more minutes or until sauce thickens.
Layer salad with ingredients and enjoy!
Tortilla Strips
Preheat oven to 350F. Cut tortillas into strips. Place on baking sheet and cook for 7-10 minutes, or until crispy.
Nutrition Information:
Yield:

4
Serving Size:

1
Amount Per Serving:
Calories:

591
Total Fat:

34g
Saturated Fat:

12g
Trans Fat:

1g
Unsaturated Fat:

19g
Cholesterol:

152mg
Sodium:

541mg
Carbohydrates:

32g
Fiber:

8g
Sugar:

8g
Protein:

42g
One more week until school starts here! I am always so surprised with how early some areas begin school (though, I think in Canada all of our schools begin in September.) Move aside back to school meals, hello apple recipes, Halloween creations, and pumpkins galore! Just when you think you think you are ahead, a new occasion arises!