Love dried fruit slices but cannot justify the cost of store-bought? These homemade dried mango slices in the dehydrator are perfectly balanced in flavor AND cost much less than the store-bought version!
School is in session today for Canadians and you can hear the sigh of relief from parents. I love having my daughter home, but by the end of the summer you can tell the kids are getting antsy and need to get back into that routine. Things are a little different for us this year as my daughter has switched schools. No longer are we walking to her gated area and having me wait until she goes in (by her request!) We are now walking a tad shorter to the bus stop, and seeing her off to the local French Immersion program. Who knows how it will go, but no harm in trying!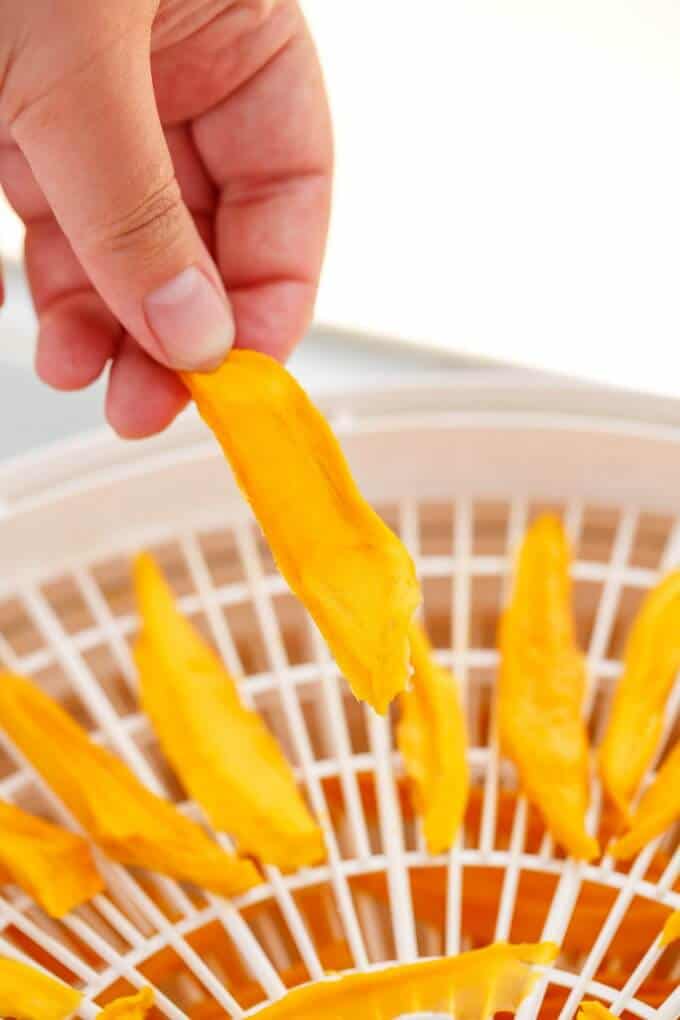 With back to school on all our minds, my sister and I decided to recreate a healthy snack at home. Dried fruit slices are a favorite of many, but they are SOOOOO pricey! My sister has no problem splurging on food, but she even said she is having a hard time justifying the costs nowadays. When a box of mangoes went on sale, we decided to borrow our brother's dehydrator and make these dried mango slices!
Dried mango slices in the dehydrator?! Yes, I get it, not everyone owns one, but they are really handy! My brother bought the appliance to make beef jerky, but they have so many uses. Once you get past all the slicing, the dehydrator does the rest of the work. Much like a slow cooker, you place the fresh, sliced mango slices into the dehydrator, set it to the appropriate temperature, and allow them to cook for 8-10 hours. Cook time depends on the thickness of the fruit and what consistency you are looking for.
Remember, these are dried mango slices, not mango chips. If you cook them too long they will get hard and crispy like a chip, which works out great, but we like that chewy, firm texture. Basically start checking around 8 hours because you never know, they may be just right 🙂 They are also a great treat for animals! My parrot had a bite, but her pickiness is worse than any child I know!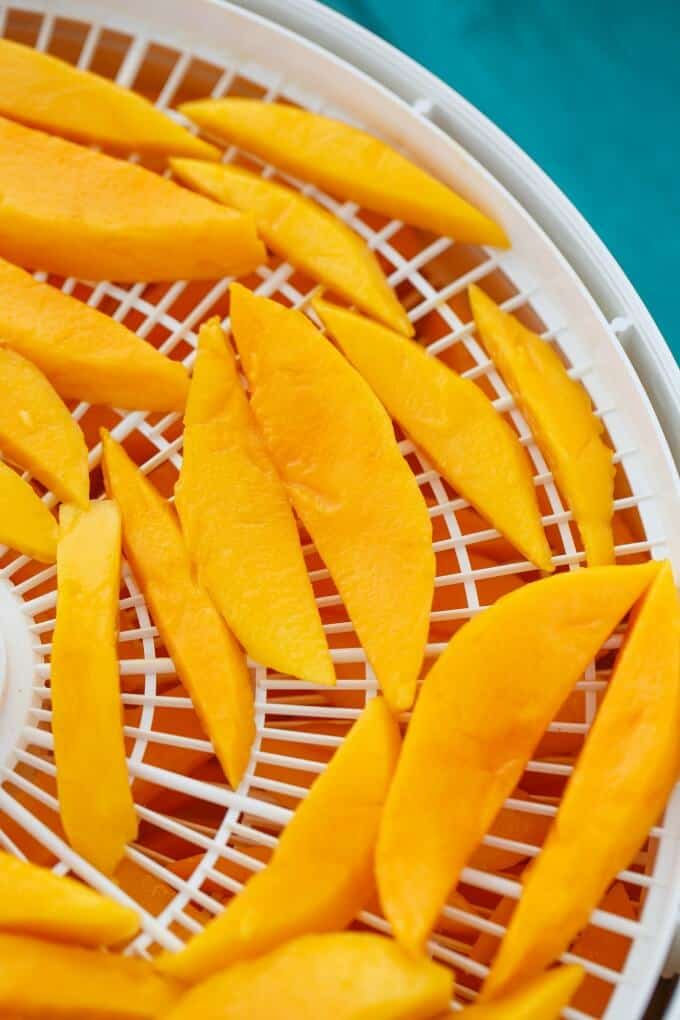 People are really seeing the benefits of going homemade, and there are so many reasons why we love this version of dried mango slices in the dehydrator. Flavor! Soooo good! You know there are not any additives to this snack. Sugar: only the natural stuff found in the fruit. We decided not to add any additional sugar, and they were perfect. You can add sugar if you like, or even roll them in a sweetened mixture after they are finished cooking. However, they were totally sweet enough! Cost effective! I don't buy dried fruit very often, but my sister reminds me constantly about how much dried mango slices are at the store. It is insane! We utilized the season of mangoes and bought a case deliberately for making these dried mango slices in the dehydrator.
📖 Recipe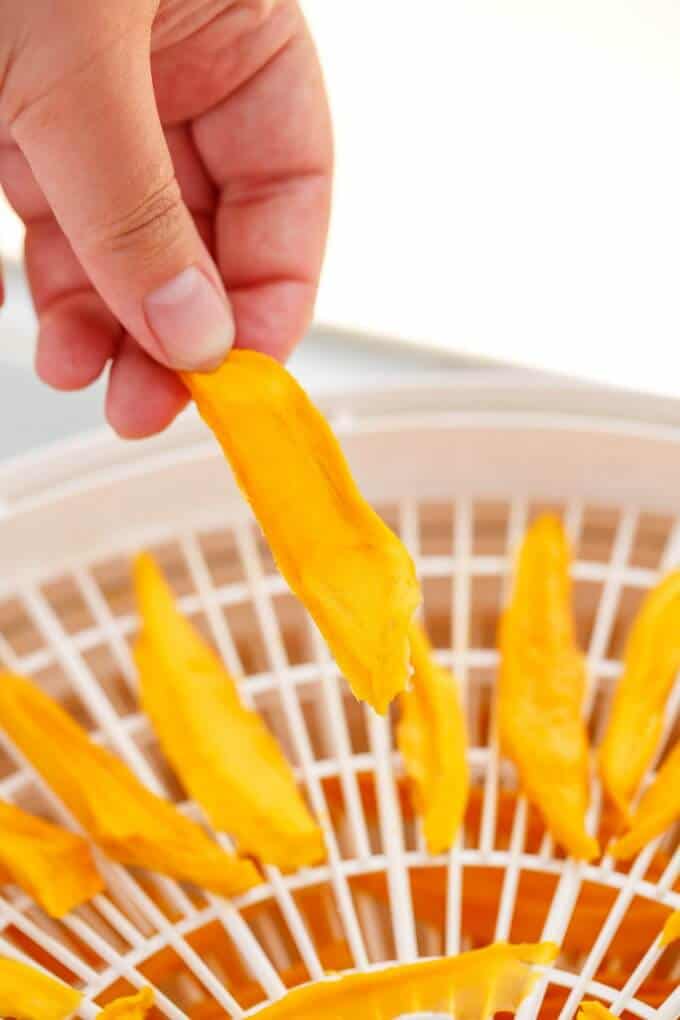 Dried Mango Slices in the Dehydrator
Total Time:
10 hours
15 minutes
A healthy snack with no add preservatives! Perfect for back to school.
Ingredients
8 ripe mango, sliced ¼ - ½ inch thick
Food Dehydrator
Sugar (optional if you want a sweeter result!)
Instructions
Place mango slices into food dehydrator in a single layer.
Cover and cook at 135 degrees for 8-10 hours, or until desired consistency is reached. We started checking around 8 hours. You are looking for a pliable piece of fruit that is not overcooked (that would make mango chips!)
Notes
You can sprinkle the mango in sugar if you like, but we left ours plain and they were perfect!
Nutrition Information:
Yield:

8
Serving Size:

1
Amount Per Serving:
Calories:

204
Total Fat:

1g
Saturated Fat:

0g
Trans Fat:

0g
Unsaturated Fat:

1g
Cholesterol:

0mg
Sodium:

3mg
Carbohydrates:

51g
Fiber:

5g
Sugar:

46g
Protein:

3g
Dried mango slices in the dehydrator are perfect for a back to school snack (or for those of you who are just looking to eat a bit healthier!) I am totally investing in a food dehydrator now, and much like my ice cream machine, it may not be used all the time, but it will be well worth it when I do break it out 🙂
Love these dried mango slices in the dehydrator?! Try some of these recipes: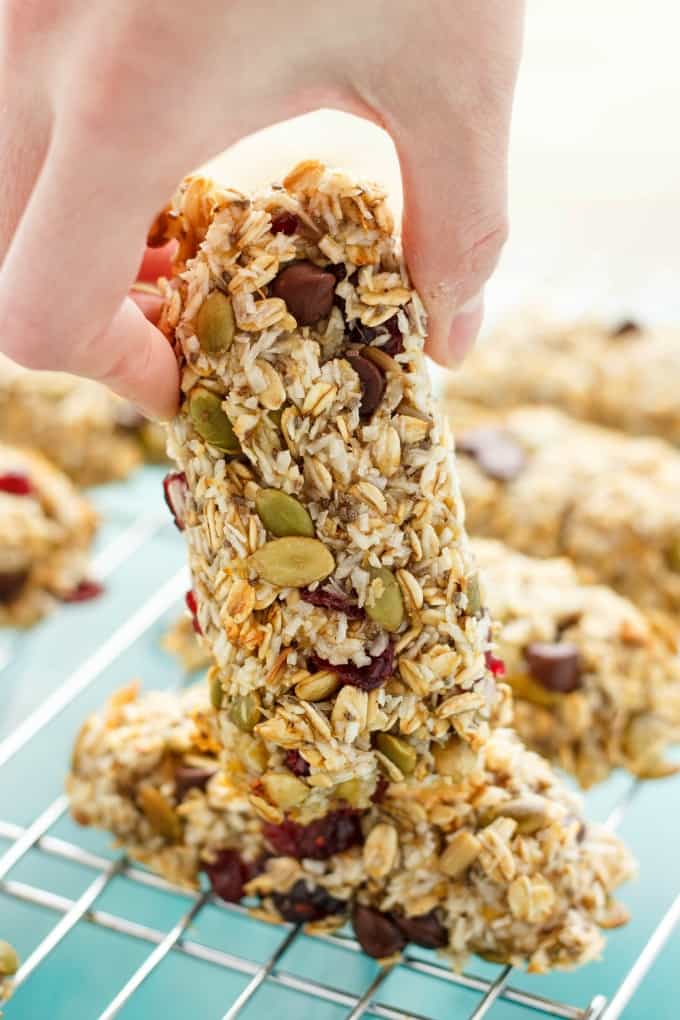 Three Ingredient Banana Granola Bars