A summer dip that is fun and flavorful, this roasted guacamole with bacon is sure to win over all your guests (if it even makes it to them!)
Hi everyone! Kacey from The Cookie Writer back again to share with you a truly stunning appetizer!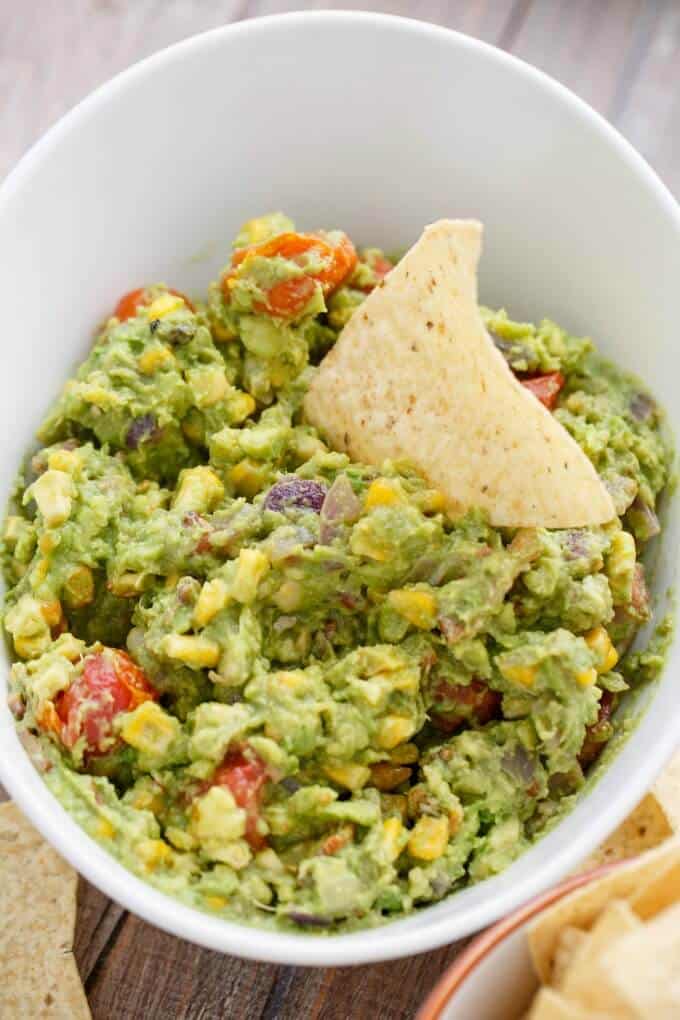 Growing up, one food I automatically said I did not like was guacamole. I admit it now that I never actually tried guacamole in the past. It just looked gross. Of course, my parents had three kids so we were not going to the fanciest of restaurants, but I feel like the restaurants that we did go to always served us mushy looking guac... Restaurants have gotten much better over the years but I still prefer making it at home because I deem my guacamole the best!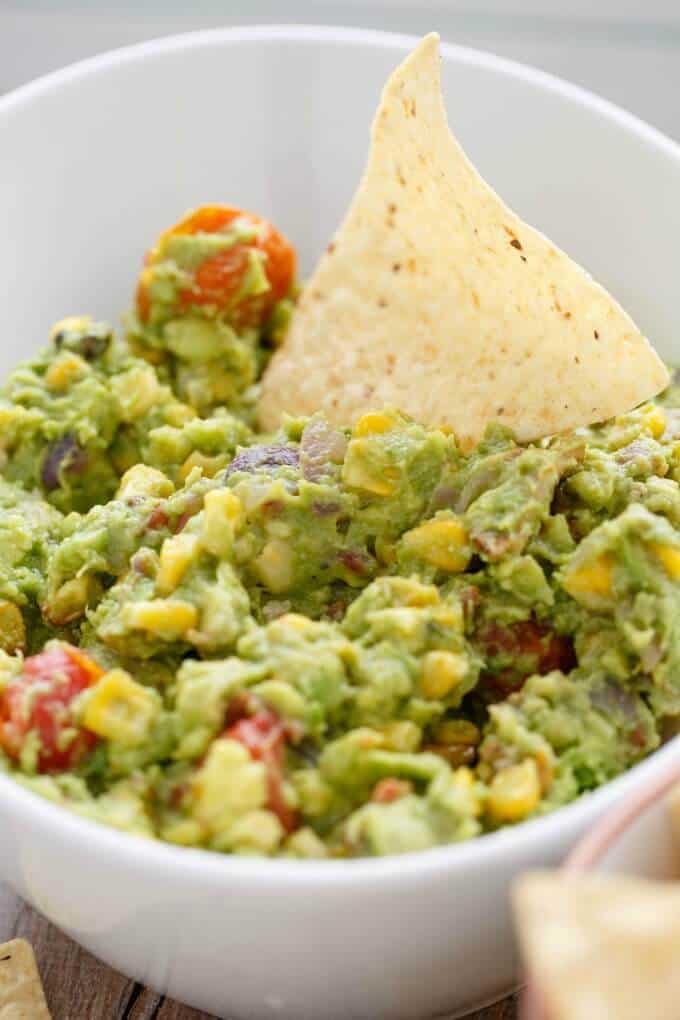 During the summer months, people usually do not want to worry about using their stove. I hear you! But sometimes, just sometimes, something is so special you are willing to break that rule to indulge. This roasted guacamole with bacon is so flavorful, and it is truly bold! The mixture of bacon and roasted veggies really does a lot to ordinary guacamole (not that I am knocking it!) But let's say you don't want to heat up your house. Well, grill your veggies and meat instead! I find roasting and grilling can be quite interchangeable, and with a recipe like this, you don't have to worry too much about cook time conversion. Basically when that bacon gets cooked to your liking, remove it and prepare the guac!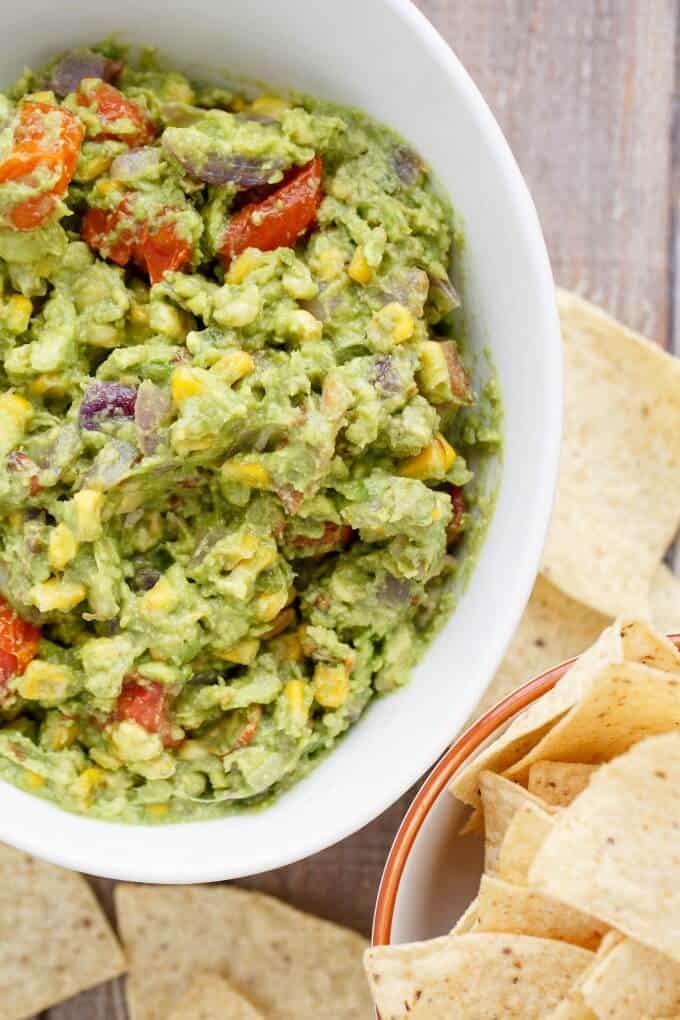 Everything gets roasted in this recipe except for the avocados themselves. I threw everything onto one pan and it worked perfectly. This roasted guacamole with bacon was SO easy I made a video to prove it!
Thanks to my husband for putting the guacamole together (even if I did all the prep!) The avocados were at the perfect ripeness, something I have gotten good at detecting as we make A LOT of guacamole all year round.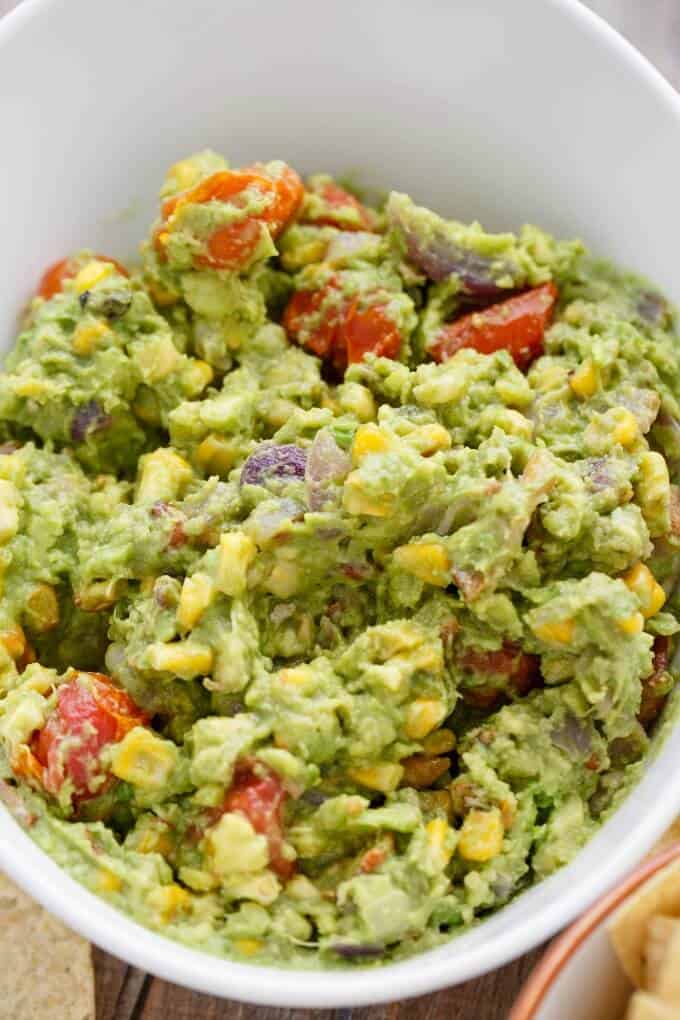 📖 Recipe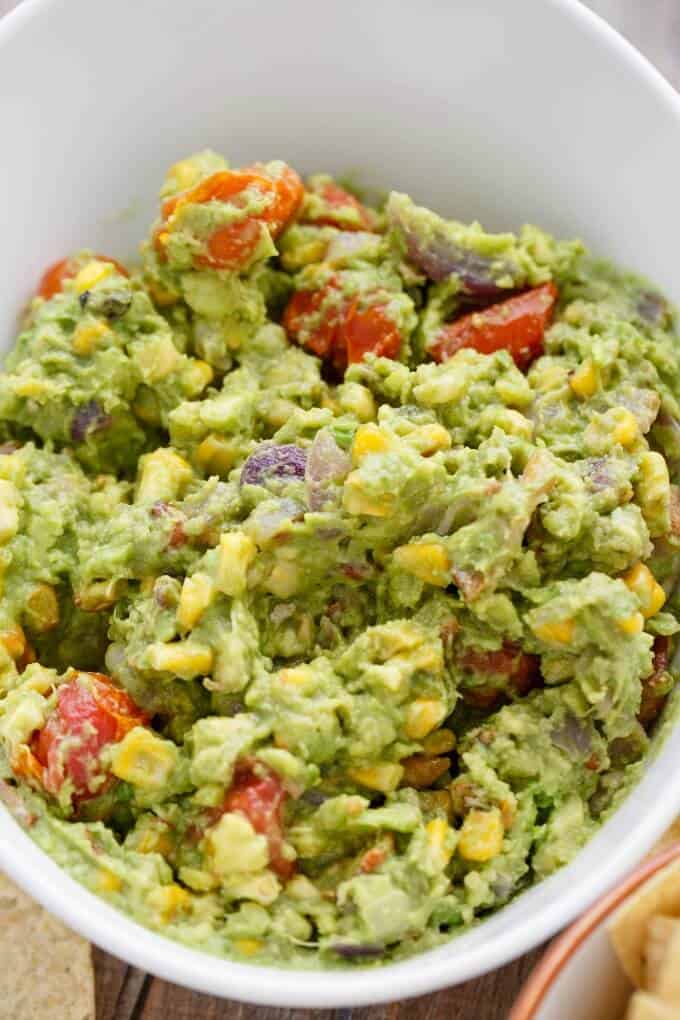 Roasted Guacamole with Bacon
I don't tend to measure my ingredients when it comes to guacamole. Just taste and add as you go!
Ingredients
5 medium avocados, ripe (soft ,not squishy)
5 slices of bacon
1 cup frozen corn
1 medium tomato, diced (or ½ pint cherry tomatoes)
4 garlic cloves, left whole and paper on
1 small lime, juiced
1 small red onion, chopped small
Salt
Instructions
Preheat oven to 425F. Line a baking sheet with parchment paper or silicone mat for easy cleanup.
Place garlic, tomatoes, onion, and corn onto baking sheet and toss. Cover with whole bacon strips. Cook for 10 minutes and then toss everything so the grease spreads over the veggies. Cook for another 5-10 minutes, stirring occasionally until desired consistency is reached. Remove garlic from paper and roughly chop bacon.
Guacamole
Cut your avocados in half and remove pit. Spoon out avocado into a medium-sized bowl. Mash until you reach desired consistency (chunky or smooth.)
Add in garlic, salt, and freshly squeezed lime. Stir to combine.
Add the veggies and bacon and stir again. Cover and refrigerator until chilled.
Give it a taste test to see if it needs more salt or lime.
Serve on its own, with tacos, or burritos!
Nutrition Information:
Yield:

4
Serving Size:

1
Amount Per Serving:
Calories:

528
Total Fat:

42g
Saturated Fat:

7g
Trans Fat:

0g
Unsaturated Fat:

33g
Cholesterol:

14mg
Sodium:

410mg
Carbohydrates:

36g
Fiber:

19g
Sugar:

5g
Protein:

12g
We love the addition of bacon and corn in this guacamole. I actually was inspired by Amanda at The Chunky Chef with her version of a charred corn guacamole. Who wouldn't want corn in their guacamole?! I know I do now, and it may be hard to make it without the corn...
Love this roasted guacamole with bacon?! Try some of these recipes: