I created something dangerous today.
Well, it was more like last week, but nonetheless, it was an awesome meal! I was expecting company over and decided to be a bit crazy and create a guacamole pizza! This was the perfect opportunity to make the guacamole pizza because I was worried with only Mr. TCW, myself, and kiddo, we would not be able to eat it in time before it turned brown (you know how avocado is.) But my company ended up having to postpone and I had already cooked the pizza dough in the oven so I was committed now.
One word: Amazing! We loved it! There were no worries about the pizza going bad because we gobbled it all up (Mr. TCW did take some slices for lunch the next day, but the avocado held up fine.) I am proud to say that my creation of guacamole pizza worked!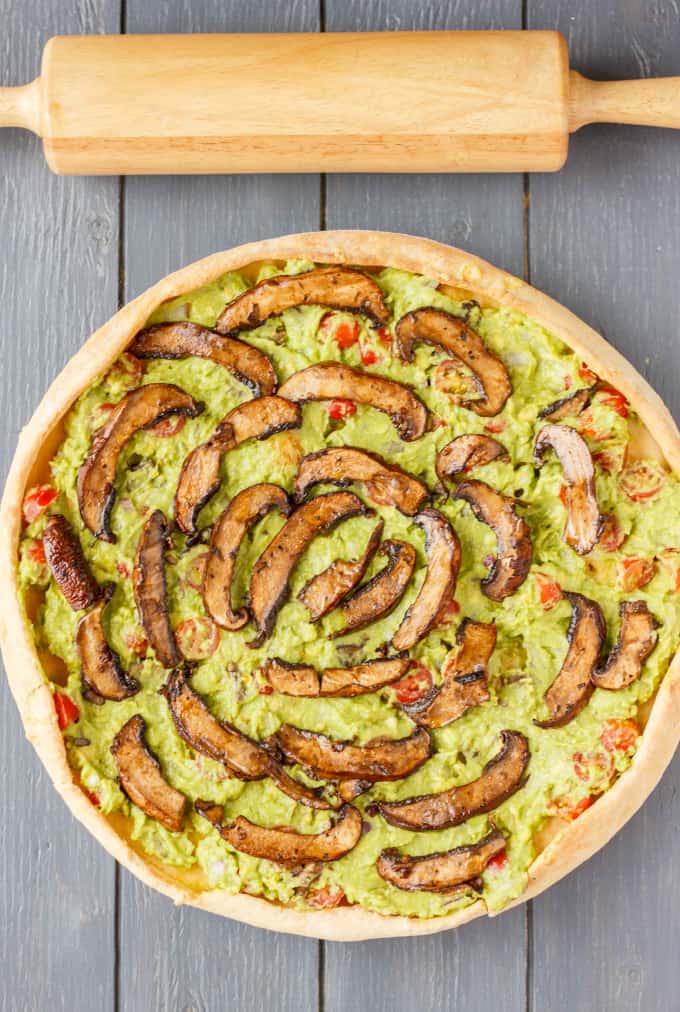 What brought this idea on you ask? Mr. TCW and I are HUGE avocado and guacamole fans. I wasn't in the mood to make tortillas, so burritos and tacos were out of the question. I thought, I have made some funky pizzas in the past, why not try guacamole as a topping? I was going to cook the guacamole on the pizza because a local restaurant out here cooks their chicken with an avocado mixture on top, however, I was really worried about the guacamole turning brown. To be safe, I cooked the pizza on its own with some cheese, and then finished the guacamole pizza by placing the ingredients on the cooked pizza dough.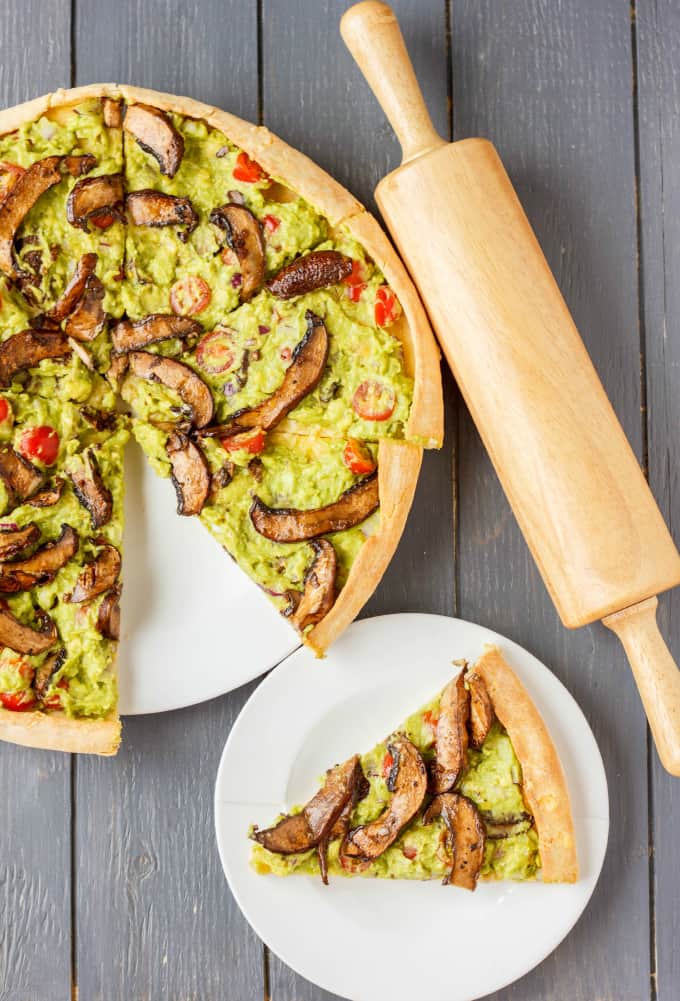 AMAZING.
You have my word.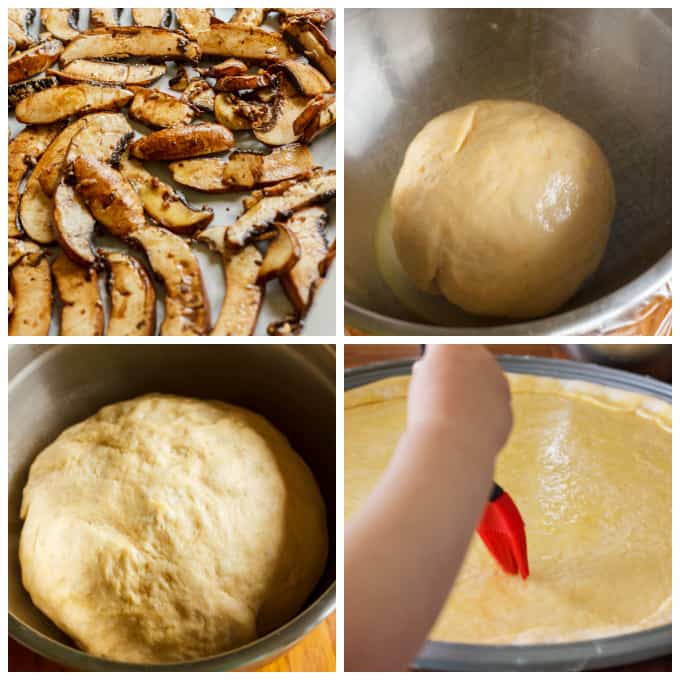 📖 Recipe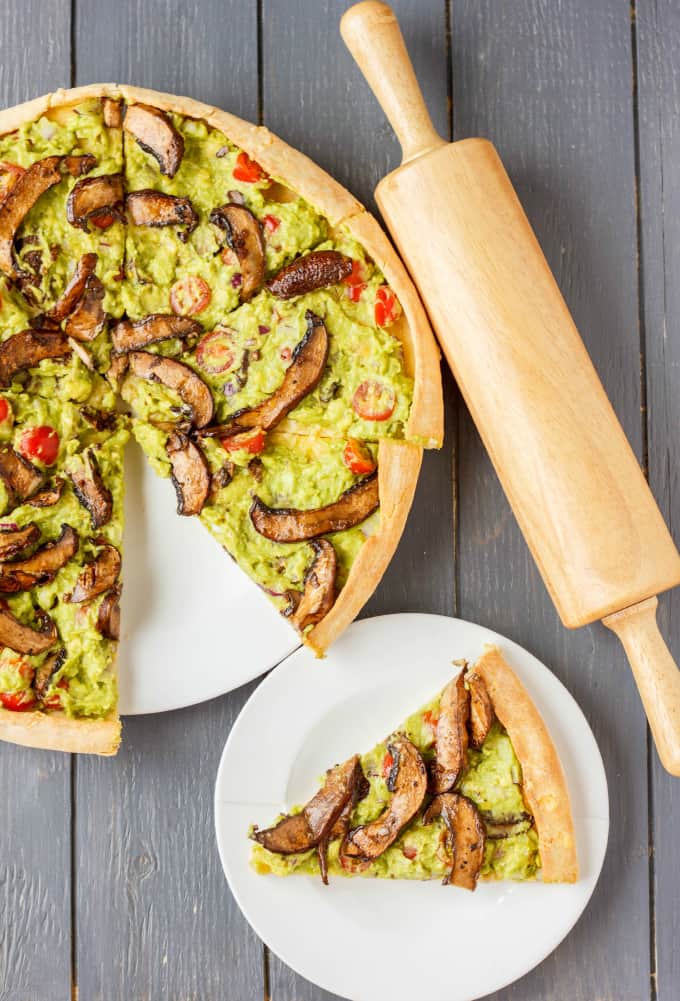 Guacamole Pizza
Total Time:
1 hour
5 minutes
Homemade pizza dough topped with heavenly guacamole, and hearty portobello mushrooms to create this vegan guacamole pizza.
Ingredients
Mushrooms:
2 portobello mushrooms, sliced
3 garlic cloves, minced
1 tbsp. olive oil
2 tbsp. balsamic vinegar
¼ tsp. salt
Dough:
2 cups all-purpose flour
2 ¼ tsp. instant dry yeast
1 tsp. sugar
1 tsp. salt
⅔ cup warm water (105-115F)
2 tbsp. olive oil (I used a cayenne-infused olive oil, so that accounts for the reddish tone to the dough!)
Guacamole:
3 large avocados, ripe (soft not squishy)
2 garlic cloves, minced
½ lime
Instructions
For the guacamole:
Cut your avocados in half and remove pit. Spoon out avocado into a medium bowl. Add in garlic, salt, and freshly squeezed lime. Mash avocado until smooth. Add the tomatoes and onion, stirring until combined. Cover and refrigerator until chilled, probably a good hour. Give it a taste test to see if it needs more salt or lime.
For the mushrooms:
Preheat oven to 425F. Line a baking sheet with parchment paper.
Toss the portobellos in a large mixing bowl with the olive oil, salt, balsamic vinegar, and garlic. Mix gently until combined and all mushrooms are coated. Place onto baking sheet and cook for 15 minutes. Remove and set aside.
For the crust:
Add the water and oil to the bowl of your stand mixer. In a separate bowl, sift together the flour, sugar, yeast, and salt. Attach the dough hook to your stand mixer and start the mixer on low. Carefully add the flour mixture to the wet mixture, increasing the speed of the mixer as needed. Mix until the dough forms a ball and clears the sides of the mixer.
Lightly flour your counter. Place the dough on top and knead until smooth and elastic, between 5-7 minutes. Lightly grease the bowl of your stand mixer and set the dough inside, rotating the bowl so the dough becomes coated in oil. Cover and set aside for 1 hour (or until dough has doubled in size.)
When ready to use, preheat oven to 475F. Deflate the dough by punching it and pouring onto your floured countertops. Roll out into a large size pizza crust and place onto your pizza pan. Brush dough with olive oil (if using cheese, place it on top of the oiled dough now) and bake for 10-12 minutes, or until golden brown and desired consistency is reached.
Pizza assembly:
Spread the guacamole across your COOKED pizza dough. Once smooth, top with the portobello mushrooms. Cut and serve!
Nutrition Information:
Yield:

1
Serving Size:

1
Amount Per Serving:
Calories:

2518
Total Fat:

142g
Saturated Fat:

24g
Trans Fat:

0g
Unsaturated Fat:

109g
Cholesterol:

28mg
Sodium:

3758mg
Carbohydrates:

278g
Fiber:

55g
Sugar:

21g
Protein:

54g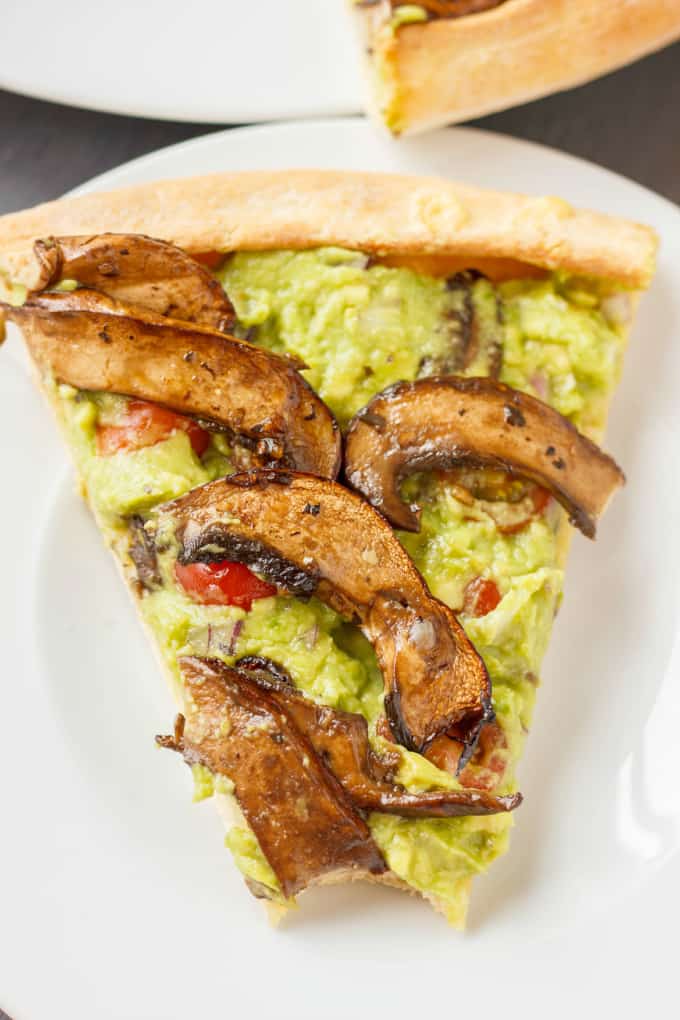 Now, I know everyone doesn't have the time to make homemade pizza dough along with homemade guacamole. In this case, you could use store-bought pizza dough as well as pre-made guacamole. Or, make the guacamole in advanced to take all the stress of making the items at once. But no matter what, you need to roast those portobello mushrooms. They add the perfect texture and flavor to the guacamole pizza.
And best part about this recipe? It is vegan! I placed cheese on mine, but it really isn't necessary. Use a gluten-free dough and you have a gluten-free guacamole pizza.