Woohoo! Today I present you with my favorite appetizer, ever! I make it for any get together, and I have slowly brought people over to the dark side with me. My sister is not a spice lover, but she LOVES these cheese stuffed jalapenos. And who wouldn't? They are packed full of cream cheese, cheddar cheese, and blend of spices, and my added addition of fresh garlic and mushrooms. Feeling even more daring? Wrap them in bacon as the original recipe called for!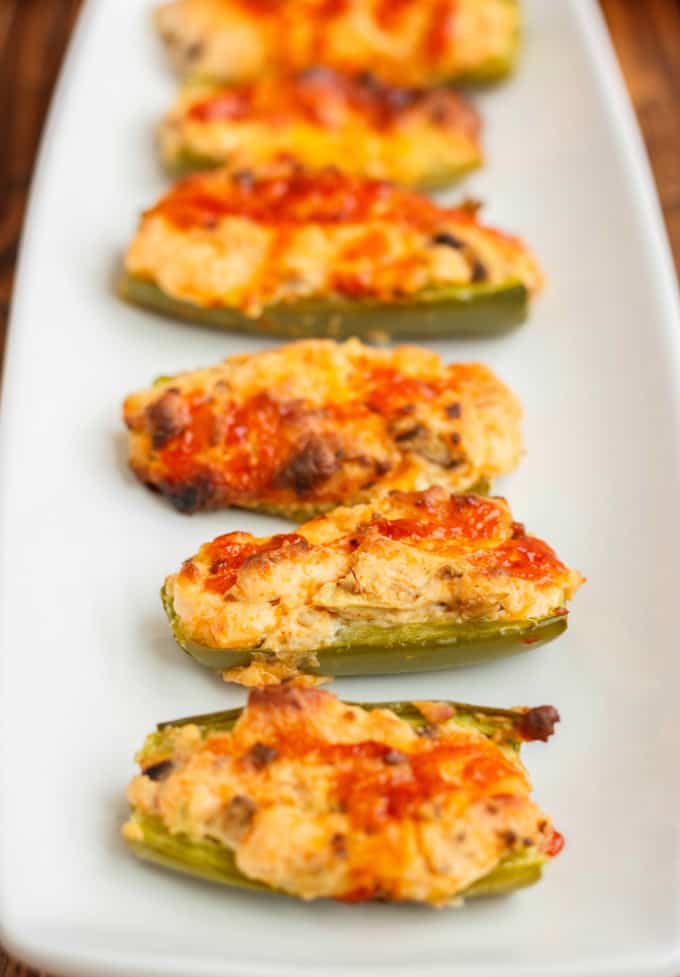 I had these posted on my blog, but the link was giving me troubles so I removed the page entirely. I will probably add the old pictures at a later time, but for now you can still enjoy this amazing recipe! Be warned though, working with jalapenos can be a bit "dangerous." Haha, nothing serious, but if you plan to make a lot of these cheese stuffed jalapenos, I suggest wearing gloves or placing bags over your hands so the oils can't reach your skin. I didn't wear protection on my hands once and never again! They burned for hours! Plus, you may want to rub your eye or nose later and some of the oils may still linger on your hands, ever after washing, which will result in some painful events. Don't say I didn't warn you!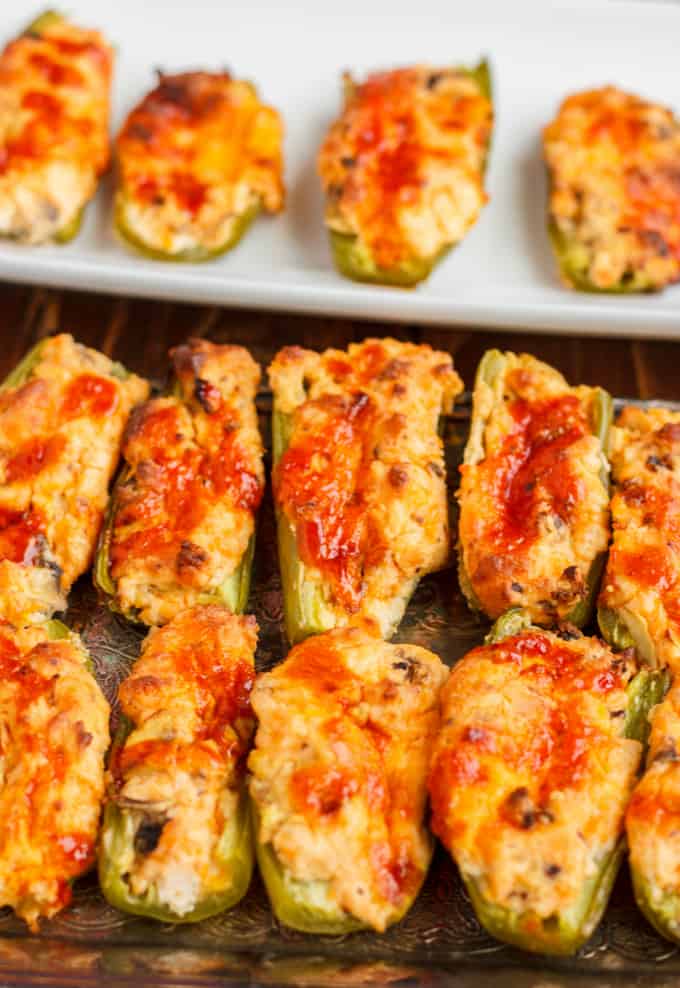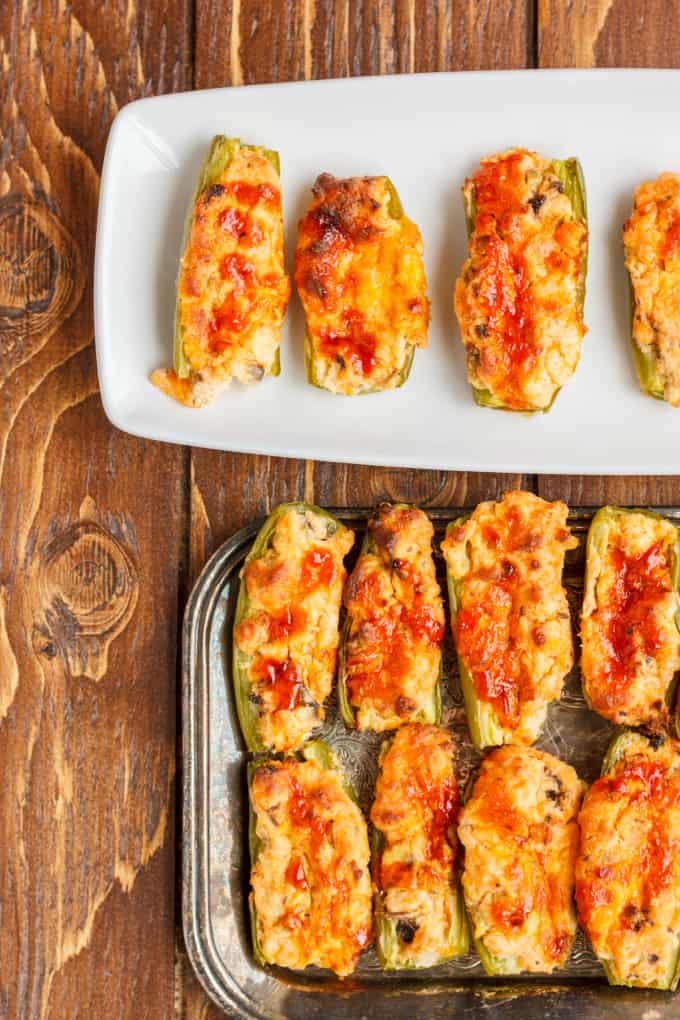 📖 Recipe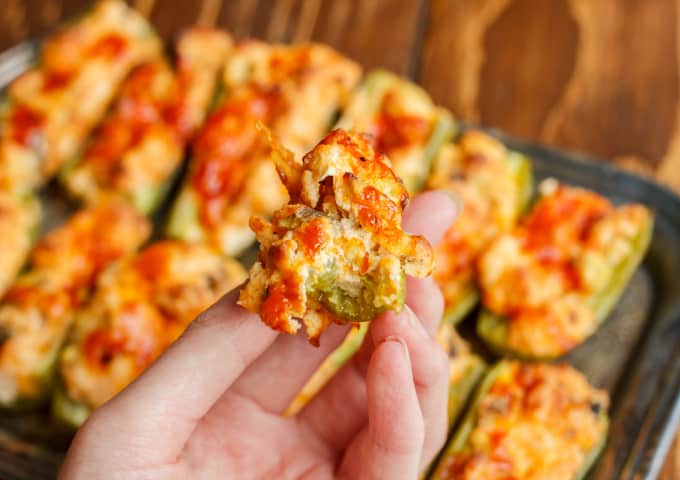 Mushroom and Cheese Stuffed Jalapenos
Mushrooms and fresh garlic are a perfect addition to these cheese stuffed jalapenos. Perfect bite-size appetizer to serve at any party.
Ingredients
10-12 small to medium-sized fresh jalapenos, halved and seeded.
1 (250g) package cream cheese, room temperature
¾ cup cheddar cheese, grated
¼ tsp. cumin
¼ tsp. paprika
2 garlic cloves, minced
2-4 button mushrooms, diced small
Bottle of your favorite BBQ sauce!
Instructions
Preheat oven to 375F.
Line your baking sheet with parchment paper or aluminum foil.
Add the cream cheese and spices to a mixing bowl. Work the spices into the cream cheese, trying to evenly blend it so no one bites into one jalapeno and gets a huge burst of spiciness! Stir in the garlic and mushrooms. Lastly, mix in the cheddar cheese until combined.
Using your hands, mold the cheese mixture into each jalapeno half.
Pour a line of BBQ sauce across the top of each jalapeno.
Bake for 20-30 minutes.
Nutrition Information:
Yield:

4
Serving Size:

1
Amount Per Serving:
Calories:

133
Total Fat:

10g
Saturated Fat:

5g
Trans Fat:

0g
Unsaturated Fat:

3g
Cholesterol:

28mg
Sodium:

249mg
Carbohydrates:

6g
Fiber:

1g
Sugar:

4g
Protein:

6g
If you are looking for an easy appetizer to please your guests, this is the one. I have even made them in advance, stuffing the jalapenos and placing them onto the baking tray. Then I wrap the sheet in plastic wrap and store in the fridge until ready to cook. The best part, straight from the fridge and into the oven results in less of a chance of the cheese melting during the baking time. However, even without refrigerating, I haven't had a problem with the cheese running everywhere. I think it happens if you add too much cheddar cheese (which happens when you don't feel like measuring!)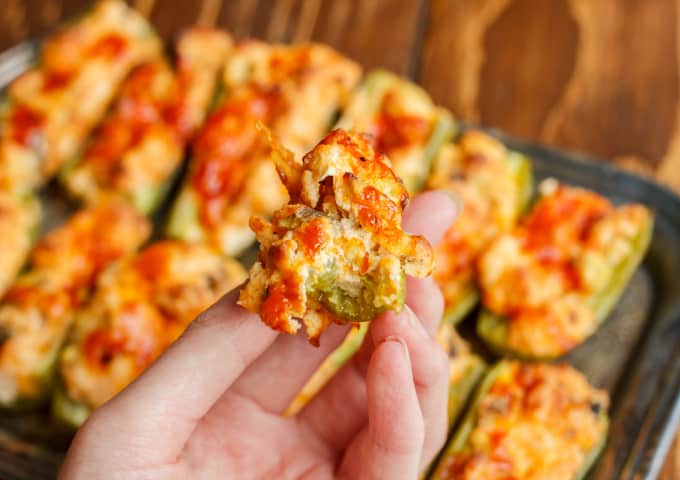 Double, triple, or even quadruple the recipe because I assure you, they will not last long!