Zesty and festive, these chocolate dipped orange cookie crinkles are perfect for Valentine's Day (or any time of the year!)
I am kind of cheating today!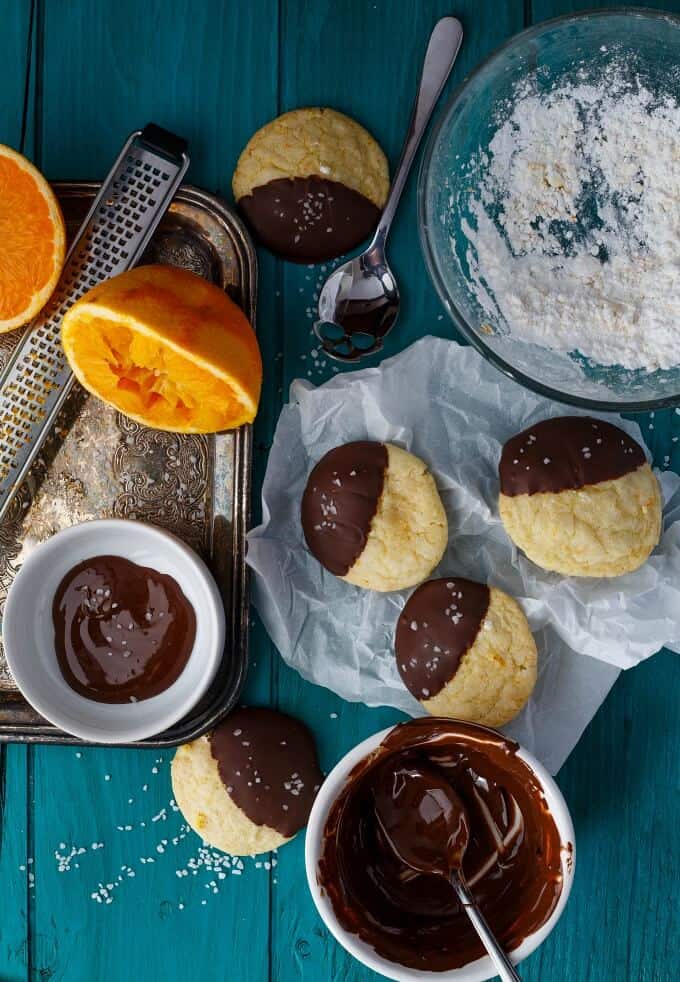 This recipe is based off my Orange Cookie Crinkles, which I posted last week. As this recipe has worked many times for me, both with orange and lemon flavors, I knew I would be using it again.
Now, this time around I didn't change it at all. I may have added more orange zest, but that is about it. They were perfect as is. But I wanted to spruce things up and immediately my mind went to the pairing of chocolate and orange.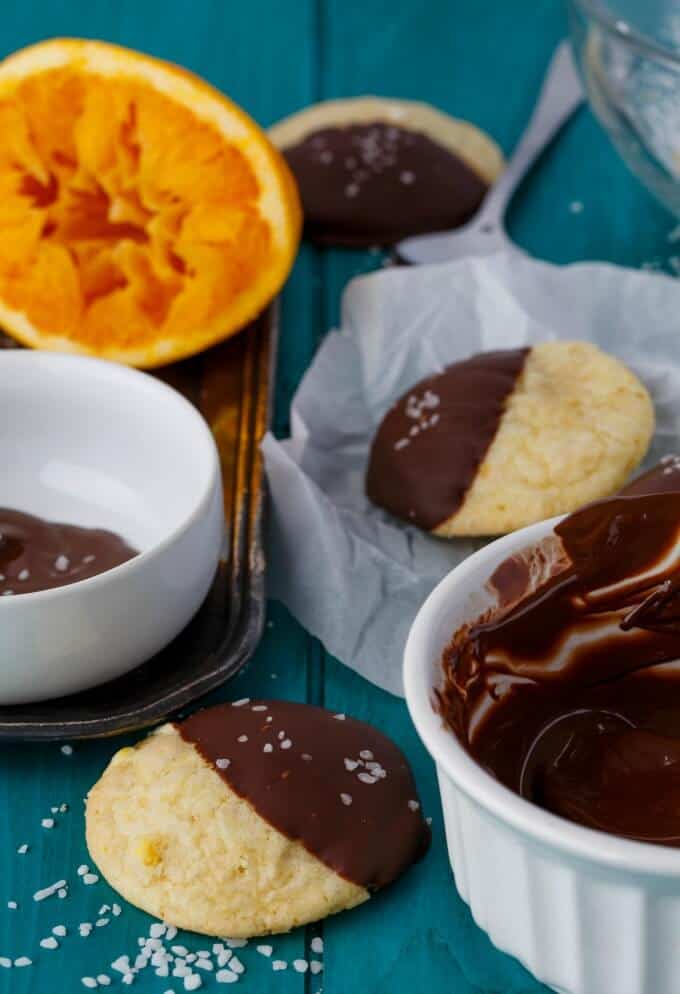 Easy, delicious, and a show-stopper! All you have to do is make a batch of these wonderful orange cookie crinkles and dip them into melted chocolate.
You can throw in some coconut oil into the chocolate to make a silkier texture, but just plain chocolate will work too. UPDATE: I love using coconut oil in my chocolate, but you will want to store these cookies between wax paper layers so the chocolate does not melt/stick to the other cookies. Refrigeration is key!
If you feel like going a step further like I did, once you dip half the cookie into the chocolate and place it onto parchment paper, take some coarse salt or sea salt, and sprinkle some onto the wet chocolate. This way, when the chocolate firms up, you get a wonderful taste of orange, chocolate, and this bite of salt. It works so wonderfully together, trust me! But if you don't want that extra salt, feel free to leave it out.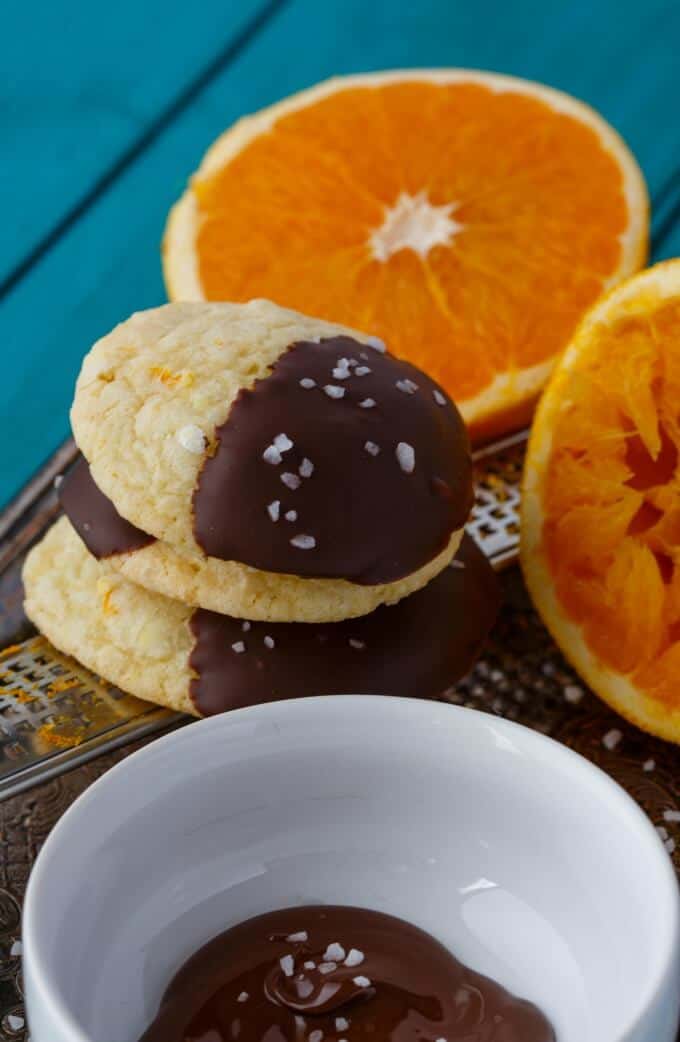 📖 Recipe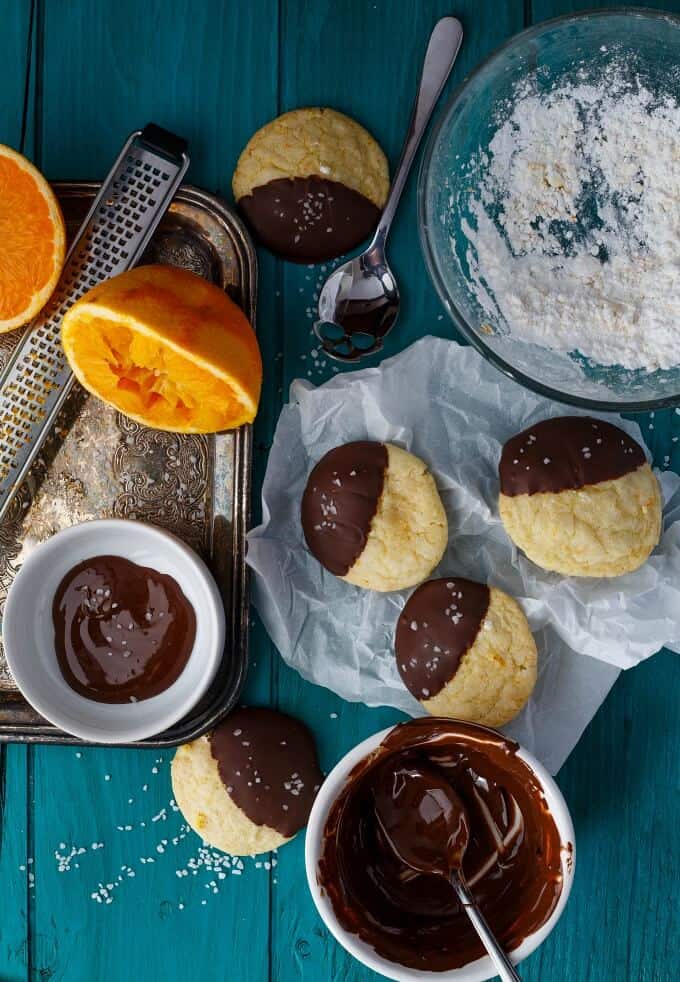 Chocolate Dipped Orange Cookie Crinkles
A twist on the usual orange cookie crinkles resulting in a half-dipped chocolate cookie that will blow you away!
Ingredients
½ cup butter, room temperature
¾ cup granulated sugar
½ tsp. vanilla extract (or sub in some orange extract!)
1 egg, room temperature
3 tbsp. freshly squeezed orange juice
2 tbsp. orange zest
⅛ tsp. salt
¼ tsp. baking powder
¼ tsp. baking soda
1 ¾ cups all-purpose flour
Topping
¼ cup confectioners' sugar
1 tbsp. orange zest
Chocolate Dip
½ cup semi-sweet chocolate (or your favorite!)
½ tbsp. coconut oil
Coarse salt or sea salt (optional)
Instructions
Preheat oven to 350F. Line baking sheet with parchment paper or silicone mat.
Add the butter, granulated sugar, and orange zest to the bowl of a stand mixer. Cream until light and fluffy (5-7 minutes.)
Add the vanilla extract, egg, and orange juice. Mix until combined.
Sift together the flour, baking soda, baking powder, and salt. Add to the mixer ½ cup at a time, mixing until just combined.
Measure out 1 tablespoon-sized balls and roll into balls.
Shake the confectioners sugar onto a plate and mix in the remaining orange zest. Roll the balls into it, coating evenly.
Place onto baking sheet and bake for 8-10 minutes.
Cool for about 5 minutes on pan and then finish cooling on wire racks.
Dip
Combine chocolate and coconut oil. Microwave until smooth.
Once fully cooled, take each cookie and dip them halfway into the melted chocolate. Move the cookies to a clean piece of parchment paper and continue until no cookies remain. If desired, sprinkle each chocolate half with salt. Allow cookies to sit at room temperature until the chocolate firms up, or move to refrigerator for faster results.
Store between wax paper sheets in the refrigerator.
Notes
The dough is really sticky. I use a cookie scoop and immediately dump the dough into the confectioners' sugar. No more stickiness that way!
Nutrition Information:
Yield:

24
Serving Size:

1
Amount Per Serving:
Calories:

121
Total Fat:

6g
Saturated Fat:

3g
Trans Fat:

0g
Unsaturated Fat:

2g
Cholesterol:

18mg
Sodium:

112mg
Carbohydrates:

17g
Fiber:

1g
Sugar:

10g
Protein:

1g
So, where does the cheating come in? No new recipe is presented, but I did spice up the end result! Sometimes a busy schedule calls for a change of pace, but I assure you, there will be many new recipes in the future (and sometimes, there will be recipes that are only slightly tweaked.)
I find when I create a recipe, my mind automatically goes to another place and starts to wonder how I can change this recipe for the better, or how I can create a unique twist to present to my readers. Sometimes I act on those urges, but often times I do not have the time with all the other recipes I want to create or try. What I am trying to say is, being a food blogger, you have so much you want to present to your readers, but only so much time to do so. And then more ideas enter your mind and you begin to push away those past ideas because you get excited with these new creations. Thankfully I write my ideas down so I can eventually come back to them (whenever that may be!)
Love these chocolate dipped orange cookie crinkles?! Try some of these recipes: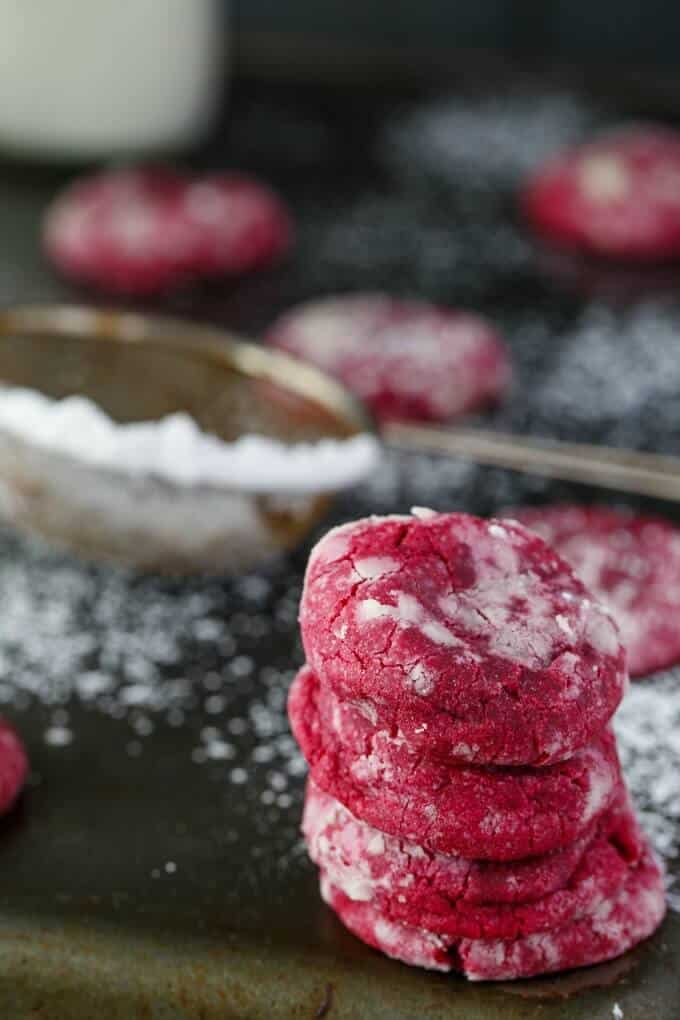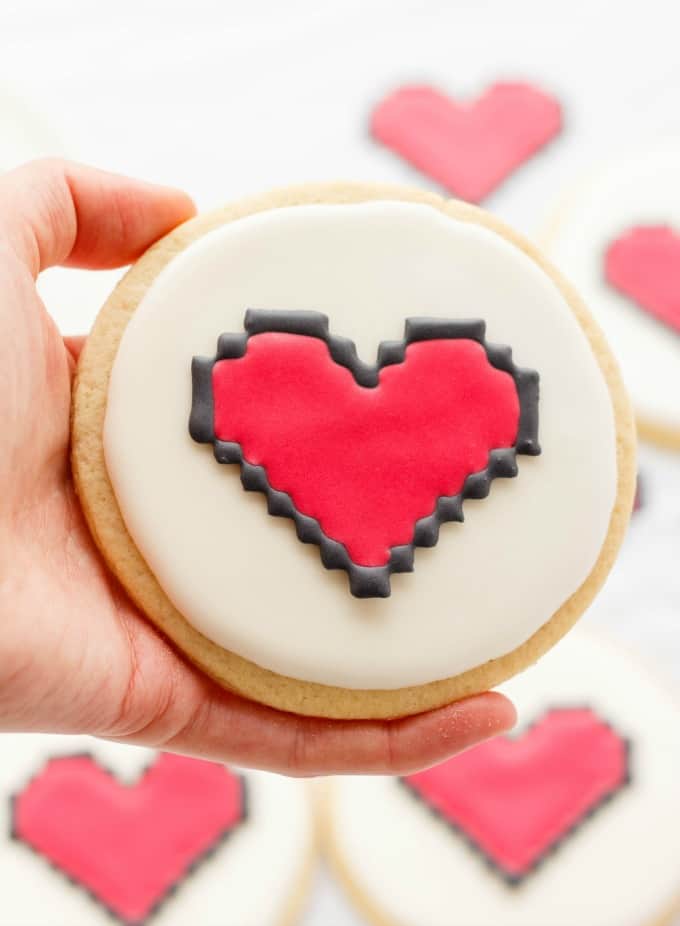 8 Bit Heart Cookies (No Special Cookie Cutter Necessary!) (Cookie Geek #2)