Carrot cake and almond Swiss meringue buttercream?! Count me in with this giant cupcake for Easter (who doesn't think the idea of a bunny hiding in the grass and dirt is cute?!)
I have had this cake idea set in my head for some time now, but it was the matter of getting to it!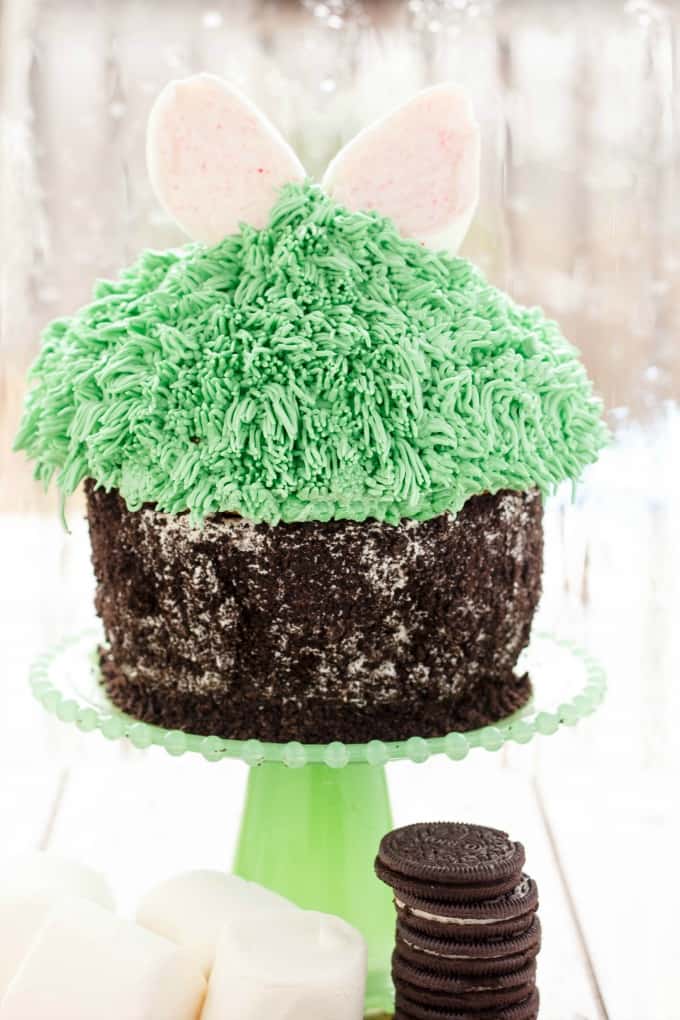 I won't lie. I bought many boxes of Oreos with the good intention of actually completing this giant cupcake for Easter... Yeah, I ate a lot of Oreos. A lot. No shame! I had not had Oreos in years, so when that first cookie hit my mouth I knew I was in trouble. Thankfully I saved enough Oreos to make the dirt liner for the cake! After finally getting around to the cake, I realized that my procrastinating was a good thing. Originally I was just going to go with a chocolate cake: much like my previous giant cupcake creations. But then it hit me: Easter means carrot cake!! Yes people, this giant cupcake for Easter is actually a gigantic mass of carrot cake wrapped in almond Swiss meringue buttercream!
As I work with this pan (and cakes in general) I learn something new each time. Getting the Oreo crumbs to stick wasn't too bad. However, my daughter and I processed 8 Oreo cookies with the cream still in the middle. The finished result reminds me a lot of potting soil. You could easily scrape the white icing out (or just buy the chocolate cookies) but the end result makes me think of real dirt and how it is never perfect.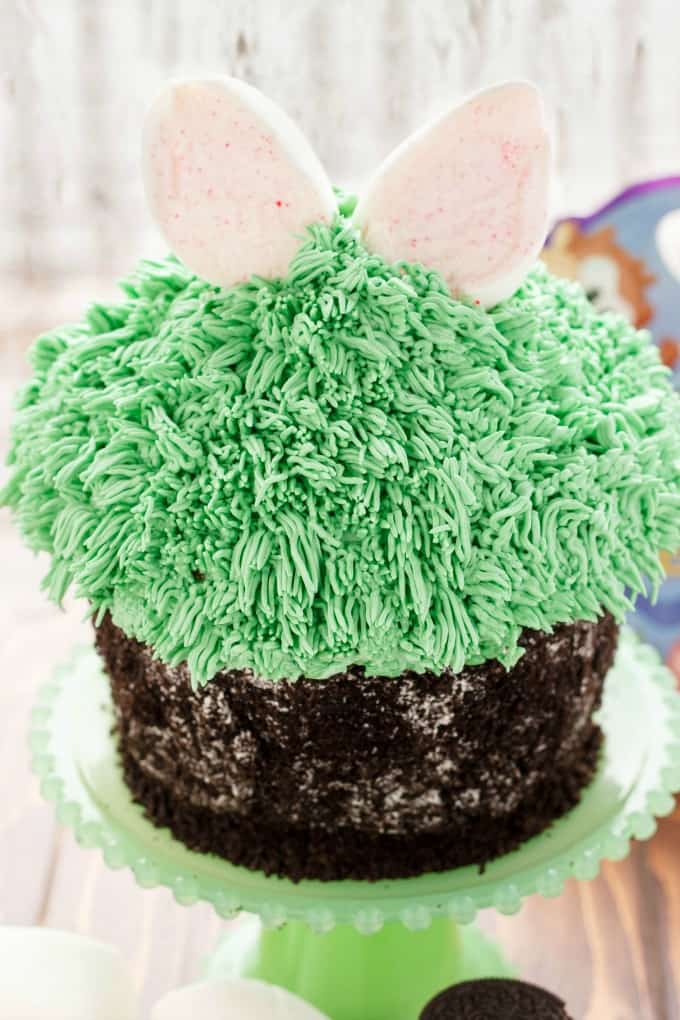 Another idea came to mind: the icing was reallllly hard to get grass green. I swear I have 3 or 4 different shades of green food coloring hanging around and I could still NOT master the grass color. Maybe coconut would have worked nicely to get that effect. However, as I already had to mash my hands into a cake to get the crumbs to stick, trying to get coconut to stick would probably have been my breaking point 🙂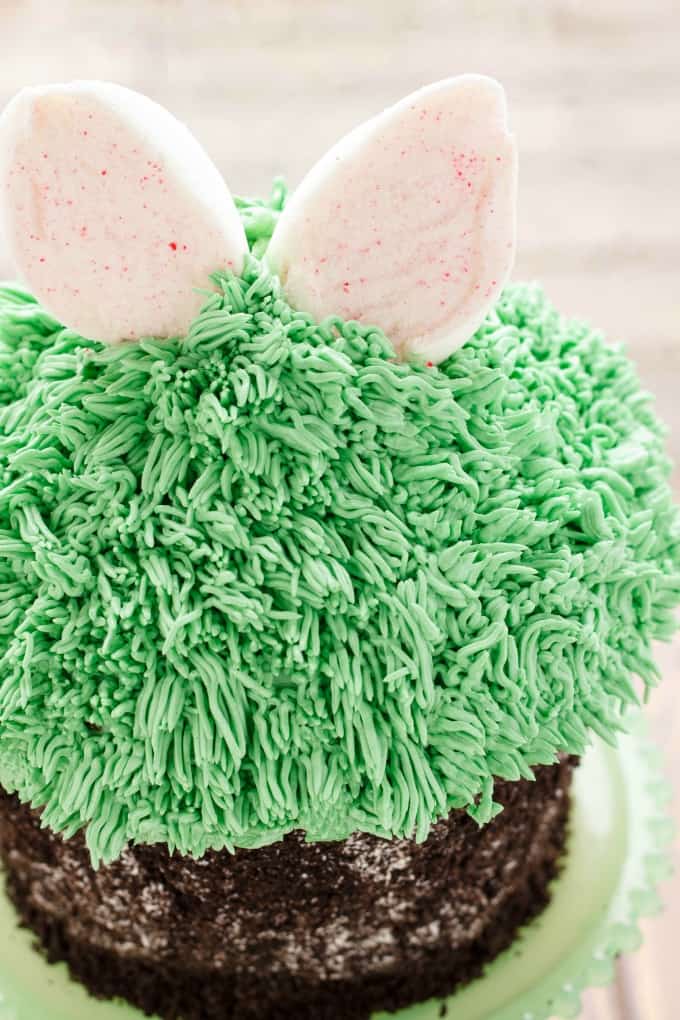 And on that final note, you should totally recognize the marshmallow bunny ears! I seriously love this idea and used them in my marshmallow bunny ear pudding cups, but much thanks again goes to Styling My Everyday. I wanted to use sugar cookie bunny ears here but after baking the cake and making the icing, I just did not want to bake anymore. You could easily use smaller marshmallows and have multiple bunnies "hiding in the grass."
📖 Recipe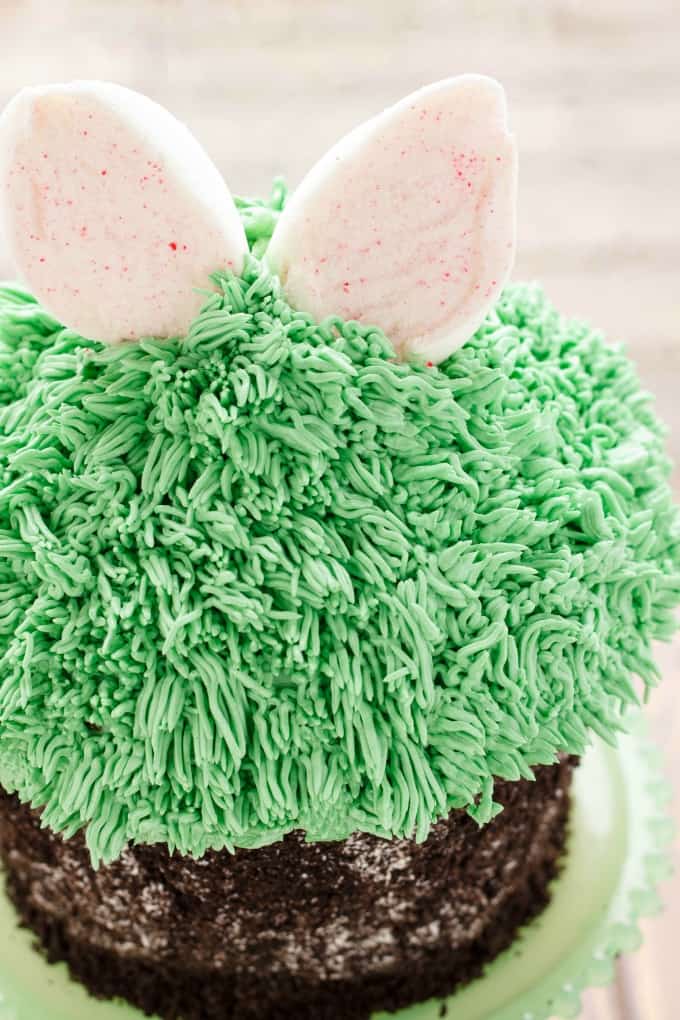 Giant Cupcake for Easter (Bunny Hiding in the Grass)
Cook Time:
1 hour
10 minutes
Total Time:
1 hour
40 minutes
The giant cupcake pan can be a bit of a pain to work with as the one side cooks faster than the other! You can cook the two pieces separately, or risk overcooking the one half (I left mine as is and had no problem with moisture!)
Ingredients
1 lb carrots (approximately 3 large.), grated
3 eggs, room temperature
1 cup brown sugar
1 cup granulated sugar
1 cup coconut oil, melted
½ cup buttermilk, room temperature
2 tsp. vanilla
2 ½ cups all-purpose flour
½ cup cake and pastry flour
1 ½ tsp. baking soda
1 tsp. baking powder
½ tsp. salt
2 tsp. ground cinnamon
½ tsp. ground ginger
½ tsp. nutmeg
1 cup unsweetened, toasted coconut (optional)
1 small apple, peeled, grated
Buttercream
5 egg whites, room temperature
1 ¼ cups granulated sugar
1 ½ cups butter, room temperature
2 tsp. almond extract
Toppings
Green food coloring
Giant marshmallows or regular-sized ones
Pink sugar
8 Oreo cookies, processed in food processor
Instructions
Preheat oven to 350F. Grease giant cupcake pan with shortening and sprinkle with flour. Shake out any excess flour after coating.
In the bowl of your stand mixer, add the coconut oil and sugars. Beat well. Add eggs one at a time, mixing very well between each. Mix in vanilla.
Sift together the flours, baking soda, baking powder, salt, cinnamon, ginger, and nutmeg. Alternatively add the dry ingredients and the buttermilk to the egg mixture, starting and ending with the dry stuff.
Stir in carrots, apple, and coconut if using. Pour into giant cupcake pan (I found I filled mine nearly to the top in each and did not have any issues.)
Bake for 55-65 minutes (checking with a toothpick!) Allow to cool until you can turn the pan upside down with your hands. Allow to cool completely outside of pan before decorating.
Buttercream
To make the buttercream, please follow the instructions given in my Swiss meringue buttercream tutorial. We are using almond extract instead of vanilla in this case.
Assembly
Place bottom portion of cake onto cake stand. Cover with white icing. Take your crushed Oreos and apply them the best you can to the bottom liner. This is the dirt layer.
Add the top piece and cover in green icing. Cut your marshmallow in half diagonally and dip the sticky parts in pink sugar. Apply your bunny ears on the cake. Using a Wilton grass tip, apply your grass design (this tip is awesome!) I added some extra buttercream behind the bunny ears to hold them in place.
Nutrition Information:
Yield:

12
Serving Size:

1
Amount Per Serving:
Calories:

851
Total Fat:

48g
Saturated Fat:

33g
Trans Fat:

1g
Unsaturated Fat:

11g
Cholesterol:

119mg
Sodium:

635mg
Carbohydrates:

99g
Fiber:

4g
Sugar:

64g
Protein:

9g
Soooo, as I have mentioned before, the giant cupcake pan can be interesting to work with. The one side tends to cook faster than the other because they are sized differently. I found with this carrot cake that even though I had to cook the cake for over an hour, the one side did not dry out. However, I am really skeptical using this pan with a white or vanilla cake. An easy remedy would be to cook the two halves separately. But who has time for that?! Basically, when it comes to this giant cupcake for Easter, test the bottom/liner portion of the cake with a toothpick first, because chances are, even if the top layer is cooked, the bottom will not be.
Love this giant cupcake for Easter (bunny hiding in the grass)?! Try some of these recipes: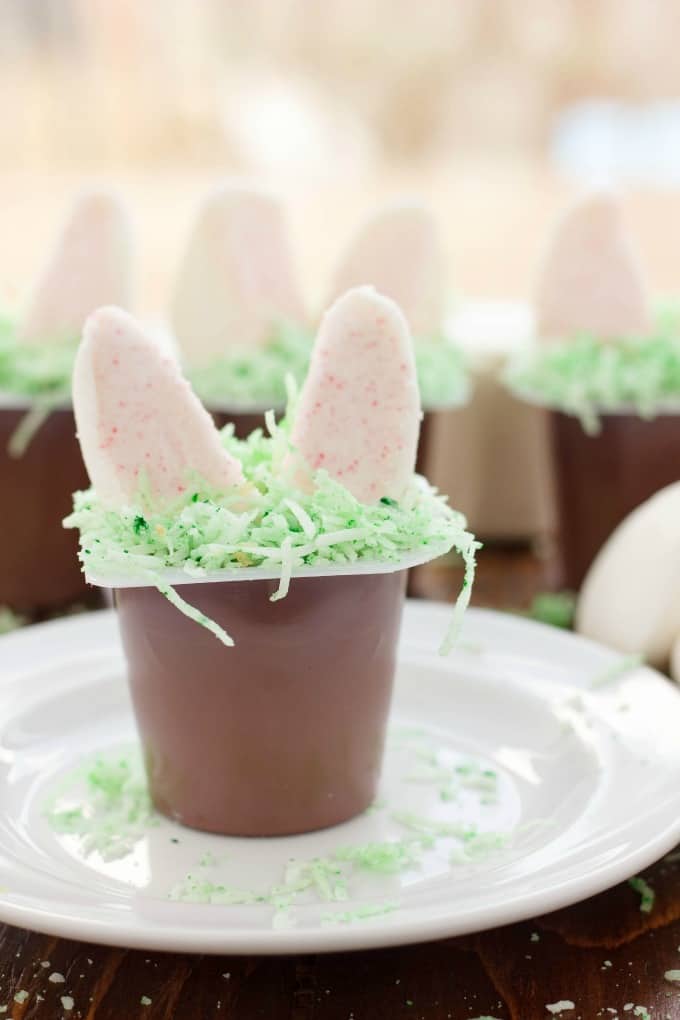 Marshmallow Bunny Ear Pudding Cups