Don't let those painted eggs go to waste when you can make these jalapeno popper deviled eggs! Omit the bacon and you have one awesome vegetarian appetizer.
I tend to pre-write posts for many reasons. One of the big draws to this method is that I can come back to the post and look at it with fresh eyes. It is the same with editing pictures. I'll edit a bunch, then walk away, because you know when you come back you will see things differently. Sometimes I write a couple of days in advance, and others, like today's post, was written a few hours before posting! It has been one crazy week again and with Easter popping up so early, it just means more busyness...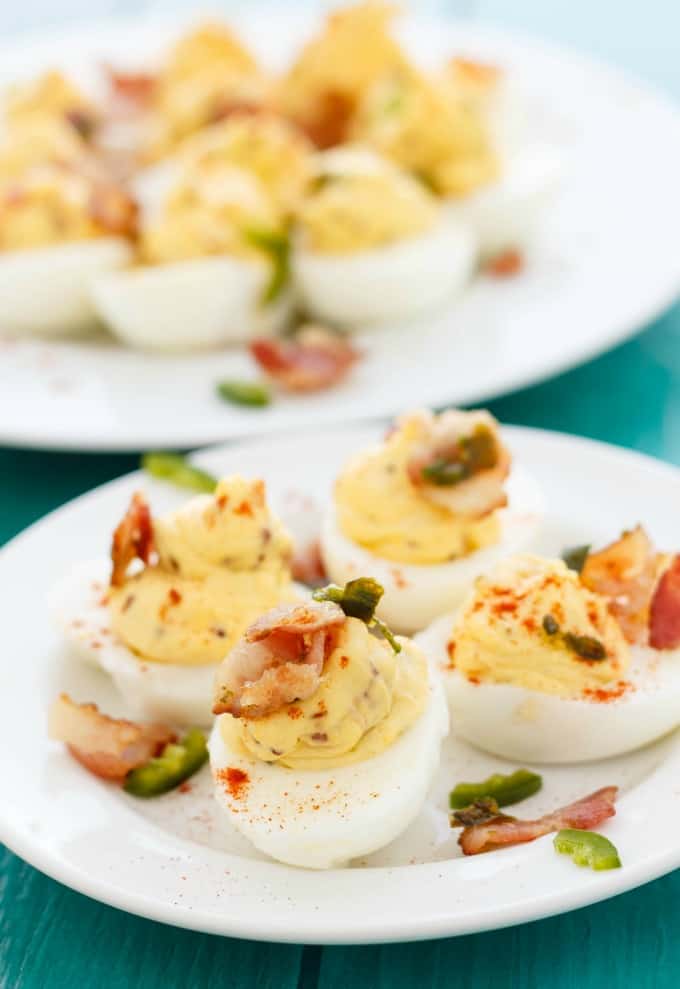 But hey! With all the craziness I still managed to create these jalapeno popper deviled eggs that I have had my eye set on since I first began thinking of Easter creations. Lots of hard boiled eggs are made around this time so kids can paint them, but you can only eat so many before going nuts. Actually, I have already made another post about hard boiled eggs on Julie's Eats & Treats: sour cream, chive, and bacon deviled eggs! You can read all about my struggles peeling those darn eggs. And it was no better this time. ARRRGGG. I can make a beef wellington but I cannot peel hard boiled eggs!!!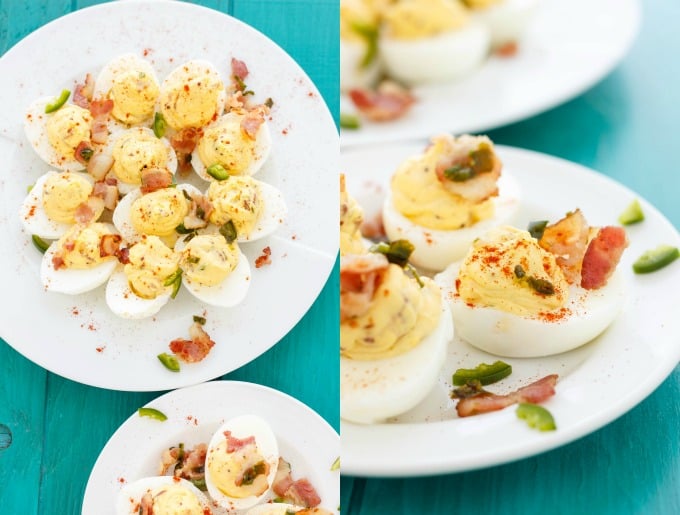 Rage over.
What I really love about these jalapeno popper deviled eggs is how they can easily be made vegetarian if you omit the bacon. Heck, just cook the bacon on the side and allow people to cover their eggs in bacon if desired. I cooked the jalapenos with the bacon but obviously that can be changed. Plus, aren't these deviled eggs just a tiny bit healthier for you over regular deviled eggs since I am using cream cheese to counter-balance all the mayo? Sure, we will just pretend these are healthier... 🙂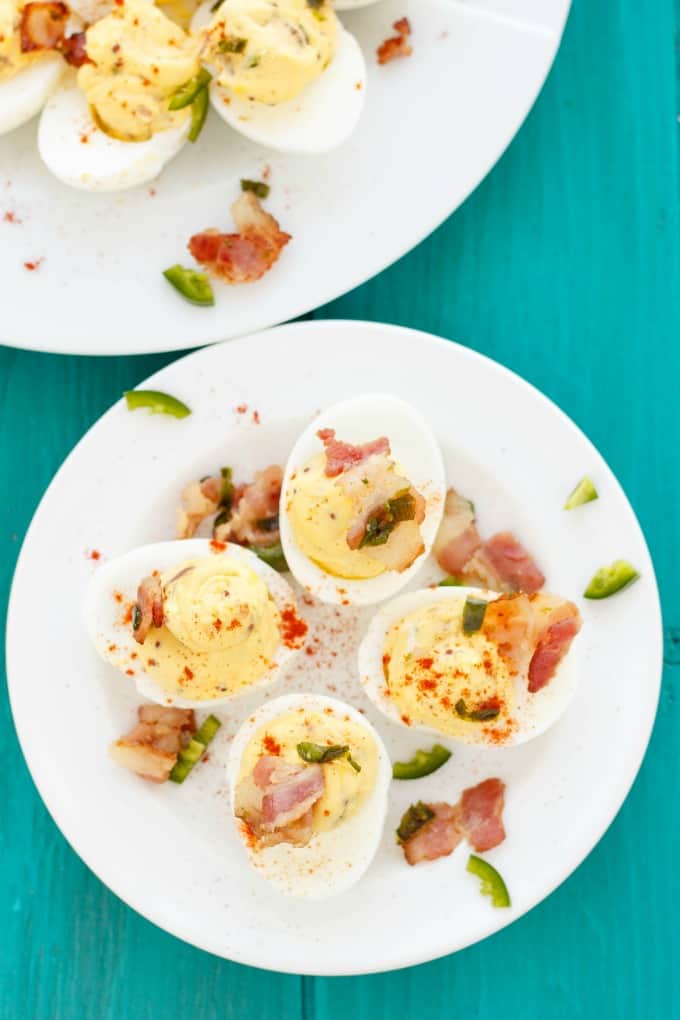 Ramp up that egg painting game because now I have not only provided you with one awesome deviled egg recipe, but a second one in the matter of days! Cannot wait to share the other creation on the blog, but for now, enjoy it early over at Julie's Eats & Treats!
📖 Recipe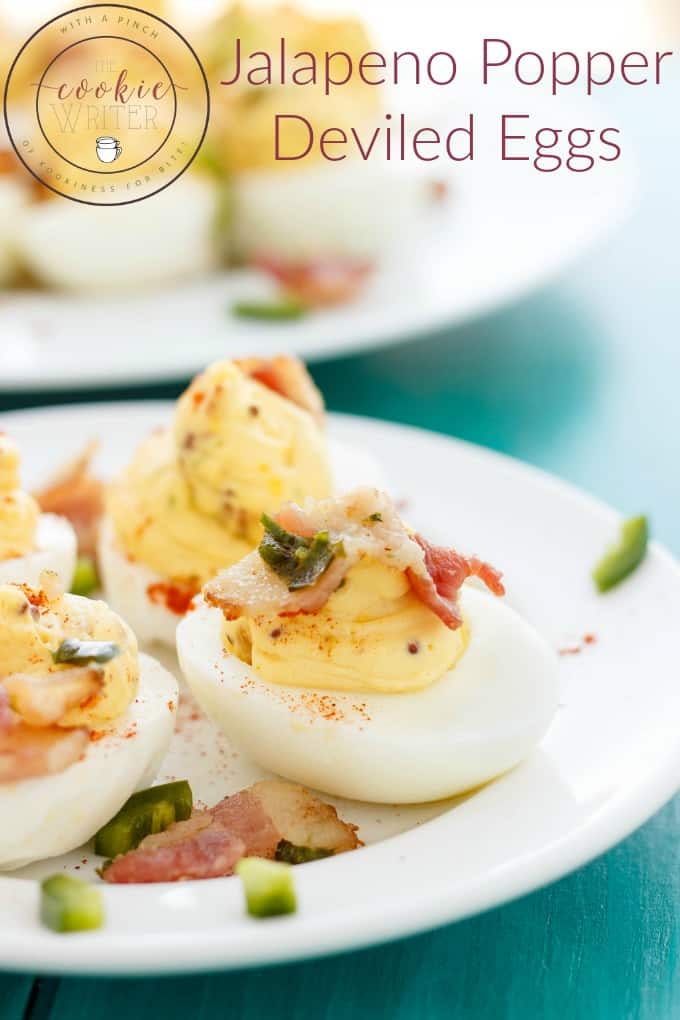 Jalapeno Popper Deviled Eggs
You can easily omit the bacon to make this recipe vegetarian!
Ingredients
12 hard boiled eggs, halved lengthwise
6 slices of bacon
2 large jalapenos
3 garlic cloves, minced
¼ cup mayonnaise
¼ cup cream cheese, softened
1 tsp, coarse whole grain mustard
Salt and pepper
Paprika for garnish
Instructions
Slice the bacon and dice the jalapenos. Add the bacon to a medium-sized frying pan over medium-high heat. Stir in the jalapenos and garlic. Cook until bacon is nice and crispy. Remove and drain on paper towel. Reserve one tablespoon for garnish if desired.
Scoop the egg yolks into a medium-sized mixing bowl. Mash with fork. Mash in cream cheese, followed by the mayo and mustard. Stir in bacon mixture. Taste and add salt and pepper.
Place filling into a piping or sandwich bag and snip off the corner. Pipe into egg whites until no mixture remains.
Garnish with paprika and and leftover bacon or jalapenos if desired! Chill in the refrigerator, covered, until ready to serve.
Nutrition Information:
Yield:

2
Serving Size:

1
Amount Per Serving:
Calories:

931
Total Fat:

75g
Saturated Fat:

23g
Trans Fat:

0g
Unsaturated Fat:

44g
Cholesterol:

1194mg
Sodium:

1396mg
Carbohydrates:

9g
Fiber:

1g
Sugar:

5g
Protein:

52g
That's it for Easter recipes from me! I am in charge of baked goods for my daughter's class on Thursday so I am going to focus on those. I do plan to share them with you but that will definitely have to be after Easter!