Fun, easy, and great for kids, these marshmallow bunny ear pudding cups are finished in a matter of minutes and involve no baking!
At this point in my life I could not imagine working on the blog and having a full-time job outside the house! I have a routine every day that I follow, pretty much to the half-hour (I was not this organized years ago!) When it gets disrupted, well, let's just say I get crabby. Everything falls out of place and I start stressing because I know I am behind. It is not a pretty sight.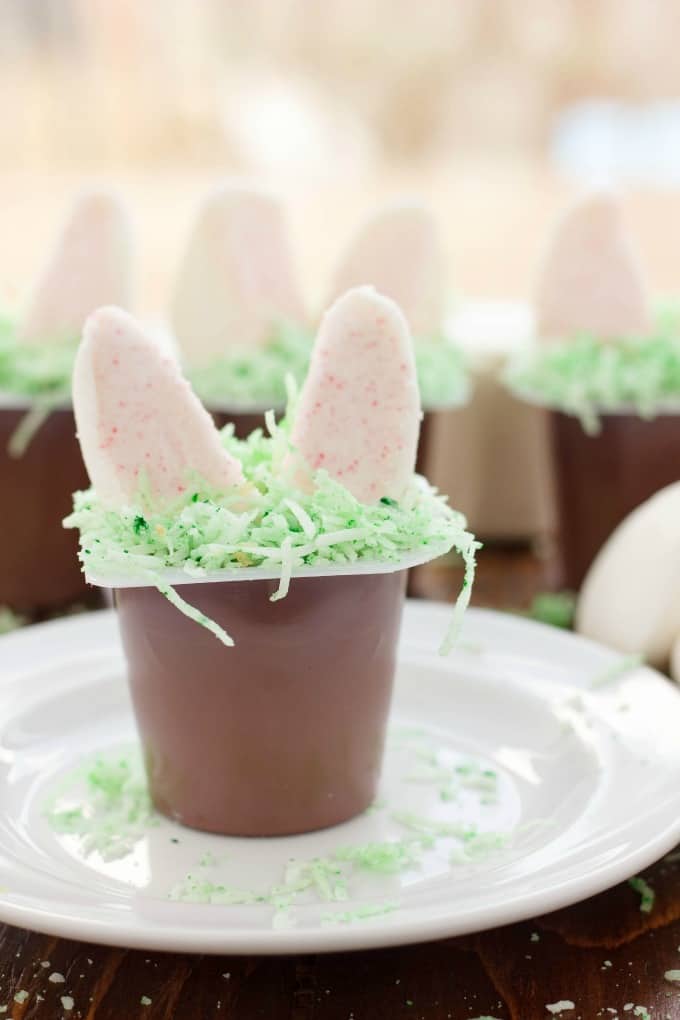 Since I have been put on "rest" by doctor's orders until my leg heals up, I have been utilizing this injury to spend time with kiddo, make more delicious recipes, and finally get this house finished after all the renovations!! A ton of leftovers were currently in our fridge so kiddo and I enjoyed Beauty and the Beast on stage last Saturday, followed by egg painting, and finished off with these marshmallow bunny ear pudding cups!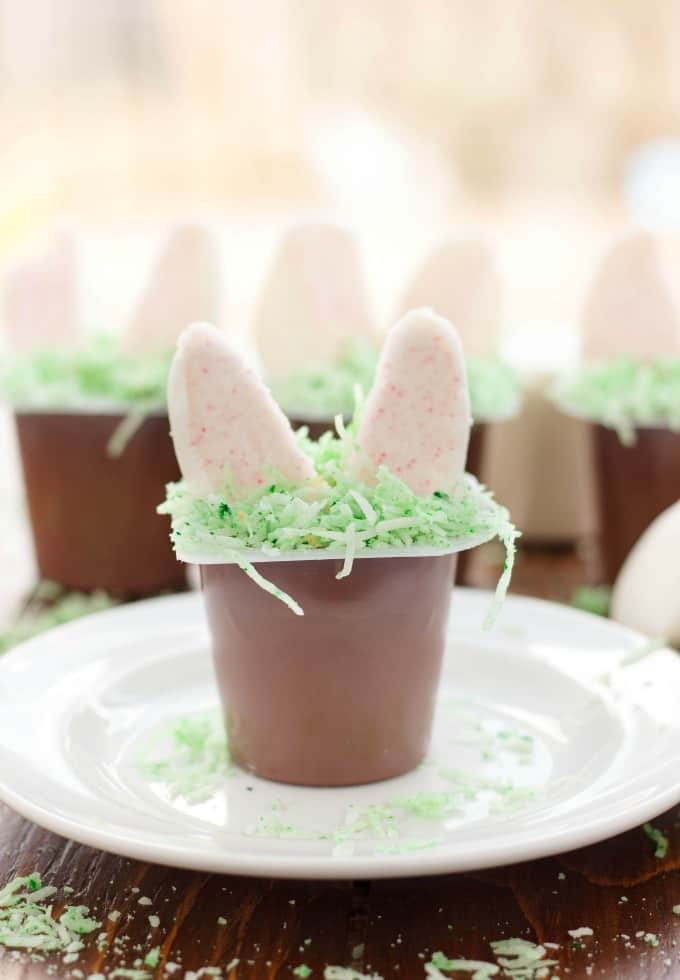 Talk about EASY! I find I don't do a lot of no-bake recipes and I always envy food bloggers who come up with awesome, easy recipes. Now I get to bask in it! I saw the marshmallow bunny ears over at Styling My Everyday.com and knew I had to take them a step further! Talk about so cute and so easy. Of course I bought jumbo-sized marshmallows so I actually got 4 bunny ears out of one marshmallow, but regular-sized marshmallows work perfectly for one set of ears.
Note: I used Wilton food coloring but liquid coloring would probably be better! I also toasted my coconut gently because I really LOVE toasted coconut!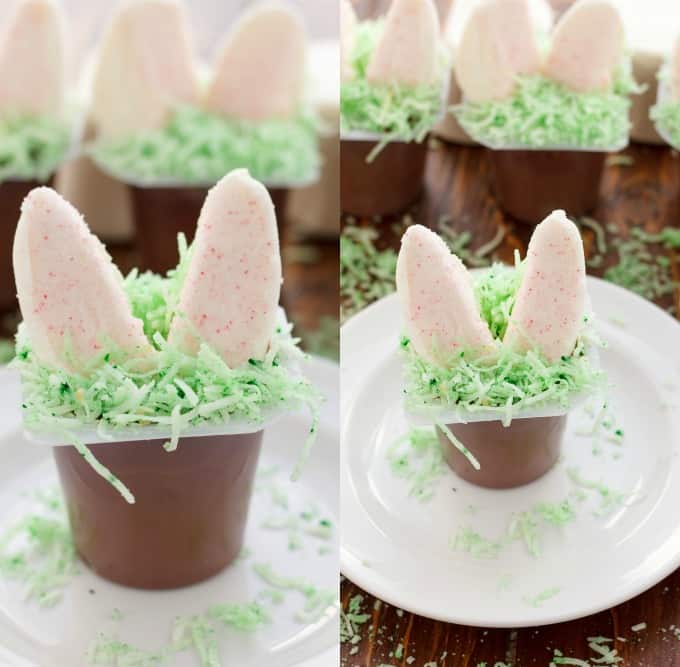 And after we had made all these marshmallow bunny ear pudding cups we find out that kiddo does not like pudding... Who does not like pudding?! Maybe I have spoiled her with all the homemade goodies 🙂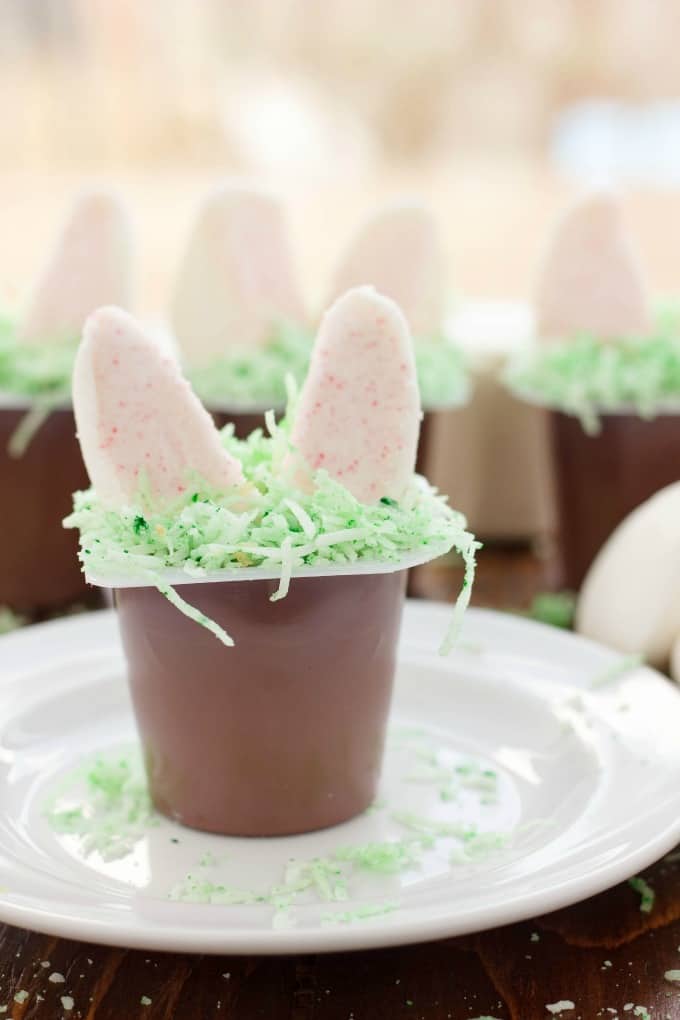 Marshmallow Bunny Ear Pudding Cups
In this cute dessert the pudding represents dirt, the coconut represents grass, and the marshmallows represent bunny ears!
Ingredients
4 chocolate pudding cups (mine were 99g each)
2 giant marshmallows OR 4 regular-sized marshmallows
½ cup sweetened or unsweetened shredded coconut
Green food coloring
Pink colored sugar (or you can make your own like I did!)
Instructions
Toss coconut with food coloring until nicely coated (I used gel coloring but the liquid would work well.)
Open all of the pudding cups. Slice your marshmallows in half (check out the tutorial here) or slice the giant marshmallows twice.
Dip the sliced ears into the pink sugar (the open flesh of marshmallow will be enough for the sugar to stick.) Place the ears into the chocolate pudding and cover with colored coconut!
Coloring sugar
To make your own colored sugar, mix together granulated sugar with pink gel food coloring, making sure to use a spoon to really work in the color. Place through a fine sieve to remove any large clumps.
Nutrition Information:
Yield:

4
Serving Size:

1
Amount Per Serving:
Calories:

262
Total Fat:

12g
Saturated Fat:

7g
Trans Fat:

0g
Unsaturated Fat:

3g
Cholesterol:

1mg
Sodium:

177mg
Carbohydrates:

37g
Fiber:

2g
Sugar:

27g
Protein:

3g