Whether it is for Halloween or Christmas, you know a Nightmare Before Christmas cake will be suffice for either holiday!
Today October officially begins and that means Halloween is upon us! Woohoo!
Thankfully that is all the way at the end of the month because let me tell you, October is my busiest month. We begin with my birthday, followed by my daughter's birthday the next day, Canadian Thanksgiving the weekend following our birthdays (so not even a week away this year,) and finally my husband's birthday about a week after that… And to think we planned our child's birthday for October!!
With all complaints aside, I love knowing my daughter and I share such close birthdays. I call her my belated birthday gift and she means everything to me. A tradition I have carried since her birth is taking the time each year to make the birthday cake of her choosing. Of course her first birthday was left up to me but all the following years have been chosen by her. We have done Beauty and the Beast (you can also see her first birthday cake in that post,) and a butterfly cake last year. This year was a bit more interesting… She could not make up her mind!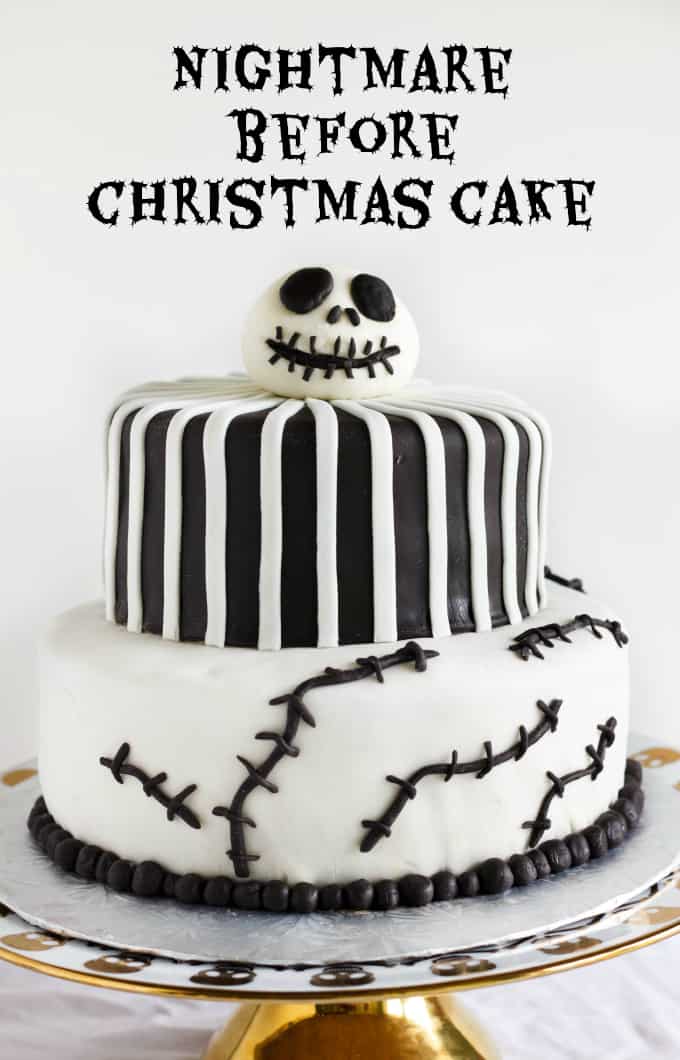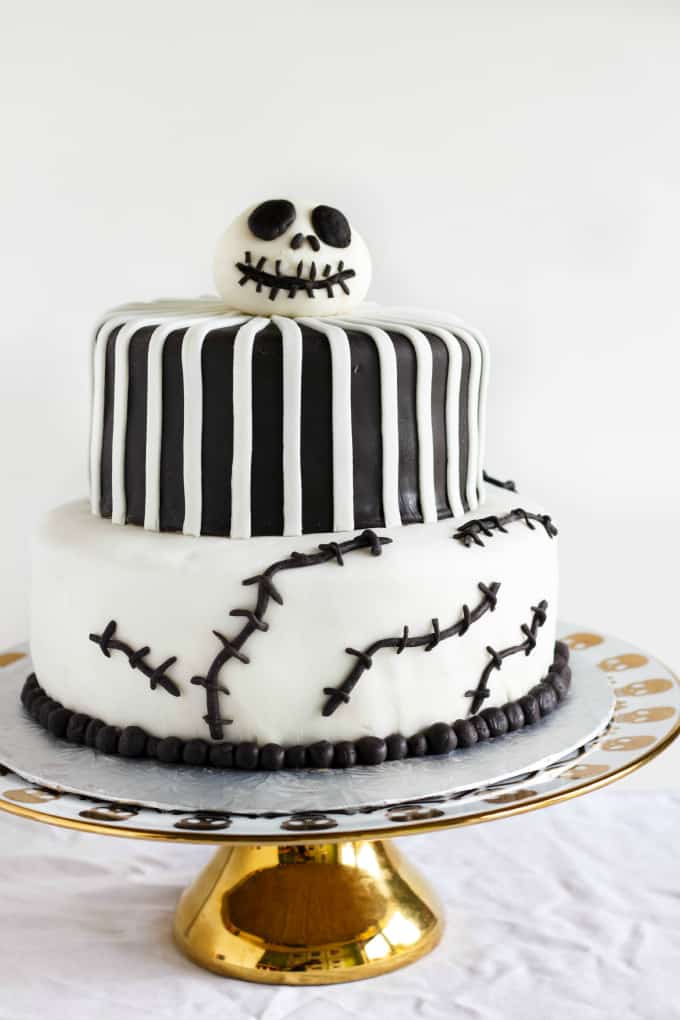 First it was a Hungry Caterpillar cake. Then a Mario Party cake, followed by a Jack Skellington cake, and then a request for a Barbie cake… I said mommy will choose one and it will be a surprise so I went with a Nightmare Before Christmas cake! Her love for scary stuff is ever-growing and this cake was super easy (and something I needed since we decided to celebrate with a birthday party a week early.) This is only my second time working with marshmallow fondant (fondant in general actually,) and I was super impressed with how much easier I found it this time around! Simple design still required some time with this Nightmare Before Christmas Cake, but overall the design was clean and to the point. You know immediately what this cake is all about!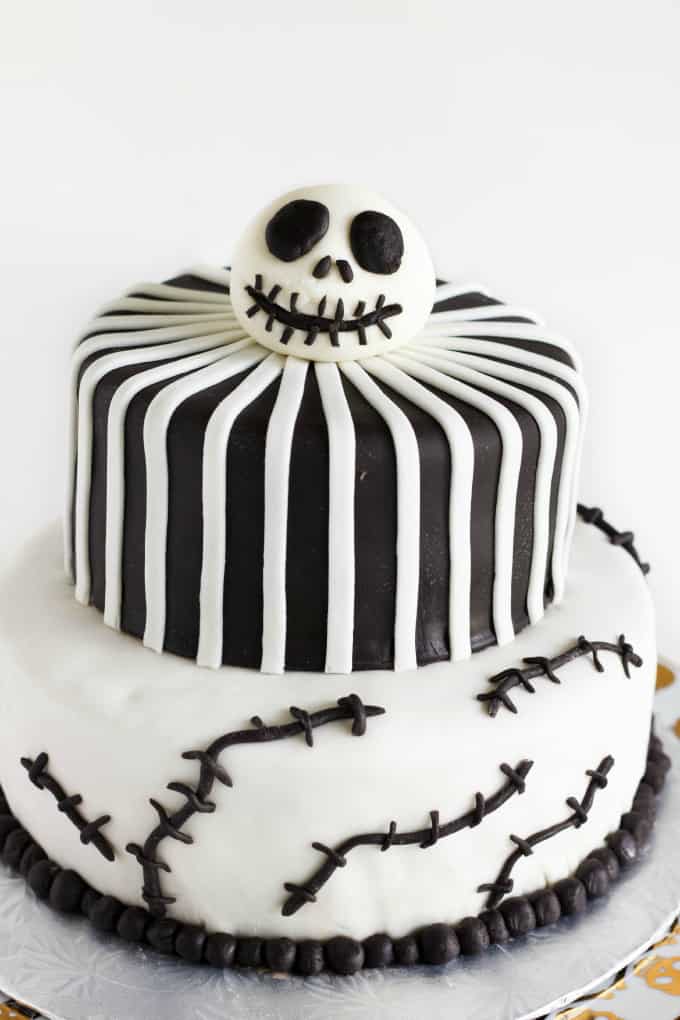 I was thinking about sharing my marshmallow fondant recipe here today. I actually did two batches with two different techniques and figured instead it would be best to make a tutorial in the future. The black fondant is actually a chocolate fondant that I experimented with. It still needs some tweaking but did it ever help with getting that dark black colour. Black and red are such tricky colours, so darkening up the mixture with some cocoa powder and/or chocolate to begin with really helps. I used a double batch of my usual chocolate cake recipe (I found it made two small 8-inch layers, and two small 6-inch layers. If you want thicker layers, you may want to increase the recipe a bit.) For the buttercream, I went a bit different. I did a Swiss meringue chocolate buttercream which I will share here with you today but for sure I will be doing a post in the future on it!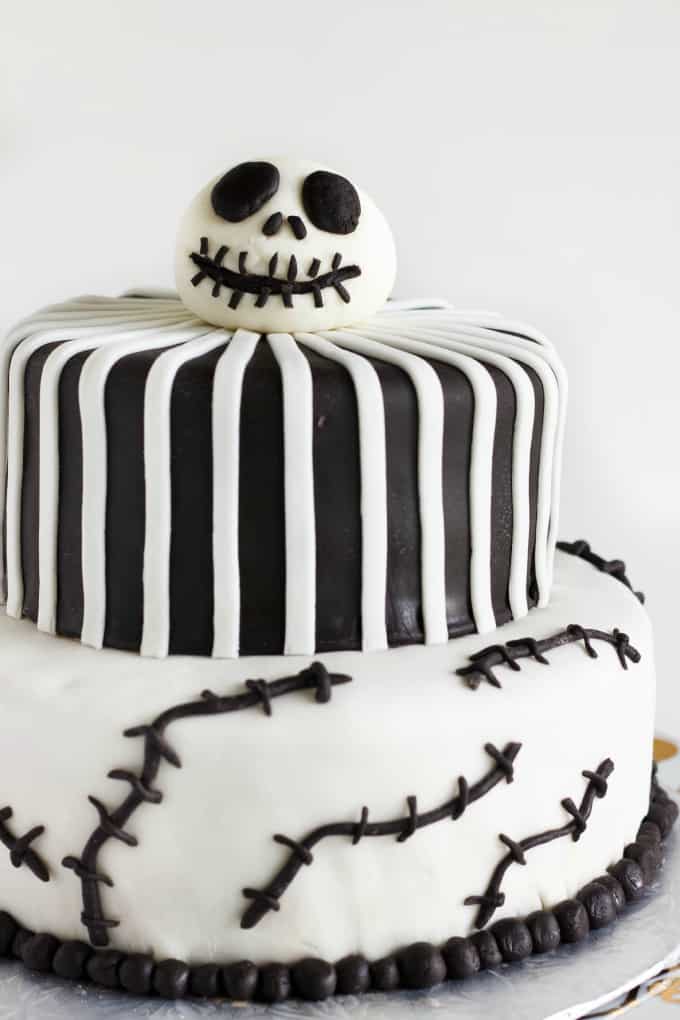 Nightmare Before Christmas Cake (Jack Skellington Cake)
---
Kacey
Yields 2
5 minPrep Time
40 minCook Time
45 minTotal Time
Ingredients
5 large egg whites, at room temperature
1 1/4 cup granulated sugar
1 1/2 cup salted butter, room temperature
1 tbsp. vanilla extract
1/2 cup chocolate chips, melted
1 tbsp. cocoa powder
Instructions
Pour about an inch of water into a small saucepan. Place over low heat and pick a bowl that will fit snugly on top of the opening. You don't want the bowl touching the water at all: you are creating a double boiler. In this case, I used my kitchen aid bowl.
When the water has reached a simmer (never let it form into a rolling boil!) place the egg whites and sugar into your bowl. Attach a candy thermometer to the side of the bowl, and whisk the mixture frequently until it reaches 160F.
Move your bowl to the stand mixer. Using the whisk attachment, whisk your mixture on high until stiff peaks form. It should take 10 minutes or more, and you want your bowl to be relatively cool before you add the butter. If the mixture is too warm, your butter will melt.
Cut your butter into bite-size pieces, about 1 tablespoon each. With your mixer on low, add one piece of butter at a time, counting for about 10 seconds before you put the next piece of butter in. Pay attention and make sure the butter is combined before you add the next piece. Patience is key! Keep mixing until all the butter is combined in and you are left with a smooth buttercream. Mix in your vanilla until combined.
Pour in your melted chocolate (make sure it is not too hot to melt the buttercream!) and cocoa powder. Stir until combined.
In this case, use the buttercream as your crumb coat and filling. You will definitely have extra but that is what cupcakes are for!
7.8.1.2
99
https://thecookiewriter.com/nightmare-before-christmas-cake-jack-skellington-cake/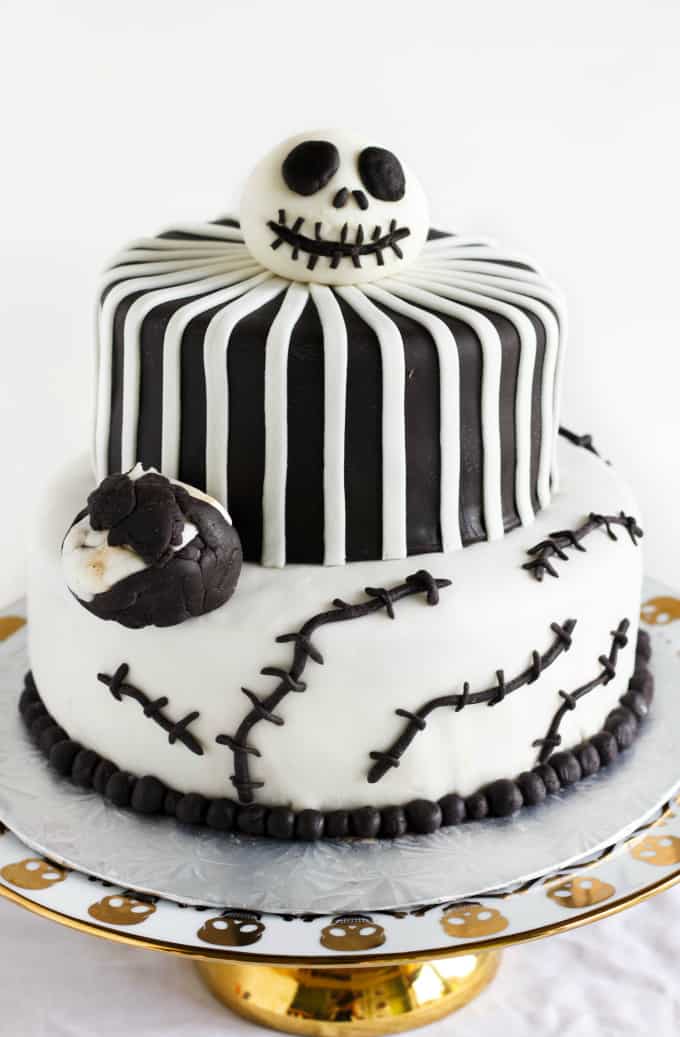 You can see above that Éowyn helped out with her cake by rolling out the balls for the trim (we went with an uneven look to give it a more nightmarish appeal) and made her own Jack to put on the cake. I did happy Jack and she did angry Jack according to her views, haha.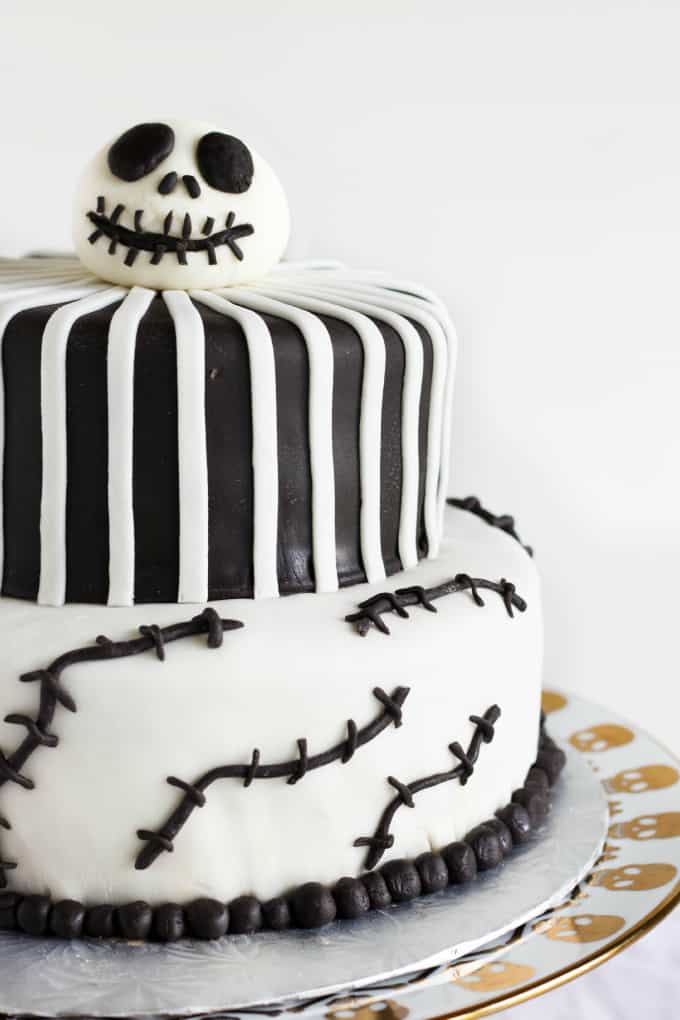 You would think after all this hard work she would be pleased with mommy's cake, and don't worry, she was. However, she dubbed this the "Chuck E Cheese party cake," and still wants a cake for her actual birthday… She is turning 4 but she sure acts like she is 14! Who knows, being the sap I am I may get around to that Barbie cake she keeps requesting but then again, I cannot remember the last time I made a cake for myself! Though, I would totally be alright with this Nightmare Before Christmas cake for my birthday… There will come a day where she does not want to share a birthday with her mom 🙂