Turkey meatballs, a creamy mushroom sauce, awesome bakeware, and a giveaway?! Find out more with today's post!
The photos and recipe for these turkey meatballs in a creamy portobello mushroom sauce have been updated as of May 10th, 2016!
I feel I am talking about my daughter a lot lately, but as she gets older the more her personality shines through. She has always been an interesting child, making life REALLY easy for mommy and daddy (I refuse to have more kids because I know the next one would be the ax murderer!) I try to keep her busy and introduce her to everything I enjoy. While she may not enjoy everything I do (and that is okay with me,) she does like helping in the kitchen and I absolutely love that!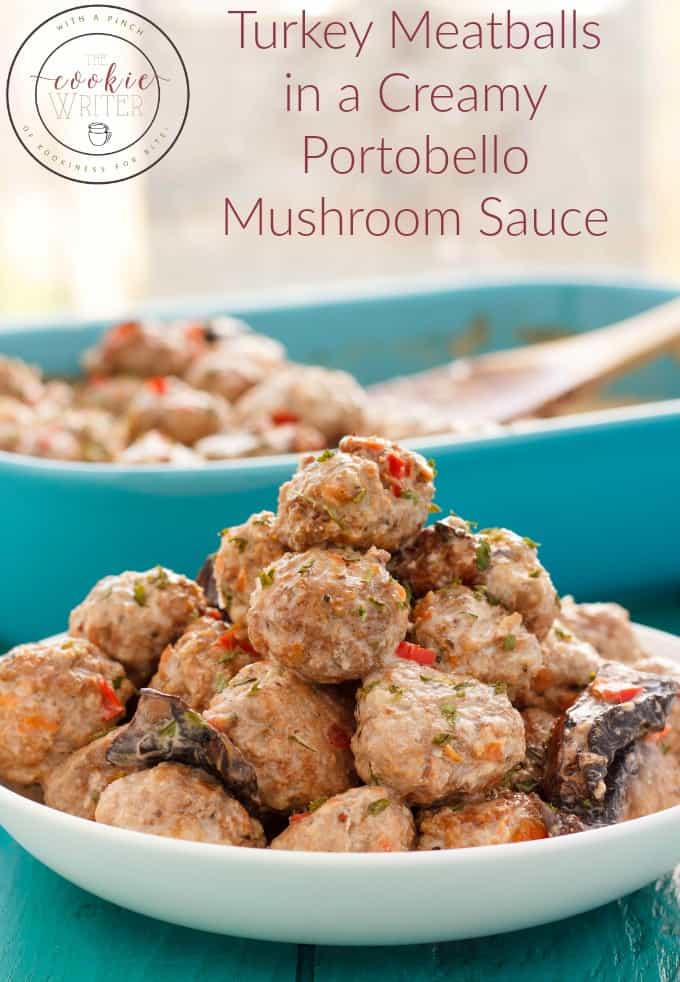 Today's turkey meatballs in a creamy portobello mushroom sauce were made using the 4-piece CW by CorningWare Bakeware Set. Let me tell you, when these showed up in the mail I was super stoked! Of course everyone notices the colours (and they truly are beautiful) but what I liked most was the diversity in shape and size among the pans. My favourite would probably be the purple bakeware because of its length, but shallow depth. Almost like a baking pan but still has those rounded sides to hold in food. In this case, I knew I would be roasting some juicy portobello mushrooms on the pan!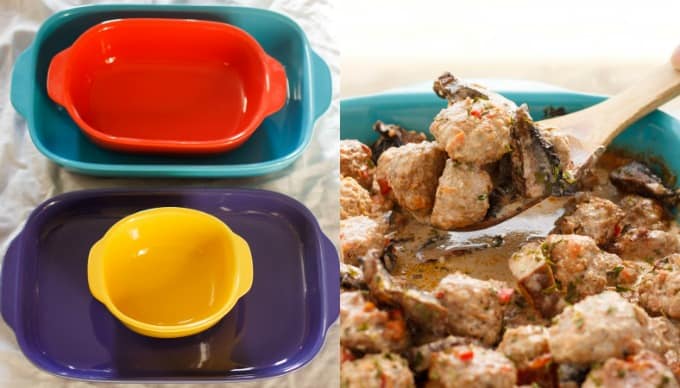 Now, when it comes to family dinner, we are all over the place here. Dan and Éowyn eat just about anything, but with my vegetarian diet I am often left making multiple meals. Thankfully they both enjoy vegetarian meals so many times we go meat-free here. However, there are days where I am left cooking for hours and while I generally do not mind, there are those times I want to relax! I found this bakeware set helped a lot because I was able to cook the meatballs in one pan, and the mushrooms in the other, leaving me with some "beefy" portobellos for a pasta sauce! Win-win all around! Plus, we are all about saving money here so using ground turkey instead of ground beef is cost effective and healthier. UPDATE: I have changed up the recipe so that I cook the mushrooms with the meatballs to save time, however, you can still roast them separately if preferred!
It is funny making recipes like these turkey meatballs with my daughter. The first time I made them, I turned the whole batch into meatballs. I packed them for her lunch the following day and when I picked her up I was greeted with "you did not pack me burgers!" No, no I did not. I made meatballs, but don't worry, they are like mini hamburgers. "No, they are not!" Sigh, I tried to argue, but you don't win with a 4 year old. The second time I made them, I made half the ground meat into turkey meatballs, and the other half into turkey burgers. And you know what? She ate those burgers for days with no complaints!! Personally, I laughed when I was cutting them up for her lunch because I was basically reducing them to meatballs again but like I said, no arguing…

Turkey Meatballs in a Creamy Portobello Mushroom Sauce
---
Kacey
Yields 80
These meatballs are so juicy, and pack a lot of flavour! You may have to cook the meatballs in two separate pans and then combine them when it comes time to add the sauce!
15 minPrep Time
30 minCook Time
45 minTotal Time
Ingredients
2 lbs ground turkey
1/2 small red onion, diced
1/2 small red pepper, diced
1 small carrot, grated
1/4 cup freshly grated Parmesan cheese
1 1/2 tsp. dried oregano
1 tsp. dried parsley
1 tsp. dried basil
4 garlic cloves, minced
Salt and pepper
1/4 tsp. cayenne powder
2 eggs
1/4 cup milk
1/4 cup ketchup
1 tbsp. whole grain mustard
1 cup breadcrumbs (I did a mix of Italian-style and Panko)

Mushrooms

4 large portobello mushrooms (about 1 1/2 lbs)
2 tbsp. olive oil
3 tbsp. balsamic vinegar
Salt and pepper
1/4 tsp. ground thyme

Sauce

1 1/3 cup vegetable broth
1 cup heavy whipping cream
2/3 cup white wine (or use more broth here!)
1/4 tsp. cayenne powder
Instructions
Preheat oven to 400F.
Toss all the mushroom ingredients together until nicely coated, adding more oil if necessary.
Place all the meatball ingredients into a large mixing bowl. Mix until JUST combined. This is important. You do not want to over work your meat or you will have tough meatballs. Measure out 1 tablespoon-sized portions and roll into balls. Place into bakeware and continue rolling until no mixture remains (you may have to work in two batches.)
Pour mushrooms over top and place into oven. Cook for 15 minutes. Combine sauce ingredients and pour over top of the meatballs. Return to oven and bake for another 15 minutes.
Serve with shaved Parmesan cheese and parsley if desired!
7.8.1.2
97
https://thecookiewriter.com/turkey-meatballs-in-a-creamy-portobello-mushroom-sauce/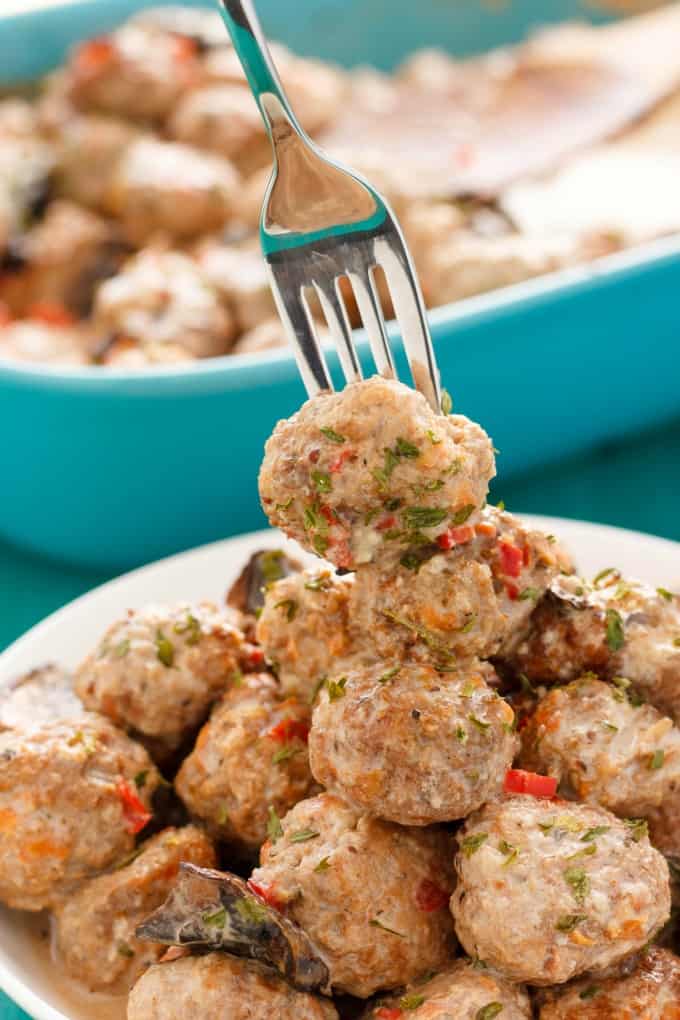 Giveaway time!!!
This giveaway will start on October 8, 2015 at 12:00 AM EST. It will run until October 23, 2015, 11:59 PM EST. The prize is one 2.5 Quart Vermilion Baker from CW by CorningWare. The giveaway is open to residents of Canada only (including Quebec.) No PO Boxes please. How awesome would it be for you to cook Christmas dinner in this pan?! I know I enjoyed adding more CorningWare pans to my collection :)The winner will be notified by email and will have 24-48 hours to respond. If they do not come forward, I will redraw a name. The winner will be announced the week of October, 26-30 2015.
a Rafflecopter giveaway

This is a sponsored post. I was fortunate enough to receive products and monetary compensation from World Kitchen. Though products were received, all opinions are my own and I would not recommend a product that I did not enjoy.
Love these turkey meatballs in a creamy portobello mushroom sauce!? Try some of these recipes: