Looking for a recipe that gets your Little Chef excited in the kitchen? Try these one-pan lemon chicken leg quarters with Creamer potatoes to ensure a healthy and hearty meal.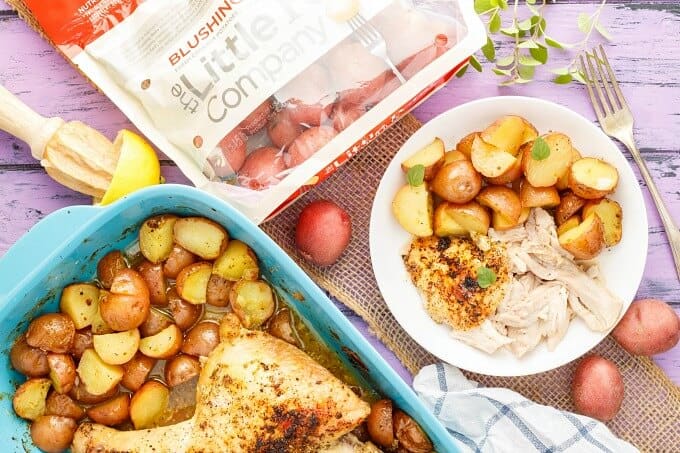 Canadian Thanksgiving has come and gone, but don't worry, we have many leftovers to tie us over! That being the case, I am sure for the next week I will be sharing my recipes (because we cannot forget that American Thanksgiving is next month!)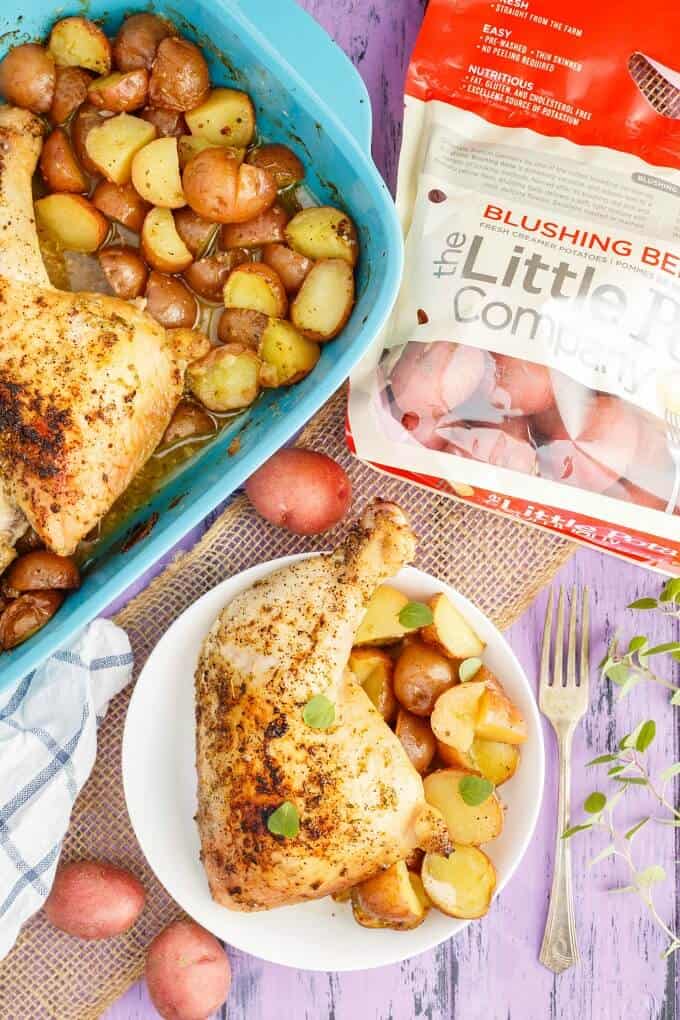 Today's recipe is actually a one-pan meal and it worked out really well using The Little Potato Company's Blushing Belle varietal. One pot/pan meals are really popular right now, and while I love jumping on any bandwagon, I want to make sure the dish produced is not only easy and quick, but tasty, too.
These lemon chicken leg quarters with Creamer potatoes are all of the above! I was inspired by my Greek lemon potatoes and wanted to transform the recipe into a main dish. However, I also wanted a recipe that was quick and easy for kids to enjoy, because every child should at least try experimenting in the kitchen!
That brings us to some exciting information!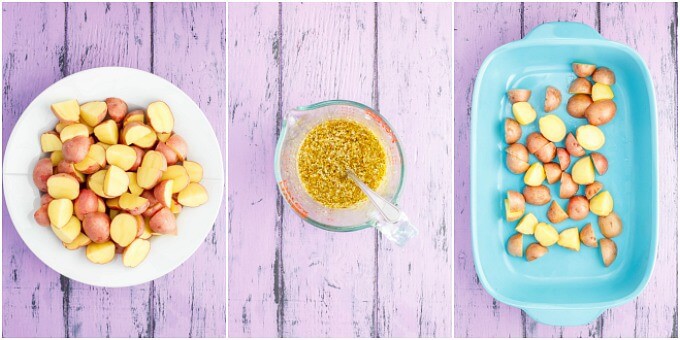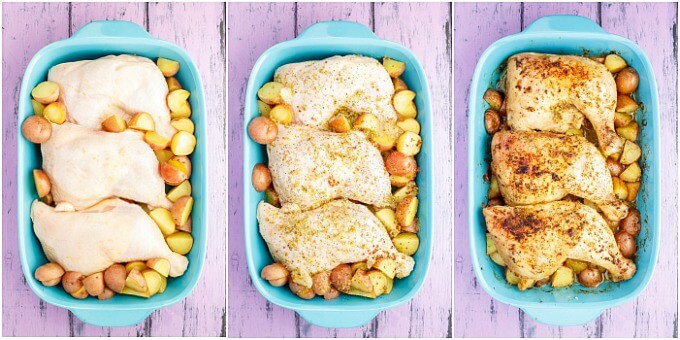 The Little Potato Company recently launched a new website and has partnered with The Marilyn Denis Show to run a contest to find Canada's Next Little Chef!
How exciting is that?! I wish my daughter was old enough to enter, but maybe some time in the future, haha. For now I will enjoy passing along the news to people who have children old enough to enter and who enjoy cooking as much as us!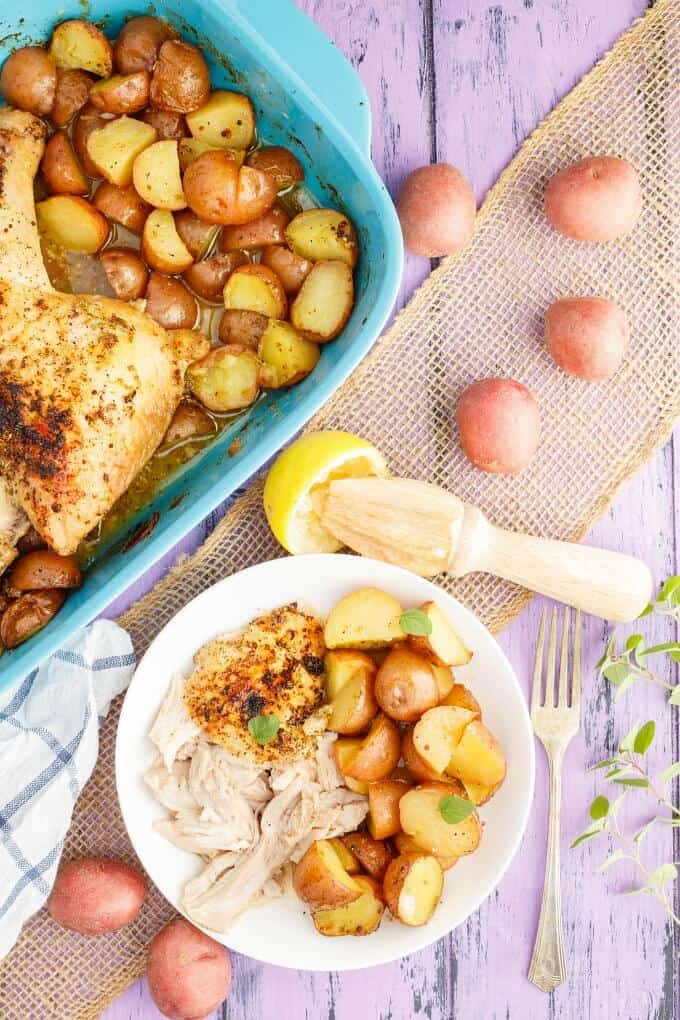 I personally think this is a great experience and it really motivates children to get creative in the kitchen.
When working on these lemon chicken leg quarters with Creamer potatoes, the goal is to keep the recipe sweet and simple because I feel this is what kids want. Don't get me wrong, spicing things up is great, but you do not want to overwhelm kids! I figured a classic chicken recipe with some bold flavors would be perfect, and being a one-pan recipe, kids don't have to worry about too many things (who wants to do dishes?!)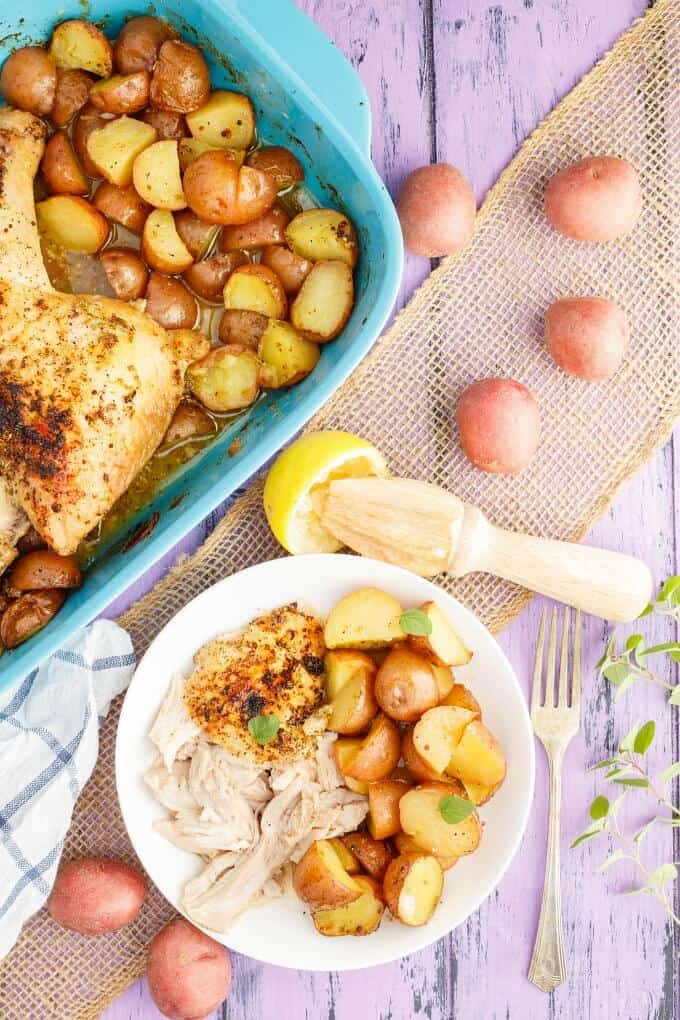 One-Pan Lemon Chicken Leg Quarters with Creamer Potatoes
Total Time:
1 hour
10 minutes
These one pan lemon chicken leg quarters with Creamer potatoes is the perfect back-to-school meal! Little prep and cooks in one dish!
Ingredients
1.5 lbs potatoes
3 lbs bone-in (skin-on) chicken leg quarters (or your favorite cut!)
Sauce
½ cup freshly squeezed lemon juice
1 tbsp. lemon zest
Salt and pepper
1 tbsp. dried oregano
1 tsp. garlic powder
¼ cup chicken broth
⅛ cup olive oil
1 tsp. coarse mustard (optional)
Instructions
Preheat oven to 400F.
Slice potatoes in half and place into microwave-safe bowl. Cook for 5 minutes.
Place half the potatoes into the bottom of the pan. Add the chicken on top. Add remaining potatoes. Season with salt, pepper, and additional oregano if desired.
Sauce
Combine the lemon juice, zest, salt, pepper, oregano, garlic powder, broth, olive oil, and mustard. Whisk well. Pour over chicken and potatoes.
Cook for 20 minutes, uncovered. Lower oven temperature to 375F and cook for another 20-25 minutes, or until chicken reaches 160F.
Remove from oven and move chicken to cutting board to rest.
*For a crispier skin, broil chicken for a couple of minutes!
Notes
Pre-cooking the potatoes slightly insures they will be cooked through when the chicken is complete. Other cuts of chicken are welcome, but cook-time will need to be adjusted.
Nutrition Information:
Yield:

4
Serving Size:

1
Amount Per Serving:
Calories:

855
Total Fat:

37g
Saturated Fat:

9g
Trans Fat:

0g
Unsaturated Fat:

24g
Cholesterol:

432mg
Sodium:

504mg
Carbohydrates:

39g
Fiber:

5g
Sugar:

3g
Protein:

87g
My husband is a big fan of these lemon chicken leg quarters because he prefers dark meat. I know that is not for everyone and you can use whatever cut of meat you feel comfortable with here. Just remember, cooking times will change. Bone-in and bone-less are two different things and you risk overcooking/under-cooking in certain instances. I am just throwing this out there because I have questions in the past regarding this situation from others.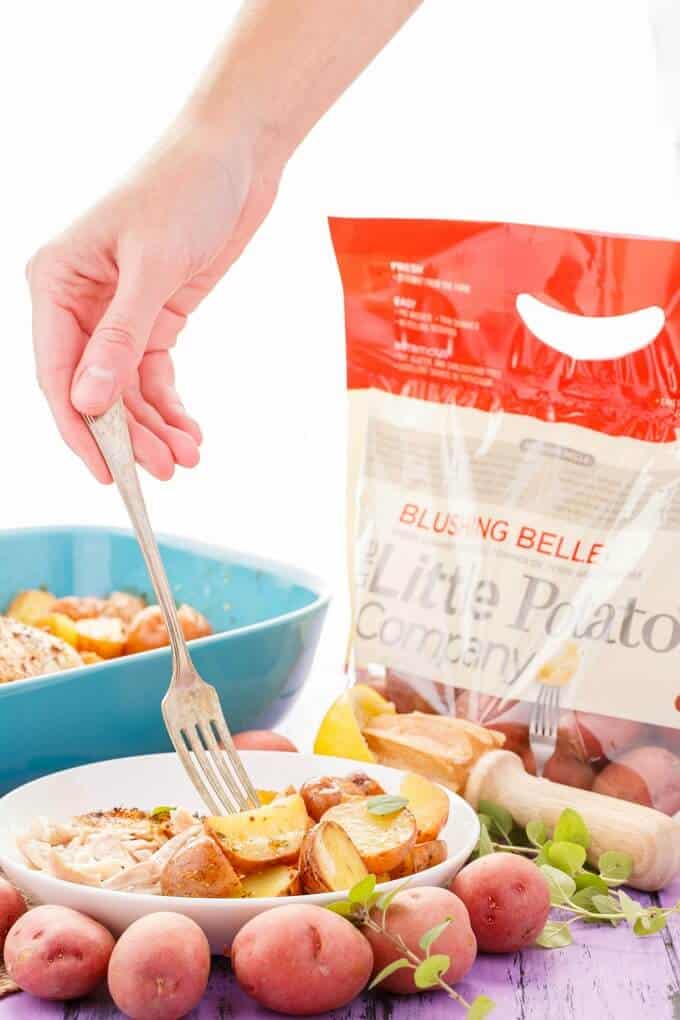 And there you have it! Another Little Potato Company recipe that is simple and to the point. I feel this is comfort food at its finest, and while I can see it at a Thanksgiving feast, I feel it reminds us that spring will show up again and that we will survive the cold winter ahead!
This is a sponsored post. I was fortunate enough to receive products and monetary compensation from The Little Potato Company. Though products were received, all opinions are my own and I would not recommend a product that I did not enjoy.
Love this one-pan lemon chicken leg quarters with Creamer potatoes?! Try some of these recipes: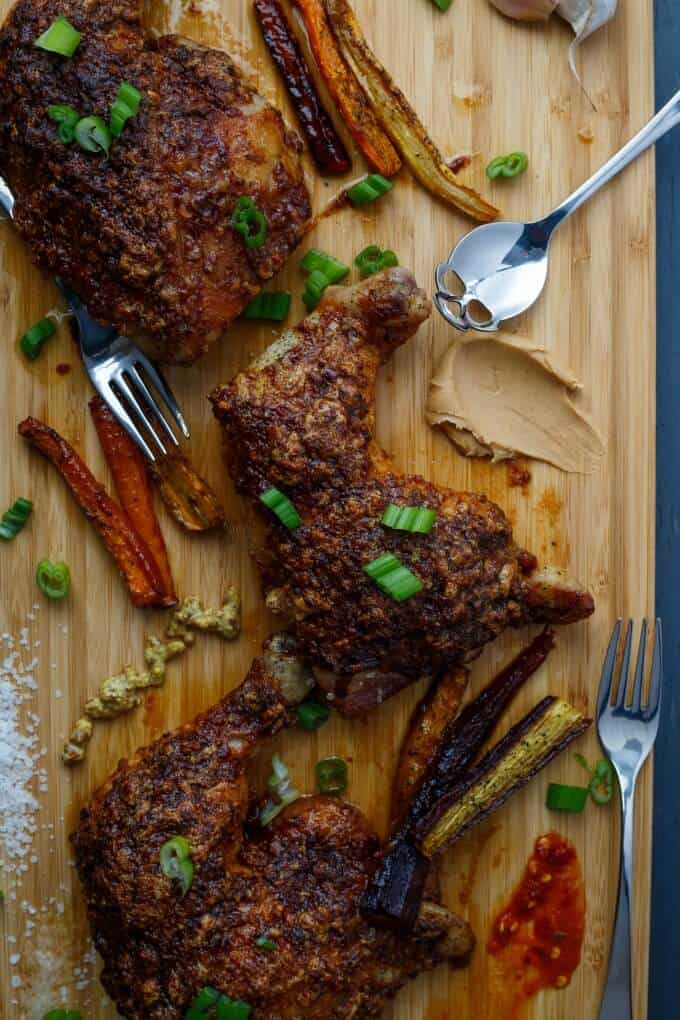 Asian Inspired Chicken Leg Quarters